Edmund Hillary, First To Climb Everest, But He Went Bigger Than That
The New Zealand mountaineer achieved international fame after his summit of the world's highest peak in 1953. He also visited the North and South Pole, among other ventures.
Heading out the door? Read this article on the new Outside+ app available now on iOS devices for members! Download the app.
This article is part of Climbing's ongoing Who's Who biographical study of climbing's all-time greats, achievers, and, in the case of Aleister Crowley, most notorious. 
Sir Edmund Percival Hillary (July 20, 1919 – January 11, 2008) was a New Zealand climber and philanthropist. Along with Tenzing Norgay, Hillary was one of the first two people to reach the summit of the world's highest mountain, Everest (8,848 meters), on May 29, 1953. In addition to climbing Everest, Hillary traveled overland to the South Pole, flew to the North Pole with astronaut Neil Armstrong, served in World War II, and established the international nonprofit Himalayan Trust.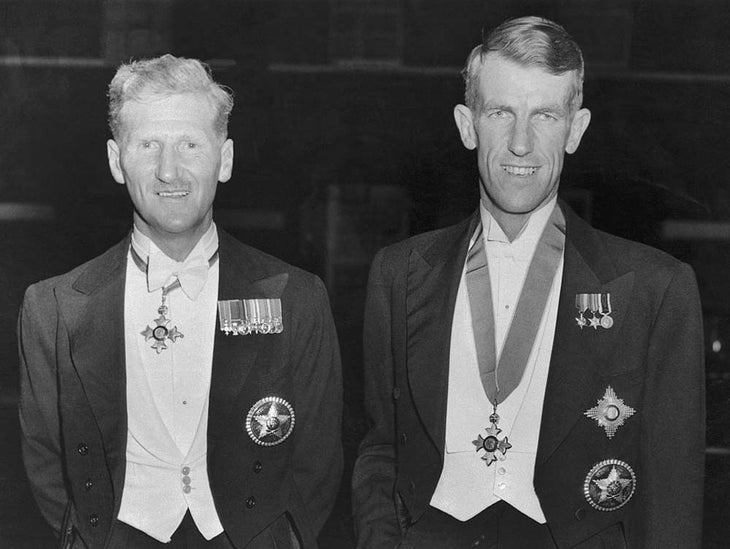 Early Life and Military Service
Hilary was born in Auckland, New Zealand on July 20, 1919. He first experienced climbing as a teen, during a school trip to Mount Ruapehu (9,177 feet), the largest active volcano in the country. He later attended Auckland University College, joining the university's Tramping Club. (Tramping is Kiwi slang for backpacking.) 
By 1938, however, he had given up on formal education and returned home to Tuakau, where his family was now living, to become a beekeeper with his father and brother. Hillary worked the hives during the summers, saving for winter to cut his teeth on climbs in the country's Southern Alps. In 1939, he made his first significant summit, the 6,300-foot Mount Ollivier. 
At the outbreak of the Second World War, he put in an application to serve with the Royal New Zealand Air Force (RNZAF). He almost immediately withdrew the application due to a crisis of conscience, but by 1943, with the Japanese threat looming in the Pacific, he joined up as a navigator, serving in both Fiji and the Solomon Islands.
In 1948, he reached the summit of Aoraki (12,218 feet) New Zealand's highest peak. The same year, he took part in a dangerous rescue operation on the 10,000-foot La Perouse. Here he met mountaineer Norman Hardie, who would become a lifelong friend and go on to serve on the board of Hillary's nonprofit, Himalayan Trust.
In 1951, Hillary embarked on the British reconnaissance expedition to Everest under Eric Shipton. While not intended to pursue a summit, the expedition gleaned valuable insight into the mountain's southern terrain and resulted in the successful choice to attempt the now-standard route up the mountain via the Khumbu Icefall, Western Cwm, and South Col in 1953. 
The following year, Hillary and George Lowe joined another team led by Shipton, this time to attempt Cho Oyu (8,150 meters). The expedition was a veritable disaster, achieving neither a summit nor significant enough time at altitude to properly test oxygen equipment (a secondary goal). As a result, Shipton's reputation in the mountaineering community plummeted. Due to his perceived poor leadership during this expedition, Shipton was also replaced by John Hunt as team leader for the 1953 Everest expedition. Hillary, however, performed well, leading an exploratory party to a high point of 22,400 feet.
1953 Everest Expedition
Hillary was considered a leading member of the ninth British expedition to Everest in 1953, led by John Hunt. Hillary and the Sherpa climber Tenzing Norgay were one of two pairs of climbers selected to make summit pushes, the other being Tom Bourdillon and Charles Evans (both of whom had climbed with Hillary on Cho Oyu the previous year). The latter duo made it just 300 feet shy of the summit on May 26 but turned around after experiencing issues with their oxygen equipment.
Their efforts to break trail and cache oxygen, however, proved vital when Hillary and Norgay made their summit bid two days later, from a bivy at 27,900 feet on the southeast ridge. The pair successfully reached the summit of the world's highest mountain at 11:30 am local time. 
Today, they are generally accepted as the peak's first ascentionists. However, some still claim that George Mallory and Andrew Irvine were perhaps the first to summit Everest, in 1924.
Personal Life, Philanthropy, and Post-Everest Exploits
Following Everest, both Hillary and Norgay were catapulted into worldwide fame. He was knighted upon his return to London, in addition to receiving a multitude of other awards and honors. In 1958, he reached the South Pole as part of the Commonwealth Trans-Antarctic Expedition, becoming the first to do so overland since the Amundsen and Scott expeditions in 1911-1912. He later flew to the North Pole with Neil Armstrong, becoming the first person to visit both poles and summit Everest.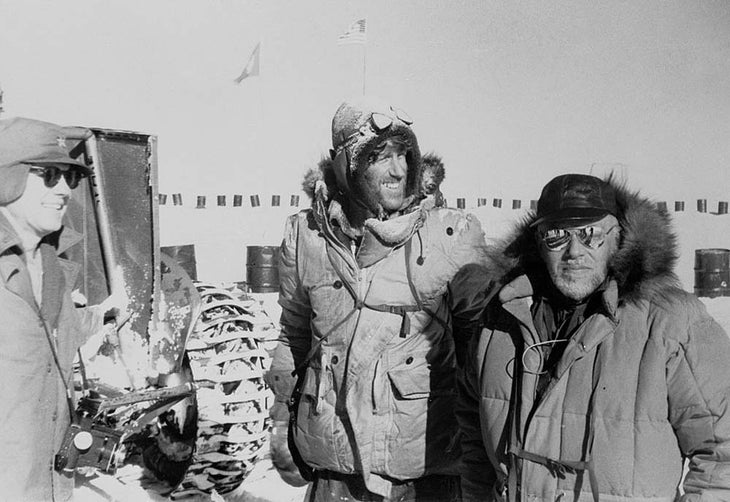 Hillary served as New Zealand's high commissioner to India, Nepal, and Bangladesh from 1985 to 1988. He also pursued a variety of philanthropic efforts, including founding the Himalayan Trust, a nonprofit dedicated to building schools, hospitals, airfields, and otherwise improving the health, education, and wellbeing of the Sherpa people, in 1960. He led the nonprofit until his death.
He published nearly a dozen books during his lifetime, including High Adventure (1955), No Latitude for Error (1961), Nothing Venture, Nothing Win (1975), and View from the Summit: The Remarkable Memoir by the First Person to Conquer Everest (2000). Along with Norgay, Hillary was named one of the "100 Most Influential People of the 20th Century" by TIME in 1999.
Hillary married Louise Mary Rose shortly after his success on Everest. The pair had three children, but Louise was killed in a plane crash near Kathmandu in 1975, along with one of their daughters, Belinda, while en route to the site of a hospital Hillary was building for the local people via the Himalayan Trust. In 1989, Hillary remarried, this time to June Mulgrew. His son, Peter, went on to become a famous climber and explorer himself, summiting Everest in 2003 with Jamling Norgay on the 50-year-anniversary of their fathers' climb.
Hillary died of heart failure on January 11, 2008, in Auckland.
Accomplishments, Awards, and Honors
Member, British Everest reconnaissance expedition (1951).

Member, British Cho Oyu expedition (1952).

Achieved first summit of Everest (8,848 meters) with Tenzing Norgay (1953).

Recipient of UK's George Medal and Queen Elizabeth II Coronation Medal (1953).

Knight Commander of the Order of the British Empire (1953).

Polar Medal (1958).

Founder, Himalayan Trust (1960).

Namesake of Hillary Coast and Hillary Canyon, Antarctica (1961).

First ascent of Antarctica's Mount Herschel [10,941 feet] (1967).

Order of New Zealand (1987).

First living non-head of state to feature on NZ Bank Note (1992).

Knight Companion of The Most Noble Order of the Garter (1995).

TIME

magazine "100 Most Influential People of the 20th Century" (1999).

First foreign national named "Honorary Citizen" of Nepal (2003).

Commander's Cross of the Order of Merit of the Republic of Poland (2004).

Namesake of Nepal's Tenzing–Hillary Airport (2008).

Namesake of Hillary Peak [25,200 feet] (2014).

Honorary President, American Himalayan Foundation

Honorary President, Mountain Wilderness