Ego Downrating Is a Trap that Holds the Sport Back
Heading out the door? Read this article on the new Outside+ app available now on iOS devices for members! Download the app.
A few weeks ago—Thanksgiving night—all hopped-up on Diet Coke, I found myself insomniatic, puttering about my basement with nothing productive to do while my family slept soundly upstairs. I'd had the flu and energy was lagging, so I'd drank the soda in order to stay awake at the in-laws' Thanksgiving table. And now I couldn't sleep.
While I zoned out on Asian game-show torture porn on Netflix (Squid Game? Alice in Borderland? Hellbound? I can't remember…), I paged through the new Rifle guidebook, published by Wolverine and written by the late Darek Krol. I'd known Darek since the late 1990s, when we and a few other climbers did snow removal in Boulder, Colorado, for a landscaping company. We'd wake up at 2 a.m. (alpine start), bundle up, and be out shoveling sidewalks and snow-blowing pathways by 3 a.m. Sometimes the storms were so big we'd have to loop back and re-shovel areas we'd already cleared, taking breaks to drink coffee and eat snacks. In some ways, the labor was harder than any climb I've done—more sustained, more grueling. Darek and I bonded during those long hours, talking climbing, new-routing, writing, and so on. He was a hyper-intelligent, hyper-energetic Renaissance man, and conversations with Darek were never boring. It was always a pleasure to run into and climb with Darek, to be greeted with his big smile and wild hair, in the years that followed.
On page 92 of the book, I came across something that brought back a rush of nostalgia for the early days in Rifle Mountain Park, the 1990s, when I began climbing there. (The first big wave of sport routes went up in spring and summer 1991; my first trip there was that September.) It was a description for a semi-obscure climb in the roadside cave of the Arsenal, Jambor-Knee. I was intrigued by the climb's grade in the new guidebook—5.13c—and went down a thought trail that inspired me to write a late-night, caffeinated Instagram post. Here's what I wrote:
In 1993, after the Arsenal route Jambor-Knee went up, Jim Hall, a driving force in developing the cave, along with Colin Lantz, encouraged me to try it. Jim had a stick-clip and got me into the second bolt; stick-clips were new, and I felt ambivalent about the "leg up." This was a confused era when we did myopic things like split hairs over "redpointing" (hanging draws) vs. "pinkpointing" (draws prehung), and starved instead of training.
On Jambor-Knee, as Jim gave running beta, I faced down its three cruxes. On the final boulder problem, gaining a crack on the headwall, I skitched through, throwing for jams, climbing fast, sloppy, and pumped. But I made it; I'd flashed the climb.
This was the 1990s. Nothing could be "13a" or even "14a"—everything got downgraded, ruthlessly; to do less than shave a letter grade or two off a friend or frienenemy's route was to expose a gap in your armor, one that could later be used against you in the eternal clamber to the top of the Rifle pecking order. Me, I had no social skills (there were few women at the crag), was perpetually cranky, and was prone to mood swings, wobblers, and weeks'-long fits of self-loathing.
So when I flashed this climb (then given 5.13a/b), I didn't think much of it. A friendly Norwegian climber complimented me, saying, "I heard François Legrand was over here," but I didn't know what to say. I'd been stick-clipped (cheating!), had beta (cheating!), had tried way too hard (cheating!), and the route was probably only "5.12c" (cheating!!!). Maybe someday I'd be a real climber, but it wasn't that day.
When l opened Darek's book to see that Jambor-Knee is now 5.13c—and probably always was—I smiled. The '90s were a fucked-up time in Rifle, and I was part of that energy. But it was also a special time. We were all just doing our best, inventing this new game of choss-farming and overhanging sport climbing as we went.
TL;DR: The 1990s, when sport and competition climbing were new, were a bizarre backwater of ego, downrating, insecurity, and eating disorders. Climbers being climbers, we are far from free of these issues today, but at least now we seem to be able to talk about them openly. What it boiled down to for me, back then, was a strong case of impostor syndrome: I never felt like I was climbing hard enough, no matter how hard I climbed, both because of the naysaying voices around me and those in my own head. I'm sure that, without those voices, I would have climbed much harder at my physical peak, and so I try not to let them distract me today when, at age 50, I need every advantage I can conjure.
In the early 1990s, if you put up a route and were bold enough to rate it 5.13a, someone would come along, flash it or do it second try, and say "That thing's not 5.13—it's barely 5.12c," just pissing all over your hopes and dreams. I remember one climb, Le Specimen, on the Meat Wall at Rifle, that I put up in autumn 1991 and speculated might be 5.13a or 5.13b. I hadn't done a ton of routes at the grade, but had done enough, and the climb felt hard: powerful slaps to open-handed pinches out a  bulging swell. It was repeated the following spring, downgraded to "5.12c," then showed up in the area's first climbing guidebook as such. Slowly, over the years and various iterations of books, it crept up to 5.12d and is now back to 5.13a—what I originally rated it! I.e., WTF? (Interestingly enough, I climbed a fair bit in Europe around that time, and the Euros seemed way less hung up on grades—climbing is a more communal, social activity on the Continent—and as a partial result of that were outclimbing the Americans.)
With this as the dominant attitude at Rifle and pretty much across America at the time, it's no wonder standards stagnated at 5.14- until the mid-1990s, when Chris Sharma and Tommy Caldwell came along and, being kids and free of the baggage of my generation, started stomping: repeating the old testpieces in no time and putting up routes of their own that were middle and upper 5.14, then 5.15. If they and others from their generation hadn't shaken things up, I wonder if we ever would have gotten to 5.15? We'd probably still be bickering over whether something was 5.13d or 5.14a, and "How many kneebars did you use?" and "How many tries/days did it take you?" and "Did you hear the key thumb catch at the third bolt broke, but it probably doesn't change the grade?"
We'd have gotten nowhere. We'd have remained trapped in a cesspool of ego-driven insanity, splitting hairs over slash grades and not putting in the hard work and attitude shift needed to truly push the envelope.
So next time you feel an "ego-downrate" coming on, consider your motivations for the slam. Sure, with enough repeats, a consensus can emerge, but grades truly are subjective—so much depends on body size and type, your strengths, conditions, and so on. So why are you downrating this climb? What do you get out of it? What does the community get out of it? What does the sport get out it? Are you doing this to hurt someone else's feelings, and thus make yourself feel better—and will you actually feel better for it, at least for more than a few seconds? Or do you truly feel, for demonstrable, as-objective-as-possible reasons, that the grade should change to reflect what you feel it to be? And if so, what is a constructive way to convey these feelings and help construct a consensus, and not just feed your ego?
Grades are a touchy subject, but if you're climbing for the right reasons, they are nothing more than a sideshow to the main carnival: the experience of climbing. As the pro climber Josh Wharton puts it about grades, "'Take it if you need it, but don't hurt your friends feelings if you don't'"—i.e., feel good without guilt about about sending a particular route/grade whether soft, medium, or hard, but don't use grades as a way to put others down."
Or, you know, to hold the sport back for an entire generation…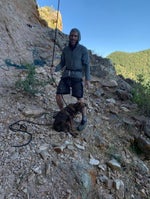 Matt Samet is the editor of Climbing. He has been climbing since the 1980s and living in the Boulder, Colorado, area since 1991.
This article is free. Sign up with a Climbing membership, now just $2 a month, and you get unlimited access to thousands of stories and articles by world-class authors on climbing.com, plus you'll enjoy a print subscription to Climbing and receive our annual coffee-table edition of Ascent. Please join the Climbing team today.