This Simple Mistake Nearly Killed Them Both
"I do not believe in God, Inga, but you should start."
Heading out the door? Read this article on the new Outside+ app available now on iOS devices for members! Download the app.
This Epic was originally published in Rock and Ice. 
"Spremna?" Suncica asked. "Inga, are you ready to climb?"
"Let's do it!"
We were in Paklenica National Park in Croatia with hundreds of other climbers, a tradition in May for Croatia's Labor Day since the early 1960s. Paklenica offers hundreds of routes near the village of Starigrad, amid mountains rolling directly into the turquoise Adriatic Ocean.
~~~~~~~~~~
My friends and I usually climb on Anica Kuk, an overhanging 350-meter limestone wall. I was visiting my home country from my studies in Berlin. The weekend featured the traditional Big Wall Speed Climbing (BWSC) competition and the 12-hour climbing marathon.
Suncica Hrascanec, my climbing partner, and I were on our second day. On the first day we had set a new record of 14 minutes on the female BWSC route, the three-pitch, 360-foot 5.10c Karamara Sweet Temptations. It was our ninth consecutive win. The men climbed a 180-meter 5.11c.
Last evening Suncica and I had left the cliffs elated, but today, as Suncica and I prepared for the climbing marathon, I was distracted and concerned. I hadn't slept much and was emotionally depleted. I didn't care about anything.
Usually I recheck my climbing equipment. Not this time. 
We started with Johnny, an eight-pitch 7a. Suncica connected the first two pitches, approximately 70 meters (230 feet), to be faster. As she neared the first anchor, I took my belay device off the rope before I was sure she was in. Big mistake—and I hadn't even begun to climb. I scolded myself: Inga, be more careful. But now go climbing and enjoy.
I started climbing, passed her and led through. At 400 feet above the ground, I reached the belay ledge and sat. Automatically, I created my usual self-equalizing anchor with a movable master point (many climbers know it as the "sliding X"). Mid-task, I realized that the sling was taped together in the middle. Weird. I never tape my slings, but this one was my partner's, and she must have taped it before the speed competition so it would be shorter on her harness and not catch on anything.
What the heck. Well, OK.
I looped the sling and clipped my master-point carabiner into the loop, tied in with a clove hitch, placed a second carabiner by the master point, and clipped my auto-block into that.
I yelled down to Suncica, "You can climb!"
I looked around at the other climbers on the vast rock around me, enjoying their climbs: some in the shadow, some in the sun.
Last night, after the competition, my former boyfriend had arrived in town.
"Why are you here?" I had asked.
"I care about you, Inga."
"Why?"
No answer.
"If you care, why did you break up with me?"
No answer.
For the last year, I had fought to abandon the 10 years I had thought of as us. Together we had climbed the highest peaks and explored the deepest caves in Croatia. Together we had imagined our 50-year future. We planned our family, discussed at least 20 different names for our kids: Logan, Lucija, Sofia, Roko, Ronja, Ejla ….
Suncica came into sight, about 50 feet below my belay, and I leaned out so she could hear me better.
I pitched off the ledge.
Why? my mind screamed. I'm at the anchor. What happened?
I grabbed desperately for the ledge, but missed it and fell … meter by meter. Time slowed way, way down. I knew the numbers. At least 165 feet of rope lay curled on the ledge—the ledge that was disappearing above me.
Four bolts remained clipped between Suncica and me. The last bolt was about 15 feet below the ledge. With the basic counterweight phenomenon, where I would fall to the end of my rope and then stop due to the weight of Suncica on the other end, I would need to fall at least 165 feet to take up the loose rope on the ledge, plus about twice the length, 30 feet, since the last bolt.
I scraped down a slab, facing outward. I picked out a sharp rock hold just a few feet below me, but could not see what waited under that. As I passed the square rock, the wall kicked to vertical, and I accelerated.
Don't panic, you will stop soon.
In the back of my mind was a sense of comfort.
Then I stopped.
Shocked and moving out of instinct, unaware of why I'd been caught, I swung a few feet sideways to a crack and clipped a quickdraw. 
Climbers on the opposite walls stared at us. I breathed, trying to lower the adrenalin rush, and checked the situation. Every inch of my body was scraped: my knees, knuckles, palms, face, butt. I thought, Whew, no major injury. With that relief, my thoughts suddenly crystallized. There was life after us.
I will continue my life in Berlin, continue my Ph.D., continue to climb.
"What happened, Inga? Are you O.K.?" Suncica called in disbelief from only eight or 10 feet diagonally downward. 
"I don't know," I replied. Maybe I did not close the carabiner properly. But I had. Just six feet away from me the carabiner with the auto-block on it remained on the rope. Did the sling break?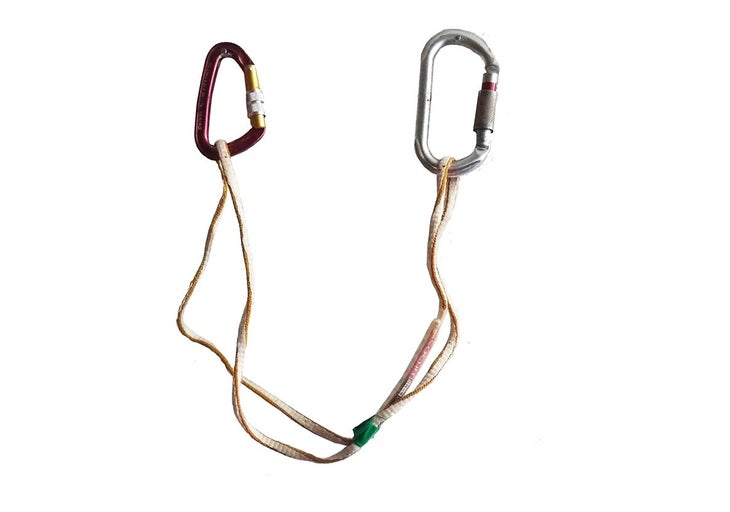 Oh, no, the tape! Since the anchor sling was taped, it was very stiff and hard to loop. I must have clipped the loop made by the tape, and when weighted, the tape broke. 
I thought about it, then saw the blood dripping out of my heel.
"We have to go down."
Once we reached the ground, our friend Branko cleaned my wounds.
"Inga, what stopped you?" he asked.
I don't know … Only then did I realize that I'd stopped far sooner than I should have.
"I do not believe in God, Inga, but you should start," Branko concluded.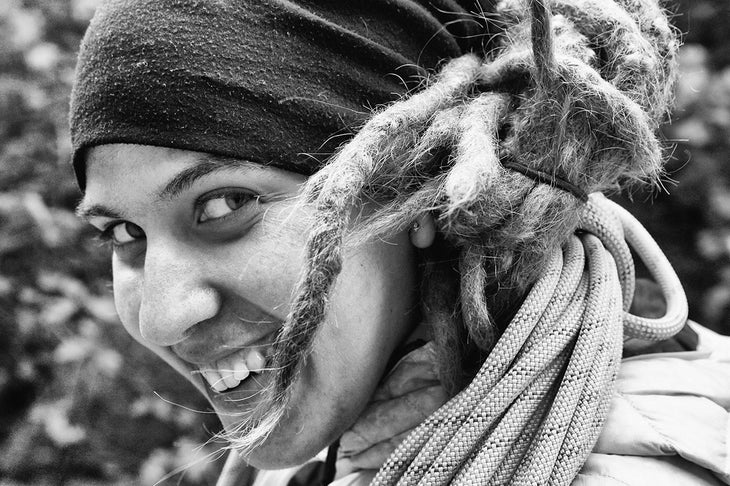 I was lucky. If I had leaned out after Suncica had unclipped from the last bolt, we would both have fallen to the ground. I could not handle the thought.
"We have to climb," I said.
Although surprised, Suncica supported me.
Below the wall, I limped, bleeding. But once on the rock—I was me. I climbed, my soul healing move by move, route by route. The accident happened within the first hour of the climbing marathon. We persevered for 12 long hours to climb 40 more pitches. And we won.
Two weeks later, I was back on a wall, in the Frankenjura, Germany, surrounded by my friends from Berlin. Finally, I allowed myself to think about the fall, and only then did I observe something. My blurred vision cleared as I fixed on an inch-long still-brown burn on my right palm, exactly where the rope normally touches it. I touched the raised, dull callus with my left index finger. My skin was numb there.
Did I stop myself by gripping my partner's end of the rope?
At the anchor, I had been holding the rope just behind the auto-block, as is my habit, even though an auto-block in theory should be safe even without it. That habit saved my life. I think I stopped my 30-foot fall with my hand that was on the rope.
Mountains are a brutally exacting environment. I cannot imagine ever repeating my clip-in error, but I have deliberately rewired my brain, training myself to be more alert to detect a careless mindset. Climbing takes not only caution but the vigilance to sustain care and a personal resolution to stop and withdraw if something is wrong.
Inga Patarcic is a Ph.D. student and data analyst from Croatia, currently living in Berlin. She started climbing in 2005, is a former Croatian champion in bouldering and speed climbing, and is an ambassador for Climbers Against Cancer (CAC).
Also Read