Family Values: Raising Kids Who Love to Climb
Heading out the door? Read this article on the new Outside+ app available now on iOS devices for members! Download the app.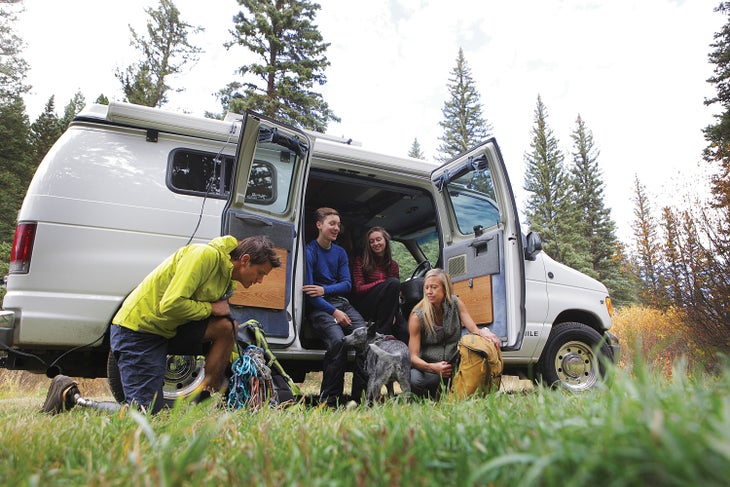 "Do NOT subject your children to your inane hobbies," read one comment. Most climbers wouldn't have looked twice at the U.K. Daily Mail photo of my wife, son, and I huddled at a belay ledge 400 feet up the Red Rock classic Dark Shadows. Having just had a fun morning on the four-pitch 5.8, we're all smiles at the end of our weeklong desert trip. I had climbed to the top of the last pitch and lowered, and my daughter, Mayah, climbed up to snap the shot. For my wife and I, raising our kids in the outdoors, camping and climbing all around the West, it was totally normal. For the readers of the tabloid-style news site that had published a profile on me after I lost my leg in a climbing accident, it was appalling.
"The photo at the bottom confirms my impression that this man is deeply stupid."
"Having already lost a leg as a result of rock climbing, by putting his wife and children at risk, it would seem that he has learned nothing from the experience."
Pissed off was my first reaction—Who the hell were these people behind the computer screens judging me?!—but then I was deeply hurt. I had always thought Cyndy and I were good parents. Never perfect, but we tried. We let our kids explore activities that captured their interest—painting, soccer, lacrosse. We watched as they got excited over various passions, hoping that steering them toward a lifelong pursuit would help them find balance in their lives. Was this position high off the ground at a belay ledge-—a standard scenario in rock climbing—dangerous? Sure, but playing video games for four hours a day is worse. Think obesity, lack of social interaction, and compromised eyesight, to name a few downsides. But post a picture of a kid staring at a glowing blue square and no one gets upset.
My wife and I mitigate the risks of climbing. The kids wear helmets, only lead when we are with them, and choose routes with few objective hazards like loose rock and dangerous falls. Beyond that, we feel that the rewards outweigh those risks. Quality family time, self-confidence, and a well-rounded perspective on life are just a few of the perks of living the climbing lifestyle together as a family. We have built this type of life very much on purpose; it's a life that can hopefully show them the value of experience and togetherness over a nice car, a big house, and other material things that our culture tends to prioritize. The climbing life is a doorway to a more fulfilling existence, and now that Mayah, 18, and Will, 16, are becoming adults and following their own paths, I feel more convinced than ever that we made the right decision.
Eighteen years ago, Mayah was born on a November day, all 8 lbs., 6 oz. of her. Married for two years at that point, my wife and I spent all our time together outside. We embraced our friendship, then our marriage, before having children was part of the picture, and we learned how to travel and keep our own lives simple. There was never a specific "Hey, let's raise our kids outside" conversation, but once the kids came, it was a natural progression to bring them with us. Don't get me wrong; it's not like we live in a cave and eat beans cooked in a can over a fire every night. We have a house, jobs, cars, and commitments, but every free moment goes to being and playing outside.
When Mayah was three months old, we took her with us on bouldering outings. The low-commitment nature of bouldering made it easy to watch the baby and move around on the rocks. We would hang the car seat from the low branch of a pine tree near the boulders and let the wind blow Mayah back and forth until she fell asleep. When she was six months old and a bit heartier, we started sport climbing. We did the same with Will—bouldering at three months, sport climbing at six—two years later.
On sport-climbing days, we weren't knocking out 10 pitches in a session; we'd be lucky to eke out four laps each. We didn't know many other climbing families, so we ventured out alone to places like Shelf Road and Penitente Canyon in Colorado, where short approaches and stable weather made for easier days. As long as we had snacks and Elmo, things were calm. But kids will be kids, and they would have meltdowns, often when one of us was halfway up a pitch.
In 2000, I was climbing on the Menses Prow in Shelf, while Cyn belayed me, and our friend Audrey watched Mayah. We had convinced Audrey to come along with the promise of fun pitches in the sun. She didn't have kids at the time, but her husband had stopped climbing so she was keen just to be outside on rock. She was a perfect fit. As I was clipping the fifth bolt, I heard a bloodcurdling scream followed by a heinous fit of crying. Everything fell apart pretty quickly. I could've kept climbing, but it doesn't do much for your psych when your child is screaming at the top of her lungs. I felt like an idiot for bringing her to the crag. As I listened to her wailing, it struck me how futile climbing really is. Cyn went to check on her, which took her attention away from belaying me, so I eventually lowered to the ground. This was not peak-performance climbing; this was what you'd call survival climbing.
As a young parent and a diehard climber, it was frustrating, disheartening, and difficult to reconcile these two parts of myself—one that just wanted to climb and the other that wanted to be a good dad. Emotional, tear-filled moments like this made me feel like I couldn't be both. I would have to give up something, and it wasn't going to be fatherhood. I had known a few other couples who climbed, and climbing was the first thing to get dropped when kids came along. Neither Cyn nor I wanted to be that couple, but this was rough. When only one person wants to remain a climber, the selfishness of climbing looms large, but because we both wanted to be there, it made the work easier.
With 18 years of hindsight, taking the kids climbing was pretty easy. Yes, juggling small children, climbing gear, kids' stuff, and dirty diapers was a chaotic time-suck, but if we wanted to go climbing when the kids were little, they came with us. They didn't get a vote. Everything changed once they started walking. Since they didn't know the hazards of being at a crag, Mayah and Will couldn't be left alone. It wasn't just bouldering around and checking on them every few minutes—one of us had to be with them at all times. That's when we sought help from like-minded families to share the responsibilities of camping and climbing with kids, dogs, and the whole shebang. This was pre-Facebook, so we asked around at our local climbing gym. We would chat couples up to see if they had kids, or take our kids to the gym to advertise our situation. Now with social media, it's easier than ever to find fellow climbing families.
Obviously, not everyone was down with family-style climbing. I can't tell you how many times we cleared an entire crag because the circus was coming to town. I've never seen college kids move so fast as a few years ago when we walked up to the Contest Wall at Shelf Road. Dogs, kids, packs, kids' packs, chairs, food, water, toys—setup alone for our day at the crag required at least an hour. All we could do was smile, be nice, and try to minimize the junkshow. While many climbers have quietly escaped our bedlam, we've never had anyone scold us or say anything derogatory. The climbing tribe has been nothing but supportive, and we try to return the favor now when we see young parents with kids rolling up to the cliff.
I wasn't doing El Cap in a day, but climbing outside with my wife and kids felt just as good when we sat by the fire and made s'mores—something I would never able to do on El Cap. Even when a climbing day was more screaming than sending, it was right where I wanted to be. Pro climber and schoolteacher Rob Pizem and his wife, Jane, are raising two young boys in Grand Junction, Colorado, and they have a few rules to make sure the kids are the priority when they go climbing. "By setting parameters, it helps you, the climber, stay out of the way of you, the parent," Pizem says.
It is supposed to be fun, meaning if the kids want to swing from 10 feet up all day, that's what we do.
Climbing with the kids means I might not even climb that day other than hanging ropes for them.
The goal is to let them choose to climb, not for us to choose it for them.
Besides the health benefits of being active and outside, climbing can teach kids lessons about life. We face conflict, stress management, and fear all the time as adults and as climbers, and if you don't set up your kids (and yourself) for success, then they will experience an endless succession of defeats and unhappiness. Climbing is all about getting back on after falling, finding motivation, seeing the world from a new perspective, and feeling a sense of community. Cyn and I always wanted our kids to like climbing for themselves, not because Mom and Dad said they had to. We said, "If you want to climb, that's great. If not, that's great too. But, we are going camping for a week and that's not up for discussion, so bring books, drawing pads, whatever you need to keep yourself entertained because we're not listening to how bored you are for a week."
A few weeks ago on a weekend trip to Rifle, Colorado, Mayah wasn't excited about her school or life in general. Dealing with tough things like loss and pressure at school, she said she needed to climb to clear her head and get back on track with a life that didn't feel so burdensome. Sitting around the campfire at night after a day of climbing, she sat up straighter and spoke with a smile on her face. The simplicity of climbing had freed her from the thoughts and emotions that had been weighing her down. As adults, it's easy to over-complicate our lives, but climbing can be the constant that is simple and fun. There's always something new to learn or somewhere new to go, and when you're climbing, it keeps you engaged and focused on the now—not the past or future.
In the end it all comes down to balance. These days, Will is a setter at the local gym in Fort Collins, and he and Mayah both climb for a regional team. While Cyn and I might feel that climbing and being outside are valuable, our kids might not always agree. Sometimes they want to try another sport or focus on school, and that, I believe, is the goal of good parenting: to have kids who are independent and thoughtful enough to seek out that which they need to be happy.
Craig DeMartino is a climber, dad, writer, and motivational speaker who lives in Colorado. Whenever possible, he and his wife, Cyndy, sneak away in their van without the kids for as long as they can.