To Bolt or Not to Bolt? The Frightful Story of Air China (5.13+ R)
Sometimes you search for first ascents, and other times first ascents find you. In 2011, I traveled to Liming, China, with the purpose of establishing new routes on the amazing sandstone walls outside the remote Chinese village.  Not knowing what to expect, I had dreams of establishing China's hardest traditional climbs. On our first day climbing, a route caught my eye, and I knew it was the one. It was a subtle crack system that paralleled an obtuse arête. Establishing a new route is a creative process, and I had found my canvas.
For me, going ground up is always ideal, but often times a route needs pre-inspection. Holds need to be cleaned, gear placements found, and hard sequences solved, especially if a route may be dangerous. After staring up at the line, I came to the conclusion that it would be possible to climb the route using traditional protection. I spent a few days cleaning and trying the route. Due to the soft nature of sandstone, some holds and gear placements had to be cleaned. I scrubbed the red sandstone and tick-marked all the crucial climbing holds and gear placements.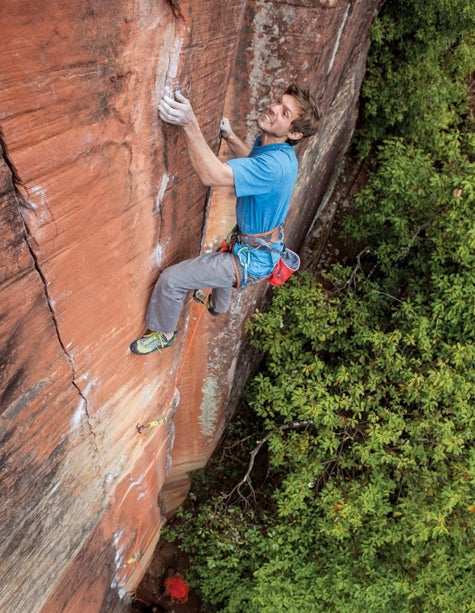 I was able to find just enough gear to protect the route and make it possible. Two nests of micro-cams would protect a blank 5.13+ section, but it might be a little dangerous; the gear was small but seemed good enough. In retrospect, the allure of creating China's hardest trad climb may have clouded my judgment, but the idea of placing a bolt never entered my mind.
Eventually I was ready to pull the toprope, and with my trusted partner Will Stanhope belaying, I went for the lead. Stanhope has belayed me on numerous sketchy leads and knows the score with tricky catches. I placed all the gear effortlessly but still entered the crux a little nervous. The climbing is extremely insecure: pasting your feet on sandy holds, slapping the slopey arête with your right hand, and bearing down on tiny crimps with the left. I got halfway through the crux, which was about six feet above my nest of two small cams, when my foot skated off a tiny foothold. I was airborne and completely out of control. I felt the rope catch me for a millisecond, and then I continued to fall and spin around the arête where I eventually flipped upside down and fell head first. I ended up hanging upside down about eight feet off the ground. My fall had yanked the gear so violently that the rock exploded. The fall was around 45 feet, and if I had fallen from any higher, I probably would have hit the ground head first.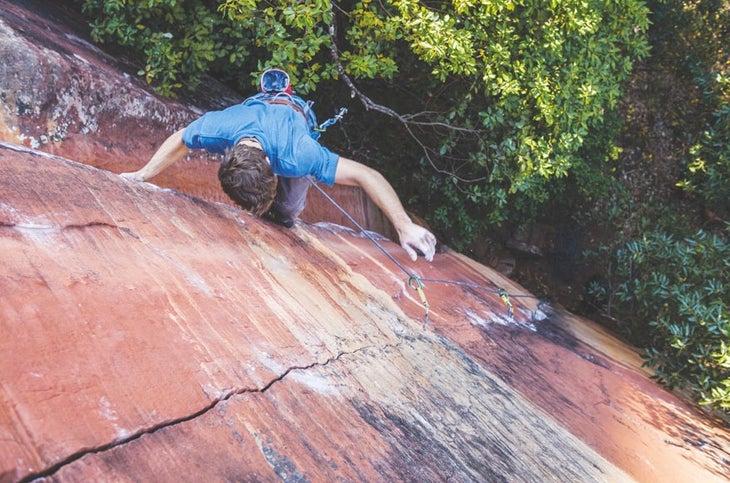 I was pretty whiplashed from the awkward fall but felt lucky to be alive. Stanhope was in shock; he had just recovered from a terrible climbing accident where he ripped gear out of the famous gritstone route Parthian Shot in England. He hit the ground from 60 feet, shattering his heel, and belaying me brought back some painful memories. Completely freaked out, he said I should place a bolt, and he wouldn't belay me if I didn't.
Battered, I mulled over the prospect of tainting my dream of establishing a 100-percent gear route with a bolt. Finally, I realized it wasn't worth risking a 60-foot ground fall where the nearest hospital was who knows how far away. I later sent the route with the bolt, calling it Air China (5.13+ R).
I operate under a philosophy that routes don't need to be repeated safely, so I don't establish them that way. The joy in climbing routes like these is all my own, and I don't always feel the need to equip routes with the greater community in mind. Some people might view my approach as reckless and feel a route like Air China should actually have more than one bolt. I always try to have a minimalist approach to establishing new lines, but others place a higher importance on repeatability. To each his own—but it's important to think through your bolting philosophy as a first ascensionist. Have a reason to place—or not place—each bolt.
In the end, is this route still far from a sport route despite the bolt? Yes. Did I enjoy the process of projecting and eventually sending the route? Yes. Did I personally find the process cheapened because I added the bolt? Yes. But some sacrifices need to be made so your friends don't have to scoop your brains back into your head.
This story was originally published to climbing.com in February 2014.