The Mountain Path: A Death-Defying Lead and a First Ascent on Torre Central, Patagonia
Photo: Courtesy of Vertebrate Publishing
Heading out the door? Read this article on the new Outside+ app available now on iOS devices for members! Download the app.
In 1998, Paul Pritchard was struck on the head by a falling rock as he climbed a sea stack in Tasmania. Close to death, Pritchard kept himself going with a promise that given the chance, he would "at least attempt to live". Left hemiplegic by his injury, Pritchard has spent the last two decades attempting to live, taking on adventures including a cycling traverse of Tibet, expanding his mind on grueling meditation courses, and returning to climb the Totem Pole, where his life was nearly extinguished. 
The Mountain Path is a remarkable adventure book: an exploration of a healing brain, a journey into philosophy and psychology, and a test of human will. Below, please find an excerpt of its first chapter, Freedom.
---
I arrive at the stance. I clip the tied-off peg and lace the rock with the four little splinters of dull-golden metal barely wider than a coin turned on its side. I arrange an equalising mass of shock cords and hang off the belay. There is one cigarette-packet-sized foothold on which to stand on the edge of this tilted desert. Bobby joins me and expresses his alarm at the inadequacy of the gear he is expected to hang off. I calm him down by letting him know I am very unlikely to fall off.
I lace my rock shoes and squeak the smooth rubber soles. I unclip from the belay and set off climbing. I attempt a rockover move with my left boot on a tiny nipple of quartz. I have to reverse this repeatedly. I am very nervous but think to myself, 'You can't let Bobby know you're terrified.'
Back at the hanging belay I look down. The sea is pounding the cliff seventy metres below us.
I squeak the rubber on the inside edge of my left shoe, climb up to the nipple move on its outside edge so as to keep the inside clean and consequently less likely to grease off. It holds. I pull through. I place a tiny wedge of aluminium, a Rock 1, in a thin crack. Up above I see no more protection. I climb on … I climb on … And on … I am fighting now to maintain contact with the rock. I think Bobby is shouting up words of encouragement.
I hear, 'Come on, Aardvark!' He calls me that because of my lengthy nose.
And then, the whole world turns a blinding white. I cease to struggle. Through a kind of fog or the frosted glass of a windowpane, I watch my body climb as I climb on. I hear the muffled cries of guillemots but from another place, outside of myself. Their screaming seems slow. I feel a grain of sand crushed to dust under the weighted edge of my shoe, but from where I'm watching myself. I smell the earthy odour of the lichen right in front of this man's face, though not through this man's nose. I watch myself with a supernatural detachment, executing move after move up the red rock.
And then I arrive at the clifftop, numb. I arrive at the right angle where my tilted world meets the horizontal. Another world, one of tourists and ice creams. A world I do not have much time for. I bring Bobby up on the rope and fail to mention my strange encounter with this other man called Paul.
***
I didn't know what I wanted in every other field of life. But I did know I wanted that feeling again. That feeling of sublimity. I searched for it. I looked high and low. At the top of The Mountain and in partying all night. The feeling seldom came, but I kept on searching. I did have other experiences of complete transcendence while climbing, but only a handful. And then they were gone. It was only after years of following this path, only after years on this treadmill of constantly reaching for and never quite grasping this intensely powerful feeling, that I realised something.
It didn't matter.
It didn't matter what I did. I could have done anything, been anything. Just as long as I was in wild nature and doing whatever it was to the best of my ability, that was enough. The presence, the feeling with which I did it was what I came to see as truly important.
One could say I was rescued by The Mountain. However, The Mountain is no escape. After all, it is often excruciating work, climbing a mountain. Exhausting work to keep going, knowing you could make it stop in an instant if you were to turn right around and slide back down the slope, or abseil down the rope. Climbing a mountain is dangerous work too.
One has to have discipline by the barrowload for all the austerity and hardship The Mountain provides. In the Patala Sutta ('The Bottomless Pit'), Gautama Buddha speaks of the mind's underlying habitual tendencies. He urges us 'not to be touched by painful bodily feelings.' For me, freedom comes with the acceptance of this pain. And the pain of hard work, though not in any regular nine-to-five sense.
A personal example would be my first big-wall climb, with my teammates Noel Craine, Sean Smith and Simon Yates. The year was 1991. We had chosen one of the world's most formidable peaks to make our multi-day first ascent, the Torre Centrale de Paine in Patagonia. At 1,200 metres the east face is several hundred metres taller than the Burj Khalifa in Dubai, the tallest building in the world. And we had spotted a hairline fracture running the entire height of it.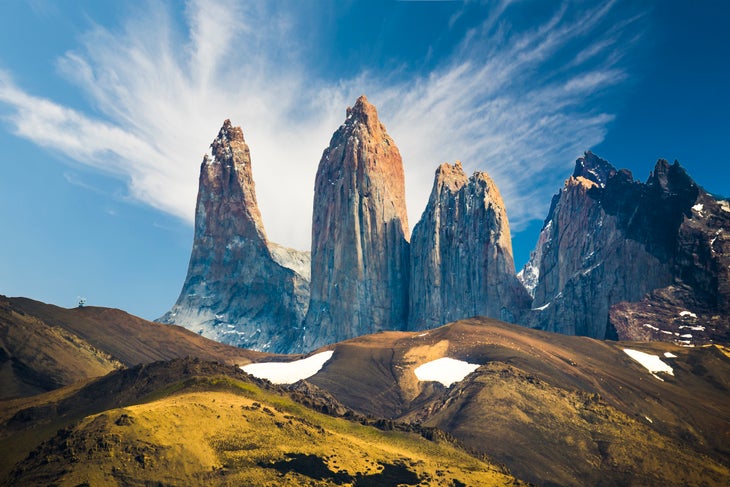 Noel and I had done numerous avant-garde climbs up the UK's most dangerous cliffs and we were to bring a touch of the avant-garde to the expedition. For Sean and Simon, with their long list of cutting-edge new routes up peaks in the Alps and the Himalaya, alpinism was their speciality. We were to meld the two styles together and attempt to work magic.
One week into the climb, storm-bound in the porta-ledge, I stared vacantly at my swollen hands. I could hardly make two fists, so stiff were they from days spent hammering pitons, or from attempting to jam my fingers into the thin crack we were following. Noel was slumped opposite me. I glanced up at him and it was in that moment I became aware my mind was being steadily shaped by all this time spent climbing among the great cliffs and mountains.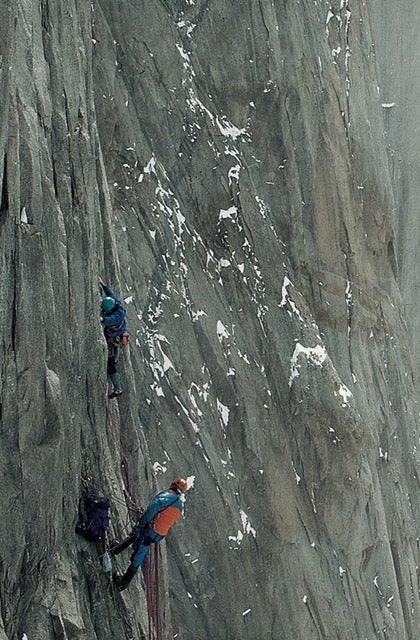 Following that thin seam, seemingly to infinity, with no avenue to venture left or right, it became clear that I was now pursuing that life. That life of a sustained freedom: freedom from choice, and from the shackles of convention. By rights, at the age of twenty-three I should have completed my joinery apprenticeship and gone on to a career in carpentry on various urban building sites. Yet here I was on the edge of this vast plain of granite, gingerly edging my way up, tapping pitons, like a cabinet maker taps a chisel, ever so delicately, to make one more move. Like a safe cracker, it would only take one mistake to set the alarms off, for the automatic steel vault door to lock shut, and I would fall for 'miles'. This was indeed how the climb, which we dubbed El Regalo de Mwono ended for Simon. He fell one day into the void when a piece of protection ripped under his weight, a fall that left him bruised and shaken.
There was only one option for ascent, to continue climbing this dead-straight fissure, this hairline crack. There was only one other option: going down the same way we had come up. Going down is, most of the time, a lot easier than up, but down is always filled with regret; going up not so much. At least in this place, in that moment, I was not spoilt for choice. I was living the life I had been searching for, ever since the Witch's Step.
---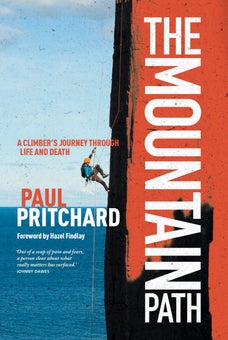 To learn more about Paul Pritchard, and to purchase The Mountain Path, please visit Vertebrate Publishing's website.
This article is free. Sign up with a Climbing membership, now just $2 a month for a limited time, and you get unlimited access to thousands of stories and articles by world-class authors on climbing.com plus a print subscription to Climbing and our annual coffee-table edition of Ascent. Please join the Climbing team today.