Gender Bias: Nonbinary Climbers Sound off on Discrimination in Climbing
Heading out the door? Read this article on the new Outside+ app available now on iOS devices for members! Download the app.
This feature is being provided free as a preview of our Summit Membership. Get access to more great climbing articles and other benefits, along with a subscription to our print edition, by joining here.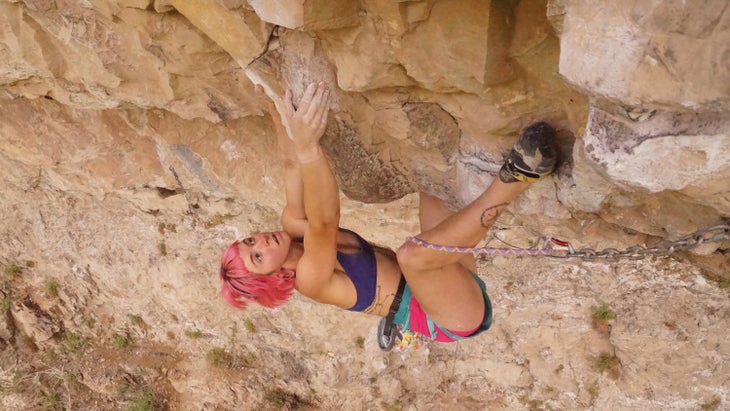 Rin Gentry, 24, knows most people look at them and assume they are a woman. Their style is spunky and colorful. They have bright-pink hair and a high ponytail with bangs. They dress in Spandex and cropped tank tops. They don't deny they appear feminine. "But I'm not a strong female climber," they say. "I hate when people call me that."
Gentry, a nonbinary person who uses they/them pronouns, is a strong climber, with ticks including Spray-a-Thon (5.13c) and Tomb Raider (5.13d) in Rifle, and Atomic Fireballs (5.13d) in the Red River Gorge. Gentry also won back-to-back Collegiate Sport Regionals in Colorado in 2018 and 2019, took fourth place at Collegiate Nationals in Murfreesboro, Tennessee, in 2019, and third place in CityROCK's Battle Royale in Colorado Springs in 2019. However, despite their impressive résumé, Gentry and other nonbinary climbers often find themselves silenced about their identity or excluded from the climbing community.
Gentry grew up in Berkeley, California, and started competing when they were 13. At 18, Gentry moved to Colorado Springs to attend Colorado College. They competed in collegiate and open competitions, and also fell in love with sport climbing. "Once I discovered Rifle, I was getting out there every weekend," Gentry says. In winter 2019, during their senior year of college, Gentry changed their name and came out as nonbinary. "That's when everything kind of clicked," they say. Up until then, Gentry had been struggling with their assigned gender.
They found a relatively welcoming space at their liberal arts college. But coming out in the rather bro-y climbing community posed difficulties. Many of Gentry's climber friends didn't understand or hadn't heard the term "nonbinary" before. In Colorado Springs and Rifle, Gentry faced pushback when they tried to get people to stop using their deadname (unchosen birth name). After graduating from college in 2019, Gentry lived in their Subaru Forester for a few months at the Red. However, deep in the hills of Appalachia, Gentry felt uncomfortable.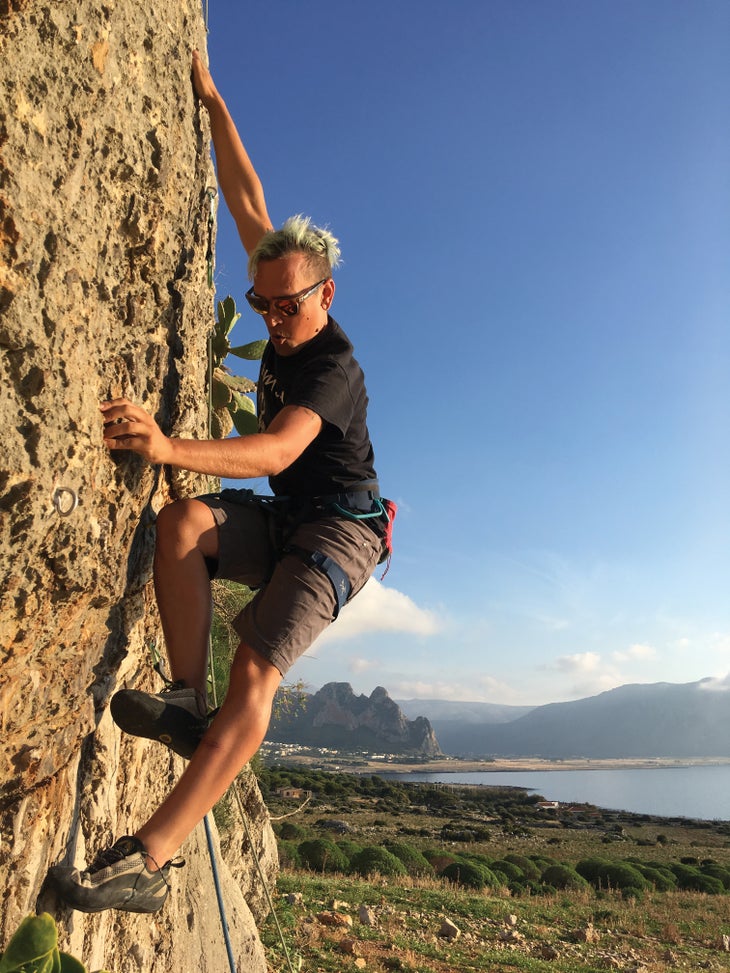 "It was probably the least safe space I've ever been in as someone who identifies as nonbinary," Gentry says. The Red's culture, even in the local climbing scene, is still very much connected to the South. It was the first time since Gentry came out that they felt the need to remain closeted. When Gentry applied for a job at a local restaurant, they were told: "Oh yeah, you're a cute girl—they'll hire you right away." Gentry didn't mention that this wasn't exactly the case. Though their interview went well, when Gentry followed up with the manager a couple weeks later, they got a short text back saying, "We're good, thanks." Gentry later heard from a friend living with some of the restaurant's employees that they'd learned of Gentry's nonbinary identity through the grapevine. According to Gentry, the employees said something like, "Oh, we don't need that in our restaurant. This isn't a safe space."
"That was really hard," Gentry says. "In restaurants and seasonal work, it's all about toughness and grit. Nobody wants to hear about how you identify."
Gentry has also faced similar barriers in the competition scene. Gentry competes in the female category because "that's just the line of least resistance," they say. "I'm not trying to cause any problems, but it is a problem for me to show up, and from the get-go my identity is erased"—referring to event announcers' tendency to use incorrect pronouns when announcing Gentry, even when Gentry requests otherwise. In February 2019, Gentry competed in the Battle Royale in Colorado Springs—their first competition after they came out—and when the announcers used "she" as they began to climb, Gentry was thrown off their game.
Gentry would like to see competitions have more- inclusive gender categories. Right now, all major comps—including Nationals, World Cups, and the Olympics—have binary categories. At present, the USA Climbing rulebook stipulates that a competitor may register for a membership as either male or female, whichever is more aligned with the competitor's identity. If that gender is different from what's on the competitor's birth certificate, then the competitor must provide proof—like a government-issued ID or a document prepared by a healthcare provider. There is no option for a nonbinary category. Interim Chair of USA Climbing's Diversity, Equity, Inclusion Task Force Melanie Zurek said the inclusion of transgender climbers is on the task force's radar. But Zurek clarified that they're a volunteer group making recommendations to the USAC staff and board—and has yet to form any specific recommendations on this issue. (USAC CEO Marc Norman did not respond to multiple requests for comment.)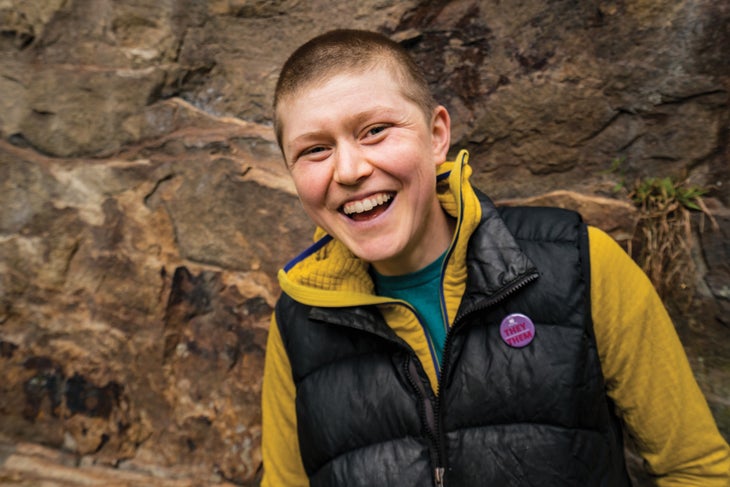 During Gentry's senior year at Colorado College, the school hosted a bouldering competition without gender categories. Gentry says it was a big success. "The strongest climbers were pretty distributed over genders," they say. "And nobody had to circle a gender they didn't identify with."
Gentry points out that in climbing, the "performance gap between genders isn't that big." Julia Chanourdie, Margo Hayes, Angy Eiter, and Anak Verhoven are all women who have climbed 5.15—a grade also only attained by a handful of men. Ashima Shiraishi, Kaddi Lehmann, Oriane Bertone, and Miska Ishi have climbed V15, while only a handful of men have broken into V16. Since every climb requires unique body movements, Gentry says people of all genders can be powerful, technical, or flexible in different, advantageous ways.
Sean Taft-Morales (they/them), a nonbinary climber, is the director of Sportrock Climbing Center in Alexandria, Virginia. They're also an American Mountain Guides Association (AMGA) Single Pitch Instructor and an SPI Provider. Taft-Morales says while they've found a relatively good community in climbing, it hasn't always been the most inclusive.
Taft-Morales, 33, born and raised in Washington, DC, has been climbing since age 12. From a young age, masculinity never really resonated. "I danced classical ballet as a kid," they say. "I wore a lot of tight pants and women's clothes, and I didn't really know what that meant, but masculinity didn't really work for me." Taft-Morales struggled to understand their identity. Once they started to express themselves as nonbinary in their late 20s, it felt like a perfect fit.
However, Taft-Morales has encountered issues with being out to climbing partners. "You're meeting people at belays, and shouting, and mostly you're focused on the weather coming in or on your transitions," says Taft-Morales. They add, "It's tricky meeting new people and scoping them out and trying to decide, Is this someone who is going to be a) safe and b) easy to come out to?" As an instructor, Taft-Morales worries it might be too much trouble or too risky to come out to a client if they will have trouble remembering pronouns or otherwise get distracted.
It hasn't all been unwelcoming, though. As a guide, Taft-Morales has been happy with the way the AMGA has tackled DEI. The organization recently updated its SPI Code of Conduct to include cultural competency—plus, the AMGA instituted a more robust system for reporting discrimination and harassment. Monserrat Alvarez, the AMGA's membership and inclusion coordinator, says the AMGA has been working with consultants to learn how to be more inclusive of nonbinary and trans people. They've also started teaching guides the importance of gender pronouns and inclusive language, and continue to grow their affinity programs, which aim to make guide-instructor courses more welcoming to people who are underrepresented in the climbing community.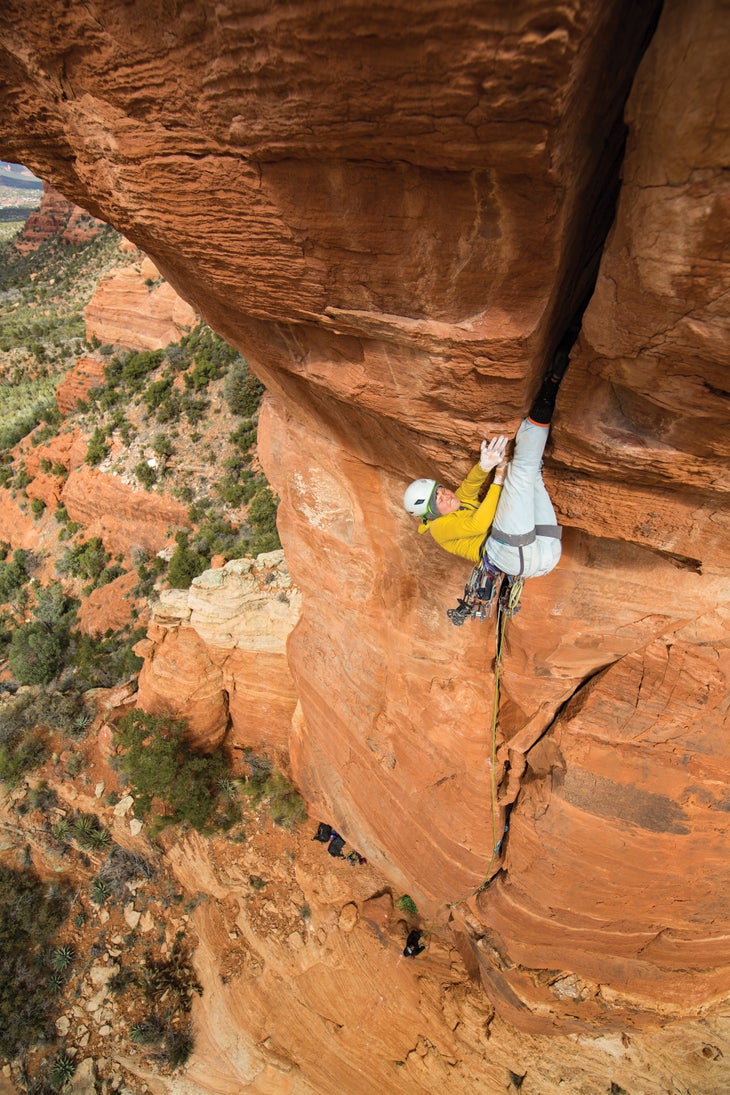 Laur Sabourin (he/they), 27, originally from Southfield, Michigan, is another guide who has experienced ups and downs as a nonbinary climber. Sabourin is an elite climber: They guide in the Utah desert, teach clinics for the Warrior's Way, and have a ticklist of hard trad sends including the first free ascent of the gnarly overhanging crack All Systems Go (5.13+) and the second ascent of Mechanical Bull, a 5.13+ offwidth, both in Sedona, Arizona. But they haven't always been taken seriously.
"Early on, I went out with a photographer, and they were, like, 'Yeah, you just don't look like a climber,'" recalls Sabourin. According to Sabourin, the photographer said, "When people are looking for a picture of a climber girl, they're looking for this, and if they're looking for a climber dude, they're looking for this." He said Sabourin was neither.
Sabourin is today based out of Flagstaff, Arizona, and guides for Flagstaff Climbing Center. They point out that there are very few stories in the media featuring queer/nonbinary climbers. "Find me people who look like me or identify the way that I do," Sabourin says. "I have to construct my reality around something that I don't know if it exists."
The difficulty of queer/nonbinary climbers in gaining notoriety in the climbing world is likely due to a few factors. There might be bias (even if unintentional) from sponsors, so sponsor money instead goes to cis/heteronormative climbers. Also, queer/nonbinary folks who have faced discrimination might not feel comfortable putting themselves in the spotlight. And while there are no rock-solid numbers showing exactly how many people are nonbinary, a 2017 Gallup Poll estimated just "4.5% of Americans are LGBT," and in 2016, the UCLA School of Law reported from a very limited survey that about "0.6% of U.S. adults identify as transgender"—so queer/nonbinary folks likely comprise only a small percentage of climbers overall.
Still, it doesn't take much for us all to be better allies. Taft-Morales says the biggest takeaway is not to make assumptions and not hesitate to ask people which pronouns they prefer. As Gentry puts it, it may seem hard to change old habits like using male and female pronouns, but inclusive language comes easily with practice. For Gentry, using their correct pronouns is the least someone can do. "Things are complicated for nonbinary people because we live in a society that doesn't create spaces for them and doesn't acknowledge their gender," Gentry says.
"It just comes down to treating people like people."