Generation 5.16: Ashima Shiraishi
Age 17 / Queens, New York
Heading out the door? Read this article on the new Outside+ app available now on iOS devices for members! Download the app.
This story is part of our series, Generation 5.16: 10 Young Crushers That Could Take Rock Climbing to the Next Level. It was originally published in the December/January 2018 issue of our print edition.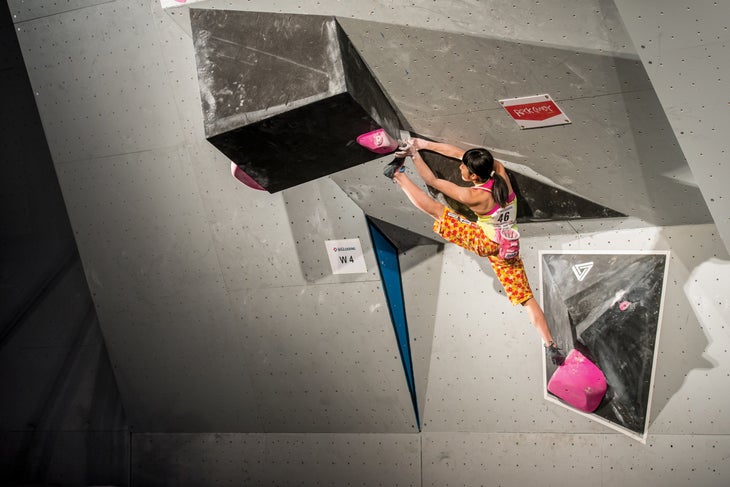 Ashima Shiraishi is soft-spoken and smiles often, so it can be difficult to reconcile your first impression of this humble 17-year-old with her beastly ticklist. However, she is likely the most accomplished female climber in history, having climbed two V15s (a grade no other woman has attained) and multiple V14s. And at the 2017 IFSC Youth World Championships in Innsbruck, Austria, Shiraishi won three medals: gold in Bouldering and Sport, and a silver in Combined.
"I have a lot of goals. My biggest one is climbing V16 and climbing a 5.15a or b and then climbing in the Olympics," she told interviewers at The North Face. [Ed. Note: Despite repeated attempts, we were unable to obtain an interview with Shiraishi.] Shiraishi first tried climbing at six years old, when she was out playing in Central Park with her father, Hisatoshi. She saw climbers on Rat Rock and was immediately enthralled. She has said that she was first attracted by the movement, which was like "dancing on rock." This kinetic, aesthetic appeal may not have been foreign to her since her father is a former modern-style Japanese dancer.
By age seven, she was climbing inside regularly, and, under the encouragement of her father, began competing. At age 8, she sent Power of Silence (V10) in Hueco Tanks, Texas. At age 10, she sent Crown of Aragorn, making her the youngest to have climbed V13. At the time, only a handful of women in the world had sent confirmed V13.
Her training, while consistent, is not revolutionary. She trains for climbing by climbing. A lot: three to five hours a day, five days a week, she told Morgan Tilton at gearjunkie.com. Between excelling in school (she is a straight-A student) and climbing, her schedule leaves her with only 5.5 hours to sleep. Formerly coached by Obe Carrion, she now works with Hisatoshi, who, among other things, teaches her to be more graceful.
When asked what she hopes to accomplish on a larger scale, Shiraishi has often stated her desire to break expectations of what women can do, and lead female climbers to one day "dominate" the sport. Alex Honnold summed up her ability to transcend her young age perfectly when he said, in an interview with The North Face, "I don't really think of Ashima as a 14-year-old [now 17]. I think of her as one of the best climbers in the world."
Ticks
Sleepy Rave (V15) Grampians, Australia
Horizon (V15), Mt Hiei, Japan
Open Your Mind Direct (5.14d/5.15a), Santa Linya, Spain
Competitions
First place in World Youth Climbing Championships in both Lead and Bouldering, 2017, and second in the combined category (2017, Italy) for an uncontested winning streak since 2015
Future Goals
Climb V16 and 5.15a/b, compete in the 2020 Olympics.