Generation 5.16: Kara and Connor Herson
Ages 18 and 14 / Emerald Hills, California
Heading out the door? Read this article on the new Outside+ app available now on iOS devices for members! Download the app.
This story is part of our series, Generation 5.16: 10 Young Crushers That Could Take Rock Climbing to the Next Level. It was originally published in the December/January 2018 issue of our print edition.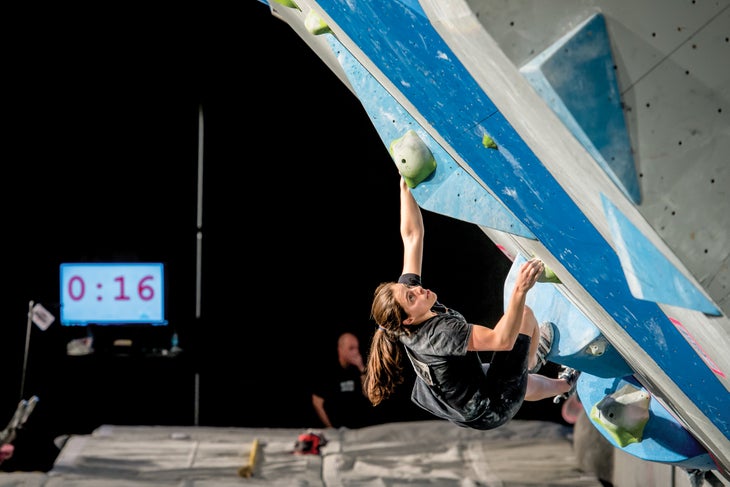 While the big walls of Yosemite and the realm of indoor competitions might seem diametrically opposed, they both satisfy a similar thirst for adventure for Connor Herson, age 14. "I'm not interested in the results; I'm more interested in making it to finals so I can try all the climbs," he says of competitions. "The setting at the comps is just really good."
His parents, longtime climbers Jim and Anne, took him and his sister, Kara, 18, to the climbing gym when they were toddlers. The Bay Area family also made frequent weekend trips to Yosemite. Jim and Anne have been climbing for 30 years, with many proud Valley ascents, like Jim's free ascent of the Salathé Wall (VI 5.13b) on El Capitan. Soon, Kara and Connor were climbing the massive granite walls, too.
Jim took Kara up the Southeast Buttress of Tuolumne's Cathedral Peak, together with another team of parents and kids, when she was 6. She climbed Half Dome's Snake Dike (5.7) at age 9. The father-daughter team made single-day ascents of the Regular Northwest Face of Half Dome when Kara was 12 and the Nose on El Capitan when she was 14. "She came at it from backpacking, peak-bagging—it was a weird progression," says Jim.
Soon, Connor joined the family team, climbing Snake Dike at 8, the Regular Northwest Face at 12, and the Nose in a day at 13. Kara and Connor were also on the youth team at the Bay Area gym chain Planet Granite and competed nationally in bouldering and sport climbing.
Most often, it's Jim taking Kara or Connor, and sometimes both, out on the long, wilderness climbs, but sometimes Anne joins too. Anne mostly takes the siblings on sport and bouldering trips. Climbing together has helped the family bond. "I definitely haven't gone through some of the parent-teen wars that my classmates have," says Kara. "Climbing probably contributed to that, because it's a shared passion."
Kara and Connor both love the puzzle-solving aspect of climbing. Connor will watch videos of competitions to see how the other participants read cryptic routes. The Herson children have also changed their dad's opinion of indoor climbing and bouldering. Says Jim, "Some of it seems absurd, driving seven hours to Bishop and working on a 10-foot problem." Now, he admits, short, steep climbing can be fun. After 25 years of never entering the bouldering area at his gym, he was surprised and horrified when he recently spent three hours attempting a single problem there.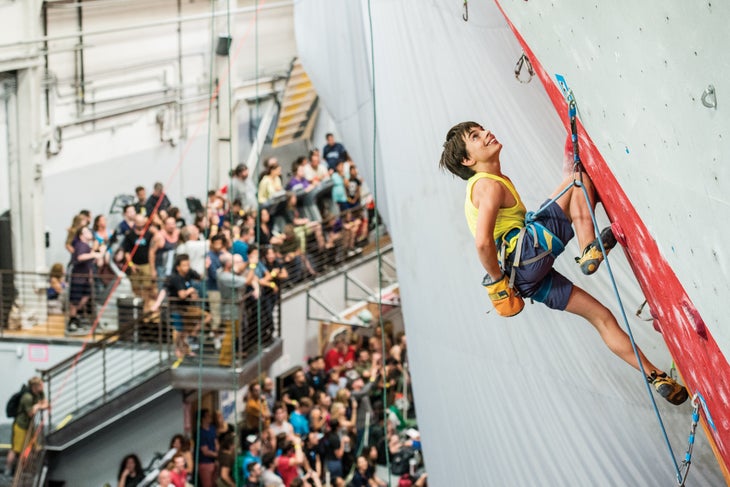 In July, Jim watched Connor take second place in Sport and Speed Youth Nationals in Georgia, which allowed Connor to compete in the Youth World Championships in Innsbruck, Austria. Jim says watching Connor compete at Youth Nationals was "the most thrilling moment in my climbing life." At the same competition, Kara won the North Face's Young Gun Award, which recognizes achievement and sportsmanship in up-and-coming athletes.
After years of chasing their dad up big walls, the two are now chasing their own goals with a similar enthusiasm. Connor now competes independent of a team and works with coach Justen Sjong, who gives him a monthly training plan. Connor's also practicing his onsights outside—he onsighted ten 5.13s in summer 2017 during family trips to Maple Canyon and Ten Sleep. And he's adding up the 5.14s, too, hoping to tick 14 total before he turns 15.
For her part, Kara plans to focus on school. She's currently a freshman at Stanford University, where she's undeclared but will likely major in math or science. But, she's certainly not done climbing. In the future, she'd like to lead the routes in Yosemite up which she'd previously followed her dad, like the Steck-Salathé (V 5.10b) on Sentinel Rock.
"The Valley is an enormous playground of splitter cracks, flakes, and offwidths," says Kara. "I love both [sport and trad] climbing, but trad climbing is something really special and a style of climbing where I have made some of my best memories."
Kara's Ticks
Regular Northwest Face (VI 5.9 C1) in a day, Half Dome, at age 12; the Nose (VI 5.8 C2) in a day, El Capitan, at age 14
Kara's Goals
Lead more routes in the Valley, focus on education at Stanford University.
Connor's Ticks:
T-Rex (5.14b), Maple Canyon; Galactic Emperor (5.14a), Ten Sleep; God's Own Stone (5.14a), Red River Gorge; Regular Northwest Face, Half Dome, age 12; Nose in a Day without ascenders, age 13
Connor's Competitions
Second place, 2017 USA Climbing Sport and Speed Youth National Championships in Kennesaw, Georgia
Connor's Goals
Improve onsighting, send fourteen 5.14s total by age 15.