Grasping at Draws: Excuses Vanquished
The problem with getting what you asked for.
Heading out the door? Read this article on the new Outside+ app available now on iOS devices for members! Download the app.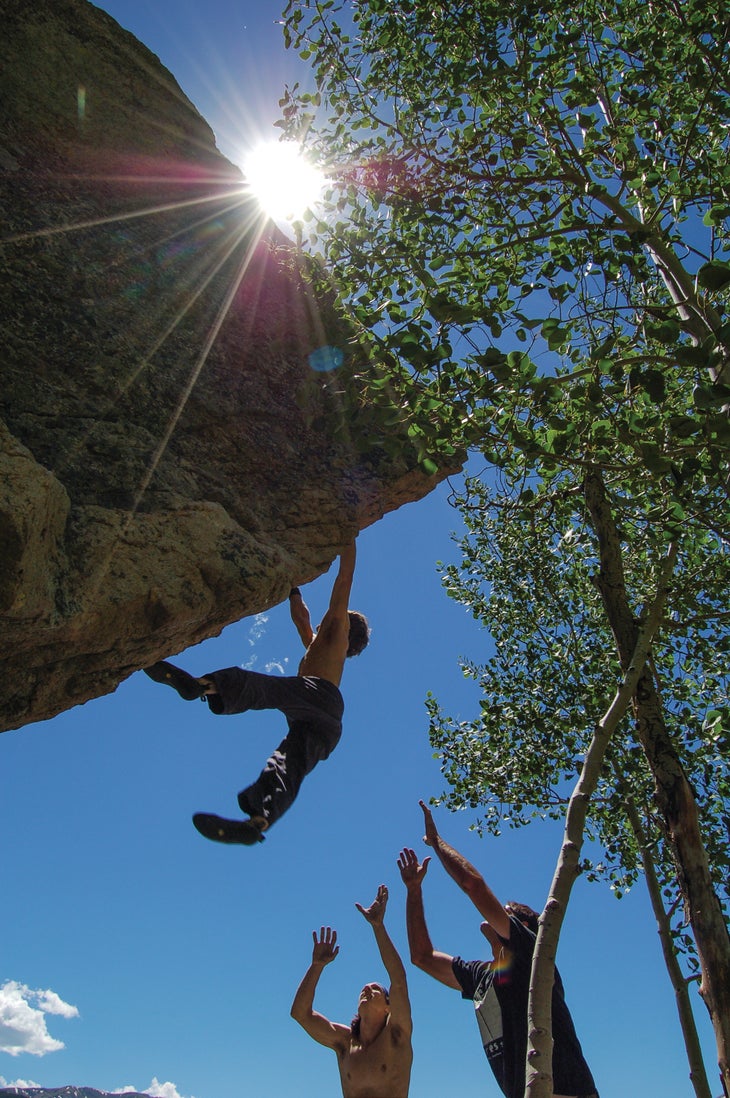 The dull thud of my ass hitting the earth startled me. Even from a foot off the ground, I had forgotten how unforgiving crashpads over bare earth are compared to the 18-inch foam floor at my former home gym in San Francisco. This environment—bouldering outside, alone, in an aspen grove in Western Colorado—felt foreign. Chirping birds had replaced the chortling of gym bros and the blaring of 30 Seconds to Mars or whatever music du-jour the pimple-faced bone-crusher manning the front desk had chosen. A cool breeze played between the trees, raising the hair on my swollen forearms. "I have no memory of this place," I mouthed to myself, feeling like Gandalf navigating the Mines of Moria. "How did I get here?"
I was alone at the Skyland Boulders, a tumble of granite porphyry blocks on the flanks of Mount Crested Butte (9,898 feet) above my new home in the Colorado ski town. My "project" this day was a moderate 12-foot problem. I'd moved here from the rock-challenged Bay Area with my wife in July 2018 to get closer to family, get out of California, and to finally not spend $40K a year in rent. With so much stone around—from Skyland, to the granite and sandstone near Gunnison, to the massive walls of the Black Canyon farther west—I had no excuses not to climb, except, perhaps, a lack of partners in a town with only 1,600 full-time residents.
Five years earlier, I'd left Colorado for what I thought would be a short trip to San Fran to scoop up my then-girlfriend (now wife) and return to the Front Range—but which ended up being a longer stay. I'd been laid off after the magazine I edited, Urban Climber, was unceremoniously shuttered. I imagined the Bay Area would be somewhat of a lateral move climbing-wise: With proximity to Bishop, Jailhouse, and the Valley, I'd be swimming in climbing. Couple that with—I hoped—a new, elite group of partners, and I'd go from flab (20 extra pounds of desk-jockey weight) to fab and keep my calluses in the process.
Instead, in the Bay Area, I turned inward. Separated from my homies back in Colorado, I found myself uninterested in cultivating new partners, largely to mask the fact that I was sad to be away from my friends, the ones I'd built loving, trusting relationships with over decades. And the rock was, it turned out, all a long drive away, in an area with some of the most gridlocked highways in America. So I became a gym rat. A solo gym rat, one who climbed on real stone only once a quarter. Fuck, I even called them "quarters" because that's what happens to your vocab when you take a job at techy startups, as I had after selling my pure, artistic, couch-surfing soul. I'd never more casually thrown out the occasional "canary in a coal mine" or asked someone to "ping me" in my life. That's what the Bay does to you—it digitizes every aspect of your life. I'd even downloaded the MoonBoard app, and had installed another app that delivered weed to my house so I could forget that other humans existed. Coming back to Colorado would represent a renaissance. It was time to reconnect with my people, my roots, my rock.
That day in October, I felt a creeping anxiety. This was different from my run-of-the-mill climbing-gym anxiety where the constant urge to flex on dweeby, programmer-forearmed tech bros on hopeless Bumble dates overtook my lizard brain. There was no one here to impress with breezy, effortless compressions or silent, graceful deadpoints. All this solitude gave me the willies. This was absolute solitude, not the standoffish, misanthropic "gym solitude" I'd cultivated in the Bay Area. Trapped alone inside my mind by all this nature, I was forced to live with my failures, my ignominious 12-inch falls. Unable to mouth off to others with my swirling, time-honed olio of self-deprecation and misguided self-confidence, I lay flat on my back, gazing up at white, puffy Colorado clouds, forced to wrestle with more than just this miniscule boulder.
Twenty minutes later, still trying the same piley little problem, I fell on my ass again after scrunching into an awkward drop-knee only to immediately grease off the starting holds.
I sat up, staring forward, perplexed—not because I couldn't do the moves. There are plenty of problems with start holds I shouldn't even be allowed to fondle. I was confused because I didn't know what to do with myself. Were I still in San Francisco, comfortable in my gym-boi mediocrity, I'd simply have moved a few feet over to a different color of tape. But not here. Here, I had nowhere to hide. I'd spent five years equivocating my misanthropy as virtue, whining about the gym life, being standoffish with well-intentioned, would-be climbing buddies who might have helped alleviate my misery. But here I couldn't bitch about the miserable patrons harshing my mellow or complain about the bad route-setting "that would never exist outside." I'd been given everything I so richly deserved, namely rocks two miles from my front door and no one to have to share them with. My prankster God above must have been a holy trinity of Bam Margera, Steve-O, and Johnny Knoxville: Say three "Hail Phils" and smack yourself in the nuts as penance for your persistent affectation. (For all you young ones who actually learned to read in high school and don't know who these people are: Watch Jackass 2, especially "Bad Grandpa.")
This is my new reality. As you peruse these pages, it's likely dumping snow in Crested Butte, covering my new boulders in a blanket of white. Come winter, this little hamlet turns into one of America's last great ski towns, devoid of all rock-climbing possibilities, and there is nothing I can do about it short of driving hours west to the desert.
There are no climbing gyms nearby, nor secret garage woodies. And none of my original partners live nearby either. This is my solitude. To fight the winter, I've purchased the baby version of the Beastmaker hangboard, which I'll hang somewhere conspicuous to add to my self-loathing every time I pass under its unused micro-edges en route to the fridge. I'll be alone anyway if I ever manage to grasp the 16mm edges, and let's be honest, what's the point of being Megos-powerful if no one is around to see it? This is what fills me with dread now. The hard winter, the lonely climbing, the realization that I didn't really have it that bad in the San Francisco gyms where at least I had somewhere good to train. And the needling idea that come May, my forearms will have shrunk so much they won't even hold up my shirt sleeves.
I got off my ass, packed my pads, and started back toward the trailhead, pausing below a 30-foot V1 highball. Nestled just off the trail, barely hidden by a few small aspens, a mammoth dream boulder stands watch over the silent forest. One side is flat, overhanging, and pocked with unique edges, fissures, and features that comprise a few very imposing problems. My objective was on the slabbier terrain to the right and looked casual enough: big jugs, big moves, and good feet that moved around a blunt arete. I tossed my pads down and arranged the smaller one over a leg-breaker rock. Setting up my phone in a meadow, I switched to video so that maybe I'd have something to show all 1,500 of my Instagram followers for this disaster of a session.
A big move left, a big move right, and I was cruising. Twenty-five feet up, right before the finishing jugs, I paused at a blind, off-balance toss around the corner. Slowly pumping out, I eyed the leg-snapper rock below me. I thought about my camera, capturing all of my leg-shaking feebleness. I thought about crawling out of there, ankles shattered, telling only my wife what had happened, healing quietly over the snowy winter and taking to my grave the hubris that had forced me to blindly huck. But I didn't do any of that. I downclimbed slowly and steadily, snatched my phone, packed my stuff, and headed home.
With every step toward home, a little of my dread and all the other irrational feelings I'd conjured faded. At the trailhead, I considered a new way to start my project. And by the time I reached my front door, I'd vowed to bring someone, anyone, back to the highball so I could finish the thing. Cracking a beer on my couch, I looked at the weather forecast on my phone. OK, OK. Early-season snowfall just meant temps would be crisp. I could pack some soup for the cold and a tiny tripod for better camera angles. Maybe I'd add to my unused hangboard collection and bring one of those portable Tension Flash Boards I see people hanging all over the crags in Spain to warm up.
I was going back, if not for my own dignity and satisfaction, then because I like climbing, falling, failing, and retrying, whether I'm alone or not. But really, old climbing buddies, please come visit soon. I've learned I'm not as much of a loner as I thought—in fact, I'm even opening a Megos-strong embrace to all new climbing homies, and I could probably use a spotter or two on that highball. 
Andrew Tower recently left behind a cushy desk job in San Francisco, relocating to the Western Slope of Colorado to be closer to his beloved rocks.