Grasping at Draws: The Criticism Brigade
Heading out the door? Read this article on the new Outside+ app available now on iOS devices for members! Download the app.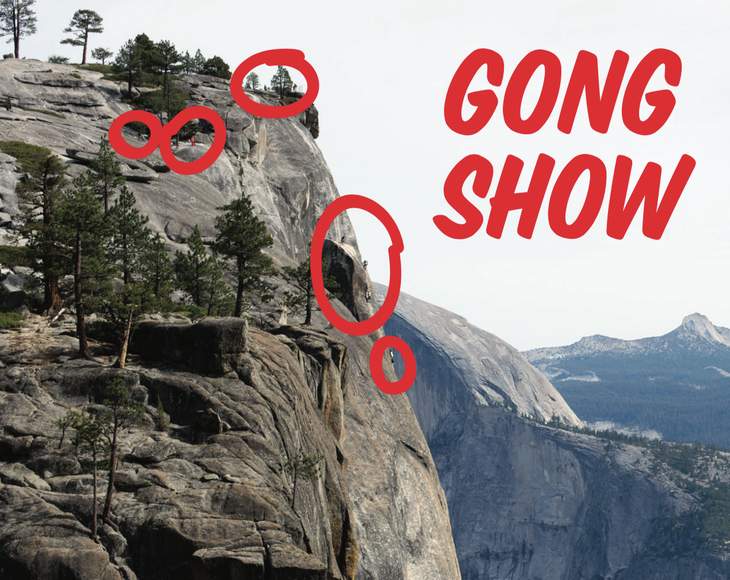 This past October I made my way to Yosemite with my lovely wife-to-be. She cares not for the folly of climbing so we were there just to take in some sights, do some hiking, and bask in the glory that Yosemite offers to full-blown adventurers and rubber-neckers alike. We hiked to the top of Yosemite Falls, a steep three-mile slog with over 3,000 feet of elevation gain—a real ass-burner. At the top, despite being terrified watching the wobbly legs of overripe tourists teeter close to the edge of the cliff, I spied with my little eyes a gang of climbers over on Lost Arrow Spire. By gang, I mean gong show. I even took photos of the climbers on the summit, the climbers across the tyrolean, and hell, I could still see climbers hangin' around at the top of the last pitch. I shook my head and turned back down the trail both jealous and piteous of those dangling high above the valley floor.
It wasn't until later that I found out Sasha DiGiulian, a friend I'd texted about being in the Valley at the same time, was climbing Lost Arrow that day with Kevin Jorgeson. I unfairly and probably inaccurately assumed that everyone on that busy October day was a part of her crew, and I immediately scoffed at the notion that this sport climbing superhero was logging time on Valley classics. This was no place for a sport climber! Hey Sasha, the Red River Gorge called, they want their fixed draws back. Not 12 hours later, I was cheering on my fiancée while Beth Rodden gently coached her up a 5.6 she was toproping on Manure Pile Buttress, the dump of a crag that sits below El Cap. Hey Andrew, Simon Cowell called, he wants his pointlessly callous judgment back.
My crappy reaction isn't unique. I've seen it dozens of times in just the last few months. "There's a new trend in the climbing industry…" It's in quotes because I probably read it somewhere during each and every one of the inevitable shitstorms that stirs in the great ocean of the internet after some young climbing star or starlet climbs (by leading or being led) a long route that requires creative belay stances or trad widgets or ice maneuvering. The routes are never very hard (by a sport climbing or bouldering standard), and thus, obviously not very newsworthy. But of course we act all high and mighty about it. Holier than thou and thine.
"Nina Williams got a magazine cover climbing the Rostrum. That should be easy for a double-digit boulderer—what a poser!" Nevermind that every other month the climbing mags' covers feature no-names on photogenic 5.10s. Then we get indignant about the achievements that mainstream media doesn't promote. (And in this instance I'm pretending that our favorite blogs and magazines are the mainstream channels.) That's because they're everywhere. We know about all of them because we're inundated morning, noon, and night with the coverage of these climbs from the climbers themselves, their sponsors, their photographers, their friends, their climbing partners, and anyone else who may have found it inspiring enough to tap "share" on Facebook. Sasha on Ice, the off-Broadway tour de force in which a Columbia student tries a new adventure only to be lambasted by those who have neither the means nor the ability to compete physically or mentally with our fame-laden protagonist, but do have the idle time to make sure their voice is heard loud and clear across public channels and private chats.
In some distant past I would have assumed all the trolling and hating came from Boss McGillicutty, the infamous message board–troll alter ego of Kelly Cordes, who terrorized the climbers of Boulder, Colorado, back when message boards were a thing and we still thought everyone online was a real person. This was a pre-Snowden utopia, near-free from the permanence our online lives have today. His trolling was so purposely bad that he hightailed it to the Boulder Public Library to hide his IP address. I digress.
If not Boss, then maybe some antique whose gnarled fingers could barely nob out the letters of their misguided reactions on a smartphone, someone who won't understand the changing trajectory of climbing culture. Or maybe it was said antique's hipster mentee who flat-out rejects any new way but the old school. Fear and danger make the climber a climber. Modern safety practices amounting merely to masturbation, while real sex can be found in the mountains. A weather-worn copy of Freedom of the Hills tucked inside a center console, Mark Twight quotes on the tip of the tongue. (Once, I wanted to be one of this group. Or at least a poser version of it. I showed up to my first climbing mag internship with a sticker-laden laptop baring one choice emblem of a bolt with a giant red X through it. Live and learn.) But now, it seems to be coming from all sides. Core lady boulderers, 5.11 trad daddies, Euro grade–repping sporties. Doesn't matter.
Sometime in the last quarter of my total years climbing, well after I realized I may never tag a V-teen outside and that I didn't much care if I did or not, I came to the conclusion that it didn't matter how hard I managed to climb in a single bound. What mattered to me was where that newfound strength would take me. Climbing 5.14 might get me a single round of beers from my friends. I say might because they've already done it for far smaller accomplishments. It's as unimpressive as running a five-minute mile. Pretty good? Yep. Extraordinary? Absolutely not. Pros routinely log sub-four like they were tying their shoes. But if I could onsight 5.12+ or 5.13, well, I could reasonably climb even better, longer, steeper, more exposed routes. Instead of Nutcracker (5.8) at Manure Pile, I might be able to comfortably do Astroman or the Rostrum. Who knows, maybe I could drag my pathetic gym-climbin' ass up a real El Cap route like Emily Harrington.
I've also realized that I don't give a tiny dog turd if my climbing heroes are climbing 5.13+ X gear routes, M10 on ice tools, or V12 cruxes in the middle of grade V alpine routes. If they came out of the womb double-clutching Bzaaat! dynos worthy of 4k quality and six-digit views, then why should I blink an eye if they decide to take their training and talents to more intense, "core" aspects of climbing? For most of us, the Rostrum is a lifetime goal. If Nina Williams can romp up that thing on a random weekend, post a couple photos, and be psyched about her progress, why shouldn't we also be psyched? Our collective jealousy of her successes and her exposure isn't going to stop her from doing even harder routes next season on El Cap, like many strong men and women have done before her and will continue to do after her. Lynn Hill's first free climb wasn't the Nose. Yours wasn't Freerider. As climbers, we are (or should try to be) always growing in our sport and in life. If we're not, then what are we really here for?