He Had Soloed The Route Many Times, But This Time He Fell
The rocks below a solo aren't the only things that hurt when you slip.
This article was first published in Rock and Ice, October 2015
I dove out of town like a bubble from the seabed—frantic, desperately searching for the surface. I had spent all day, all week and many months before that hunched at the computer, and like that bubble I needed to reach the air. The stars aligned, and the astral door opened at about 7:25, giving me an hour before sunset. I hopped in the car and wriggled my way out of Sheffield. There was only one place to go.
Stanage Edge is a world-famous crag; despite that, it's still pretty good. It has had big climbs for its day and been in lots of films, and has problems a kid in a bedroom half a world away has heard of, but it's still a place anyone at any grade can go experience. It holds the fondest memories of many climbers who have visited. Of a gnarly lead, or breezing a big solo, or finally nailing a reppy problem, or playing in the snow, or your and your mates' feet dangling over the edge as the sun set on a golden October day. I've had all those.
I had soloed this route in thick snow, in the rain, in Wellington boots, facing outward, one-handed, hungover… And it spit me off?
I jizzed into the car park just as a favorite Northern Soul track came on. I braked, unclipped and sat back, and listened the tune out. It was a beautiful spring evening and the sun shone on the featured gritstone. From the car seat I scanned the honey-colored ribbon of cliff. Sixty feet high, reputedly three miles long. And everywhere I looked, I could spot a memory. This corner, that arete, some overhang, every crack. I could see myself on so many climbs over the years that I realized how much time I must have spent here. It was our go-to crag, the brainstem choice, for many years. Funny, I thought, it must be a year since I've been here. More, maybe. Where does time go?
I got out, shouldered a bag and struck off to the crag, 10 minutes uphill. Still not fixed on where to start, I eyed groups of punters on the nice climbs. Caught in the soloist's dilemma—don't want bystanders distracting you and voiding the spirituality of the act, yet wouldn't mind a chick cooing as you swung free on her toprope target—I compromised, made my way midway between two bumbles (or, rather, concentrations of climbers), and sat on a rock.
You can think of yourself as a climber. In its simplest form that means you go climbing. But of course it goes a lot deeper than that. I think of myself as a climber more than I think of myself as an Irishman, because I grew up in climbing more than I grew up in Ireland. Climbing is the identity, contains the friends and the values, you turn to when you want to understand something. How many times over the years have I or a friend explained something by saying, It's like when you're on a route and … In that respect you don't need to go climbing much to be a climber.
Stanage holds a lot of my trophy climbs. Not far from where I sat that evening, at the heart of the crag, were three unprotected aretes, the best climbs on the edge. My ascents of these three marked the three key stages in my gritstone climbing: Archangel, E3 [5.10], where I learned that I could be bold; White Wand, E5 [5.11a], where I finally believed I was good at climbing; and Ulysses, E6 [5.12b], where I realized I could do hard climbs. That these climbs are aretes, the ultimate gritstone feature, is apt. All balance and momentum, more space than rock. These routes are monuments to my gritstone journey. I looked over at them and felt strong. Yet I was realistic enough to know that, gym visits aside, on rock I would be rusty.
Years before I climbed on grit I read an interview in a cool magazine with someone called Chris Plant. When asked what his favorite rock type was, he said, "Gritstone, because its first principle is movement." I never understood what he meant until I became a gritstoner myself and realized it was about how you moved over it, rather than how you pulled. It's subtle.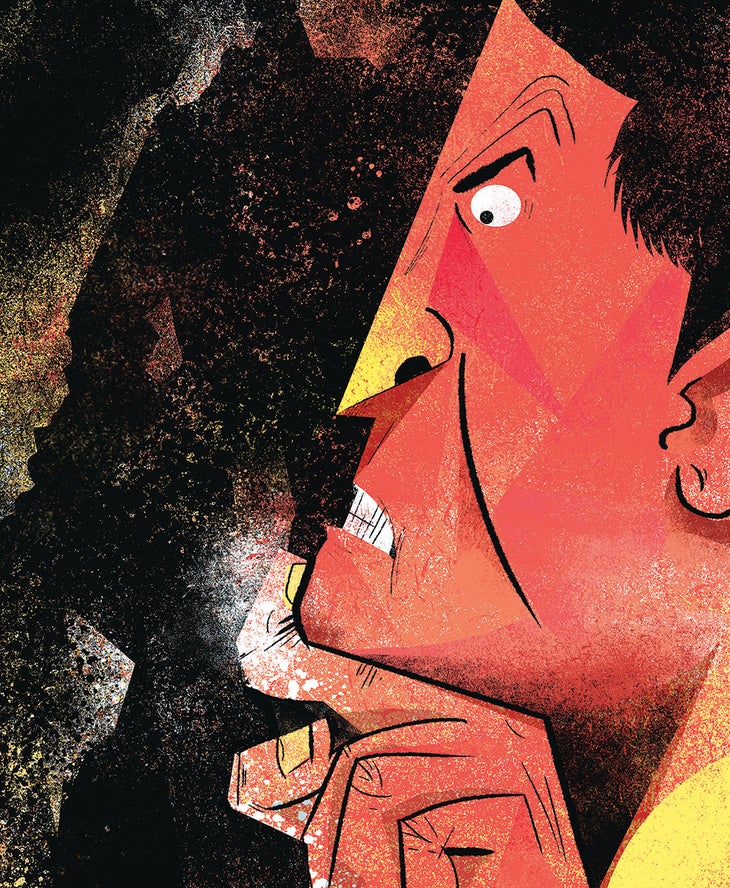 I knew my main aim was to feel the pleasure of moving over stone, so I started super low, on an old V Diff [5.5].
I set off up the bottom corner, past some polished foot smears. I saw a jug in the break above, and remembered it perfectly from a sunny snowy day with a friend who isn't around anymore and knew exactly how it would feel when I touched it.
I was stretching my hand to it when my feet shot off their footholds. I was airborne. I knew I was only a few feet off the ground but had no idea what the landing was like, beyond rocky and unpadded. Having heard lots of stories over the years, I ordered my body to relax, not tense up, and take the impact. It did. It rolled along the ground, my ass landing on a sharp stone. I was shaken, but had gotten away with it. God.
I sat motionless, facing toward a group of climbers gathered around a nearby route. One, in a red helmet and near the edge of the group, was looking at me. He had obviously seen me fall yet was expressionless and said nothing to the rest of the group, who were all looking up the climb. His stare was that of someone lacking in any self-consciousness.
How had that happened? I had fallen off a route that was 12 grades below what I've done before, and 11 grades below what I've soloed. I had soloed this route in thick snow, in the rain, in Wellington boots, facing outward, one-handed, hungover, drunk. I had demeaned it in every way possible. And it spit me off? I was part shocked, part livid.
Like a cat I licked my wounds and decided to try another familiar route of the same grade, further right. I well remember a sunny heyday leading a couple of friends along the edge; I was shirtless and ropeless. To encourage one of them, I had made this route look really easy. It was, but I wasn't sure how he'd get on. He had breezed it, and we sat like men 10 years our younger amid bumbles of standard Sunday cats. The memory was warm inside me as I left the ground. Yet before even getting to what I remember as the route, I was faced with a stride across a gap. It was basically a hop, but lacked any handholds for a moment. I couldn't bring myself to let go for that moment and clawed the rock's surface for something that, in the absence of confidence, strength could express itself on. Nothing. I crept back to the ground.
By now fearing the worst, I had one more go, at a featherweight solo that in the past I would have thought of as a downclimb. I gripped hard where once I would have traveled with my hands in my pockets, yet clenching counted for nothing. I was defeated.
I cursed as if I was afflicted with Tourettes.
What was my problem? I know form comes and goes, but this was extreme. Conditions were perfect. I knew from going to the gym wall that I was strong. Yet had something gone? And if so, what? Ability? Confidence? Desire? Love?
I packed my bag and wheeled toward the road. After a few steps I turned and looked at the place I had fallen, at the aretes at the heart of the crag, at the people. On the edge of one of the bumbles, the man in the red helmet was again looking at me. I looked at him. Could I be like him? Drop the grades and drop the soloing? A casual toprope on a beautiful evening in a stunning location with some nice people? I don't think so. I was never like him, even when I was starting off.
I'm a writer. I'm not the world's best writer, but writing is somewhere I feel I can express myself. Still, why compose words about the fact that on an anonymous evening I failed utterly to climb some bits of rock I had once wandered over; why write them down and put them out there?
Well, two thoughts occurred to me. First, the experience had been pretty scary. Not the fall at the start, but the unraveling of the sense that this—climbing—was something I was able to do. One of my true beliefs is that you should always mock things, and the more powerful they are the more you should mock them, and I think most of my writing is about mockery and taking the piss. If I could mock the idea, then I could disempower it, take its force away. And I had another thought. Sometimes in life it might be best to write something down and look at it, no matter how unpleasant it might be. Make it real so you can't shy away from it. If in truth climbing was slipping away from me, then it was best to accept that.
Anyway, who wants to end on a downer? Not me. Let me tell you a joke.
So there was this guy who went to Stanage. He psyched up and went up to White Wand (were you paying attention? paragraph 6). He got on it and started climbing, but slipped off a few feet up, landing in a heap.
"Shit. Balls. Fell off the shitting bitch like fugging shitpiece, and it's only a titting E3!"
Then he walked over to Ulysses and tried that. Got a few feet up and slipped, again landing in a heap.
"Piss wank! Shit balls. That thing is a piece of Eff-You-Double-Jizzle. Fotze!"
What was his problem?
He had Two-aretes Syndrome.
Four weeks after the Stanage evening, Niall Grimes went hell-for-leather on a damp Scottish slab, pulling a pretty darn great lead out of the bag.