Honoring Our Warrior Spirit: A Rock-Climbing and Mental-Training Program for Combat Veterans and Their Families
Heading out the door? Read this article on the new Outside+ app available now on iOS devices for members! Download the app.
On December 6-7, 2019 Arno Ilgner, author of the book The Rock Warrior's Way and creator of The Warrior's Way mental fitness clinics, hosted a special two day rock climbing course in Las Vegas, NV, for veterans. This course, called "Honoring Our Warrior Spirit: A Rock-Climbing and Mental-Training Program for Combat Veterans and their Families" was one of four held in 2019 to finalize the process and content for a new veteran's resource based upon rock climbing beginning in 2020.
"Honoring Our Warrior Spirit" is a partnership between Ilgner and the veteran's organization Mission 22, whose goal is to help combat veterans transition back into civilian life, identify productive roles that align with their warrior spirit, connect with other veterans, and use multi-pronged approaches to manage post traumatic stress (PTS) and other mental health conditions resulting from trauma or the transition from the military to civilian life.
How does The Warrior's Way and rock climbing fit into the Mission 22 process and provide tools to help manage PTS? Quite beautifully, actually. Ilgner's mindfulness approach to climbing, combined with the natural stressors that occur on the rock, illustrate the relationship between the mind, body, and our natural fight/flight/freeze responses.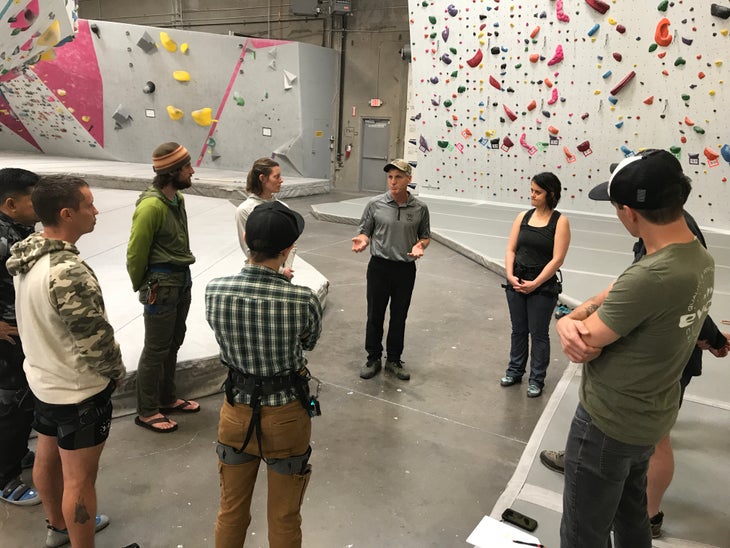 In the United States, veterans comprise just over 20 million people, which is approximately 10 percent of the U.S. adult population. Of this group, approximately 10 percent experience some form of depression, which is similar to the rates found in the general US population.
These numbers shift dramatically, however, when you look at active duty and combat vets. In this population, according to the Veteran's Administration, depression rates increase to five times the U.S. rate. And, 15 to 20 percent of veterans who served during wartime experience Post Traumatic Stress (PTS—the "D," or "disorder," part of the term is being dropped because, as the Pentagon states, PTS is "a normal reaction to very serious events."), compared to 3.5 percent of the general U.S. population. Another sobering statistic is that the suicide rate for veterans is 1.5 times that of the rest of the U.S. population.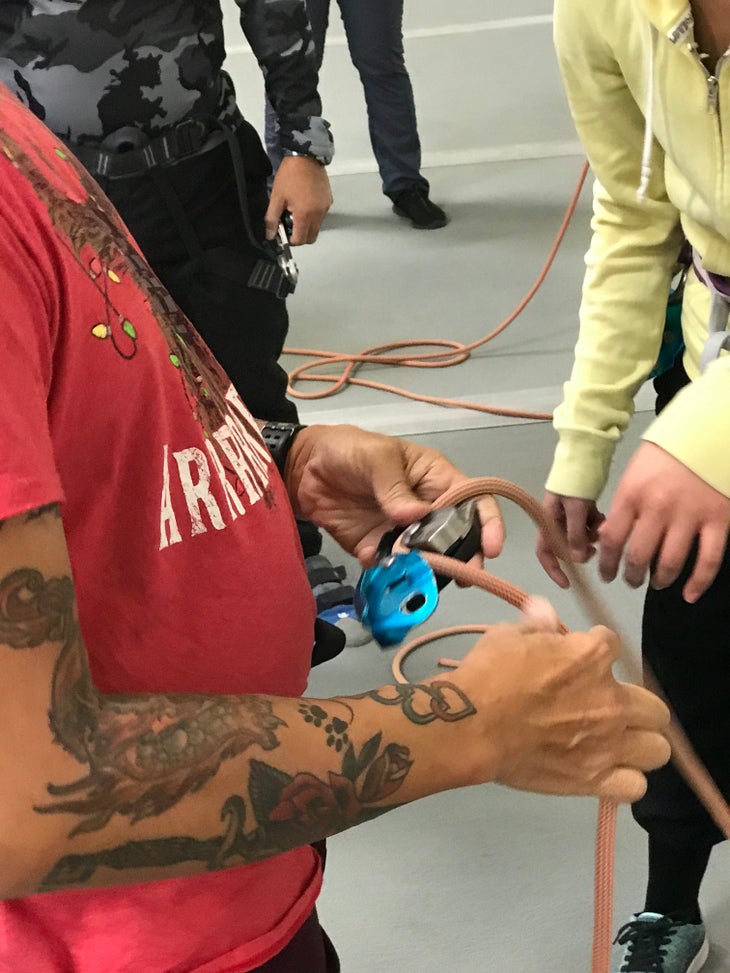 Whether you're a veteran or not, anyone who struggles with PTS, depression, or mental health conditions, is often desperately seeking ways to grow beyond them. There are many new resources available, but veterans have a unique set of circumstances that can be helpful in the healing: (1) each other and (2) the role of the warrior in our society.
It is these two factors that form the central premise of the nonprofit veteran's organization Mission 22, which was founded by Magnus Johnson, a former Green Beret who disabled improvised explosive devices (IEDs) and unexploded ordinance in Afghanistan and in Iraq. According to Johnson, vets can support each other in a bonded community as well as redefine their warrior role within the context of civilian life.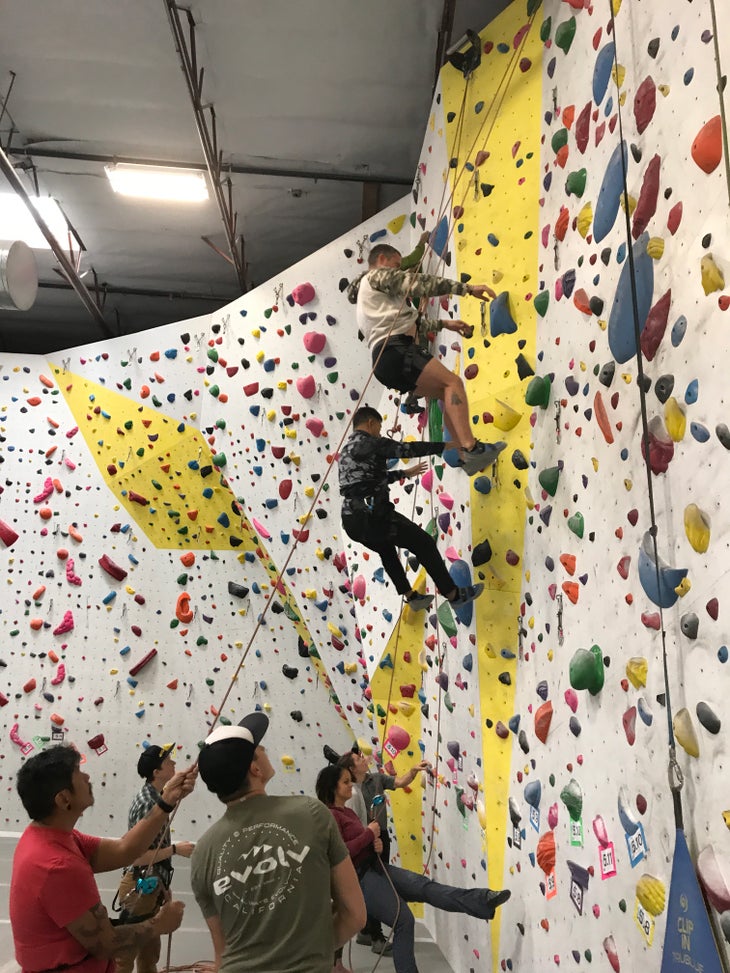 Mission 22's main goal is to combat the ever-rising veteran suicide rate using these principles. They provide programs to veterans for post-traumatic stress, traumatic brain injury, military sexual trauma, and other issues veterans might be facing. This is done through holistic treatment programs (including nutrition, counseling referrals, and physio-mental programs like martial arts), memorials, national awareness, and an ambassador volunteer program (ambassadors educate the public on veteran issues, connect veterans with Mission 22 programs, and create resources in their communities).
Starting in 2019, as part of their physio-mental program, Mission 22 has also partnered with Arno Ilgner, himself a veteran and the author of the seminal mental-training book The Rock Warrior's Way. The course, called "Honoring Our Warrior Spirit: A Rock Climbing and Mental Training Program for Combat Veterans and Their Families," has so far been offered in four sessions, to test and refine the curriculum. Instructors certified in The Warrior's Way process were brought in, as well as climbers experienced with The Warrior's Way who are also combat veterans. This team, along with Ilgner and Johnson, connected with veteran participants who varied from first-time climbers to those with years in the sport.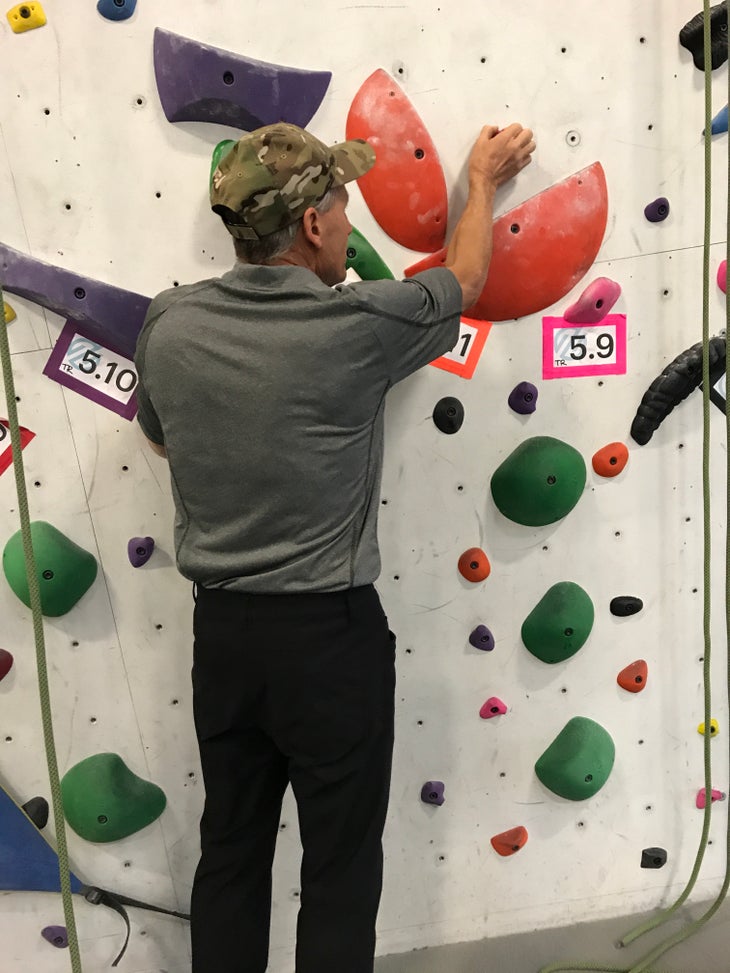 The interest in and success with these initial courses has spurred Ilgner and Johnson to offer 15 to 20 "Honoring Our Warrior Spirit" courses in 2020 across the United States (visit mission22.com/warriors-way-events to learn more).
* * *
The Warrior's Way has a long history. Arno Ilgner developed it approximately 25 years ago, and formalized it in 1995 through teaching classes and advancing competitive climbing via individual coaching of competitors and training coaches how to include the mental component in training their competitors.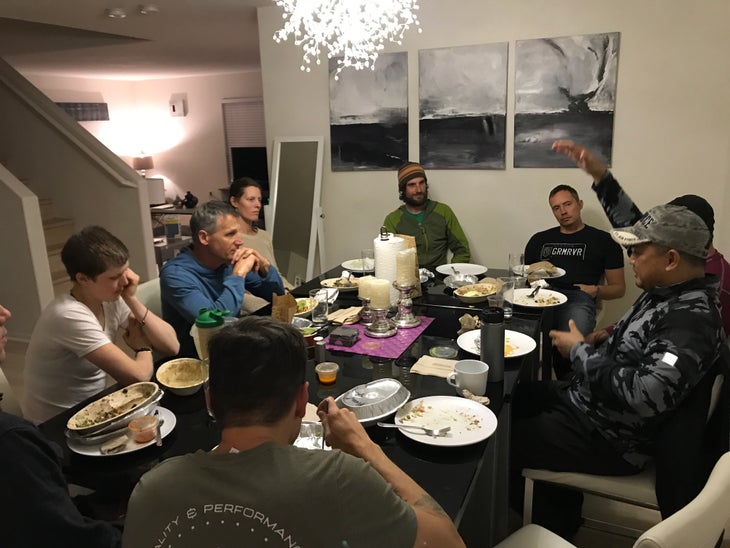 In his teachings, Ilgner has taken mindfulness principles, and refined and applied them to improve climbers' mental games. In 2003, Ilgner released his first book, The Rock Warriors Way: Mental Training for Climbers," and in 2009 released Espresso Lessons: From the Rock Warrior's Way. In his partnership with Mission 22, Ilgner is taking The Warrior's Way principles to the next level via this new "Honoring Our Warrior Spirit: A Rock Climbing and Mental Training Program for Combat Veterans and Their Families" course.
"Honoring Our Warrior Spirit" is a unique two-day climbing course that uses Ilgner's techniques and psychological approaches to help vets by applying multiple rock-climbing and mindfulness concepts to help manage their trauma/PTS (more on that below in the section "Applying The Warrior's Way to Managing PTS").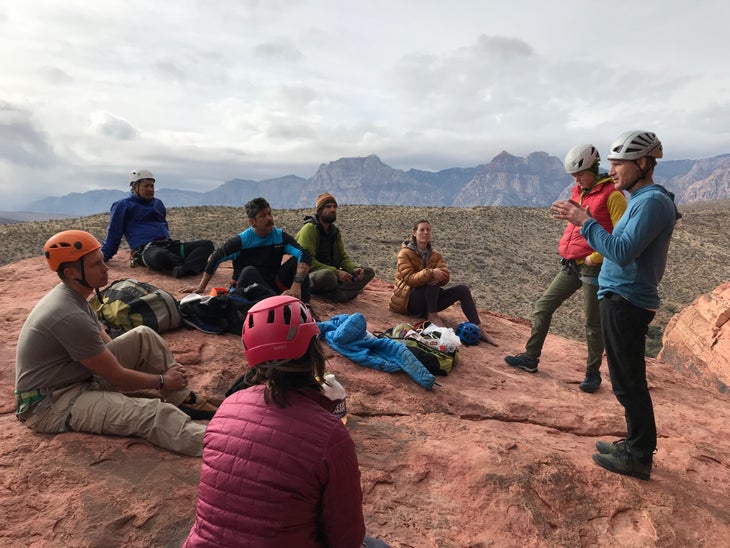 Over the two-day course, the participants practice and apply The Warrior's Way principles on and off the rock, starting in a climbing gym on Day 1. Throughout the day, they practice climbing, as well as stop to discuss what's occurring on the wall, and expand the experience to daily life.
The course continues into the evening of day one, where participants share a dinner and an Airbnb to further reflect. Here, veterans can safely connect on a more personal level. On day two, the concepts are repeated, expanded, and practiced outdoors, on real rock.
Trauma and PTS
PTS—Post Traumatic Stress—is known by the presence of panic attacks, anxiety, over-alertness (hypervigilance), intrusive/uncontrollable memory flashbacks, and physical pain. Any kind of trauma can result in PTS—from surgery, to war, to child abuse, to car accidents—but not all traumatic experiences result in PTS.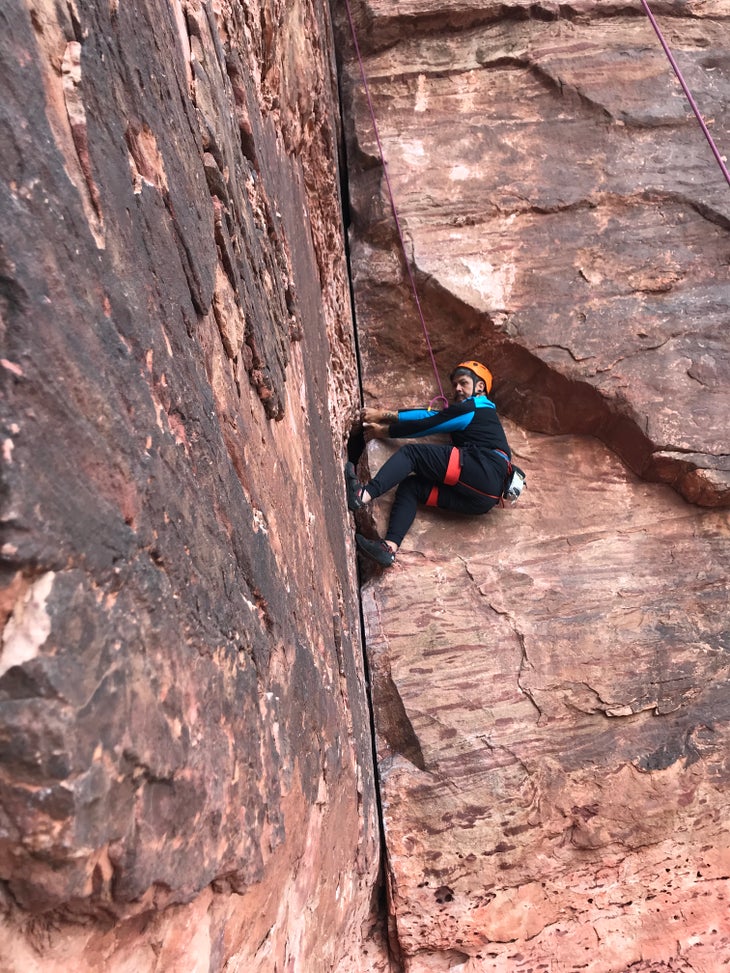 PTS is very real and it can be quite debilitating—to anyone. The acquisition and manifestation of PTS have nothing to do with mental or physical "strength"; rather, they have everything to do with how our brain processes memories under severe stress. Because it's a hormone-driven physiological process, we don't have a damn bit of say in it—until, perhaps, afterwards, with an incredible amount of focused effort toward healing.
In the not-so-distant past, PTS was misunderstood, downplayed, or even disregarded. People irresponsibly threw out stereotypes that the person suffering from PTS was "crazy" or "weak-minded" or even "faking." Fortunately, science has made incredible strides in recent years, demonstrating that there are explicable, physiological reasons for PTS.
Basically, the stress hormones released during a traumatic event imprint memories on the brain differently than our normal memory formation. This results in memories getting filed away in a location in the brain that blocks complete memory access and has high emotional and physiological triggers. Thus, when a certain similar environmental event occurs—a sound, a smell, even a vague visual association with a traumatic event or events—that memory (or flashback) floods the brain and body, making you feel as if your life is threatened again. At that point, the body and mind uncontrollably reverts into fight/flight/freeze mode.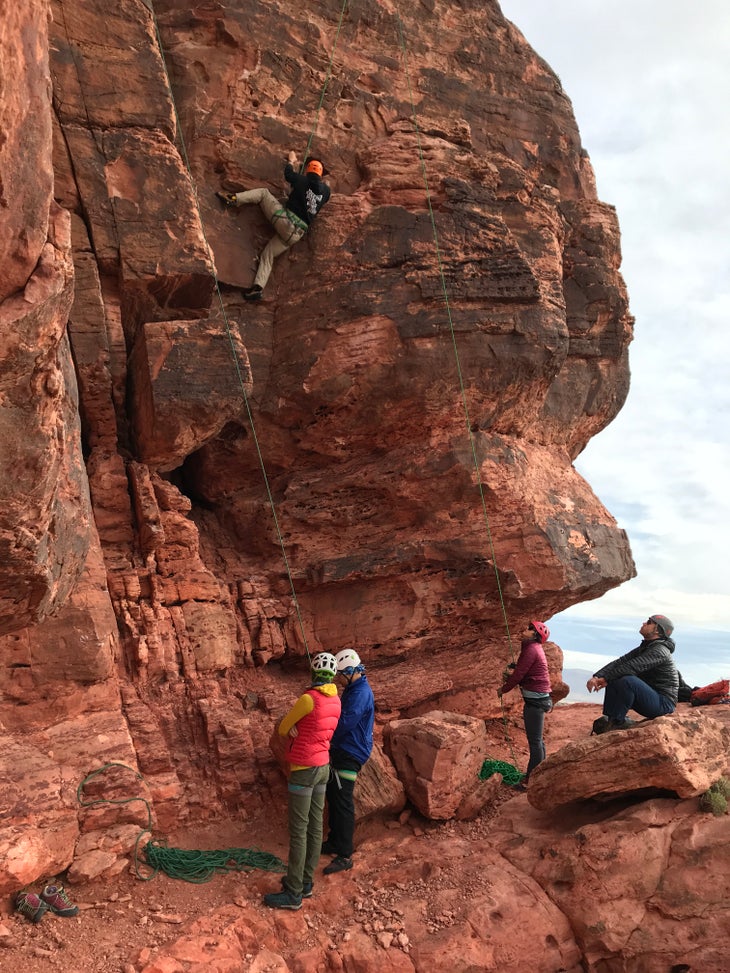 When fight/flight/freeze mode kicks in again during a flashback, more of those same stress hormones are released, compounding the problem. In an attempt at self-protection, the brain throws those memories back into their dungeons, and also adds new, negative associations to the mix. Because of this, the original trauma memory is never fully and properly processed—it gets trapped in a negative feedback loop, essentially amplifying the intensity and our desire to shut it down. In this way, people experiencing PTS often try to limit the chance of triggers, like stopping going out and isolating themselves from the world, which can foster depression.
By finally understanding how the brain forms and processes memories, and how memories get stored in the neuro-muscular system, psychiatrists, counselors, and psychologists have developed multiple successful psychological and behavioral techniques for healing trauma, such as EMDR (eye movement desensitization and reprocessing), TRE (trauma release exercises), psychodynamic therapy, and mindfulness/mind-body connections.
Applying The Warrior's Way to Managing PTS
Managing and healing from trauma can be a long, complex, and individuated process. There is both the need to face and heal from the original trauma and the need to manage responses to anxiety and triggers for daily functioning.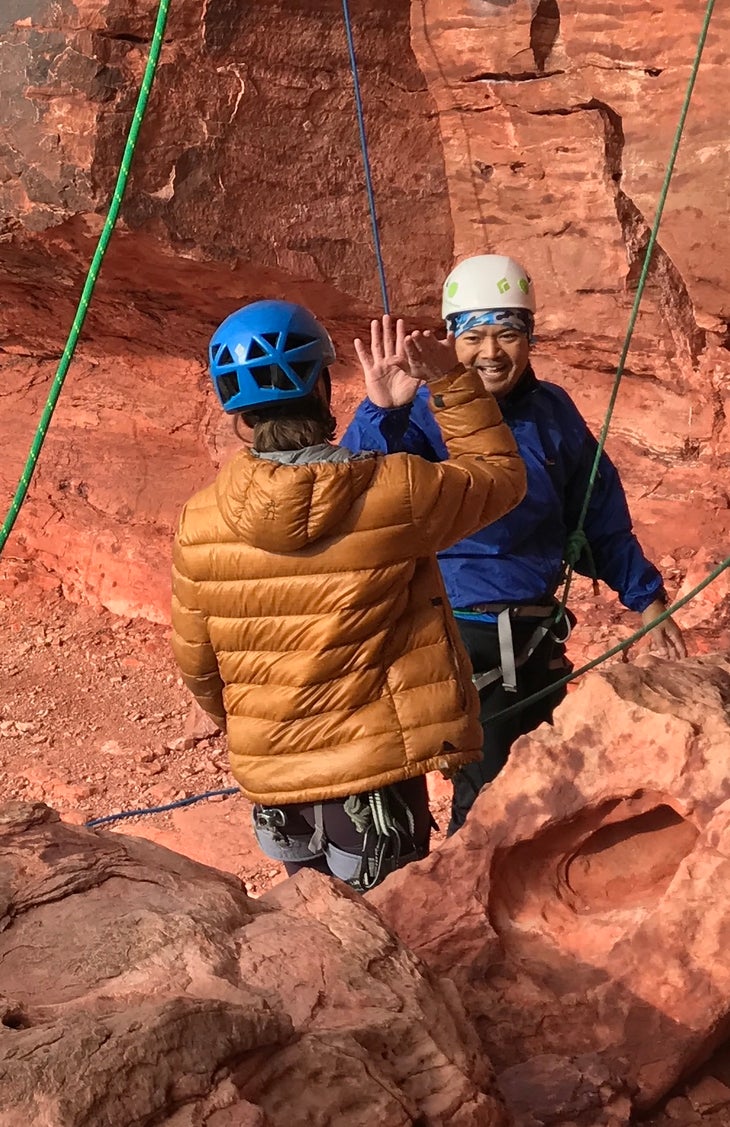 When healing trauma, there is no real way to avoid eventually facing the original trauma—meaning finally allowing the feelings of terror, sadness, helplessness, shame, or whatever extremely uncomfortable emotion is associated with that event to emerge. This is what constitutes "processing," and it literally allows the memory to move from its dungeon to the cognitive centers of the brain—thereby allowing the mind and body to react differently.
However, processing terrifying trauma is painful and one of the most difficult things a human can experience. Which is why people with PTS need support, love, knowledge, and the skills to process their trauma effectively. One goal in healing trauma is to develop higher-order awareness of how the brain and emotions work, honoring it, while also staying above it. (For example, "Oh, I'm experiencing fear right now. OK, why? Am I safe at the moment? Yes, I'm safe at the moment. OK, breathe.")
The Warrior's Way training complements this type of awareness skills practice needed for a multi-pronged trauma recovery. It purposefully trains the brain in a new, stressful, or scary situation—you are up high on a wall, there is a natural fear of injury or death, and the fight/flight/freeze hormones are kicking in.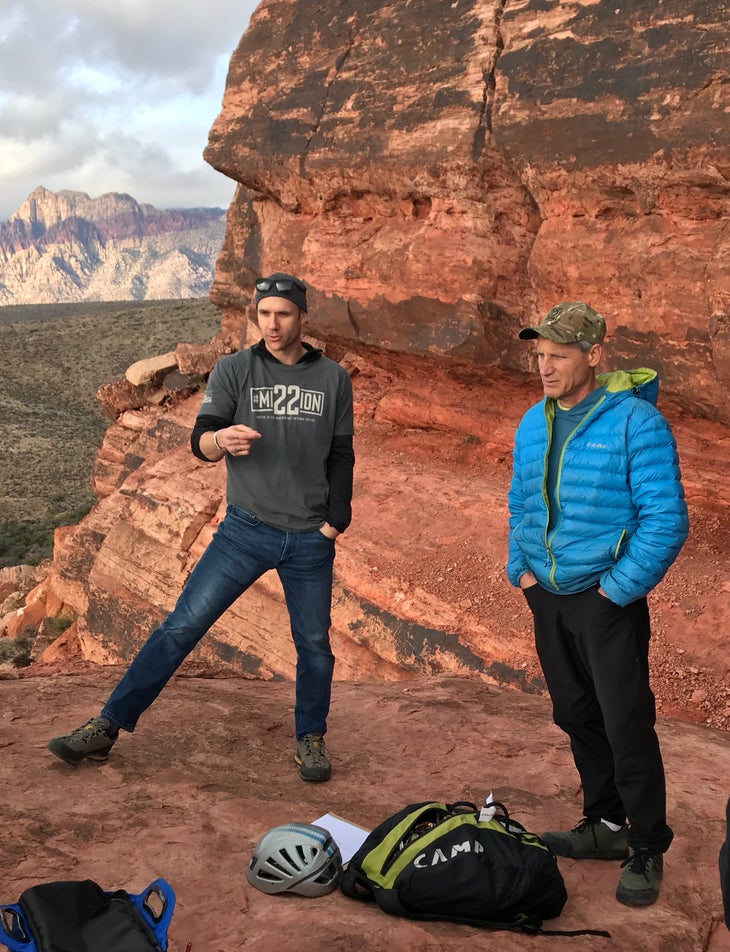 So, now what?
The Warrior's Way principles lay out sequential steps for developing and practicing specific mind-body awareness skills like:
Assessing the TRUE potential danger of a situation and making decisions to avoid the danger in an appropriate way—or determine you aren't really in danger
Exposing yourself to a controlled fear-exposure circumstance, like falling, and experiencing success with it
Managing self-talk
Developing clear, purposeful communication with your belayer
Essentially, The Warrior's Way develops skills around responding rather than reacting (Ilgner refers to it as "engaging with the stressor").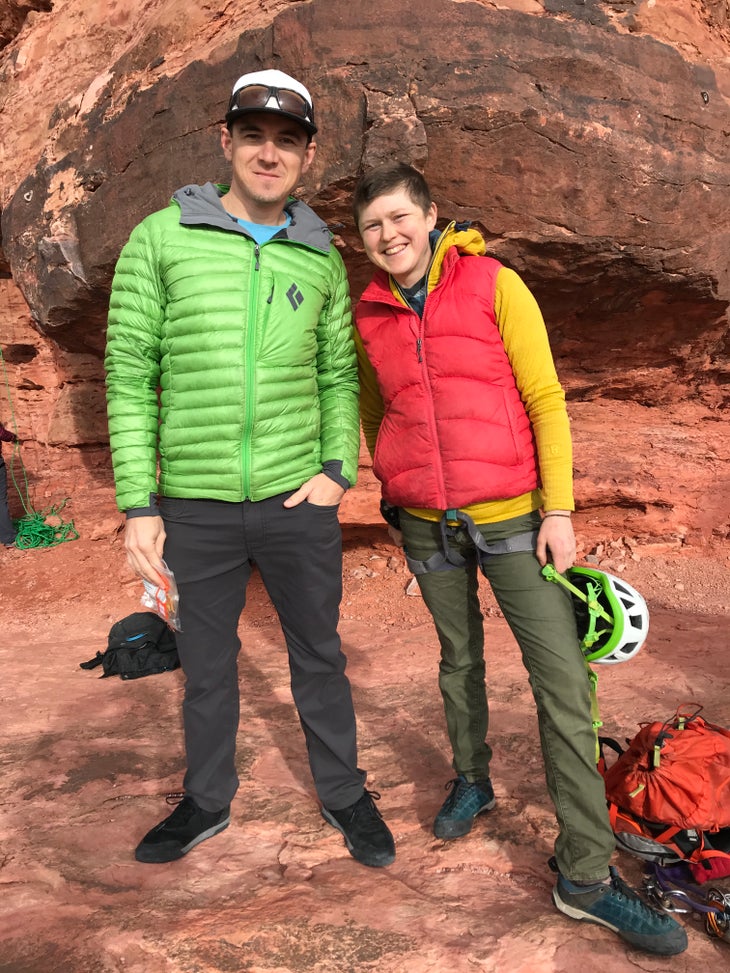 More specifically, The Warrior's Way raises awareness how stress manifests in the body. On the rock that can include over gripping, holding your breath, or having a too-narrow visual focus, which prevents you from seeing options. In daily life the parallels include carrying body tension, shallow breathing, and restricted thinking. The premise is, if you can elevate your awareness about how stress manifests while climbing and then make immediate adjustments while on the wall, those skills can be translated into daily life.
Another example is with the act of falling, which is one of the more significant stressors in climbing. The Warrior's Way mental fitness training creates a shift from being a victim ("This fall is happening to me") to being a participant in the fall. In some cases that can mean choosing to take the fall. But, since not all falls are by choice, it also means engaging with the fall by how we focus our attention.
Falling is a "doing" process for the body, not a "thinking" process for the mind. So The Warrior's Way teaches climbers how to do three things during the fall: breathe, look down into the fall zone, and adjust the body into a proper falling posture.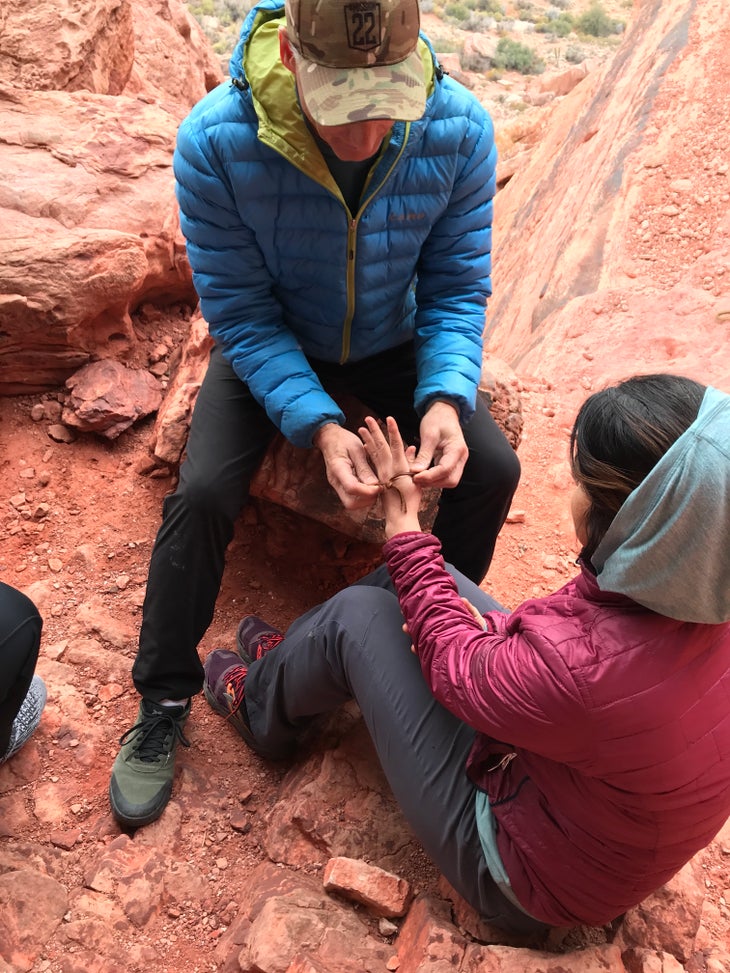 From a warrior perspective, these actions develop a willingness to meaningfully engage the stressor and implement tools during the more extreme stressors (like falling or a PTS trigger).
In addition to raising personal mindfulness, the "Honoring Our Warrior Spirit" course develops communication skills, first with your climbing partner, later with others. This includes:
Expressing needs (e.g. "Please lower me slower.")
Asking how you can provide support (e.g. "Do you need encouragement or quiet right now?")
Providing process-related support to the climber (such as reminders to breathe, look around, or asking "Are you climbing or are you resting?" to help the climber get out of unproductive in-between states)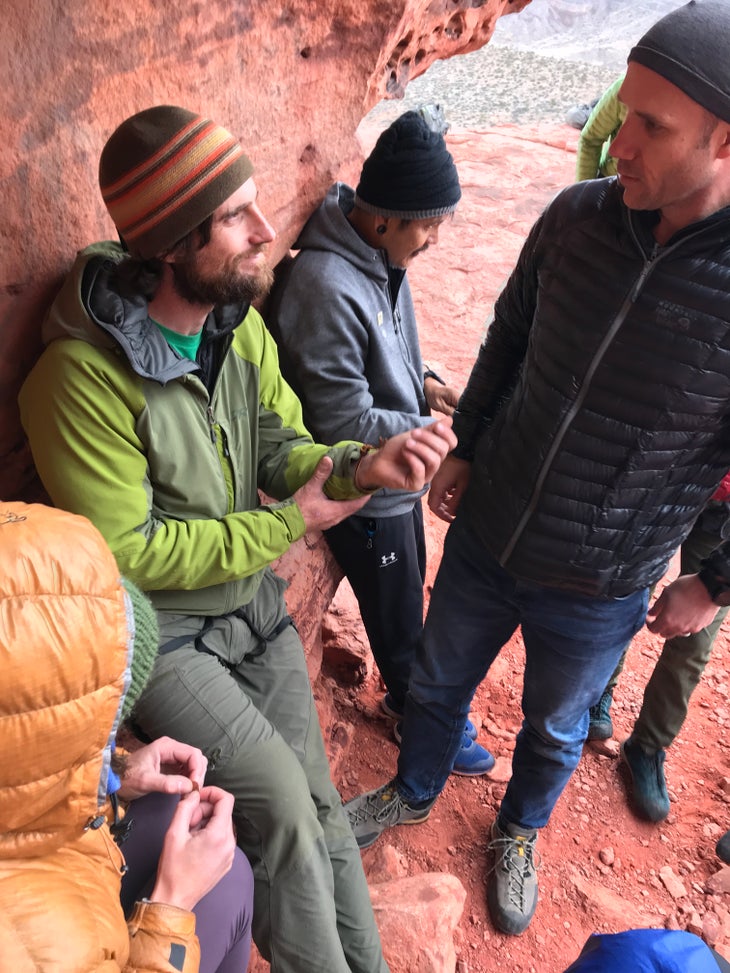 It also provides an insightful three-step process for coaching that promotes the connection bond between climber and belayer—between climbing partners:
Approach your partner with defenselessness (when someone is angry or fearful, they are fearful of losing the relationship bond)
Acceptance (accept that your partner is doing the best they can given their current experience and skillset)
Embody "tough love"—which is not talking tough to them, but rather involves speaking directly, honestly, and openly, honoring the struggle in them and yourself (the tough part) while doing so with compassion and kindness (the love part)
These are all relevant and amazing skills for building, maintaining, and deepening, the human bonds we all need—be it for climbing and beyond.
Ultimately the impact of "Honoring Our Warrior Spirit" comes down to the participants experience. When I was observing the course I heard participants express surprise and appreciation for what they were learning. One participant said, "I thought I was just coming here to learn how to climb. Now my mind keeps thinking about all of these parallels to my life." Another participant, who was already a climber but feeling disconnected, relished being and climbing with other veterans.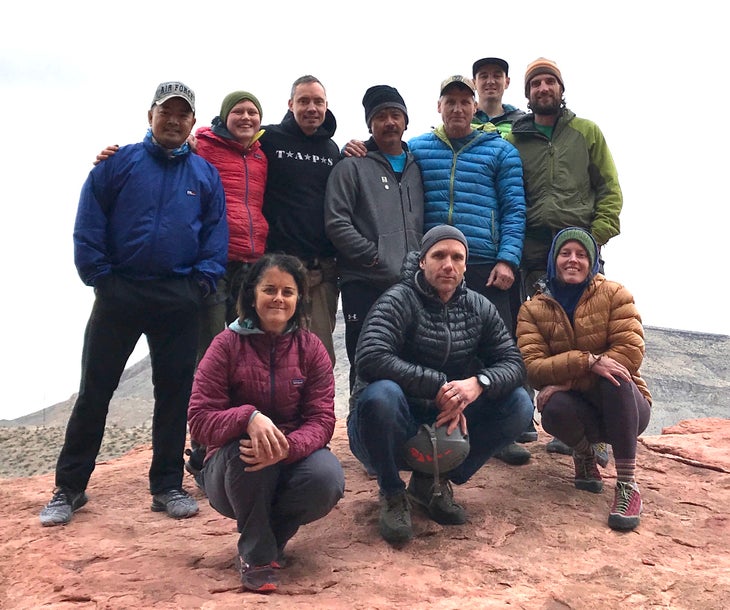 Ilgner also shares two powerful testimonials from participants in one of the previous courses:
Dave (combat vet):
"I've been home from Iraq now some 14 years and thought I had a fairly good handle on things. Having been diagnosed with PTS, anxiety, and also taking countless medications with just as many mental health counselor sessions, I had pretty much just decided that this is just how I am. I'm 'broken' and 'I'll just have to deal with it,' and that this is how life's going to be from here on out. I had accepted defeat. I felt that way up to Friday morning on the way to the climbing gym. I know nothing of climbing or climbers at all, it was our first time ever stepping foot inside a gym of that nature yet you made us feel comfortable and at ease from the very first second. Vulnerability and exposure are two places that I just don't visit, at all. They are not in my comfort zone, and thanks to The Warrior's Way of processing and perceiving stress and stressors I was able to thrive there. It still baffles me… there was an annoying 'buzz' or 'humming' that was always bugging my soul, and it just isn't there anymore. I am forever grateful to have had the opportunity to meet you and learn that I am still a warrior and I do have purpose. I feel that The Warrior's Way is a valuable and crucial tool to the combat veteran and their families. I am LOVING my journey…"
Shelly (combat vet's wife):
"I just wanted to send you a quick note to thank you again for the last few days. I really wasn't sure what I was getting myself into and it was absolutely above and beyond any expectations I had! Me and Dave didn't stop talking all the way home about what we had learned and how we will apply it to our everyday lives. After really pondering life the last few days I've really realized just how stuck I had become with things. Habits, thought processes, and lack of decision making to name a few. I can't tell you how excited I am and how freeing it feels to know that I have the knowledge and the power within myself to get 'unstuck.' That may sound ridiculous but you awakened something in me that I had forgotten I possessed. This program can and will do absolute wonders for veterans and their families and I am truly grateful to have been a part of it. I'm looking forward to seeing what lies ahead in our lives and for what lies ahead for The Warrior's Way and Mission 22. We will be spreading the word on its impact on our lives for sure. Thanks again for everything! We'll be here in Indiana taking small steps and remembering to breathe. And hopefully taking our son to a local climbing gym very soon."
For more on facing your own fears related to falling, control, and performance on the rock, be sure to check out Arno Ilgner's new AIM Adventure U course, Overcome Your Fear of Falling. Designed to be taken over five weeks, this course will help you incorporate falling into your repertoire as foundational skill, freeing you up to climb your best—and hardest.