How Jonathan Siegrist Climbed His First 5.15
Breaking barriers: What Jonathan Siegrist learned from sending Biographie
Heading out the door? Read this article on the new Outside+ app available now on iOS devices for members! Download the app.
This article originally appeared in the October 2014 issue of our print edition.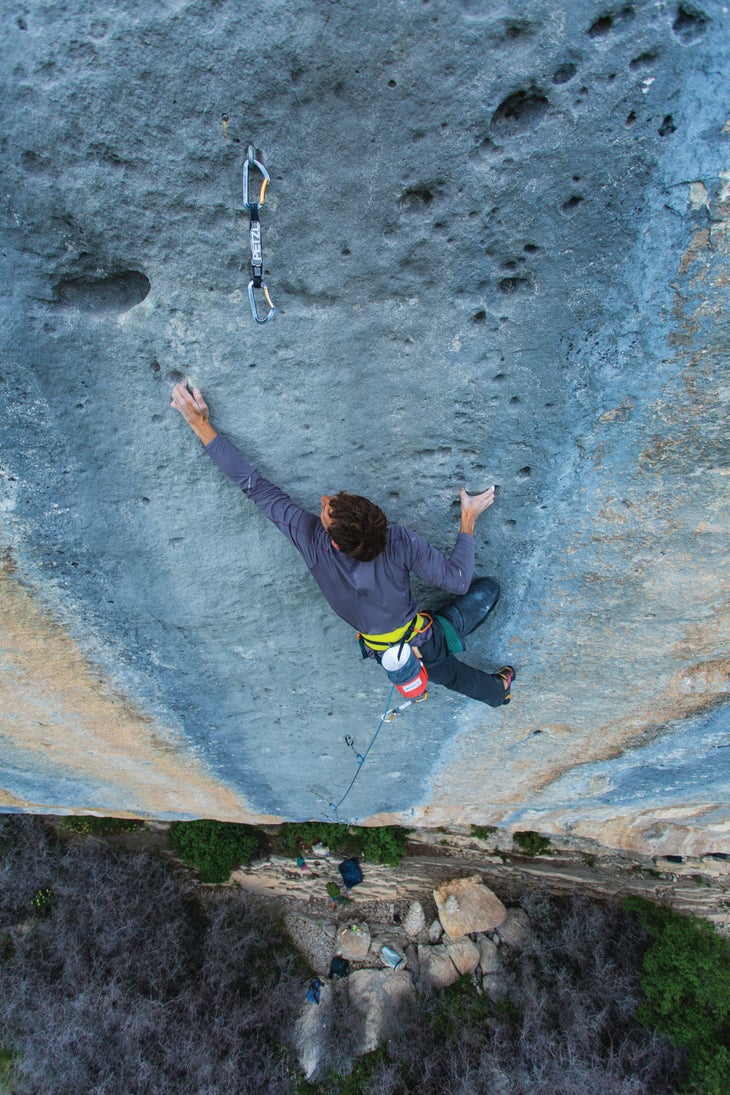 "I wanted this route more than I've wanted anything in my life," Jonathan Siegrist told me, as we sat drinking espresso (his was decaf) in Chamonix, exactly two weeks after he nabbed the eighth ascent of Biographie (5.15a), aka Realization, in Céüse, France. Chris Sharma first sent the full route in 2001 and chose not to grade it, but it was widely speculated (and later confirmed) to be the world's first 5.15.
Siegrist, 29, has been a fixture in the national climbing scene for the past five years, ticking off hard sport routes across the globe, adding his own 5.14 lines (both bolted and on gear), and bringing a smile and positive attitude to every crag he visits. Although his father, Bob Siegrist (who, at 64, sent his first 5.13 in July 2014), had always urged his son to try the sport, Siegrist didn't start climbing until he was 18. Eventually climbers in Colorado's Front Range began to see him everywhere, sending the area's hardest lines. He gained international attention in 2009 when he visited Kentucky's Red River Gorge and cleaned up: three 5.14c's, three 5.14a flashes, three 5.13c onsights, and more than a dozen other 5.13 and 5.14 routes—all dispatched quickly. According to his website, Siegrist has about 150 5.14 sends (many of them flashes and first ascents) and more than 400 5.13s under his belt.
Siegrist thought sending Biographie was important to his credibility as a route developer because it represented the next level of difficulty. "I want to add some of the hardest sport routes in the U.S., and with my routes La Lune and La Rêve, I speculated they could be 5.15, but I didn't know," he said. "I thought Biographie would give me a respectable benchmark so I wouldn't have to speculate about grades. I could say, 'OK, now I know what this difficulty feels like,'" he explained. "It was also encouraging to know that shorter climbers had done it, like Ramon Julian Puigblanque and Enzo Oddo—who's actually huge now." (Siegrist is 5' 5.5")
Siegrist also wanted a challenging objective that would inspire him to train and try harder. "The challenge forced me to train in a new way, to adapt my lifestyle, to approach my climbing differently, and to really improve," he said. That dogged attitude meant months of hangboarding, campusing, and weightlifting, which led to what he calls his first quantifiable improvement since 2010, when he sent his first 5.14d (Kryptonite in western Colorado). "When [sending Biographie] finally sank in, it felt like more than just a reflection of the last six months. It was a reflection of the last 10 years of my climbing life." Watch the ascent: Jonathan Siegist Sends His First 5.15a.
How to Redpoint Like a Pro
Just Do It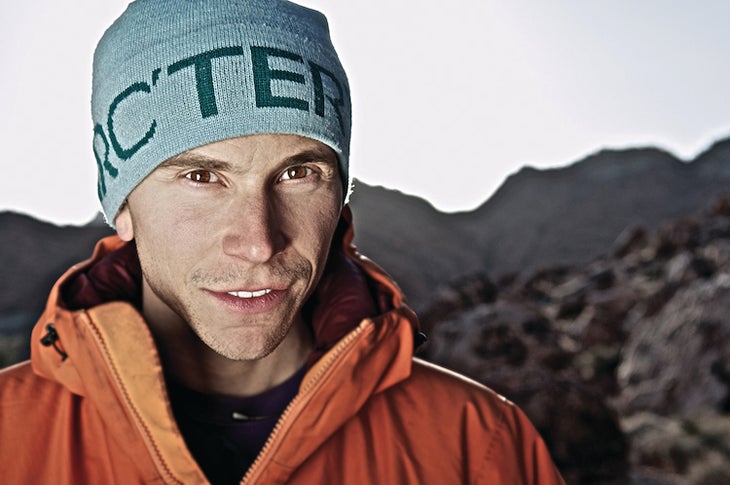 Hard redpointing is bigger than climbing. It allows you to grow as a human being because you have to deal with failure, frustration, inner dialogue, stress, and anxiety. It's not always fun when it's happening, but what it creates is a much more valuable and meaningful experience in the end. You shouldn't be stressing every day about the weather or your skin, but having that process at least a few times is great. It makes you a better person.
Stay Positive
Sometimes it's OK to walk away, but it depends on how much the route means to you. I prepared by telling myself I would try it for 11 weeks, but it would be OK if I got on the plane and had sent nothing. This goal was about improving and learning something—more so than ticking a 5.15. You want to look back and know you gave everything you had, even if you didn't send. If it becomes a negative experience, consider moving on.
Train Away Weakness
I don't have inherent talent, but I worked really hard. I trained for months and tried the route for 30 days. Everything I did, day and night, was for the route. I made sure my skin was good, ate healthy, drank a gallon of water a day, slept well. I love running, but I stopped so I could focus all my energy on climbing. My biggest weakness is power, so I trained two hours a day on the campus board a few times a week.
Adapt
Not reaching your goals is hard. I remind myself that it's important enough to me that I'm just going to keep trying. Instead of pressuring myself with each attempt, I'm always thinking ahead: OK, I have partners for Tuesday, Thursday, Friday. What's the route going to be like in late June when it's hotter? Embrace the general attitude of "this could take a while," instead of feeling pressure to send every day. I also quit caffeine; coffee gave me the jitters!
Embrace the Rollercoaster
Going through the range of emotions is mandatory, and that's one of the coolest and most frustrating things. I get emotional. I get close in the beginning and think, I'm gonna do this thing! Then it's, I'm never gonna climb this thing! No matter how much you want to skip the highs and lows, you can't. You'll often find success in the next phase when you finally say, I'm just gonna keep trying, and maybe one day I'll do it. 
—As told to Julie Ellison