A Mis-clipped Anchor Leads to a 60-foot Grounder—And a Life Saving Spot
We spot boulder problems. Sometimes we spot climbers before they clip their first piece of pro. Now imagine spotting a climber falling 60 feet.
---
Join Climbing
Create a personalized feed and bookmark your favorites.
Join Climbing
Create a personalized feed and bookmark your favorites.
Join for free
Climber: Douglas Kern
Location: Staunton State Park, Colorado
Date: August 23, 2014
The Scene
Asha Nanda, 21, had been introduced to climbing at a Christian leadership program in the Adirondacks. During a trip to Colorado, she and several other climbers hiked up to the Tan Corridor, high in a forested gully in Colorado's newest state park. Douglas Kern, then 25, had just met Nanda the day before; he was one of the more experienced climbers in the group. In the afternoon, Kern led Reef On It! (5.10-), a vertical, seven-bolt sport climb. He left a rope running through quickdraws clipped to the anchors so the rest of the group could enjoy a toprope.
Nanda was the last climber to do the route. Before starting, she borrowed one of Kern's thin Dyneema slings and girth-hitched it to her harness; she planned to use this sling to clip in at the anchor, thread the rope, and then rappel. Kern's slings were rigged as alpine draws, with a wrap of tape cinching the sling tight next to one of the carabiners so it wouldn't shift around.
When Nanda reached the top of the route, 60 feet above the ground, she clipped one of the anchor chains with the sling hitched to her harness. Although she was new to outdoor sport climbing, she had rehearsed anchor cleaning in a gym, and had run through the steps with one of her climbing partners earlier that day. She leaned back and fully weighted the sling connecting her to the anchor to test it, then yelled "off belay" and began untying the figure eight at her harness, preparing to thread the rope through the anchor. "I was very focused on checking and rechecking each step, and this process took approximately two to three minutes," she says. Suddenly she heard a scream and saw the rope falling in loops below her. Then she realized the scream was her own and she was plummeting through the air.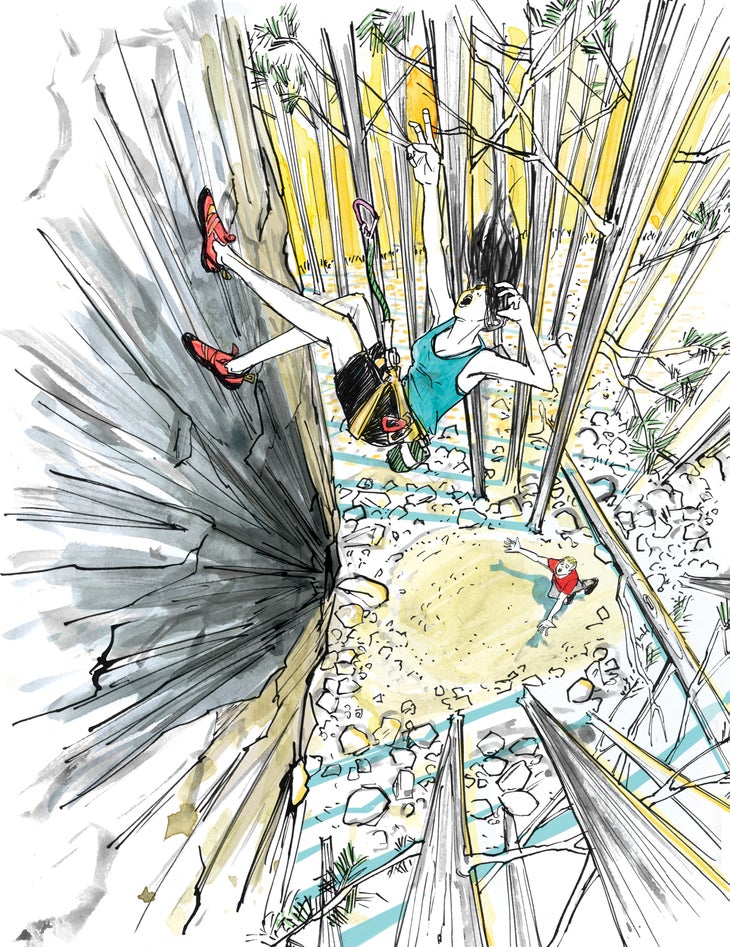 The Response
Unbeknownst to Nanda, the single sling she'd used to clip the anchor had been compromised, either before she hitched it to her harness or while she was climbing. A loop of the sling must have slipped through the gate of the carabiner that was taped at one end, so now two strands of sling were clipped through the same biner. Although difficult to visualize, this creates a very dangerous situation similar to cross-clipping two loops of a daisy chain—in effect, when Nanda weighted the sling, only the wrap of tape around it secured her to the anchor. The beefy climber's tape held her weight until she had completely untied and only failed then, leaving the carabiner still clipped to the anchor bolt and the now-useless sling hitched to her harness. The tape fluttered to the ground after the falling climber.
Startled by Nanda's scream, her belayer, Julie MacCready looked up to see her plunging toward the ground, the rope looping below her. There was nothing she could do to stop her. Kern had just lowered off a nearby climb and was walking down the gully when he heard Nanda yell. Amazingly, he had no doubts about what he would do next.
"I once saw a dude fall in the Adirondacks when we were ice climbing," he explains. "He fell 20 feet and landed on the ground right next to me. I said to myself right then, 'If I ever see that again, I'm going to catch the person.'"
Nanda weighs about 125 pounds, and Kern is 6' 2" and weighs 190 pounds. He had lifted weights throughout high school and college and practiced karate. As he saw her fall, he vividly remembers thinking, "She's so small, I'll catch her—it'll be no problem. I'm going to stop this fall."
No more than two seconds elapsed between Nanda's scream and her impact, but Kern remembers that she seemed to be falling "really slowly." He stood at the base of Reef On It!, planted his feet, and stuck his arms out in front of him, like a man about to catch a medicine ball in the gym. Nanda fell into his arms and slammed onto his chest, then ricocheted onto the ground, where she bounced "a foot or two" off a single narrow strip of dirt amid a sea of boulders and scree.
Flat on her back, Nanda looked up at her friends and said, "What happened?"
Both Kern and Jennifer Lee, another friend in the party, had wilderness first aid training and began to assess Nanda's condition. MacCready called 911, and another climber ran down the mountain to direct rescuers to the scene. Despite the horrendous fall, Kern and Lee could find no injuries, but when rescuers arrived she was shaking and her blood pressure was falling. Rescuers carried her out of the gully and called for a chopper. She arrived at the hospital two hours after the fall. After seven hours of tests, Nanda was released—every test and scan had come up negative.
Nanda quickly returned to climbing, but says her accident taught her several crucial lessons, including to use her own gear, avoid taped "alpine draws," and always back up her anchor. Also, she says, "If you're new to climbing, advance cautiously and with respect to the risks." She now lives near the Red River Gorge in Kentucky, studying nursing and volunteering for the local fire department.
While Kern's actions undoubtedly were heroic, he was lucky too. The impact of Nanda's fall could have seriously injured him or even killed them both. The great difference in the two climbers' statures enabled him to absorb the blow. Kern also had prepared himself mentally for this day after witnessing a previous groundfall, and his self-confidence and desire to succeed boosted his ability to stand tall.
Kern, who is now living in New Zealand and working for an arborist, credits God for helping him save Nanda: "I think He wanted that girl alive." Asked if he would do the same thing if he witnessed another falling climber, Kern says, "For sure! If I got a bruise, big deal. She didn't die. Of course I'd do it again."
Survival Tip: Give Accurate Directions
Write down or review the information you want to communicate before calling rescuers, including your location (without relying on route names, if possible), your name and number, and the patient's status. "Rescues are often delayed by panicky callers that are unable to give a location to rescuers," Simon explains.