In Defense of the "Soft": A Response to Cedar Wright
Heading out the door? Read this article on the new Outside+ app available now on iOS devices for members! Download the app.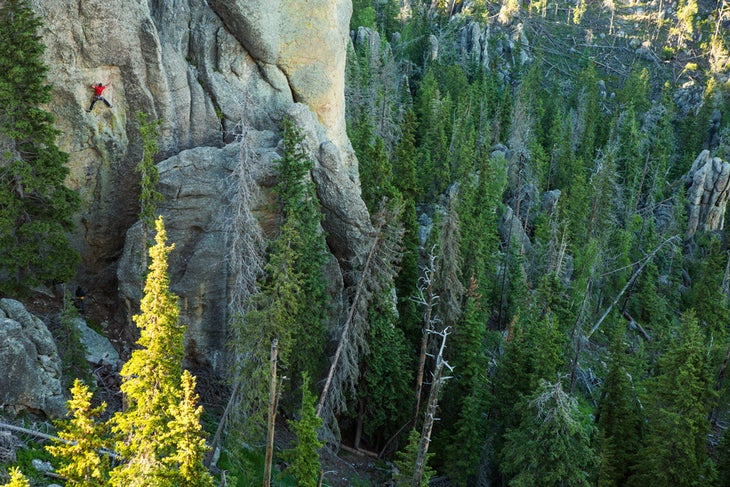 It's another hot summer day in the Black Hills of South Dakota. I'm sitting on a boulder in the shade drinking water after leading a stiff 5.9+. The air above the granite spires shimmers in the heat. I listen to the sounds of birds and hissing pine needles, and to the soft clinks of metal as my partner gears up to lead the same pitch. As far as we know, we're the only ones out here. Glorious.
Suddenly, my reverie is broken as a raucous drumbeat floats across the crag from a nearby wall. I stand to investigate the origin of this disruption. A family of four has set up camp at Toy Boat—the "beginner's wall" of the South Seas climbing area. They have a wireless speaker. They have hammocks. They appear to have brought a cooler, presumably full of food and beverages.
"Ah jeez," I say, to no one in particular.
A boy no older than 10 slowly moves his way up the knobby 5.6 route on the corner of the face. His legs are shaking and he keeps glancing nervously at the ground. His dad stands with his hands on his hips shouting encouragements upward. "You got it! Remember how we practiced in the gym? Keep your eyes up high, OK?"
The mom/belayer takes a little more slack out of the rope while simultaneously glancing at the young girl playing with pine cones a few feet away. The dad looks my way and waves. I'm suddenly very aware of my appearance: ratty jeans, no shirt, heavily tattooed, and sweaty. I wave back, then duck down out of sight.
So much for a quiet day climbing, I think.
Most climbers nowadays know the name Cedar Wright (um, he's that guy that takes videos of Alex Honnold, right?). Apart from being a badass climber, Cedar has produced an amazing amount of media in the form of documentaries, photographs, and the occasional essay for Outside.
Let me start by saying that I have heaps of respect for Cedar and what he's done for our sport. In many ways, he's a great role model for green and seasoned climbers alike due to his charisma, his fortitude, and his downright insanity. I really mean it.
But I'm going to come at him a little bit for a piece he just wrote entitled, "Give Your Sprinter to a Real Dirtbag," which was published last month on Outside Online. It's about a weekend Cedar spent in Colorado's Rifle Canyon climbing with his wife. The crag is busy. He's having a hard time finding parking amidst all the decked-out vans inhabited by the other weekend warriors out of Boulder. The warm-up routes are all occupied, some of them by families with apparently wealthy parents and children. Cedar is indignant. "There's too goddamn many climbers," he grumbles. But it's not only the number of climbers that seems to have set Cedar off. It's the type of climbers.
Cedar is a hardcore old-school Yosemite guy, a self-described "bit of a grumpy, hold-out ascetic." Cedar is what one might be tempted to call, the real deal, having built a career out of scary climbs and a dirtbag background. He heads out to the Canyon fired up for a weekend of crushing, and what does he find? Affluence. Excess. Sprinter Vans. He beholds before him the commoditization of his chosen lifestyle.
I sympathize, man. I'm no real deal climber. I've never lived in my car. And yet I too have felt the change in the atmosphere. Suddenly, the parking lots at the crags are filling up, mostly with cars with out-of-state license plates. I have to wait for routes. I have to tolerate blaring music while I try to focus on leading. Truly, something is being lost, and perhaps it is something worth lamenting.
And yet…
Back in the parking lot, my buddy and I sit beneath the open hatch of my Forester. It's hot. We climbed hard. We're thirsty and brought too little water. I look sidelong at the fully loaded RV with Colorado plates parked next to me, imagining a mini-fridge stocked with Fiji water bottles.
And here they come. The family of four is throwing in the towel, too. I'm amazed they can pack out all of their gear in one trip. The dad waves again as they approach, and I wave back.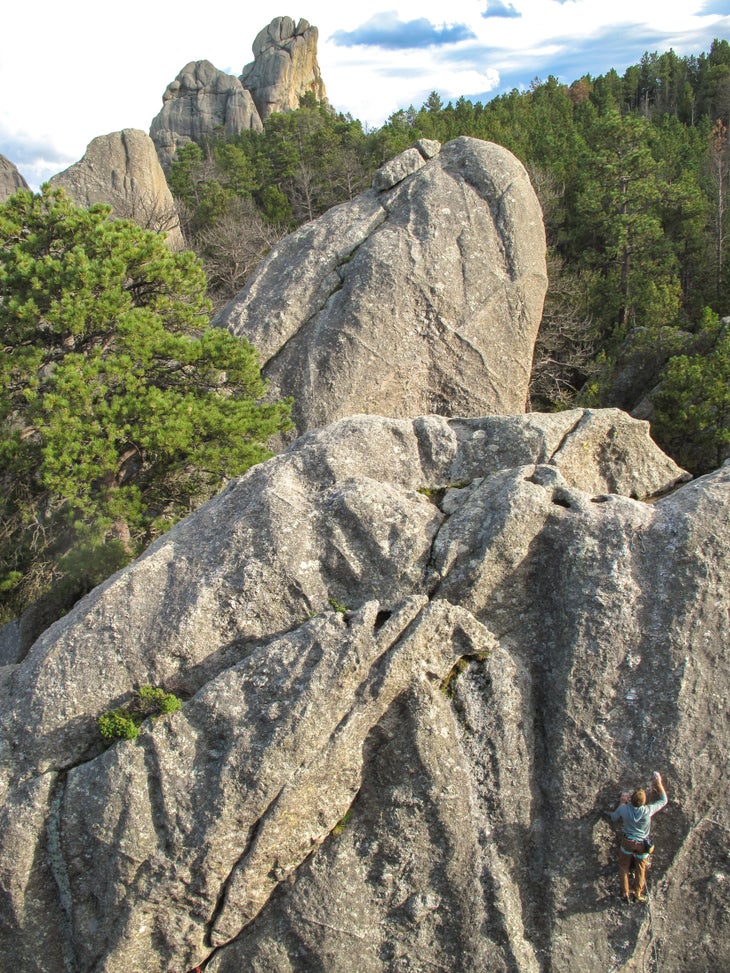 "What a scorcher, eh?" he says, as he hits the unlock button on the key fob.
"Yes sir. The rock's almost too hot to touch," I reply.
We talk a while. I ask if they've climbed here before. They have, the dad says, but this is the first time with their kids. He and his wife try to travel outside of Colorado a few times a year to climb. Their young son and daughter stand a few feet farther away. They're shy.
I ask them how they liked the climbing out here.
"It's good," the boy says.
"Yeah, it's fun but scary," the girl adds.
The dad tells me that his kids have been gym climbing since they were able to walk, but that this was their very first time on real granite.
"I fell a few times," says the boy.
"Yeah, I've fallen a few times on that route, too. It can be tricky." I reply.
The parents smile at me as if to say, "thanks for that." The girl takes a step closer.
"Do you get scared when you bring the rope up?" I take her question to mean whether I get scared while I'm lead climbing.
"Every single time. But that's part of the fun, right?"
She smiles at that, and then something else occurs to me: While her brother hung on the rope connected to Mom, and Dad shouted up his encouragement, this girl was on the ground watching me lead that 5.9+. Oh god, did I curse at all?, I worry. I might have when I went to clip that third bolt. Could she have heard me from that far? I hope not.
They pack up their gear and we wish each other safe climbing and safe travels. I watch their taillights and Colorado license plate disappear down the gravel road.
What's the most exciting thing happening right now in climbing? It's an interesting question. On the one hand, we have Honnold crushing as only Honnold can. We have Alex Megos polishing off 14's and 15's left and right. We have Margo Hayes and Ashima Shiraishi absolutely shattering records and stigmas. And— this is perhaps where Cedar and I part ways—we have more people, namely people of affluence who are keenly attuned to the latest lifestyle trends, climbing than ever before.
In this country and perhaps worldwide, we're witnessing the emergence of a vibrant mainstream climbing culture. Climbing gyms are booming in urban centers. New gear companies are springing up. The gear is getting lighter and stronger. The shoes are getting better. We have climbing magazines and climbing movies. We have community climbing groups and local coalitions. And, we have more people visiting the major and minor crags.
As one kind of culture flourishes, another always begins to degrade. The sport that started as a rough and ramshackle party of merry mountaineers has gone corporate, through the commercialization and mainstreaming of outdoor recreation at large. This is change. This is growth.
By my reckoning, climbing has moved from the juvenile stage into its adolescence. Adolescence for most of us is/was a scary time. It's a time of rapid growth, of gawkiness, of previously unknown drives and neurosis. Cliché but true, it's a time of figuring out just who and what we are. This seems to me a fair depiction of where climbing culture is now. The question is how it might mature from here. If there's one thing I learned from the Bears Ears debacle and public lands issues generally, it's the importance of stakeholders. We're now seeing far more stakeholders emerge from the cities, from everywhere perhaps. And, yes, these stakeholders have money they're willing to spend on their chosen hobby. These are the people who, when it comes to fundraising and campaigning and voting for measures involving public lands, may be counted on to support the climbing community with their wealth. So for me, when I see a parking lot full of weekend warriors in Sprinter vans, I see a powerful community forming with the means to defend the sport and the landscapes that I love.
Of course, we have reasons to be worried. We need to be worried about the impact the increased climbing will have on the crags and the surrounding areas. We need to be wary of fetishizing the material aspects of the sport. We need to be concerned about climbers transitioning from gyms to real rock and the inevitable injuries and, sadly, fatalities that will follow. But what I refuse to get upset about is more people climbing or what they're driving.
When I think back to that day in the Black Hills, the most exciting thing happening in the climbing world wasn't my sending that stiff 5.9+, or the group farther down knocking off a burly 5.13c. I think the most exciting thing happening in the whole damn state was those kids from Colorado climbing on granite for the first time. I give those kids three years or less from being able to out climb my soft caboose. And who knows? Maybe they'll keep coming back here. Maybe they'll choose to support the Black Hills Climbing Coalition. When push comes to shove, they may even be willing to part with some of whatever means they have to protect and develop the Black Hills climbing areas if the need should arise.
So bring on the Sprinter vans. Welcome to the community.