Interview: Chris Sharma Talks Filming Point Break
Heading out the door? Read this article on the new Outside+ app available now on iOS devices for members! Download the app.
The original Point Break is a cult classic. Former college football star turned FBI agent Johnny Utah immerses himself in the radical lifestyle to infiltrate a crew of criminal extreme sports athletes and learns some things about himself along the way. A remake was released in December (in theaters now). For the 2015 version, filmmakers recruited the top athletes from a variety of action sports to film the stunts. Chris Sharma performed in the climbing scenes. We spoke to him about his experience. 
Was this your first time climbing for a big-budget Hollywood movie?
I've done a lot of climbing movies over the years, whether it's Rampage or King Lines, but obviously for a big Hollywood production this is the first time.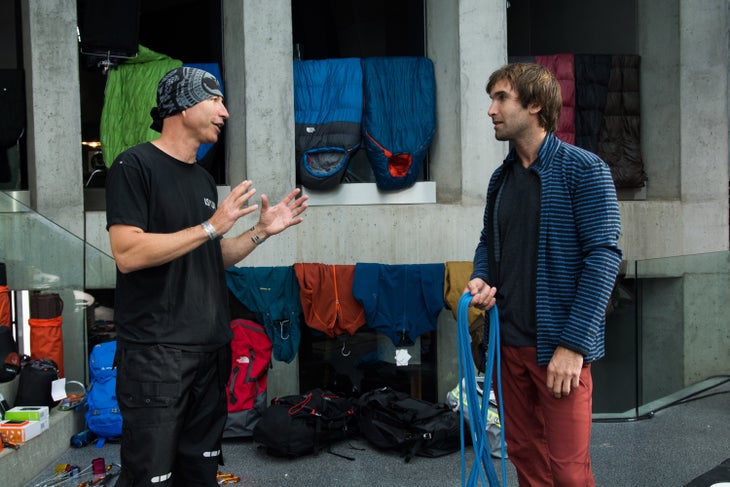 Where did you film the climbing scenes?
We filmed it on Angel Falls. The director, Ericson Core, is a good friend. He came to me when they started developing the scene. In their script they had the climbing next to a waterfall over the jungle. I was like, "You gotta go to Angel Falls. You gotta go to the tepuis in Venezuela." For me it was a cool opportunity to include some of my own personal goals, and to go to a place that I've always wanted to go to.
How was climbing for a movie different than your typical sport climbing adventure?
There's definitely a lot of things that are similar, and definitely some things that are different. There was a lot of crew. All in all there was about 150 people helping out in one way or another with the logistics. For such a big production, doing something in such a remote place in expedition style was complicated. There was a lot of stuff going on for sure. At the same time, I was alongside my buddy Dani Andrada and we were just climbing, making up cool sequences, and finding beautiful lines in one of the most spectacular places on the planet. In that way it was pretty similar.
How hard was the climbing out there?
There's huge potential for really hard climbs. The coolest section of climbing right alongside the falls had some pretty powerful sequences. It's hard to grade them, but I'd say 5.13 or something like that.
Were you guys able to put up any first ascents on your downtime?
We were, for sure. If you've seen King Lines, it's a similar landscape on top of these tepuis. It's the same region of Venezuela. Between our takes we'd escape off and go bouldering. There's amazing potential up there. It was funny because we had to wear all sorts of fake tattoos and wigs and stuff because we were stunt doubles. We would escape and go climbing, but we'd still be dressed up. We were definitely able to squeeze some good climbing in. There were some moments where it was a little bit of torture as well, being up there and wanting to just climb, but we had to go to work. A great experience nonetheless!
Did you do anything to help the other actors understand our sport?
I had the main actors come and visit me in Barcelona. We went climbing and just got to know each other. I tried to share my perspective. I think that was really helpful for developing their characters—having a deeper understanding of the sport, why it is that we do the things that we do, and what climbing really means to me. For me, climbing is of course a sport, but it's so much more. It's my life's journey. It's a way of expressing myself. It's very creative. You're mixing that creativity with this high-end athletic fitness. I think that helped them to understand their characters and what we were going to be doing.
What was life like on top of Angel Falls, living with such a huge crew?
It was pretty crazy. We had three different camps. We had one camp at the base of the falls. We had one camp on top of the falls. There was another camp on top of the plateau, near a big rock that was about 100 feet tall. That's where we filmed some of the close-up shots. At all those spots, especially at the top of the falls, there was a lot of rock to climb on.
It's hard to move around up there. You're kind of isolated and there's really nowhere to go. At the base of the falls you're down in the thick jungle. We were confined there for a month. There's no escape. It was a crazy experience to be so isolated, but in this little bubble. We were camping, but at the same time we had a cook. Peter Croft was there, Brooke Sandahl, Dave Schultz. There was a lot of camaraderie, a lot of friends that were working on this film. It was a really good group of people to be able to hang out with. It was definitely a new experience, but at the same time it was pretty familiar.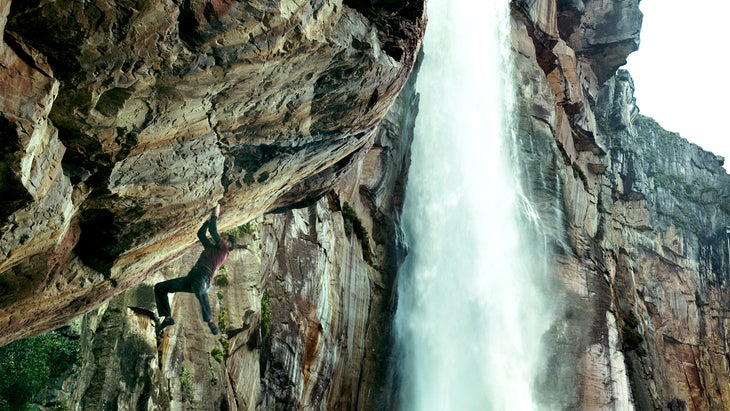 Had you seen the original Point Break going into this?
Yeah, for sure. I've seen the original movie quite a few times. It's one of the films I was raised on. It was super cool to get to be a part of this reimagined version that has climbing. For me, it was a huge honor to be an ambassador for our sport and share what we do with the world. I'm actually really happy with how the climbing scene turned out. I think it's going to inspire a lot of people, and it does our sport justice. I'm quite happy that they were so committed to transmitting an authentic version of what we do, and that I was able to be one of the people telling that story. It's pretty special to be a part of it.
Now let's get to the important questions: Do you consider yourself more of a Bodhi or a Johnny Utah?
I guess I could see parts of myself in both of those characters. I was stunt doubling for Johnny Utah and Dani Andrada was doubling for Bodhi. It's funny because for Dani, that was always one of his favorite characters. (laughing) It was always his dream to rob a bank. He really identifies with that character. I think I can identify with both of those guys, being between two worlds. I'm very much passionate about what I do: climbing. I could care less about all the stuff that's around it, whether it's dealing with sponsors, big competitions, or any of that stuff. We're forced to live in both of those worlds. I can identify with Johnny Utah's character that he has a foot in both places. It's interesting. It's that dilemma we live with: always trying to stay true to ourselves, while at the same time living in the reality that we live in. We all have to do stuff that isn't always our first choice.
You're Johnny Utah at the end of the original film. Do you arrest Bodhi, or do you let him surf the 50-year wave knowing that he won't come back alive?
I'd definitely let him surf the wave.