Interview: Chris Sharma Talks Le Blond, Training, and 5.15d
Heading out the door? Read this article on the new Outside+ app available now on iOS devices for members! Download the app.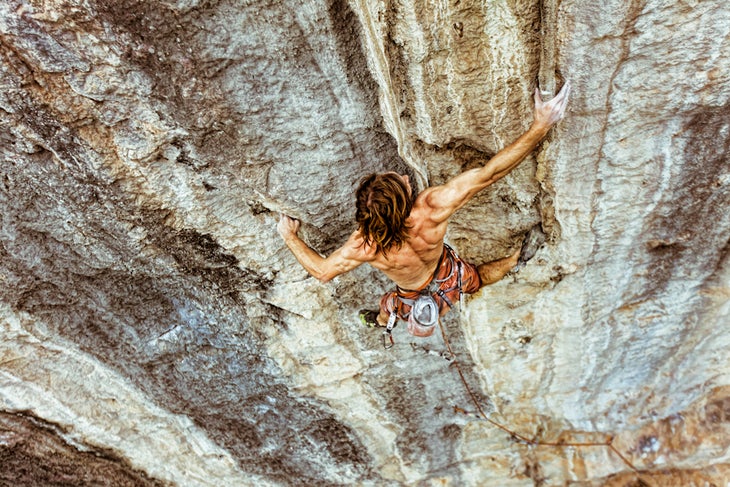 Chris Sharma's life has changed a lot recently. He opened his own gym, Sharma Climbing BCN in Barcelona, Spain. He became a father in June of last year, when his daughter Alana Sharma was born. What hasn't changed is his place at the forefront of hard sport climbing. I sat down with Sharma at his gym during the Petzl Grigri Tour to talk about his current projects and motivation.
Tell us about your Le Blond project. How did you come across the route?
Chris Sharma: Oliana is a cliff that I've been developing over the years. While I was working on La Dura Dura, I kept looking over to the right. I saw some holds and was like "Oh, maybe there's another line there." It's a line that, if you go and look at it from the bottom, it looks blank. It's all white, so it's really hard to see any holds on it. But there is a sequence that is just barely possible.
So during the process of trying to do La Dura Dura, I kept trying Le Blond because it was a similar style. It was a way to take my mind off of La Dura Dura. In the end I ended up finally climbing La Dura Dura, and I took a big break from climbing in Oliana because I'd been there for forever. Then last year when I was climbing there with Daniel Woods, Dave Graham, Matty Hong, and Joe Kinder, I jumped on it again and got psyched. It's tricky to find a project of that difficulty where everything goes and it's just right. It will be cool to get back on it this spring. For me, with that route in particular, it's something that I have close to home, so it's something that I go and try once in a while, but not necessarily what I'm ready to invest all of my time and energy into right now. I try lots of different projects and then once they start getting closer, or feeling closer, I start to hone in on them.
It's been an interesting year for me. This summer I had a baby. And during the summer I trained a lot; I came here [Sharma Climbing Barcelona], and I climbed all the time. Then I was in Majorca, and we've been dealing with a bunch of different stuff, just raising our daughter.
Have you done all of the moves individually yet?
Oh yeah, I've done all the moves. I've linked and overlapped sections. But it's daunting for sure. As far as trying to find a 5.15c or 5.15d, I think that it could be one. I also have a project in Santa Linya that could be another one, which is pretty epic as well.
These days I'm super psyched to keep working on all of these projects, but things have evolved so much in the last couple years. I love to go sport climbing because that's what I've always done, and I'm super passionate about it, but I'm not as obsessed with it anymore. It's these projects that I have in my neighborhood that I keep trying now and then. Hopefully one of these days one of them will come together. At the same time I'm super excited to work on this multipitch route on Mont Rebei, and do more deep water soloing. I'd love to come back and climb in the U.S. as well. It's always tricky to manage your time.
What is it about the wall with La Dura Dura and Le Blond that makes these really hard routes possible?
I think it's about a 30-degree overhang, so it's steep enough that it's very athletic climbing, and at the same time it's vertical enough that you can grab really small holds. It's the perfect recipe: a mix of steepness and face climbing.
There is rock everywhere around this region, around the world, but in the end you need to pick a place and start from somewhere. Here is where I ended up and started directing my attention, and the natural result was creating these lines.
Can you describe the crux of Le Blond?
The first five or six bolts is just nonstop bouldering. So it's very powerful power endurance climbing. The bottom section could be 9b [5.15b] alone. And then it goes straight into this other section, which could be a short 9a [5.14d] without any rests, so it's pretty burly.
So you climbed the world's first 5.15a and 5.15b routes. Adam Ondra climbed the first 5.15c, but it was close. You're both working potential 5.15d projects now. Do you feel any sense of competition with him?
I don't really feel competition. It's beyond that now. I have a lot of passion for trying projects and continuing my climbing, but there are so many ways to progress. For me, a big part of my plan is deep water soloing. In the last eight-or-so years I've been very focused on sport climbing. It's something I care a lot about, but it's also just one side of things. At the same time I feel it's a little like "been there done that" in the sense of projecting a sport route, and of course in this case it's ten feet away from La Dura Dura. I'd love to do it some day, and I'll continue working on it, but it's not the only thing I have in my head.
Last year you completed your first real, regimented training program. How was it? Do you feel like it helped you?
It was super cool. I did a six-week training cycle last summer. Since then I've come back to my regular way of just going with the flow. I've definitely felt the benefits, but at the same time it's a very rigid structure, and my life is super spontaneous. It doesn't fit perfectly with who I am. But for certain projects that's going to be what I have to do to achieve those goals.