Kai Lightner Thinks We Can Do Better
We chatted with Kai Lightner about diversity in the climbing world; misconceptions about how accessible climbing is for people of color; his nonprofit Climbing For Change; and—of course—his current climbing and training goals
---
Join Climbing
Create a personalized feed and bookmark your favorites.
Join Climbing
Create a personalized feed and bookmark your favorites.
Join for free
Heading out the door? Read this article on the new Outside+ app available now on iOS devices for members! Download the app.
Though he's just 23 years old, Kai Lightner has been a dinner-table name in the rock climbing world for more than a decade. After years of steady performance in the competitive youth circuit, Lightner took the outdoor world by storm in the spring of 2013, when during a four-week period he sent his first four 5.14s—including Southern Smoke (5.14c). He's been in and out of the headlines ever since, climbing other hard 5.14s, winning a Youth World Lead Championship, and taking multiple golds at both Youth and Open Lead Nationals.
But talent wasn't the only thing that set Lightner apart: he's also Black. And as one of the first African American climbers to reach such a high level in the sport, Lightner found himself something of a poster-child for diversity in the climbing world, and the outdoors more generally. Yet while he won comps and acquired sponsors, appeared in Reel Rock segments and major corporate ad slots, Lightner's experience with the wider climbing community was… complicated. In straight terms: "We encountered a lot of bullshit," Lightner remembers.
Meanwhile, members of the climbing world used him and his accomplishments as evidence that climbing didn't have a diversity problem—something that does justice to neither the demographic facts nor Lightner's experiences in the sport. "There were multiple points in my career where I was like, 'Well, we've reached the end of the road,'" he told me in an interview last week, "but then, miraculously, something would come up and it would help me push through. So I find it funny when people use me as an example of diversity in the sport. Because I am not the rule, I am an exception—and I barely got here."
While in college, Lightner chose to step away from competitive climbing, at least temporarily. "I've always wanted to look at how I could impact the community in a more holistic way, but when you're in the grind training for competitions, you've got to have your head down. College gave me the opportunity to lift my head up a little bit, see what I could offer the climbing community."
Then, in the summer of 2020, while Lightner was still a student at Babson College, George Floyd was murdered. Suddenly Lightner found himself the corporate climbing world's "go-to person" for anything pertaining to race in the outdoor industry. "There I was behind the scenes," Lightner remembers, "helping [companies] craft their DEI statements… and I realized I could be more effective if I organized this work under an organization like Climbing for Change."
We last wrote about Lightner when he launched Climbing for Change, a 501c3 nonprofit devoted to expanding diversity across all levels of the climbing community, in late July, 2020. But that was a long time ago. So we thought it was time for a catch up. In our conversation, which has been condensed and edited, Lightner talked about his own experiences with racism in the climbing world, blew apart some common misconceptions about how climbing is accessible for people of color, and, in spite of it all, expressed a real and honest optimism about the future of diversity in the outdoor industry. We also talked about how Climbing for Change has evolved over the last two and half years and—of course—about his current climbing and training goals. (Hint: no comps!)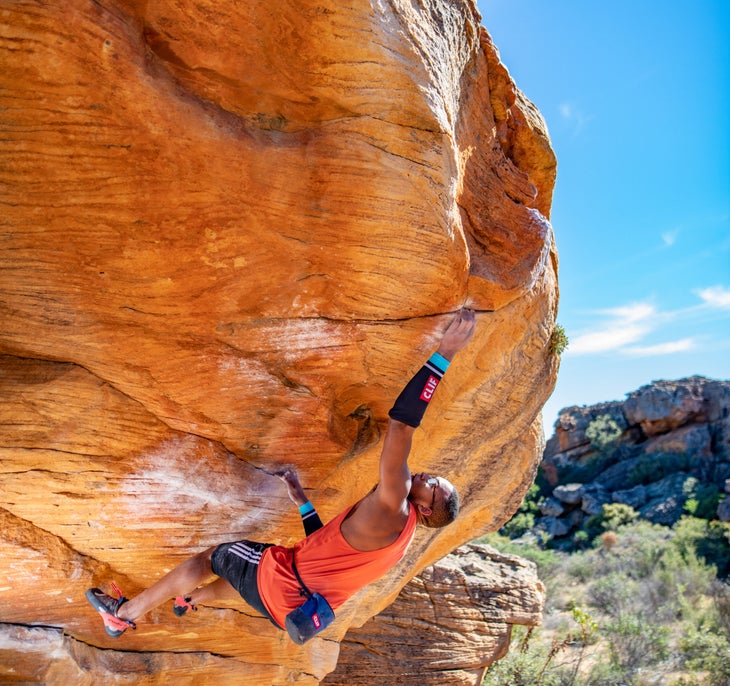 INTERVIEW
Climbing: Let's start with your early years: What was it like to be not just a very good rock climber at a very young age, but a very good rock climber in a sport where there really weren't many other Black athletes?
Lightner: It was difficult in a lot of ways. I did a lot of questioning of my identity. On the one hand I enjoyed this sport so much, but on the other hand, it was a sport that had made itself pretty exclusive to people who looked like me. When I told people that I liked to go rock climbing, people questioned my Blackness, people questioned my sanity, and my family questioned my safety. So it was scary in the beginning. And we encountered a lot of bullshit that made me question whether I belonged. 
One thing that people don't always appreciate is that, sure, there are plenty of people without jobs or a steady income who make climbing and travel work on a shoestring budget—but doing that requires community, it requires access, it requires knowing people who also do the sport. But if you don't know anyone, and you don't know the gear, and you don't know where to camp, and you have no history of entering communities like this, it's really difficult to piece things together enough to get started in sports like climbing. 
The only way I made it in the beginning was that people saw my talent as an athlete and helped me along the way. There were multiple points in my career where I was like, "Well, we've reached the end of the road. We can't afford to do more. This is it." But then miraculously something would come up and it would help me push through. So I find it funny when people use me as an example of diversity in the sport. Because I am not the rule, I am an exception—and I barely got here. So I understand fully why there are not enough people of color in the sport, and that's why I'm trying to close those gaps and give opportunities to people like me.
Climbing: That actually reminds me of the book publishing industry in the 1970s, 80s, and 90s: it was wildly undiverse back then (and still has work to do) but people kept saying that this lack of diversity wasn't a problem because Black writers like Toni Morrison and James Baldwin and Jamaica Kincaid were getting published and winning prizes. Do you feel like that's something the climbing community has done with you—like: "Of course we're a diverse sport. We've got Kai Lightner"?
Lightner: I think history repeats itself. And I definitely think that I've been used to promote the message that the sport is diversified despite the underlying lack of diversity. As one of the only professional African American climbers, when people are trying to promote that message, my literal image gets used—but it's just not telling the whole story. 
This is not solely a climbing world problem. People use Barack Obama to say that the country is no longer racist. People use singular examples of Black excellence as examples that the whole system is changing, just because that one person made it through. I mean, we hope that that person opens doors in the future, but these people are the exceptions, not the rule. And the fact that nearly every one of them has a ridiculous story of extreme tenacity shows that the barriers are still hella high. They're getting attention because they are exceptional, but why are they exceptional? Because they stand alone. We have a lot of work to do to make success like that more consistent.
Climbing: Have you seen significant DEI change since you started climbing or is the record more mixed? 
Lightner: I think that there's been good work done, but I also think that there's continued work that needs to be done to make it sustainable and fully impactful. We're seeing more marketing and ad campaigns featuring diversity, but it would be nice to see more people of color in positions of leadership and power where their voices can be a little louder. So there's work to be done. But the initiative and conversation is there. I mean, ten years ago this wouldn't even have been a conversation. So there's been progress in that respect.
Climbing: What have you identified as some of the biggest barriers that our community faces when trying to make the sport more diverse?
Lightner: The big ones we've tried to hop over at Climbing for Change are cost, access, and stigma. It's expensive to participate in these sports. And not everyone can visit these areas or feel safe when they do. A lot of the outdoor areas that climbers celebrate have deep histories of racism that have steered people of color away from wanting to recreate there. So I think the work isn't just to make the sport more accessible but also to make the wider environment more accepting of people who look like us. And that's a big job. I don't think in my lifetime I'll see that fully worked through. But it's got to be chipped away at somehow. And that's the job I'm taking on at the moment.
Climbing: When did you first decide to start Climbing for Change: it was in 2020 right?
Lightner: All through my career I've done grass-roots community work, trying to make outdoor recreation more popular and available to communities of color, but in 2020, when the Black Lives Matter movement was going on and there were all these tensions, I became everyone's go-to person for PR statements or business advice. Companies were asking me "What have we done wrong" or "What can we do better? How can we help?" and there I was, behind the scenes, consulting with companies, helping them craft their DEI statements or allocate funding. And I realized I could be more effective if I organized this work under an organization like Climbing for Change.
Climbing: What were the organization's early days like?
Lightner: So in July 2020 we got a 501c3 and hit the ground running. We launched a few grant programs and our first physical program, in Atlanta, working with the local government and Stone Summit Climbing gym to create a sustainable access point to climbing for local communities of color. We used city resources to provide free transportation to the gym, and we partnered with Kevin Jorgeson and 1Climb to build a climbing wall at a recreation center in College Park. We were able to do that within six months of launching. Which was God's work, trust me. It was a lot of effort. 
Climbing: How have things gone since then?
Lightner: Since January 2021, we've been able to work with our high profile donors like Clif Bar, Adidas, and Black Diamond to offer 10 different grant programs, each of them targeting different aspects of diversity in climbing. We've awarded over $136,00 in grants to 87 different individuals and organizations. And we've consulted with countless small businesses in the outdoor industry. We want people of color to look at this space and not just see themselves in the people climbing or skiing or hiking with them; we want them to be greeted at the door by people who look like them, see ad placements featuring people who look like them, and see people at the top making the decisions who look like them. 
Climbing: What are some of those grants like?
Lightner: Our mission statement, our goal, is to diversify the outdoors from top to bottom. Each of our grants targets a different part of that mission statement, but I'll highlight three of them. The first is the Clif Bar Leadership Grant, where we aim to encourage BIPOC individuals to become leaders in the outdoor industry. In doing that, we've been able to help 31 people get route setter certificiations, single pitch instructor certifications, wilderness first responder certifications, and so on. These certifications help them become leaders and guides who can help others get outside. Through that grant, we've also funded some big projects like the Black Out Fest, which is the only festival in the United States that focuses on celebrating Black people in rock climbing, and the FAMU Outdoor Club, which is the first outdoor club at a Historically Black College or University. 
We also have our Black Diamond Gym to Crag Grant, which helps individuals move from indoor to outdoor climbing—something that I know from experience is a big leap. In that process we were able to fund 14 people to attend the All In Ice Fest at Ouray earlier this year. And we sponsor groups from places like Memphis Rox to do outdoor bouldering trips outside.
The third one I want to highlight is our Project Based Opportunity Grants, sponsored by Adidas, which provide a conduit for corporate organizations to get talent from diverse pools of people. One of the big complaints we heard in 2020 was companies saying that they didn't know where to find more diverse employees. But if you're still pulling talent from Primarily White Institutions or spaces that don't have any history of diversity, you're not going to have a large pool of people to pull from. You need to be looking at HBCUs, or career fairs in diverse communities, places where intellectuals of color congregate. So with the Project Based Opportunity Grants we've tried to help bridge that gap, working  with HBCUs and other diverse organizations to create job opportunities.
Climbing: You've devoted a lot of your life to being a great climber and expanding that sport for other members of your community. How do you pitch climbing to non-climbing communities who might be distrustful of it for those reasons you mentioned above?
Lightner: Climbing is a lifelong relationship, not just with themselves and the sport but with nature in general. And it teaches so many fundamental lessons. Even as a kid I had to learn important adult lessons through climbing, such as how to transfer your failures into learning experiences, or how to slowly chip away at a goal that is too big to fathom at the moment but will slowly become possible as you improve. 
It also teaches you a lot about community. At every level you're relying on someone else. When they belay you or spot you, your life is in their hands, and that helps develop a level of trust that can break down certain barriers. When you're putting your life in someone's hands, it doesn't matter what color their skin is or what kind of background they have. Instead you see them for who they are. And I think that's not something that a lot of other sports give you.
Climbing also gives you a level of physical and mental focus that really helps with self esteem. A lot of the grants we give out with Climbing For Change are to people with PTSD or ADHD, and for some of these people, climbing is the only thing that helps them focus and center themselves in life. Because not only do you need to be physically engaged while climbing, you're constantly also problem-solving in real time. 
Lastly, I just think that climbing is a super holistic, lifelong, special sport. You know, it's crazy: I'm not competing anymore, but I feel like my work is just beginning. There are so many genres of the sport. You're never finished with climbing. And as you get older, you develop newer skills and can lean on different aspects of your physicality and mental game; you become mentally stronger and technically sounder. A lot of the best climbers I have been in the sport for decades and have so much to give to the next generation.
Climbing:  What's your climbing like these days? Are you training for comps or for outdoor goals?

Lightner: I'm not currently training for comps. I'm old. [Laughs]. But seriously, if I stepped back into competitions, I'd be one of the oldest in the room. So my calling and focus has been outdoor climbing. I graduated from college in May of last year, and I spent the summer and fall focusing on Climbing for Change. But I've been training all through the winter, and now that spring is coming I'm really excited to test myself outside in a way that I haven't been able to before. Most of my outdoor climbing before now has been in short windows of time, during spring break or fall break, in between school and competitions. But now I have the time, so I'm going to do a trip to Spain, and I'll do some trips to Colorado to try some multi-pitch climbing. But I also just want to climb outside more often and get used to regularly being in the dirt, because I'm not used to it at all.
Climbing: Has your training changed with that new focus?
Lightner: Funnily enough, it's changed quite a bit. With comps, you're really training all different types of skill sets. You basically have to walk into a competition with a full toolbox even though you know that you will only need to use two or three items in it. Whereas if you have an outdoor project, you can study that project, train for that project, and come prepared for what you need. That's a very different mindset for me, but it's been very fun. Outdoor climbing also puts more emphasis on muscle memory and learned movement rather than walking into a comp over-prepared and super strong and hoping that it works out. It's a bit more predictable, which I can appreciate.
Climbing: Anything you want to add?
Lightner: Climbing for Change also accepts private donations through their links. No donation is too small. One dollar, five dollars, ten dollars. The only way that we can provide the grants that we give is through the money we get through donations. It's accessible on the website.  
Steven Potter is a digital editor at Climbing. He's been flailing on rocks since 2004, has successfully injured (and unsuccessfully rehabbed) nearly every one of his fingers, and holds an MFA in creative writing from New York University.