Interview: Lor Sabourin, First Non-Binary Climber to Send 5.14a Trad
A core climber speaks out about what it's like to break barriers beyond climbing hard in the climbing community.
Heading out the door? Read this article on the new Outside+ app available now on iOS devices for members! Download the app.
This interview first appeared on rockandice.com. It is republished here for free.  Sign up with an Outside+ membership and you get unlimited access to more stories, how-to articles, news and photos on climbing.com and rockandice.com, plus you'll enjoy a print subscription to Climbing and receive our annual coffee-table edition of Ascent. Outside+ members also receive other valuable benefits including a Gaia GPS Premium membership, and more. Please join the Climbing team today.
Lor Sabourin (they/them) recently clipped the chains on Sedona's East Coast Fist Bump (5.14a). In doing so, they became the first non-binary climber to climb a 5.14 route on traditional gear. Rock and Ice caught up with Sabourin for a brief Q&A about their experiences on the line and their climbing career in general.
Q&A with Lor Sabourin
In 2018, I had the opportunity to work East Coast on toprope for a few weeks. At the time, I was able to bring a few friends out, but I was primarily working on it on my own. I left Northern Arizona for work in 2019 and spent time working on other projects and came back to East Coast at the end of December. I worked the route on toprope for a while but ultimately decided to pull the rope and work the route on lead. It's intimidating to work on a route with small gear when you know that you're going to fall, so it pushed me a bit mentally as well as physically.
I worked East Coast right after a season on another project, so I was able to build on the training that I had done for that route. The crux moves were challenging for me—it took several days to figure out what I was going to do there and even when I did, it took a lot of work to link the moves together. There is one foot move and hold in particular that is super deceptive: it's probably about six inches long and super deep, but it is angled in exactly the wrong direction to be able to weight it and it required so much tension to stay on it. I would walk around before getting on the route practicing the feeling of tension that I would need when I stuck that hold.
Has 5.14 trad been a goal of yours for a while?
It has! I think I first articulated the goal about five years ago. In some ways, though, it feels like part of a continuous progression. It's always fun to "open up" a new grade because it feels easier to try other routes of that grade.
How long did you spend working East Coast Fist Bump?
A couple of months spread over a couple of years.
Why this line in particular? What about it inspired you?
East Coast has been a really important line to me for a long time. My first day at the Waterfall was the same day that Joel Unema did the first ascent of the route. It was so inspiring for me to watch him send and to get to be a part of the energy that day.
Since then, I've always imagined how cool it would be to climb the route and I've worked a lot of the other routes up there to prepare for it. Many of the hard routes up there are also challenging to protect, so a part of my decision to do East Coast rather than Joel's other testpieces first was the approachability of the gear on this one. The gear is small and the top is runout, but the crux is fairly straightforward to protect.
Did you chat with any of the other ascentionists beforehand?
Yes! I've chatted with Joel since I first started trying the route and he was always super supportive. I also got the chance to work on the route with Brittany Goris this year and watch Charlie Barrett send. It was so awesome to have their psych up there!
You've been climbing a long time. Can you give us a lowdown on your climbing background (other proud sends, climbing styles, disciplines you like to focus on, etc)?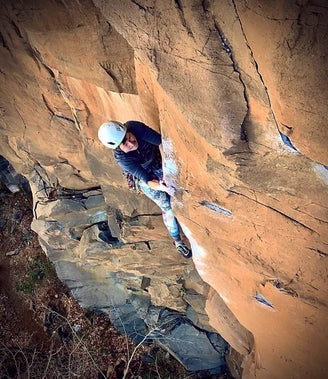 I started climbing when I was 12 at a gym outside of Detroit, Michigan. As a teenager, I competed a little bit and also spent as much time as I could down in the Red River Gorge. When I went to college in the Upper Peninsula of Michigan, I had a lot of opportunities to climb year-round (ice and rock) and started spending summers guiding in the Red. After school, I moved out to Flagstaff and have been based out of the Southwest since then.
I love climbing steep things and I'm usually attracted to routes based on how fun the movement is. I have definitely been most drawn to sandstone gear lines, but I also love sport climbing and bouldering. Earlier this year I was able to send a five-pitch 5.13+ called the Cousin of Death—that was a big project for me. I spent a couple of months on that one. In Sedona, I've also done All Systems Go (5.13), Lifeline (5.13), The Mechanical Bull (5.13), and Red Planet (5.13-).
Some of my highlights outside of Arizona are Swingline (5.13d) and Welcome to Ole' Kentuck (5.13-) in the Red River Gorge, Crack of the 80s (5.13) in the Donner Pass area, and flashing The Phoenix (5.13-) in Yosemite.
Can you tell us a bit about your work with The Warrior's Way?
I work as the Training Leader and as a mental training coach for The Warrior's Way. I love the diversity of what I get to do within the organization. I teach clinics in gyms and outdoors that address fear of falling, risk assessment, and commitment on challenging climbs. I also coach athletes one-on-one and in small groups on performance mental training for climbing and life.
I love being able to meet athletes where they are and work with them on goals that inspire them. My work with the Warrior's Way has given me some awesome opportunities to present to groups on the importance of awareness training and the ways that we can overcome barriers to joy on and off the rock. In addition to coaching, I do some behind-the-scenes work with the Warrior's Way. I help to train new trainers for the organization, design new programs, and work with our network of existing trainers.
Can you talk a bit about overcoming your fear of falling and how that led you to where you are today (sending brutally-hard trad haha!)? I was afraid of heights as a kid, it's why I started climbing, so I always find this aspect of things interesting.
I would love to say that I've overcome my fear of falling, but the truth is that I've learned an awesome process for knowing how to work with fear when it comes up.
On East Coast, for example, I was super afraid to take the fall above the crux gear when I first started leading the route. It made it hard to stay committed to the moves. I approached it by taking practice falls during my warm-up on the route next to East Coast and then incrementally taking bigger falls above the gear.
By the end of my process, I felt super comfortable committing to the moves above the crux gear because I had practiced those falls and knew what to expect.
Are there any particular obstacles you've faced in your climbing career that are specific to being Non-Binary, and how have you overcome them?
One [challenge] is just knowing what is possible for me. It's always helpful to have role models that do things before you and pave the way, but I haven't been able to see very many people who share my experience in the climbing world. That's given me a lot of freedom to explore my identity, but it's also felt pretty lonely. In the last few years I've met more trans and non-binary climbers, which has been awesome.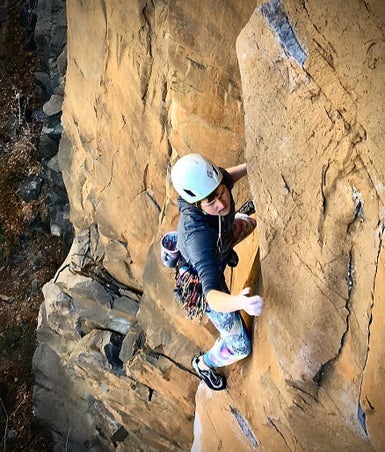 Another thing that has come up for me is being able to travel safely. Since I am visibly trans (I don't often "pass" as someone that is either male or female), I have been targeted in areas that are not as accepting of the LGBTQ+ community. Traveling is such an awesome part of the climbing experience, but it's been hard for me to feel safe when I'm traveling in certain areas.
I guess the final thing would be knowing whether or not I will be "socially safe" with other climbers. I used to downplay my gender identity and avoid the subject so that I could fit in more easily, but that made me feel nervous about people finding out and rejecting me based on something that's just a fundamental part of who I am. Climbing is such a social sport, so it can feel hard if you don't feel comfortable being yourself around other people.
Do you feel climbing has progressed in terms of accessibility and access for LGBTQ+ folks in the last five to ten years? In what ways? What areas still need improvement, in your eyes?
Since I've started climbing, more groups and resources have appeared for LGBTQIA2S+ folks in climbing. There have been a few sponsored climbers who have been able to come out and talk about their identities in the space. More festivals and companies have expressed that they are supportive of the LGBTQIA2S+ community, which can go a long way in helping people that feel unsure about whether they will be safe in the outdoors and at the crag. For an LGBTQIA2S+ person that is nervous about being isolated or losing community because of their identity, affirming spaces can make the difference between whether they try climbing or not (and whether they stay in the sport).
I think that we can still go a long way to provide spaces for LGBTQIA2S+ folks to be leaders in the community. There are programs to introduce LGBTQIA2S+ people to climbing, but we also need more courses that allow people to explore more advanced skills. The AMGA LGBTQIA2S+ SPI course is a great example of this. Also, organizations that want to express their support can train their staff and community on ways to make their spaces safer for LGBTQIA2S+ people to back their statements with action.
Any lessons you've learned along the way or things you'd like to say about your climbing, identity, life, etc?
It is so easy to make rock climbing into something that isn't healthy. It's an active, all-consuming lifestyle that can lead to approaches that feed competition, hiding from hard things, or validating who you are. All of those are total joy-sucks.
Check in with your climbing and make sure that it is bringing you joy. That doesn't mean that there won't be moments when you are frustrated, scared, or discouraged. It means that climbing feels like it adds to your life in the big picture and serves as a form of self-care. If you notice unhealthy patterns come up, take a break or switch things up before deciding how you'll make a change to help your approach feel more sustainable.
What's next for you?
More climbing! I'll be climbing around Flagstaff for the rest of the winter (bouldering and checking out some other mini projects that are on the list). I'm in grad school and working on some big projects for work, so I'm going to put some intention into creating some space for trips this spring as well.