Interview: Miquel Riera on the Birth of Deep Water Soloing
Heading out the door? Read this article on the new Outside+ app available now on iOS devices for members! Download the app.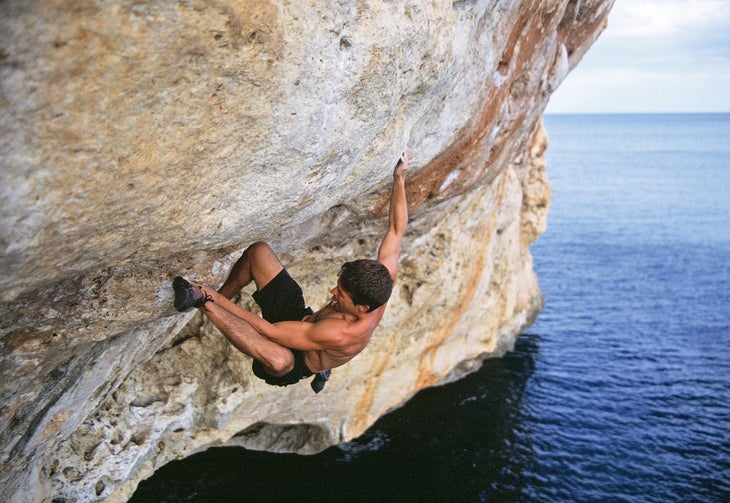 It's easy to assume that psicobloc climbing, also known as deep water soloing, has always been around. It's so natural—climb above the sea and fall into water, minimal gear required. Actually, it didn't become popular until the 2000s. Mallorcan climber Miquel Riera was there for the birth of psicobloc in the late 1970s and is widely credited for developing the sport into what it has become today.
Interview translated by Adam Roy.
When did you first begin to develop psicobloc climbing?
Miquel Riera: Psicobloc has been practiced since the first time there was a climber, a sea cliff, and it was hot. I've seen old American videos of the Stonemasters playing and fighting over a lake, and even older pictures of French climbers in Marseille doing long traverses over the sea. But it wasn't until we began to establish routes, name them, and grade them in Mallorca in 1978 that anyone considered it a sport.
Were you aware at the time that it was something new?
No. We were only kids, 15 or 16 years old. It didn't seem like something new or special to us, just normal and logical. It wasn't important. Important was Yosemite and the Verdon. It didn't get popular until Josh and Brett Lowell, from Big Up Productions, came to Mallorca to film.
What inspired you to pursue psicobloc instead of other types of climbing that were common at the time?
In Mallorca, psicobloc arrived before sport climbing. We were still aid climbing up mountains at the time. Then [George] Meyers' Yosemite book fell into our hands. Imagine: shirtless hippies bouldering. We wanted to do that too. In Mallorca, the best place to do it was on the sea cliffs. To us, we were simply bouldering like the Americans in Yosemite.
How do you think the Mallorcan culture contributed?
There's a beach culture in the Mediterranean; the sea is calm and warm. From when you're a little child, you play in the sea. It's almost an initiation ritual to go to the cliffs and jump in, going a little higher each time.
In England and Germany the sea is cold and rough. It's not a good place for kids. For us, it's an exciting game to jump from 15 meters into the sea, nothing more. For climbers who come from outside the island, that's very psychological. When we saw that, we stopped calling it "bloc" ("bouldering" in Catalan) and began to call it psicobloc (psychological—or psychotic—bouldering).
When did you notice that psicobloc was becoming popular?
In 2002 when I met Josh and Brett Lowell. They filmed Chris Sharma's psicobloc short for "King Lines." They were the first to see how beautiful this sport is—the sea, the stone, the sun—and they popularized it intelligently and with great affection. As soon as they saw the first photo I sent them, they were in love. Before that, no one paid much attention to the articles and photos I published in magazines. I guess people thought it was foolish. Once they saw Chris, they thought, "The kid with the glasses is stupid, but Chris Sharma knows a thing or two about climbing. Maybe psicobloc isn't dumb after all."
What is the most impressive psicobloc ascent you've seen?
Have you seen Chris Sharma on Es Pontas? That should answer your question.
How did the annual Psicobloc Masters Series get started?
Psicobloc competitions are the best climbing spectator sport right now. They're very dynamic compared to roped comps, which are too slow, and they're easy to follow and understand compared to bouldering. For me and Chris, they're also a dream come true. We spent more than 12 years fantasizing about a DWS competition on the cliffs of Mallorca. Not everyone can come to Mallorca, so we made the videos. Then we thought, "Since we can't bring the climbers to the cliffs, we'll bring the cliffs to the climbers: a climbing wall in a pool." Everyone said it was crazy, and the Americans said almost the same thing: "It's crazy. Do it."
Any advice for climbers interested in trying psicobloc?
When you throw yourself off the walls, look carefully at the exit points from the sea, because sometimes they'll prick you up badly. Don't get on solo routes in winter. Be careful of jellyfish and uncontrolled falls. Wherever it's difficult to get out of the water, get an escape ladder and use that instead of leaving fixed ropes or ladders, which becomes garbage that hangs out on the wall and messes up the view.