How Janja Garnbret Beat Everyone By Preparing For The Worst
The Slovenian is one of the most dominant competition climbers of all time. Fresh off winning Olympic sport-climbing gold, she has her eye on the next prize.
At the start of climbing's Olympic debut in Tokyo, a monumental occasion steeped in anticipation and cast in sweltering summer humidity, it felt like everything was going wrong for Slovenia's Janja Garnbret. Halfway up the wall in her first-ever Olympic speed-climbing run, she slipped and posted a disappointing time of 10.32 seconds—far from her best showing—as her opponent in the race, France's Julia Chanourdie, cruised to a personal best of 8.43 seconds. Garnbret slipped again on the second speed run, clocking 9.44 in another loss to Chanourdie. This prompted the broadcast commentator to declare that Garnbret's performance so far had been "a bit of a disaster."
It was certainly a surprise seeing Garnbret behind other competitors on the scorecards. At age 22, Garnbret is widely considered the greatest competition climber in the world. When the Olympics kicked off in early August 2021, going by the numbers, Garnbret possessed a total of 30 World Cup gold medals—17 in Lead and 13 in Bouldering—more than any other person in history. She also had six World Championship gold medals. If one added to those her myriad other medals from national Slovenian competitions or events not on the IFSC's annual circuit, Garnbret's honors would swell to almost incomprehensible proportions. Yet, rather than leaning on past accomplishments, she knew to trust her preparation. In the years leading up to the Olympics, she had practiced countless different scenarios and envisioned what it would take to perform optimally at the Games.
When it was first announced in 2016 that climbing was set to make its Olympic debut, Garnbret and her coach, Roman Krajnik, began a grueling training schedule. Garnbret has an itch to train every day, and so the unveiling of a funky Olympic format—one that combined Speed, Bouldering, and Lead—gave her good reason to go all out. At times this meant training three times per day, across six total training days per week. This also meant warming up to a speed discipline that was maligned by most other bouldering and lead specialists. "When I first heard there would be a combined format [at the Tokyo Olympics], I was like, 'What is this? I will never do speed because speed is not climbing, blah blah blah,'" Garnbret reflects. "But if you wanted to win a gold medal, you had to start training speed one way or another. So, I actually embraced … it, and I actually started to enjoy speed."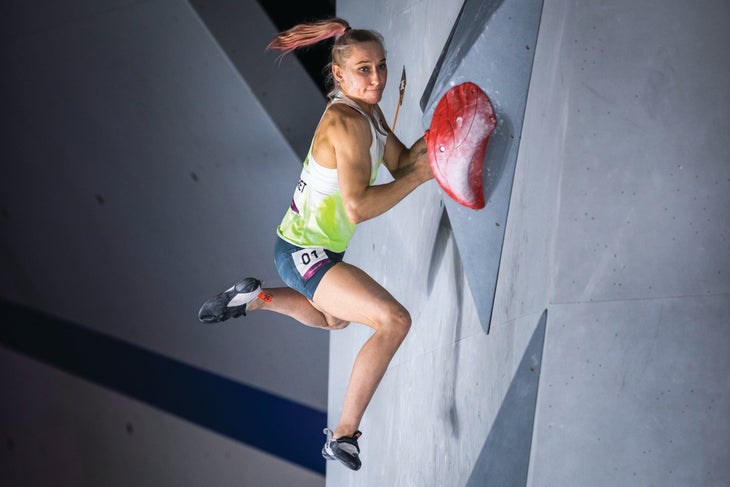 The physical training—including Garnbret eventually whittling her speed time down to a personal best of sub-eight seconds—was only part of the Olympic preparatory program. There was also systematic mental and "what-if" logistical preparation. "I had everything organized to the minute—everything," Garnbret says. "Nothing was left to chance. My coach and I thought about every scenario that could happen. I mean, what to do if the [Olympic] round is super easy, what to do if the round is super hard, what to do if I lose the first speed run … What if this and that happens, I'm prepared for everything."
Years after the onset of all that training, as the Olympics approached its historic climax, one of the worst "what-ifs" was becoming a potential reality: Garnbret flat-out missing medal contention, just as the men's top seed, Adam Ondra, would go on to do. But Garnbret remained unruffled, relying on her experience in high-pressure competition to rally and advance out of the qualifying round.
"People think I never fail, but 99 percent of the training, I fail," she says. "And people don't know that—that's why I'm sharing fails."
Then, as the Olympics' final round began, Garnbret took control. She clocked a winning time of 8.67 seconds in one of her speed races and finished that discipline in the middle of the pack. In the ensuing bouldering and lead disciplines, both more her specialties, Garnbret was jaw-droppingly good. She topped two of the three boulders in the round—the only competitor to do so—and climbed higher than anyone else on the lead wall. Never again on the Olympics' broadcast would the commentators portray Garnbret as anything but a commanding competitor, and the conclusion of it all was Garnbret earning Olympic gold. At the medal ceremony, Garnbret's proudest feeling came not from the fact that she had won—and lived up to everyone's expectations—but that she got to share the Olympic glory and a concluding hug with silver medalist Miho Nonaka and bronze medalist Akiyo Noguchi, both Garnbret's longtime friends from the IFSC's competition circuit: "That hug [on the podium]—we were all crying … this was the best moment," she says.
But there was little time for Garnbret to decompress. Exactly one month later, the IFSC's World Cup circuit, which had been halted briefly by the Olympics, commenced in Kranj, Slovenia—a mere 30 minutes from Garnbret's home in Ljubljana. Garnbret had trained exclusively for the Olympics and mentally and physically peaked in Tokyo by design—no thought had been given to competitions beyond that, let alone the IFSC's overall World Cup season standings. Post Olympics, Garnbret had even taken two full weeks off from training, and was struggling to rekindle the stoke. "I was more or less chilling, and even when I was training, I was like, 'Yeah, I don't really feel like training today,'" she reveals. "So, I was lazy—I hate to admit that because I'm never lazy."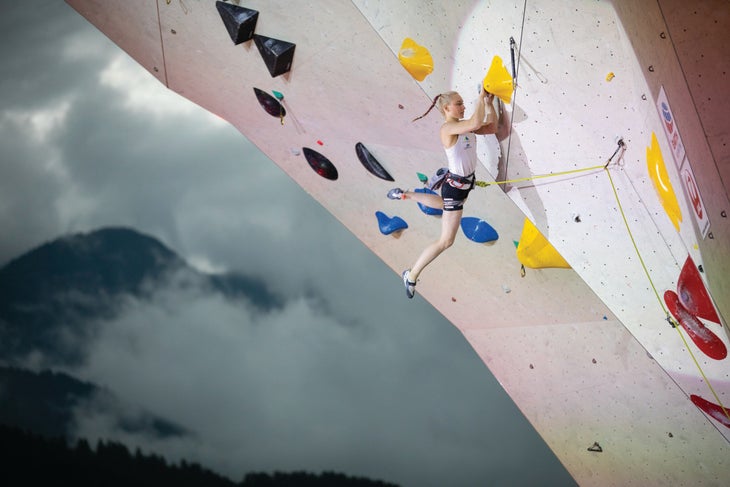 Still, the Kranj World Cup was nearby, so she went. There, pundits and fans did not notice any dip in performance as Garnbret topped one of the event's qualification routes, led the semi-final round, and eventually won by climbing three holds higher on the lead wall than any other competitor. This brought her grand total of World Cup gold medals to 31. And as a "cherry on top," Garnbret was announced as the winner of the overall World Cup season title because she had also won World Cup events in 2021 in Innsbruck, Austria, and Villars, Switzerland. The Olympics had always been so much the main focus that Garnbret didn't realize her overall season achievement until commentator Matt Groom told her on the World Cup's live broadcast. The shock on Garnbret's face highlighted how she prefers to focus pointedly rather than panoramically, a preference she's honed over her 14 years in competition climbing.
A few weeks removed from the rush of the Olympics and the World Cup season title, Janja Garnbret needs a rest. At home in Ljubljana, she sits back in her sparse room, a grayish space devoid of clutter or wall decorations, and takes a breath. She smiles too, but a sudden grin is not unusual—Garnbret's bubbly energy seemingly runs counter to her killer instinct for winning. But this smile, now, is different. It signifies relief and a release. Garnbret can finally relax.
It is not just the remarkable Olympic victory that has been the main talking point for practically every media obligation for Garnbret. Rather, it is the authority with which she singlehandedly constructed the entire, multi-volume Olympic narrative and caught everyone up in the drama. Yes, the prolonged dominance, the training, and eventual delivery—that's the complete story. After all, Garnbret was the first competitor to qualify for the Olympics, way back at the 2019 World Championships in Hachioji, Japan. Judging by press and reportage, she was also the competitor to shoulder the most expectations of victory amid the Olympic lead-up throughout the confounding pandemic year of 2020. In all that commotion, she inadvertently became the icon for, and archetype of, competition-climbing greatness itself ("Janja Garnbret just doesn't lose. It's not in her climbing DNA," one outlet gushed). A blonde-haired, photogenic superstar, she appeared in publications around the world.
The Olympics, in escalation and in culmination, were such a monumental undertaking for Garnbret that the gravitas of going home with the gold has not fully sunk in. While her many other trophies—including those from her earliest youth competitions—reside in a large glass case in a closet, the Olympic gold rests haphazardly on a shelf against a wall. Yet its placement is not random; rather, it is a matter of utility, as she needs the medal within easy reach. "I have to take my medal everywhere with me because everybody wants to see it," she explains. "So, it doesn't have a place yet, but it will get a place."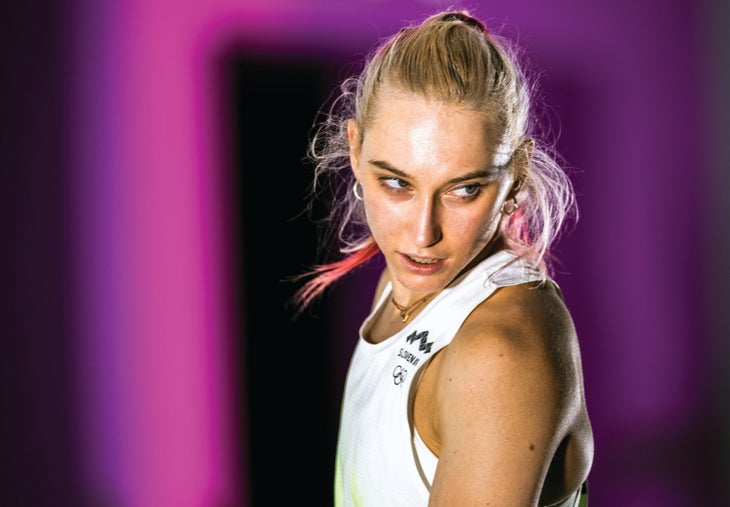 Tracing back through Garnbret's teenage years and the formative childhood years that preceded them, you'd be hard-pressed to find a version of her that was ever idle. As a child, she was always on the go around her hometown of Slovenj Gradec, a small nook of a village quaintly—or inconveniently, depending on one's point of view—distant from any city bustle or mountain adventure: more than 60 miles from Ljubljana and about the same distance from metropolitan Graz, in Austria.
Young Garnbret was not an only child; she has a half-sister, Nika, 12 years her senior. But the significant age gap meant that Janja Garnbret and Nika never lived together, and Janja ostensibly slipped into the patterns of an only child. She made her own entertainment around town and, admittedly hyperactive as a youth, gravitated to activities that compelled people to notice her. Occasionally this meant acting in school plays, but most often it meant sports: track and field and tennis, then eventually dancing—albeit more as a social activity. "I was dancing just because me and my friends wanted to do something together—that's why we joined the dancing club," she says.
As Garnbret learned agility and coordination through dancing, she also learned how to climb. Her parents, both of whom worked desk jobs in the logistics department at a Chinese kitchen-appliance company, knew nothing of the sport. Garnbret's earliest ascents, as an eager seven-year-old, were trees, doorframes, chairs, and anything else she could scramble up or balance upon. One Sunday, when she was seven, her father took her to a public climbing wall in her hometown park. She reached the top of the 26-foot wall on her first try—something that she attributes mainly to her boundless kinetic energy. She also caught the eye of the wall's volunteer belayer, who recommended that Garnbret join the local "climbing gym"—a small wall in the primary school at Slovenj Gradec. Her parents agreed. Soon dancing gave way to climbing. She became the quintessential gym kid, coached by a knowledgeable youth trainer and route-setter, Rok Šisernik. Garnbret was hardcore, even at eight years old: She'd stay on the wall for a half hour at a time, never wanting to come off. Even when youth practice sessions had concluded, her parents, increasingly more knowledgeable about the sport, would have to wait around because Janja was still climbing … and outperforming kids twice her age.
Garnbret's early skills were largely unrefined. Less than one year in, she took part in her first competition—and placed second to last. Still, her innate ability was undeniable. "I had never seen, for example, toe-hooking before, and I toe-hooked something in a competition because I was in a position where I couldn't move anywhere," she says. "So, I toe-hooked the top hold."
In 2008, when Garnbret's coach, Šisernik, left Slovenj Gradec for a job in Ljubljana, the other staff at the wall felt unprepared to train the phenom. They urged her parents to send nine-year-old Janja to a facility in a different town. (Šisernik died in a highline accident in 2011. Says Garnbret, of her first coach, who was so key to her development, "I wish that I could meet him [now] because from everyone I've heard that he was an amazing guy.")
Garnbret's new coach in Velenje, 30 minutes from Slovenj Gradec, was Gorazd Hren, who had experience working with top-level competitors. And Garnbret's new training base with Hren was Velenje's multi-sport recreation center, Rdeča Dvorana, which included climbing walls more elaborate than those at Garnbret's primary-school genesis.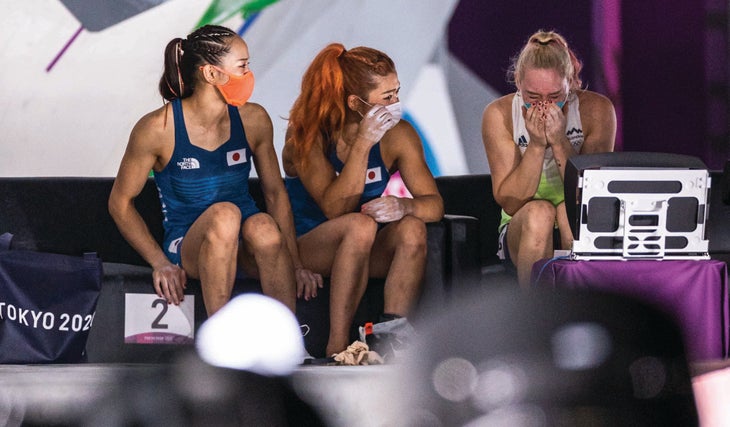 The change paid off, indicated by how Garnbret rattles off the results of her youth competitions around Slovenia: "I was 15th, then I was 11th, then I was 9th, 6th, 4th, and then 1st, 1st, 1st." She was eventually invited to train with the Slovenian Youth National Team, which she would later officially join when she was 14. With this, she entered a new era. In addition to national competition success, she soon proved world class for her age on rock, climbing a string of 5.13ds during the Slovenian team's summer camp. Then, she ticked her first 5.14c (Miza za šest, in Kotecnik, Slovenia) in 2015, at age 16. She also won La Sportiva's famed Legends Only competition that year, beating the likes of Shauna Coxsey and Juliane Wurm, both veteran circuit mainstays.
It was not just the great coaching, first by Šisernik and then by Hren and other national-team staff, that was sharpening Garnbret's talent into a razor-tipped spear. She also found herself next in the figurative queue of Slovenian competition phenoms—in particular, Martina Cufar, Maja Vidmar, and Mina Markovič, all of whom had stood on World Championship podiums. An awestruck fan, Garnbret idolized them. "Being on the youth team was kind of me on the way to Mina and Maja and Anna [Stöhr, of Austria]," she says. "I was like, 'Yay, now I'll go to Arco, and I'll go to Imst, and I'll compete where Mina and Maja compete.'" She also studied how her idols climbed, watching videos of them to get ideas for her own climbing. Says Garnbret, "I observed the movement, what they do and how they chalk and how they move, how they stand—everything. I just wanted to improve." Initially, this meant focusing exclusively on lead climbing because lead was the main discipline of Vidmar and Markovič. It also meant climbing less dynamically, as a conscious choice, because those two women climbed mostly static in the style of the early 2000s. 
One of the worst "what-ifs" was becoming a potential reality: Garnbret flat-out missing medal contention.
Fittingly, this all came together for Garnbret at the World Cup in Chamonix in 2015, her first-ever on the IFSC's adult competition circuit. She placed second in Lead, separated from the event's winner, Markovič, by a "plus"—less than one point. At her next World Cup, in Imst, Garnbret again placed second behind Markovič—by the same fraction of a point, a score of 54+ to Markovič's 55. With such close separation, a friendship and mentorship developed. Garnbret thought of the situation less as a merciless pursuit of Markovič's top spot and more like an honorable opportunity to continue Slovenia's competition legacy
In some ways, that rookie season seems like it occurred in some alternate universe or some long-ago epoch—an exotic time and place in which Garnbret was not among the favorites and there was no pressure. "Once you are that young and coming to the big city—you are super motivated, you just want to climb," she says. "You just want to be there and be the best. So, this was actually easy. It gets harder when you have many seasons behind you and you are the one being chased."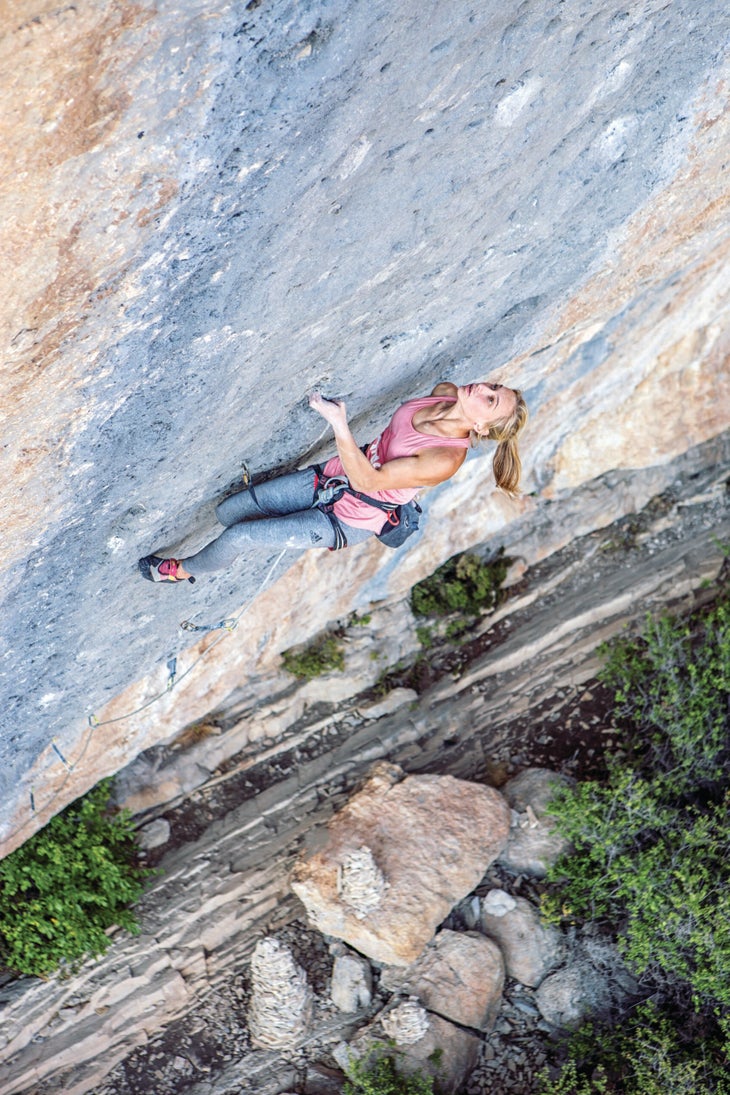 Soon it was Garnbret whom everyone else was chasing. She won the first Lead World Cup the following season, in 2016, in Chamonix. She won the next two World Cup events that season as well, and then won the World Championships that year in Paris. Sponsors were in hot pursuit. Among Garnbret's high-profile associations were Red Bull, CAMP, and Five Ten. A deal with Adidas would come along as well. Five Ten, in particular, worked with her on customized pairs of Hiangles, in part to accommodate her self-described "small heels" and her preference for softer rubber.
Even with so much consistency on the podium, Garnbret was intent on evolving her climbing style. She realized that it was not ideal to be a stylistic clone of Maja Vidmar or Mina Markovič. Patterning after them had been pivotal as a young climber, but for true mastery, "you have to develop your own character."
For Garnbret, this meant embracing a more dynamic style. While conventional wisdom says that cutting feet—abruptly reducing the points of contact—is best avoided, Garnbret made an art of it. Releasing from the footholds, allowing her legs to swoop through the air with controlled velocity, became an integral part of Garnbret's repertoire. If there was a move that became her calling card, it was a big barn-door swing, during which she would arch her back and curl her legs to slow her momentum. Fans soon took to calling this flourish the "Janja Move." Beyond this was a confidence in explosive movement of all types and an ability to quickly conjure up coordination solutions while the competition clock ticked down. "She is better than most people in all respects, and she has the strongest body/mental [balance]—that's all you need to win the game," Miho Nonaka says of Garnbret's uncanny ability to decipher beta when others might buckle. "And she's good at handling pressure; I feel like the pressure has never gotten to her."
Embracing a dynamic style also meant branching out to bouldering. Garnbret's progression up the ranks was swift. She placed sixth in the first Bouldering World Cup of 2017. Less than one month later, at the next Bouldering World Cup, she won by topping every boulder in the finals—something no other competitor did. She won two other Bouldering World Cups that year. She was still winning Lead World Cups as well; in fact, she only lost two Lead World Cups that entire 2017 season and easily cruised to the overall title. 
In 2018: two more Bouldering World Cup wins and four more Lead World Cup wins, along with World Championship victories in the Bouldering and Combined disciplines (and a silver in Lead). Roman Krajnik also became Garnbret's new personal coach, although she continued to work with Gorazd Hren during Slovenia National Team training sessions. One of Garnbret's greatest accomplishments came shortly thereafter, when she swept the 2019 Bouldering season—winning every World Cup competition. Underpinning this were the grueling training sessions she's become known for, sublimations, perhaps, of her boundless energy. "She's definitely still pretty hyperactive, but I can say it's 'when she wants to be,'" says Krajnik. "There's no problem with some longer training sessions or double sessions because she's still enjoying so much in climbing and trying to improve in all aspects."
2019 was also the year that Garnbret earned a trifecta of gold medals at the World Championships for the Bouldering, Lead, and Combined disciplines and qualified for the 2020 Olympics, eventually postponed to 2021. In the Olympic build-up, she also famously scaled a 1,181-foot smokestack near Trbovlje, Slovenia—twice. The smokestack route entailed 5,000 drilled holes for 13 pitches and "two tons of holds," all set exclusively as part of a Red Bull promotional project for Garnbret and then-boyfriend, Domen Škofic, and documented in the 21-minute film Climbing the Highest Chimney in Europe. The route was given a name—Never Ending Story—and graded 5.14a. With its constant exposure and all-points-off leaps to distant volumes, the climb was a daunting undertaking—one doomed never to be repeated, as the route was stripped once the project ended.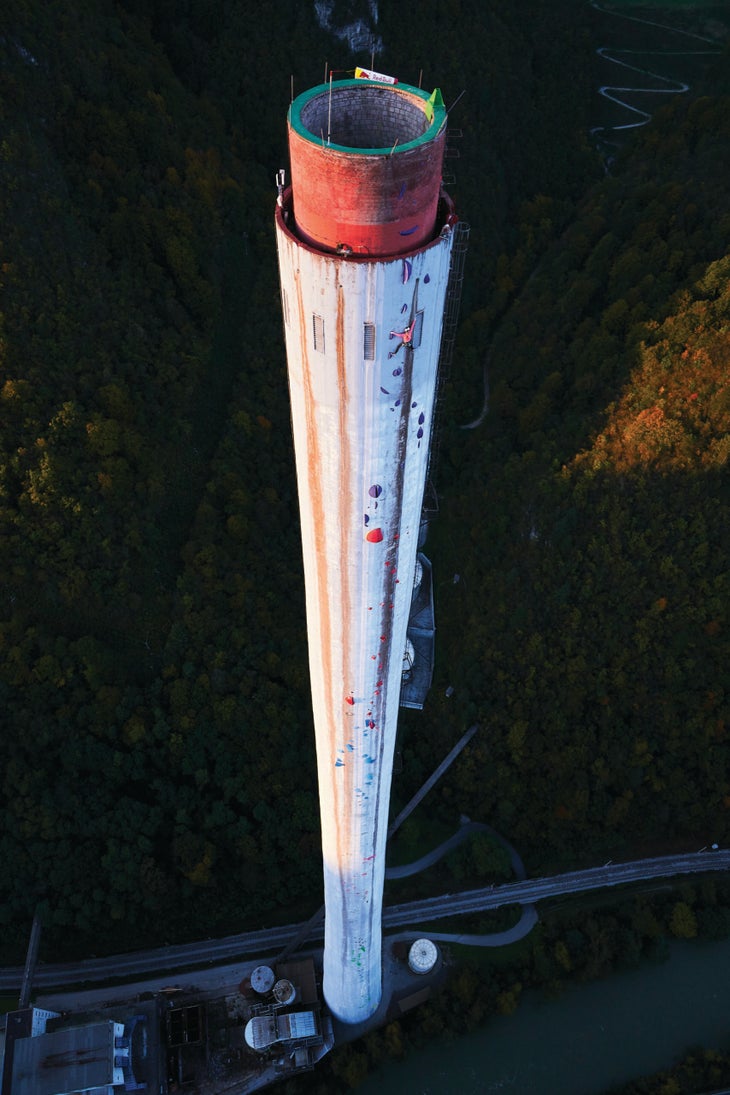 Her send of Never Ending Story epitomized a quality in Garnbret that is her most useful in competition. "I think the perfect word to describe her climbing style would be 'fearless,'" says coach Krajnik. "We all know that most competitors climb completely the opposite—way too much hesitating, trying to find a perfect position to make the moves as safe as possible, static and all under control." But Garnbret just goes for it. Continues Krajnik, "When she has a goal in mind, she will do everything that she has to do to reach that goal, which means [giving] 100 percent at every single session and being willing to work on weaknesses. She just wants to be better and better. One day, I remember she said to me, 'I just want to be a robot.'"
Following the victory at the Kranj World Cup, Garnbret set her sights on some easily accessible outdoor projects, like Človek Ne Jezi Se, a 5.14b in Mišja Peč, near Slovenia's western shore. Garnbret was still in the best shape of her life and figured there was no better time to get back on real rock. She trained for a few days, but then, one day at the gym while bouldering, she heard a troubling sound—a pop in her knee. "It wasn't even a hard movement," Garnbret recalls. "I said, 'OK, my body needs a rest.' If you don't hear your body whispering, you will hear it scream, so this was a big scream."
Garnbret had climbed through plenty of twinges before, and can reel off stories of herself and other athletes training so hard "you can barely walk." The mindset in those situations had usually been that a little soreness is expected after a grueling workout; the body will recuperate overnight—or, to put it more bluntly, she says, "Yeah, yeah, I'm fine and tomorrow I'll be good."
However, this time, Garnbret's knee wasn't fine. "I thought it was nothing, but then it hurt while I walked up and down stairs," she says. This soon prompted closer examination from a physiotherapist and a diagnosis of a strained popliteus, the sliver of muscle that wraps around the knee and aids in stabilizing the leg. The cause was overtraining. The injury wasn't serious, but the deeper implication was that Garnbret's insatiable desire to accomplish more … more … more … was physically unsustainable. "With my mind, I'm like, 'I need to train; I need to be better and better each day—I can't sit and do nothing because this is not me," she says. "But my body is saying, 'Rest!'"
If there is a silver lining to this in Garnbret's opinion, it is that her injury happened after the Olympics. And she admits that a forced hiatus from training has allowed her to enjoy time with friends, "shopping, just doing fun stuff that I couldn't do in [the past] two years." Garnbret cites browsing stores for jeans with friends as a particular hobby these days. The activity sounds so normal it seems almost too mundane, yet such lo-fi action is precisely what this period of her career should be all about amid her unprecedented world popularity. "I wouldn't say that success has changed [Garnbret] as a person; she is just the same for me as she was 10 years ago," observes friend and Slovenian national team colleague Tjaša Slemenšek. "She is just more mature and experienced. Fame definitely hasn't gone to her head."
Garnbret and Slemenšek met during a regional competition in the brief childhood interlude when Garnbret was without a coach—after Rok Šisernik's departure for Ljubljana. In such an unmoored state, Garnbret latched onto Slemenšek, who would wait at the bus station every day for Garnbret to arrive from Slovenj Gradec; together, they'd walk to the facility in Velenje for the day's training.
Slemenšek notes that she and Garnbret are also both Pisces. She uses many descriptors that could be expected in describing Garnbret: "adaptive, persistent, courageous," even extroverted. But above all, Slemenšek describes Garnbret as a reliable and generous friend. When both were younger, around 10 years old, Slemenšek's training leggings fell into the water. "I was so insecure at the time and was about to cry because I didn't want to wear wet leggings," she says. "Janja offered to switch leggings with me, so she just put my wet leggings on and I put on her dry leggings and the problem was solved—this was so priceless."
As she recovers from her knee injury, Garnbret has been reflecting on her place in the climbing world, and upon the reality that even the very best competitors have an "expiration date." At 22, she still has many great years ahead, but she's also pragmatic, and quick to mention her dream of someday parlaying her wisdom into coaching younger generations. Garnbret would also like to use her role as a leader to help spread awareness about eating disorders in the sport, and encourage up-and-coming climbers to see that " … if you want to train, you have to eat." (A key nugget of coaching advice from Krajnik resonates with Garnbret continually: "Training is done on the wall and not on the scale.") Garnbret considers competitors' struggles with eating disorders to be a "big, big issue" on the World Cup circuit. She points out the complications, noting that some competitors "don't even want to admit that this is an issue with them," or "they don't know" it is an issue at all.
"With my mind, I'm like, 'I need to train; I need to be better and better each day—I can't sit and do nothing because this is not me," she says. "But my body is saying, 'Rest!'"
There is a relevant anecdote that Garnbret cannot get out of her head. One of her friends was coaching two six-year-old girls. Before the start of the training session, Garnbret's friend asked the young climbers whether they'd eaten that day. "No," the girls replied in unison, citing an older climber who was particularly skinny and who often skipped meals. One girl then added, "She is skinny, and I want to be skinny, too."
In telling this story, Garnbret shakes her head in exasperation before leaning forward—her smile giving way to a furrowed brow and a piercing glare of concern—and proclaiming, "Six years old! This is not good!"
Janja Garnbret needs a rest because she is human, after all. If that sounds obvious, consider an exchange that she remembers vividly from the Olympics. She had just concluded the qualification round. She had flashed all four boulders, a performance deemed a "masterclass" by some outlets. Even though a few competitors, such as the Austrian stalwart Jessica Pilz, had climbed a few holds higher on the lead wall, Garnbret was nonetheless positioned in first place. Despite being the leading scorer, Garnbret was asked by a journalist to explain what had gone wrong—was she having a bad day? Why hadn't her performance been flawless?
"I was like, 'I qualified as first [place] for the finals!'" Garnbret says, chortling at the absurdity of the questions. "I was like, 'OK, what do you want me to do?'"
What, exactly, observers want Garnbret to do is a product of what she already has done—and what she has become in the process. She is an athlete whose accomplishments might never be surpassed. Yet, what makes Garnbret so incredibly superior is not necessarily her startling medal total. (A refresher: 31 World Cup gold medals—18 in Lead and 13 in Bouldering.) There are competitors of previous eras who have more gold medals in a single discipline. For example, South Korea's Jain Kim won 29 gold medals in Lead, and France's Sandrine Levet earned 17 gold medals in Bouldering. But Levet, Kim, and numerous other greats stayed primarily within the confines of their specialty. Garnbret, in contrast, smoothly oscillates from one discipline to the other, an adaptability that proved particularly timely when it was announced that the Olympics would feature the novel combined format. But this unprecedented adaptability also supports the notion that Garnbret is indeed the best ever. A universal quality of the all-time greats in any sport is versatility, and nobody personifies that in climbing more than Garnbret. 
Also, like other sports' all-time greats, Garnbret is full of dichotomies. Although she is one of the busiest climbers in the sport's history, she is politely punctual and sometimes even shows up early for interviews. And despite being one of the most athletic people on the planet, Garnbret has famously stated that she does not adhere to a "special diet" and just does her best to make healthy food choices. Her favorite food is pasta. Mixed nuts, avocados, and peanut butter are go-to snacks, and chocolate cake is an occasional indulgence. She laughs a lot in conversation too, never taking herself too seriously. "She can be so clumsy, and when we are together we can be on the highest level of craziness," Slemenšek says. Coach Krajnik adds, "I don't find it that Janja is so competitive in other areas; I would say, rather, it's the opposite: Sometimes it looks more like she puts all her energy into climbing." In other words, Garnbret does not emit any pompous notes, and pays little attention to the chatter about her being the Greatest of All Time—or even to news about her in general. Sure, she feels the pressure from the climbing world to continue performing, but says that she's also able to use that energy in a positive sense, as a motivator. Says Garnbret, "I feel like people are standing behind me in good times and in bad times; people will stand behind me."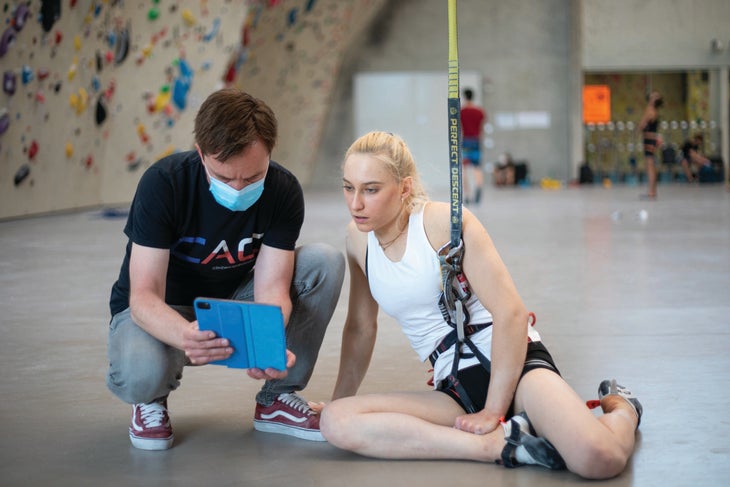 The subtext here is that even the all-time greats fail at times. "We all have bad days, bad comps, bad trainings," Garnbret says. But knowing that she is being watched by fans and fellow-climbers now more than ever, she feels increasingly compelled to make this widely known—that she, too, struggles. "I want to be a role model in both," Garnbret explains, noting that she makes a point to film and present her "fails" on Instagram—the boulders she does not top, the jaw-dropping dynamic moves she does not stick. "People think I never fail, but 99 percent of the training, I fail," she says. "And people don't know that—that's why I'm sharing fails."
Even as the motivation continues to ramp back up and the tweaked knee heals, Garnbret knows that the best approach right now is to embrace the lull. That doesn't mean staying completely out of the spotlight. It's worth noting that even while reposed from a competitive standpoint, Garnbret made headlines for becoming the first woman to onsight a 5.14b, with Fish Eye in Oliana, Spain, during a brief trip there in early November 2021. Then, almost like an afterthought, she onsighted another Oliana 5.14b, American Hustle, just two days later.
But more than anything, Garnbret has her eyes on the 2024 Olympics in Paris: "Next year is … the European Championships and World Cups—and there's no World Championships—and then the year after it's already qualifications for the Olympics," she says. What might seem like unnecessarily early calculations are actually part of a larger strategy related to mental health. "It's super busy," Garnbret says of the upcoming years' competition schedules, "so you need to be smart, what to do and when to do it—you don't want [to be] exhausted in Paris [in 2024]. You want to come fresh-minded and super motivated and excited." Much of her training will be done at the same place that got her in gold-medal shape for Tokyo, a semi-private gym called Verd, on the outskirts of Ljubljana in the town of Vrhnika.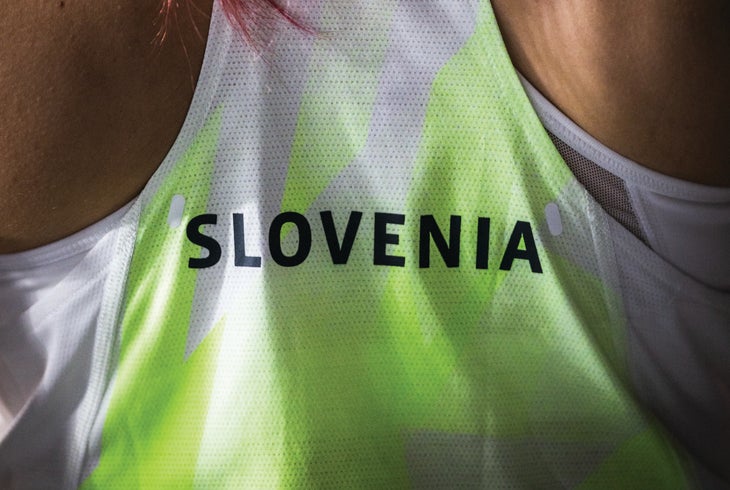 For now, there is plenty to do in the downtime. Garnbret's apartment in Ljubljana is the byproduct of a significant life change, the breakup of a six-year relationship with Škofic, a high-profile climber in his own right. "It was very hard, but I kind of felt like this was coming," Garnbret says of the separation. At first, it made for a difficult adjustment and prompted Garnbret to briefly move back to her hometown, but there were sympathetic conversations and sleepovers and movie nights with Slemenšek to help with the emotional toll. Eventually, she relocated to the big city. She recently attended a gala that unveiled a run of Red Bull cans featuring her likeness. She was also gifted a pair of gold-painted climbing shoes from her sponsor, Adidas Five Ten, to celebrate her Olympic victory. The sparkling Hiangle shoes will likely go in the same glass case as her other awards.
But cut through all the accolades and obligatory meetings, the ongoing celebrations and post-season ceremonies, and there is some much-needed solitude. Backdropped by the bookshelf with the haphazardly placed gold medal, Garnbret glances sideways in her home, as if into the unknown, and says, "I think this is the perfect time to rest."
Frequent contributor John Burgman reported on the Olympics for Climbing and is the author of the books High Drama, Island Solitaire, and Why We Climb (A Dirtbag's Quest for Vertical Reason).