She Opened Her Home to Top International Climbers—and Changed Lives
Athletes need a space to train. Kimanda Jarzebiak provides that, plus, everything else.
Photo: Christian J. Stewart
Heading out the door? Read this article on the new Outside+ app available now on iOS devices for members! Download the app.
At five-foot-ten, Kai Lightner was certainly big enough to be a full-sized man. His gait, however—slightly off-kilter, and matched by swinging arms so long and heavy they seemed a hazard for bystanders—gave it away. And with his slightly perturbed face, pinched as it was after stepping out of the small airport baggage claim, his adolescence became all the more clear. He was hungry and cranky from the flight. 
As she always did, Kimanda Jarzebiak stood waiting. She had thin, petite features, with alabaster skin, a delicate face and small mouth. Her hair was so blonde it was nearly white, and her eyes, eggshell blue, gave off a translucent shine. Standing there in a silky white blouse and black pencil skirt, she looked expectantly at the doorway, with all the confidence of someone that had stood there countless times before. Kai recognized her. She took his backpack, they got coffee, and then they climbed into her gray Mercedes.  
The drive to Kimanda's home in Victoria, British Columbia was only 30 minutes, and they talked about Kai's school, his training and plans for upcoming competitions. It wasn't until arriving at the house that Kai suddenly forgot how hungry and tired he was. After grabbing his bags, ascending the stairs and wandering lazily from the entryway to the kitchen, Kai spotted his idol, Adam Ondra, standing there as casual as day, making eggs and quinoa. Ondra was, and is, the world's best rock climber.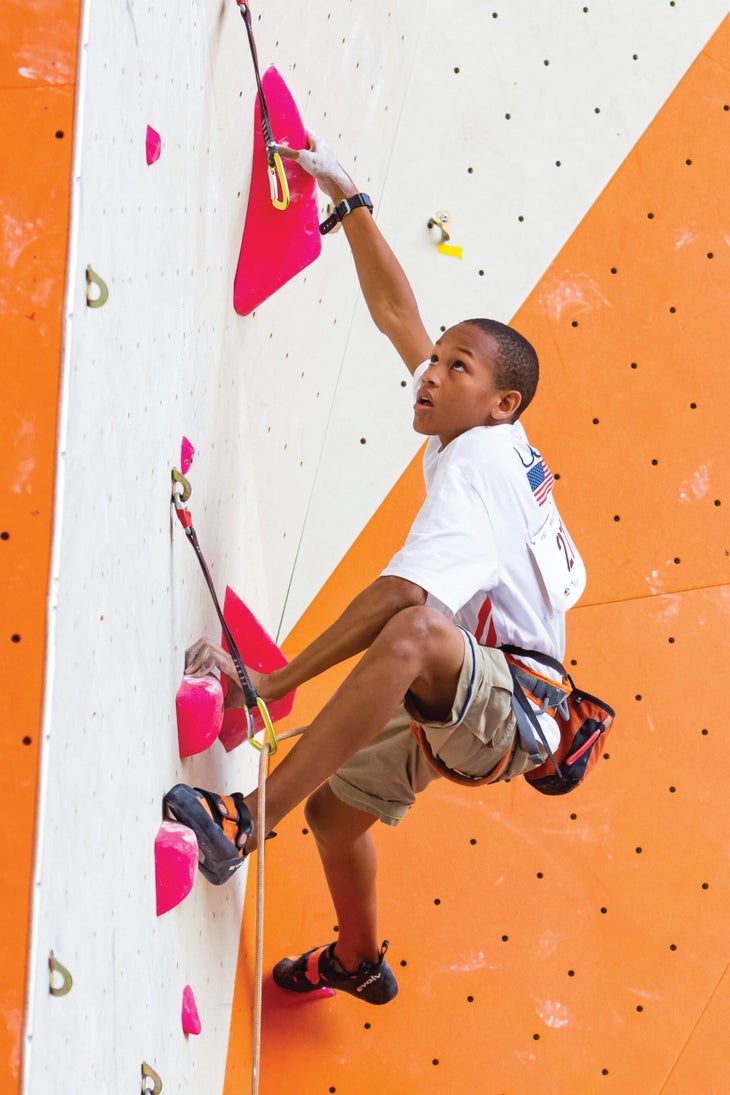 At six-foot one, Ondra, towered over the stove. With a beak of a nose and dark eyes, he might have looked frightening, had not his elongated neck, sloped shoulders and Mickey Mouse smile thrown the whole sight off. Nevertheless, Kai was intimidated. Shocked. His idol was in the kitchen! Making breakfast. Kimanda had neglected to mention this. 
Kai retreated to the entryway before Adam could notice. Coily, he stuck his head around the doorframe just in time to watch Adam chop the garlic. 
Kimanda, who had planned this meeting of these two great athletes (and, for that matter, she went on to enable many more such meetings between consummate figures in the climbing industry), stood by, amused.
Kimanda's house was just like that. Filled with athletes. Athletes making breakfast, going out for training or rest-day activities like hiking or swimming. Athletes walking to the nearby taco stand or the beach. Going to parties. A simple non-island, island life, perfect for the 'train hard, play hard' mentality. 
As a competitor myself, I lived in that house for an extended period of time. After a while, you got used to the illustrious guests.
I still remember the address of that contemporary, victorian house, with its smoke-colored siding and modest manicured lawn. Oftentimes the outdoor stairs leading to the front door felt slick, the railing cold, but once inside, the warmth hit you like a wall.
***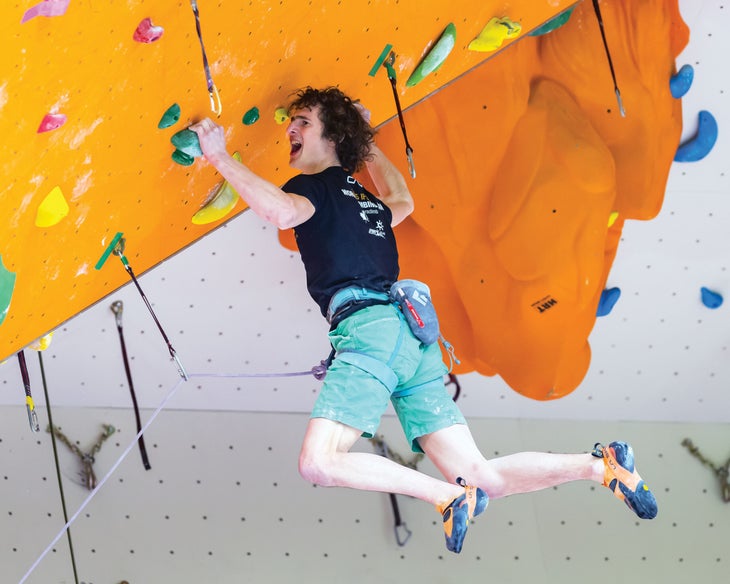 Kimanda Jarzebiak, 47, crafted her life in Victoria, B.C. with astonishing precision. With her rare combination of gumption and a mastery of manipulation, she proved that sometimes life really can work out the way you want it to, so long as you're persistent enough. And so long as the word enough really means infinitely so. What takes most people a lifetime to figure out, Kimanda knew by grade seven: that life is hard, and that luck is to be made.
Kimanda was born to Dutch and Polish survivors of World War II, her mother moved from a previously-occupied Nazi territory and her father from a displaced persons camp. Years inwrought with starvation, loss, fear, confusion. Those kinds of scars don't end with the dead, they get passed down. Although Kimanda was born safely in Ontario, along with four other siblings, the need to scrap, to do what one most to build a better future, was in her DNA, and the gratitude of being alive and in a free country was planted on her shoulders hard as an anvil. 
For work, her parents settled in Vancouver. Ultimately, Kimanda was raised by a single mother in a household with very little money and resources. Kimanda worked from a young age—babysitting, helping with the family paper route, working in a bakery and a clothing store—to help cover expenses.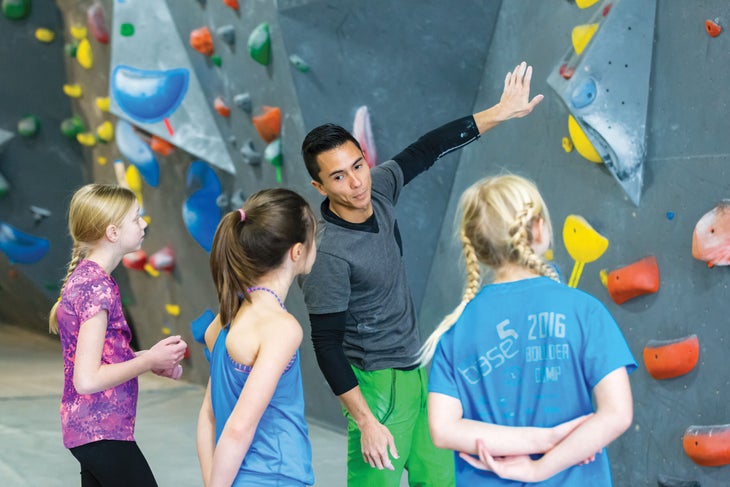 "But we were also told even through all of that, that we were insanely lucky, and we had a responsibility to the society that we lived in—to always give back and to be part of democracy," says Kimanda.
It then comes at no surprise that Kimanda does what she
does: serve her community. Kimanda now owns a public affairs consulting firm, which represents businesses with local and government interests; she owns a not-for-profit gym; she coaches athletes; she does and has done a host of other things to better assist people with whatever it is they need. All in the interest in continuing to build that future. Not just for herself—for everyone. Check, check, check and check. 
Many of the afternoons I spent at Kimanda's house were centered in her kitchen, around the small, cluttered island, invariably stacked with books, notes and whatever it was that she was cooking at the time. Spokes of light the color of cognac would sweep through the blinds and filter the air. Scents of garlic, paprika and caraway would waft from the stove while the small T.V., propped up on the side wall, streamed ambient broadcasts, local and otherwise. The inundation of Trudeau this or that and the rising cost of housing and the First Nations community rights and all the normal political/social banter you'd expect: those conversations were the real bread and butter in that kitchen. Kimanda's job never ended when she left the office.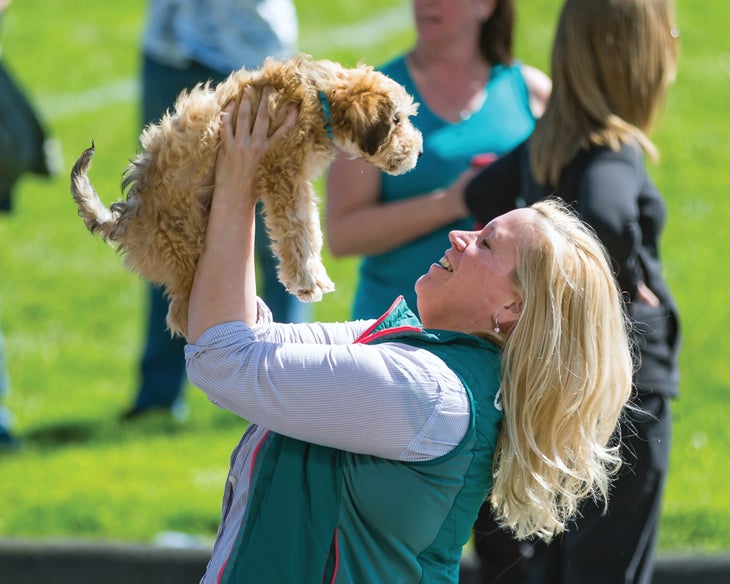 Her company's site reads: "We believe you are your own best advocate, provided your advocacy is carefully planned and strategically presented…" Kimanda's firm helps its clients influence public policy through critical planning and, as stated, informed self-advocacy. That pretty much sums up her role with athletes. And for that matter, all the people in her life. Kimanda coached you into coaching yourself. Here you go, she seemed to say. Here's the pole, the bait and the boat. Now Go fish. 
On the fridge, there's a litany of pictures and notes and quotes and magnates. She liked Alice in Wonderland, which was a story that never quite made sense to me until I met Kimanda. Leaning into chaos. Finding thrill in madness. One popular line from the book: "Why, sometimes I've believed as many as six impossible things before breakfast." Those themes clicked with the way that Kimanda walked and talked and breathed. She had learned to outwork, outpace that chaos. She made chaos her partner in crime. Alongside the Alice in Wonderland quotes, there was another: "Life shrinks and expands in proportion to one's courage," by Anaïs Nin. I must have stared at that small card more than a dozen times. 
From that kitchen island, Kimanda recounted over Skype her first visit to the island. "I first came to Victoria on a field trip," she said.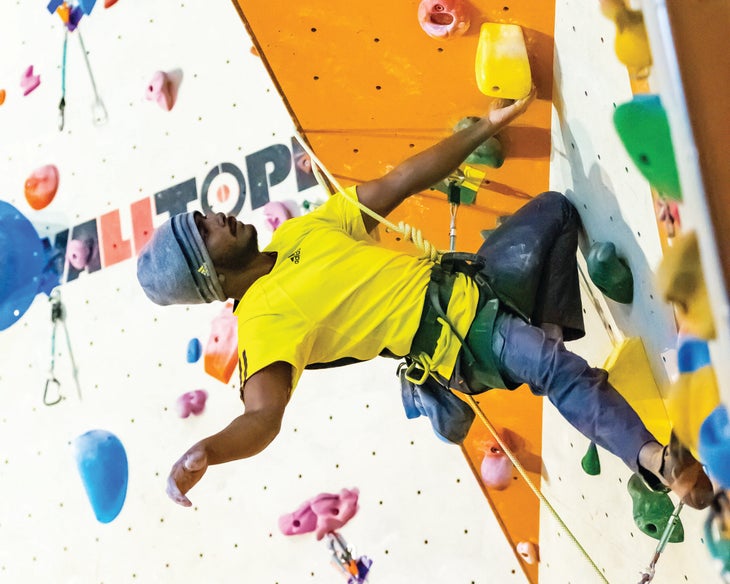 Victoria floats 76 miles west of Vancouver and a short 22 miles north of Washington. Traveling to and from Vancouver necessitates a 90-minute ferry ride, a 35-minute seaplane voyage, or an approximately 38-hour swim. To say the island is divinely gorgeous is not an understatement. Undulating waves beat against the shores ports, alongside a town from a bygone era. At the base of the main harbour, Victoria's châteauesque Empress hotel paints golden hues on the dark water. Surrounding buildings are shades of peach and cerulean, decked with ornamental ridges and roof crestings. The arched windows are accented with stone or wooden mullions, which tower over cherry blossom trees blooming shades of blush in the spring and lining the narrow, operose streets. Kimanda's home is a mere stroll from all of that. 
"The legislature buildings here are beautiful," she continued. "The politics are just the wackiest in Canada. With the combination of the two, it was so clear that I wanted to move to Victoria to work in or around the legislature in B.C. politics." And yeah, that's exactly what she went on to do.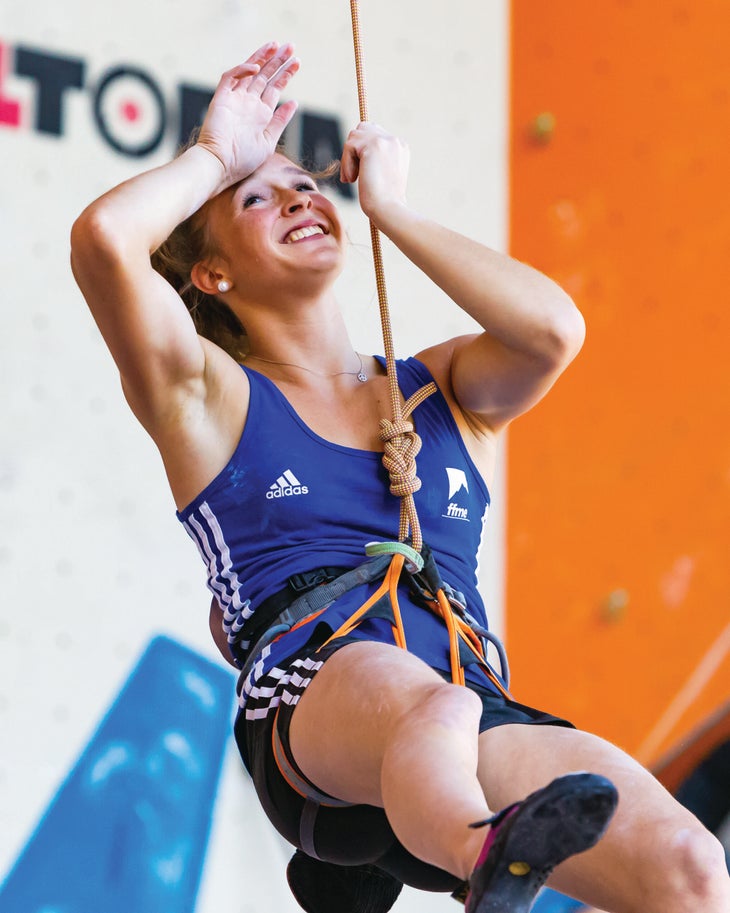 As much as Kimanda's interests were deep into Canadian politics, she was and still is a climber through and through—since her late teens, when her boyfriend became her "mentor" on the ropes—"yeah… I'm glad I'm still alive," Kimanda said, laughing—climbing has been an important part of her life. She even named her consulting firm Ascent Public Affairs, in keeping with said affinity. 
Kimanda began passing on her outdoor knowledge as early as her 20s, when she became a Girl Guide Leader and started an Adventure Program, which, among other things, took young girls out climbing. 
"I remember one of the areas that we would go to frequently is downtown—Victoria Fleming Beach," said Kimanda. "And we'd set up top ropes and get different groups of girls to climb. We were doing that one day when a little boy walked by and looked at us and said, 'Mom, what's that?' We had a sign that stated, 'Girl Guide Climbing Program' or something. And this little kid said, 'What?! Girls can't climb.' Then this entire group of girls just looked at this little kid, and he was like, 'Oooooh….'" Kimanda laughed, as the memory floated across her eyes. "It was a unique spectacle at the time," she said.
***
In 2002, Kimanda was introduced to Peter Mason, a teacher at Stelly's Secondary School in Central Saanich.
Central Saanich sits approximately 30 minutes outside of town, in the middle of farmland. The historic, tourist-laiden city gives way to planes of sinuous grass and wheat, which give way to suburban neighborhoods and, eventually, a small concrete high school, Stelly's Secondary School. Today, the attached gym is a squat box with a flat roof and Clifford-red garage door. At over 50 feet tall, the gym looks like an oversized industrial shed. But on nice days, the garage door lifts, revealing a cavern of lead walls and top ropes and a homologated speed wall. Athletes steal away to the sides of the building when the sun peaks in to glint off the white and orange walls. During school days, high schoolers crowd the walls, books and binders lay scattered on the blue matts and coaches shout out beta over the ongoing teenage hysterics.
But in 2002, the school's climbing wall was barely bigger than a broom closet. And the whole industrial-sized shed thing didn't exist. When the local Girl Guide activities were temporarily suspended, Kimanda filled her spare time by starting an after-school youth program at Stelly's, per Mason's request. The program was the first youth indoor climbing program on the island. 
The gym was close quarters, so Kimanda helped to fundraise for the needed capital to expand the gym. With the completion of that expansion, the facility was large enough to open to the public, in November, 2005. The gym would be a not-for-profit society known as The Boulders Climbing Gym. 
By that time, Kimanda started taking team kids to competitions. By 2008, two of those kids qualified for the Youth World Championships in Australia. They didn't have family to accompany them, so Kimanda became their liaison. It was at that event that she connected with Team Canada's head coach, Andrew Wilson.
"I was asking the head coach Andrew Wilson, 'Why aren't we hosting these in North America,' because I had learned that North America had never hosted." Wilson responded that it was because there was no facility that could host them, and that building such a facility wasn't commercially viable.
To that, Kimanda said, well, I can. "We're not-for-profit, we're in a public high school. We can build it and then we can host them in our facility. And I think Andrew thought I was insane, as did a lot of the parents at the competition."
Another Alice in Wonderland quote exemplified: "Have I gone mad? I'm afraid so, but let me tell you something, the best people usually are."
By 2011, Kimanda had successfully led a second fundraising initiative to expand the gym, again, this time more than doubling what existed, making the industrialized shed, with all of its state-of-the-art walls, a reality. "I have to say, if you want to start a not-for-profit climbing gym and get government grants to build it, it's really useful to be a public affairs consultant," she said, laughing. 
And at that point in her life, Kimanda was doing quite well. Not only had she accomplished her goal for The Boulders, she had been officially hired to work with Team Canada. That offer came after she attended several other international comps, chaperoning young athletes whose families weren't able to make the trips. Originally, when approached by Team Canada management, she had been asked to fulfill a new position as "Team Mom." Fitting, from an outside perspective. Kimanda disliked the term, however, so mom was swapped for "Aunt," and a year later, the more official title of Youth Team Manager.
Around that time, Kimanda bought a house, with a suite basement, furnished with three bedrooms, a bathroom and a kitchen. She tried renting it out to friends, but she quickly realized a better use of the space. She was hosting competitions at The Boulders, and those athletes, organizers and volunteers needed a place to stay. 
"I realized that I could host people instead of paying for a hotel," she said. "And then it just kind of grew from there." Kimanda saved on hotel fees, and visitors had a more comfortable, welcoming experience on the island.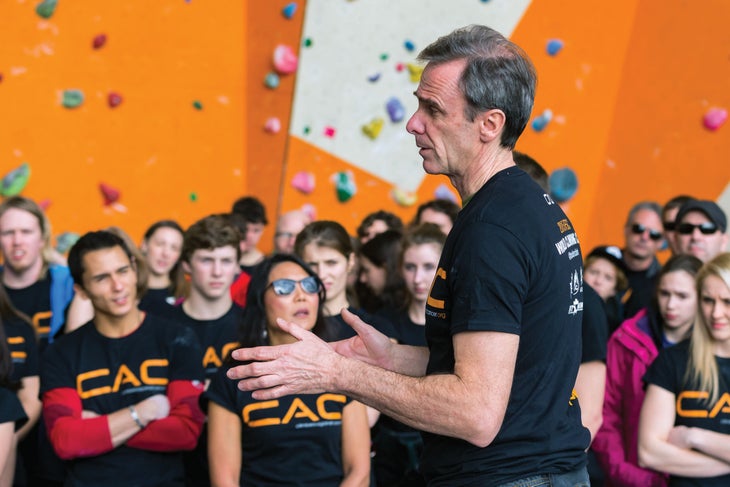 The other plus for Kimanda: hosting climbing professionals ensured role models for the locals. "There isn't a huge amount of competition climbing culture on south Vancouver Islands," she said. "For all the kids who were getting introduced to climbing because we're in public high school, I wanted them to have people to look up to. It seemed a no-brainer to provide athletes with free accommodation as a way to facilitate them being at the facility, which benefited our athletes and students greatly." 
So, it's 2013, and Kimanda's storied interactions with major players is just beginning. Her gym would host a World Cup, the first North American Youth World Championships, and local and national competitions. Even the world's first international training camp, which none other than Adam Ondra and Kai Lightner were guests of. Eventually, the list of international, world-class athletes she would accommodate included Sean McColl, Alannah Yip, Petra Klingler, Iuliia Kaplina, Aleksandra Miroslaw, to name a few. In fact seven out of the 40 Olympic athletes have had dinner or stayed at her house. Speed World record holders, dozens of National and World Champions, World Cup winners and international route setters and judges and more, all Kimanda Jarzebiak's guests. All there to practice their craft, to connect with one another in a culture and setting different than their own. Although our community is small, such gatherings are rare outside of the circuit.
***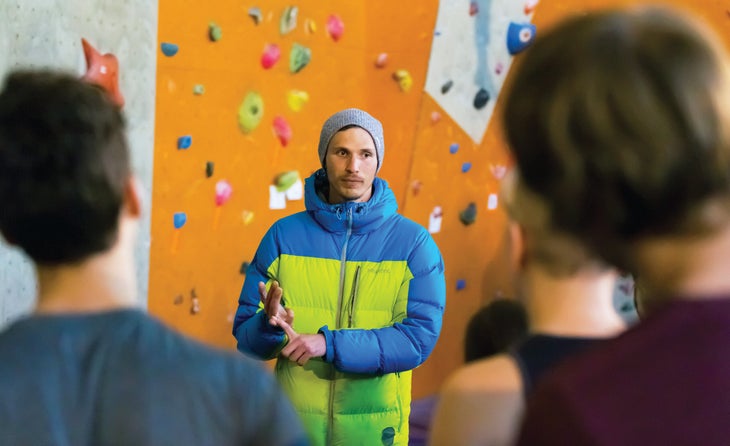 Kimanda's first guest, Libor Hroza, now 33, first came to Victoria in 2013. Unlike her other guests, he hasn't since left.
"I was thinking of making a bigger life change all the time… Something that would give me a different sense. I [knew] I could benefit from something that would make my time not just about training" he said. 
Although Libor's start in speed climbing was late, at age 17, the Czech phenom has since garnered two Speed World records and five World Cup gold medals. Now reaping the
plaudits of his work, Libor coaches full-time in Victoria, living out of Kimanda's basement and using her gym as his stomping grounds. 
In 2013, when Libor decided to make that big life change, he understood what Kimanda already knew: being an athlete and a competitor is less about training, and more about everything else. It's about community. And balance. 
When I first met Libor, he gave me a ski lesson. We would talk, go for hikes and swims and make food together. Oh sure, we also trained, but more than anything I just remember our time hanging out.
And when I first met Kimanda, I was underweight, still struggling from the throes of an eating disorder. She made an appointment for me to work with a psychologist and a trainer. When my heart broke from young love, she took me on a hike, up a remote swiss mountain, and we burned my pain, written on paper, in a tinfoil cup. And when I got too drunk after not performing well at a World Cup, she helped me coordinate with the other athletes to make it to the airport on time. 
So much of my life I spent training, competing, and thinking about training and competing. Everytime I went too far down that obsessive hole, life grabbed me by the shoulders and shook me like a doll. Kimanda—and the community she helped to build in Victoria—was there to help shake me back, there to say, you could benefit from something that isn't training.
Team Mom. Team Aunt. Whatever. Over and over again, Kimanda lived up to the title.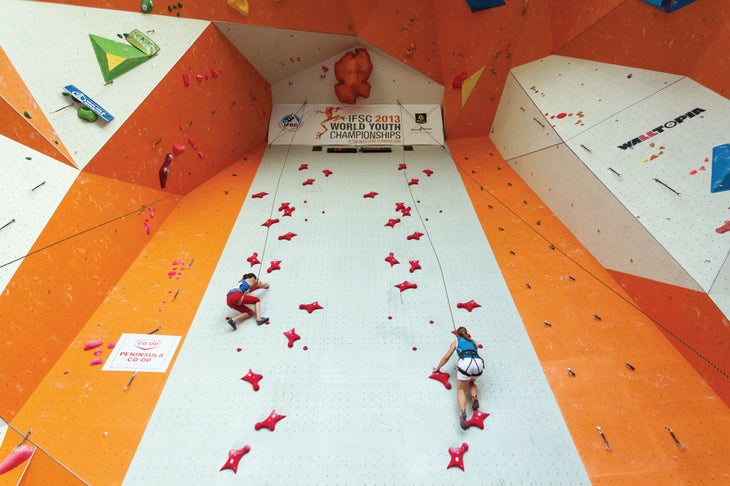 Kimanda later reflected upon the initial Team job offer: "They were saying, you know, the coaches just look after one part (training and climbing). And that's the important part. But we're going to have this sort of Team Mom to help them make sure that they get fed and to places on time and have their emotional needs taken care of.
"It really drives me nuts that that is undervalued in the coaching-climbing world. I think if you're going to work with an athlete, you better understand a lot about the athlete and what their needs are. Yeah, you can, you can be in the best physical shape, but if you aren't eating and sleeping or can't focus, the performance isn't going to be what it needs to be."
Kimanda's comprehensive approach to "coaching" was unconventional, to say the least. But it touched dozens of athletes. Lightner proposed a better adjective than Mom or Aunt: 
"She is … I don't know … I will call her a master facilitator. She always knows someone, or is a phone call away for getting everyone the thing that they need, whether it's physical therapy, a coach, a training facility—she's always helping us with travel, helping us connect with other athletes in different countries. She's kind of just always willing to lend a helping hand."
***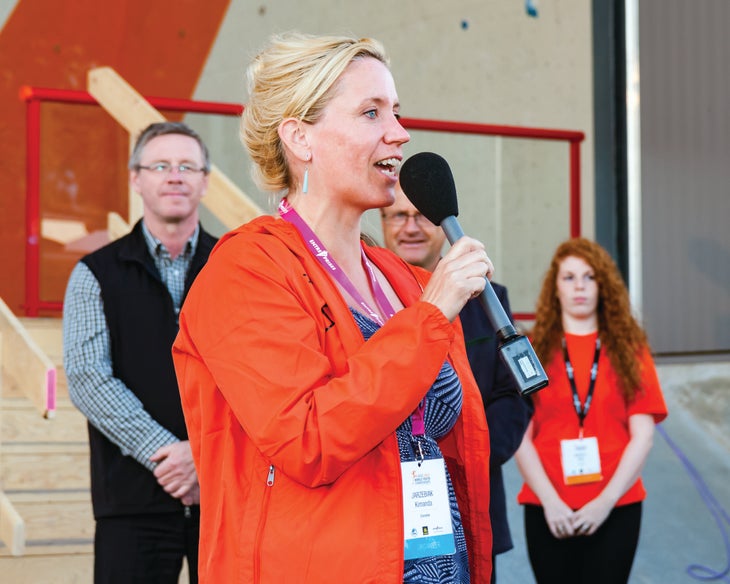 Before Kimanda became the Kimanda that I got to know in 2013, before she was a climber or a coach or a consultant, she was a swimmer. A good one, for that matter. She swam competitively starting at age 8. She woke up at 5 a.m. to go to practice, then went to school with wet hair, and smelling of chlorine. Back then the pools had more chlorine than they do today. Kimanda's light blond hair had a perpetual greenish tint.
Her mom couldn't afford the swim club or to drive Kimanda to practice. Rides were always being negotiated. It was then that Kimanda first learned how to fundraise, selling tickets for raffles, doing swim-a-thons. "We didn't get the fancy uniforms or swimsuits. I was constantly aware of having less and having to work harder," she said.
It was also then that Kimanda learned the cost of sport. She quit at age 16. "I learned that throwing yourself entirely into a sport can allow you to achieve great things, but usually at a tremendous cost. I ended up not going near a pool for years after I stopped swimming." Her early specialization in swimming stripped her of her love for sport. 
Sometimes courage is knowing when to walk away.
Fast forward to two years later. Kimanda is a young, scared 18-year-old, one that just dropped out of college because two men posted an ad in the school newspaper threatening to rape her. Times were different back then, and schools didn't have sexual harassment policies. That's when Kimanda walks away from higher education, moves to Victoria to find a job, any job. She landed a contract doing research in a government ministry. Her new life began. And she took up swimming again. 
Sometimes courage is knowing how to use sports to help you when you need it, while keeping a keen grasp on our sense of freedom and self—the things that make us people.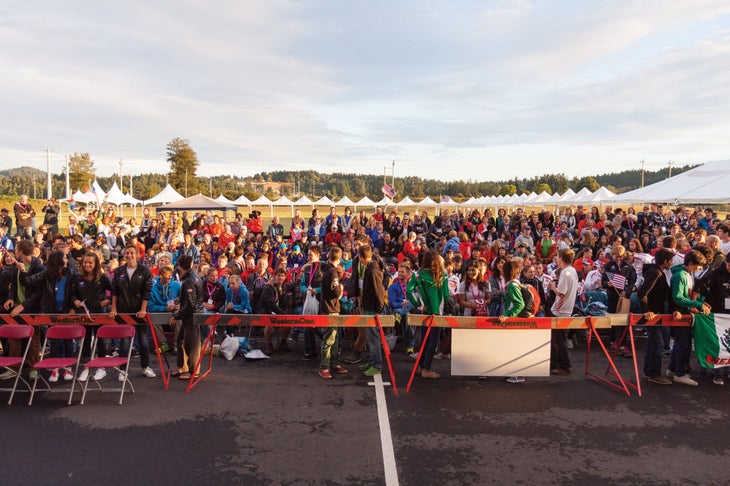 ***
The space that Kimanda occupied in my life and in so many others was enduring, but also perhaps specific to climbing's place in history. Most of her "kids," the ones that stayed at her house for extended periods, have grown up, carved niches for themselves somewhere else. Even Libor, who hasn't physically moved, has put the breaks on competing, although he's undecided on retirement. Now, he's the manager of The Boulders and he's a fulltime coach for speed athletes around the world.
"It's interesting—a few things happened at once," said Kimanda. "Climbing became an Olympic sport, which meant that there's resources and, you know, I always was fairly clear that the reason I was traveling with athletes was because there was no one else to do it. And I don't think of myself at all in the same caliber as people who coach full time. This was, you know, something I did for fun and not my profession. And so I always knew that when the resources became available, I would be happy to step aside. … And some of the most recent athletes I was working with over the years, the last cohort, sort of grew up and moved on." 
On speaking with Kimanda, her in Victoria and myself in a conference room in Carbondale, Colorado, I couldn't help but feel all the old emotions rising up, softly accumulating in my chest as the conversation waxed. I was barely aware of the susurration of that old adrenaline, of the anxiety and the joy of the precariousness of the life I had led, being sponsored, being broke, being strong, vacillating between the highest hopes and the lowest self-esteem. 
It's true. Sitting in that office, I was a different person. I had grown up.
As the interview continued, I learned that I had gotten it wrong: Kimanda did have the Alice in Wonderland quote on her fridge, but, much like her dislike of the Team Mom title, she didn't actually like the story.  It's funny how much she would come to exemplify the book's tropes, regardless.
Back when I was staying with Kimanda, on nice days we, and whoever else was around, would sit outside on the back deck, eating fresh baked quiches and pies. The apple tree stood idly in the cool summer air, offering what relief it could from the feverish blue sky. "Who in the world am I?" said Alice, said me at that turmoil-filled age. "Ah, that's the great puzzle," answered Kimanda…
Delaney Miller is one of Climbing's digital editors. This article is free. If you enjoyed it, consider signing up for a membership!