Remembering Larry (Yau Chiun) Shiu, Dedicated Alpine Guide
Each January we post a farewell tribute to those members of our community lost in the year just past. Some of the people you may have heard of, some not. All are part of our community and contributed to climbing.
Heading out the door? Read this article on the new Outside+ app available now on iOS devices for members! Download the app.
You can read the full tribute to Climbers We Lost in 2022 here.
Larry Shiu, 40, October 6
The Taiwanese Machine! This was what I sometimes called Larry in the mountains when he was moving with such ease and without any impedance, much like the Swiss Machine, Ueli Steck.
I can recall memories of Larry flying up a firm spring snow slope while on a seven-day backcountry ski traverse (Bugs to Rogers) in British Columbia. It was a cool and crisp morning and Brendan Maggs, Larry, and I were all cramponing our way up a steep, frozen snow slope with our skis on our backs. While Brendan and I switchbacked our way up, Larry punched straight up the slope with great speed. Brendan and I chuckled and I took a video of him, laughing to ourselves at his gnarly and adventurous spirit. This may be one of those moments that you had to be there for, but it was funny and fully in tune with who Larry was: someone who seized the moment, had the best time doing it, and made those around him smile and laugh.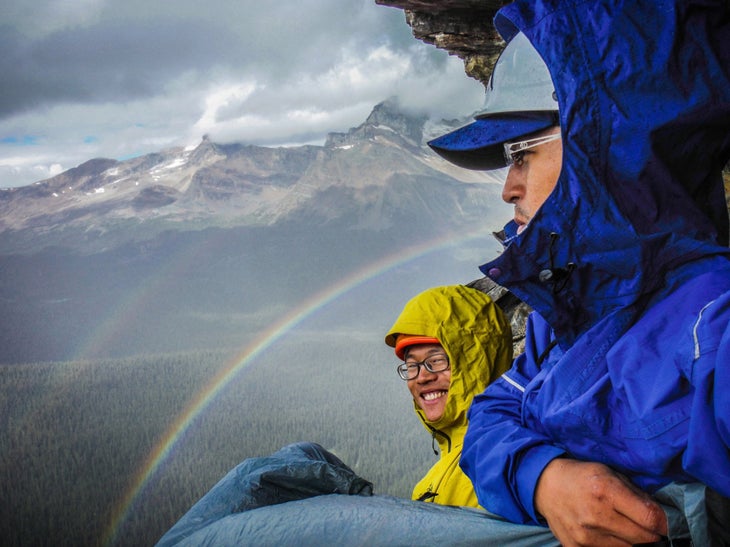 Born in Taiwan on January 3, 1982, Larry grew up in a modest home with his father, Shiu Shin Fu, mother, Wang Wan Shu, and brother, Shiu Huei Chiun. His parents are both elementary school teachers and his brother is a career firefighter. At university, Larry was a talented individual with great intellectual potential; however, he started to skip class when he joined the University of Taipei Mountaineering Club in 2000. It was here that he started to pursue his newfound mountain passion and where he met Inka (Ying Ying) Lee. Larry and Inka shared this mountain lifestyle on a profound level. In 2007, Inka and Larry traveled to Canada, where Larry started pursuing his mountain career with the support of his parents, which wasn't exactly the norm in Taiwan.  
I met Larry in Kamloops, British Columbia. We were enrolled in an Adventure Guide Diploma program through Thompson Rivers University (TRU). This would be the start of our partnership which turned into the best friendship someone could ever ask for. Through many mountain trips and shared life experiences we became true climbing partners and brothers. At TRU, Larry gained a wealth of mountain skills, knowledge, and experience that helped build his solid foundation and set him off on the right foot. It was also at TRU that many great friendships and connections were made. TRU was where Larry and I met GT (Graeme Taylor) who was a great influence, introducing us to industrial rope access. Larry participated in many exciting rope-access related projects, including Canada Place sail replacement, BC Place, and even jobs as far away as China, where Larry used his ability to speak Mandarin to heighten worker safety and streamline communication. He would use his multilingual ability again in the future to break language, cultural, and mountain barriers.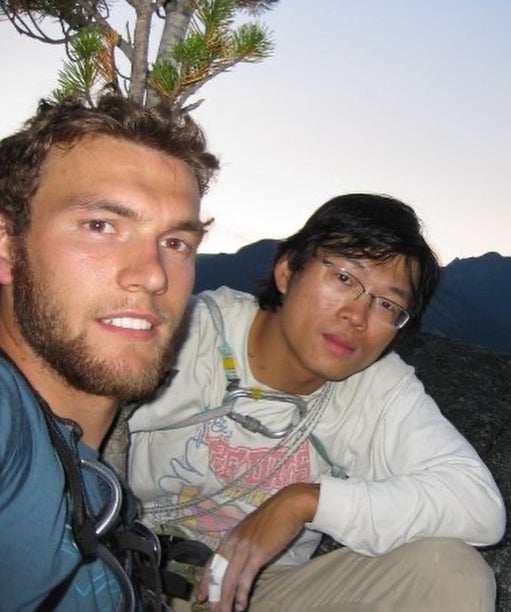 Though Larry enjoyed rope access, it was ultimately a paying job to save money toward guide courses and to sustain life while he pursued his ultimate goal of one day becoming a mountain guide and traveling the world. In 2011, Larry joined the Association of Canadian Mountain Guides (ACMG) as an Apprentice Rock Guide and worked his way up to achieve a full Alpine Guide/Apprentice Ski Guide certification, which is one exam away from the big Mountain Guide ticket. After Kamloops, Larry lived in Squamish, British Columbia, for about a year before settling into Canmore, Alberta, in 2012, where he lived with his partner, Inka, and their now 8-year-old son, Leo. When talking with members of the Canmore community, Larry was known as a kind person with a big heart and a well-timed, cheeky sense of humor. His beaming smile and easy-going attitude guaranteed a good time with his family, friends, and guests. Larry was a truly amazing person, always going above and beyond to help others—he actually would give you the shirt off his back.
Larry's passion for the hills was evident when, after six straight days of guiding, he'd connect with friends to get out for a seventh day. When not guiding or on personal climbing trips, Larry shared his time with friends as a mentor, helping others take their mountain craft to the next level. Without a doubt, his favorite mentoring days were with his son Leo, a.k.a. Patakid! Leo was so well decked out with quality Patagonia clothing that Larry sometimes used this nickname for Leo, who he loved so much! Larry took no short-cuts when taking Leo out ice climbing, rock climbing, skiing or biking. His side passion for photography resulted in many epic and memorable photos of the two.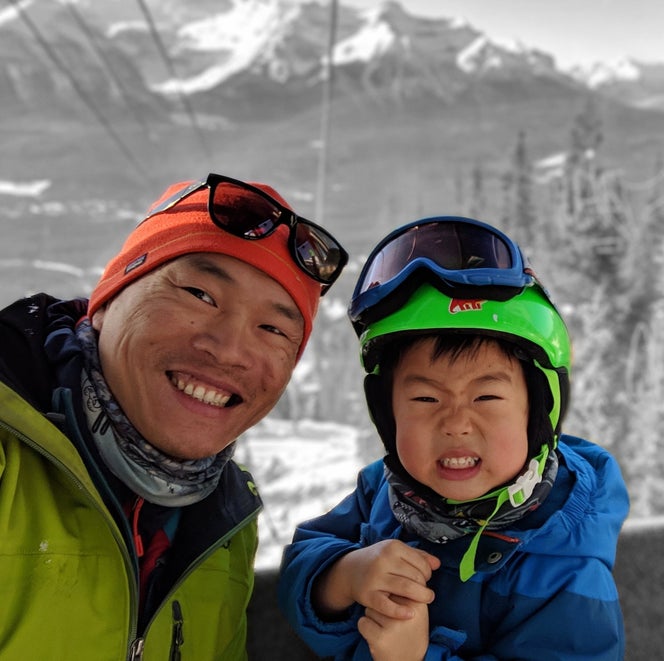 Prior to his passing, Larry was returning to his roots with the University of Taipei Mountaineering Club. The goal was to bring club members to Canada where he could teach them the whole spectrum of mountaineering skills and help kick start their own climbing careers. This project was very important to Larry: a full-circle goal that was a rewarding experience for both him and his guests. I was privileged to help Larry on one of these trips and we had success summiting Mt. Joffre: a member of the prestigious "11,000'ers" of the Canadian Rockies. I could feel the joy emanating from all present on this trip; it was a very special experience. 
Larry's ultimate plan was to work with a growing group of aspiring Taiwanese mountaineers each summer and build an inclusive culture for all Mandarin-speaking climbers in Canada. Larry was a pioneer in this area and all who climbed with him are proof of the program's success. Way to go, Larry! While the future of this program is unknown, Larry had a great group of Mandarin/English speaking mountain peers and mentees in Canada who I'm sure will step up and continue on with this program and his legacy.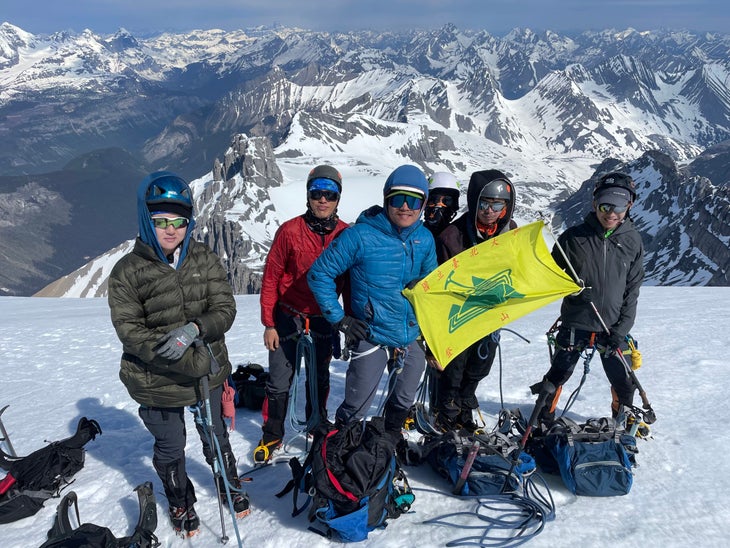 ***
While visiting family and friends in Taiwan earlier this month, Larry had a climbing accident. He and his climbing partner and friend, Kuowei Chang, were attempting a new route on the north face of Mt. Yu Shan's east summit. Yu Shan, also known as Mt. Jade, is Taiwan's highest peak at 3,952 meters (12,966 feet). And, for reference, Mt. Robson, which is the highest peak in the Canadian Rockies, stands only 2 meters taller at 3,954 meters (12,972 feet). Though they are not directly comparable peaks, Mount Yu Shan is a difficult mountain—especially via Larry and Kuowei's attempted route. 
The lower section of their intended line appeared blank and hard to protect, so the team decided to traverse in from the right utilizing a six-meter-tall ledge. At the end of the ledge, Larry began climbing upward and found a few pieces of protection. He called back to Kuowei that they weren't very solid. After climbing roughly six meters, Larry fell. The exact reason for his fall is unknown, but it is speculated that a hold broke. The critical pieces needed to keep Larry from decking pulled out and Larry hit the ground from roughly 12 meters up. He succumbed to his head trauma soon after.
Larry and I were very close and this news is so hard to accept. Larry was a solid alpinist and this type of accident is rare. I (we) must come to peace with the fact that Larry is gone but he passed while doing what he so passionately loved: exploring new mountainous areas with friends. 
On behalf of all of Larry's friends, family, guests, and acquaintances I'd like to say thank you to Larry. Thank you for always being you. Thank you for all your hard work and paving the way. Thank you for breaking trail and leading all those tough pitches. Thank you for all the belays and cliff-side naps (less the snoring! Haha). Thank you for being there to help out in times of need. Thank you for all the good laughs. Thank you for all of the great adventures. Finally, thank you for all of the unlimited other things that you did that made you so special and that made us all feel so special around you. We love you, Larry! We'll meet again on the next summit!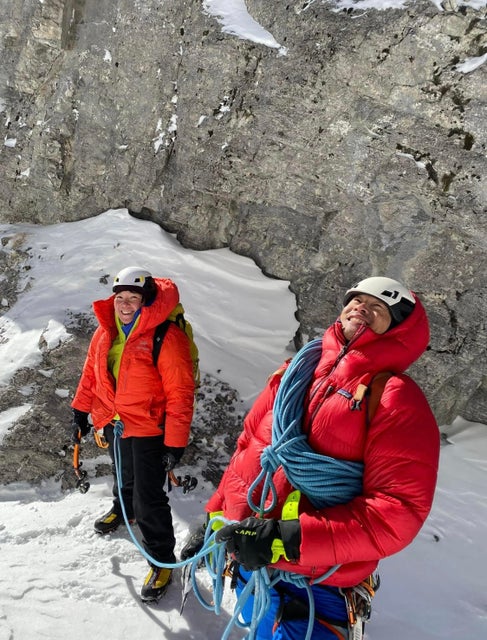 ---
A look back at some of  Larry's mountain-related achievements, the notables are quite impressive:  
He uprooted himself from his homeland in Taiwan and moved to a new country where he had no relationships and learned to speak the local language.  

He graduated from Thompson Rivers University with an Adventure Guide Diploma.  

He became certified as a Search and Rescue Manager & SAR Rope Rescue Team Leader in BC. 

He worked his way up through two industrial rope access streams and was a certified SPRAT-3 and IRATA-3 technician/supervisor. 

He was a member of the Canadian Avalanche Association and completed the rigorous CAA Avalanche Operations Level 2 certification.

He achieved ACMG full Alpine Guide and Apprentice Ski certification. 

He became an entrepreneur and started up his own guiding company.

He was the first Taiwanese national to be certified as an ACMG Alpine Guide.

He had flawless ice climbing technique and was one of the main model ice climbers for Falcon Guide's new book "How to Ice Climb."

He climbed around the world: Taiwan, Italy, Greece, many US states including multiple expeditions to Alaska, and of course all over Canada (BC, AB, & QC).  

He reached the summit of the highest peak in North America, Mt. Denali (6,190m/20,310ft). 

He climbed up to 5.12b rock climbs and WI 6 ice climbs. 

He completed the famous "Bugs to Rogers" backcountry ski traverse (74 miles, 33,000+ feet vertical).

He was the poster boy for the 42

nd

annual Banff Mountain Film and Book Festival

He achieved over 1,300 professional guiding days and allotted an estimated 35,000 personal/professional hours in the mountains.
—Patrick Lindsay
You can read the full tribute to Climbers We Lost in 2022 here.