Little Big Man: The Mikey Schaefer Profile
He might only be 5'4", but with a resume of hard first ascents in Yosemite and Patagonia, Mikey Schaefer is the type of climber that people look up to.
Heading out the door? Read this article on the new Outside+ app available now on iOS devices for members! Download the app.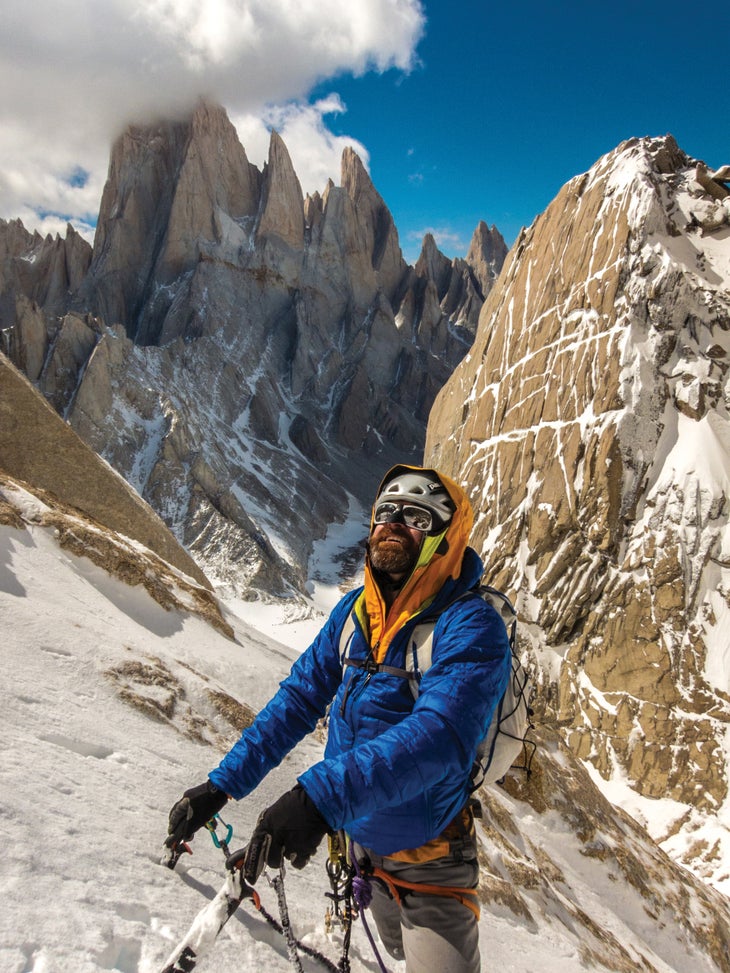 Grabbing the pinch and holding his body tight to the wall, Mikey danced his feet up and stabbed for a crimpy ear of granite. A thousand feet of plutonic rock on Yosemite's Middle Cathedral swept out below him as he fought for the first free ascent of the 2,000-foot Father Time (VI 5.13b). In the fall of 2010, having just established an 18-pitch 5.12c on the same formation, Mikey walked to the base of Middle Cathedral once again to check out a steep headwall to the west. He would spend 60 days over the next two and a half years hand-drilling 113 bolts and rope soloing many of the 20 pitches, which include 5.12 slab, a V7/V8 crux, and two 5.13 sections. In the fall of 2012, after eight days on the wall, Mikey freed Father Time.
Born into a suburban family in Tacoma, Washington, Mikey started climbing because his brother, John, who was two years his senior, had been climbing with his Boy Scout troop.
"We had a chalkbag, so I think that makes it official rock climbing," said Mikey. At 13, Mikey and his brother went to a small crag outside Breckenridge, Colorado, on a family trip. They did some easy free soloing, scrambling on the rocks in their tennis shoes. Later that summer, the pair went to Fossil Rock in Washington where Mikey attempted his first lead, a 5.10d. He didn't send.
"I got the rope up it though," he said, a goal that would become a measure of success throughout the rest of his climbing career. The brothers moved on to Spire Rock, a man-made climbing formation 15 miles south of Tacoma. They met partners at the local climbing shop. Mikey survived the trad learning curve and pushed quickly toward bigger walls.
"Our whole scene was a little loose," the laconic Mikey said of his early days. During his spring break in tenth grade, Mikey and his 16-year-old friend Wes took Wes' car and drove from Washington to Yosemite, where the pair attempted Aquarian Wall (VI 5.7 A3) on El Capitan. They brought two Walmart tri-fold lawn chairs to use as a portaledge and hauled their school backpacks. They couldn't afford good equipment, and without a mentor, Mikey had to learn from experience. After climbing the first four pitches, a spring storm washed them off the wall. "We bailed because the weather got bad, not because we didn't know how to get the rope up," he said.
In 1996, a 17-year-old Mikey met Blair Williams, a Washington school teacher, at the climbing gym in Lacy, Washington. "I was 26 and had only been climbing for three years. During that time we both had more naiveté and ambition than experience," said Blair.
Since the pair had similar school schedules with Thanksgiving, Christmas, spring, and summer breaks off, they climbed often together, taking trips to the Valley and climbing their first El Cap route: Tangerine Trip (VI 5.9 A3). They then tackled other wall routes like North America Wall (VI 5.8 A2), Shortest Straw (5.7 A4), and Lost in America (5.10 A4). During winter break Mikey's senior year, they topped out Lost in America during a winter storm, trudging through three feet of snow to reach the East Ledges rappels.
Though Mikey made significant gains early on in the rock climbing department, his climbing studies didn't come without some close calls. As an ill-equipped ice climber, Mikey led a 60-foot pitch of wet ice at Banks Lake in eastern Washington, running out the easy climbing to the anchor. At the top of the route, he wrapped his arm around a nine-foot-tall tree. Though the tree appeared dubious, he held onto it as he leaned back to clip a slung rock horn. The tree ripped out of the ground. Mikey flipped upside down and fell the entire length of the route, hanging right next to his belayer and looking him in the eyes.
"I was kind of scared, but it happened so quickly," said the typically unphased Mikey. "It wasn't too crazy."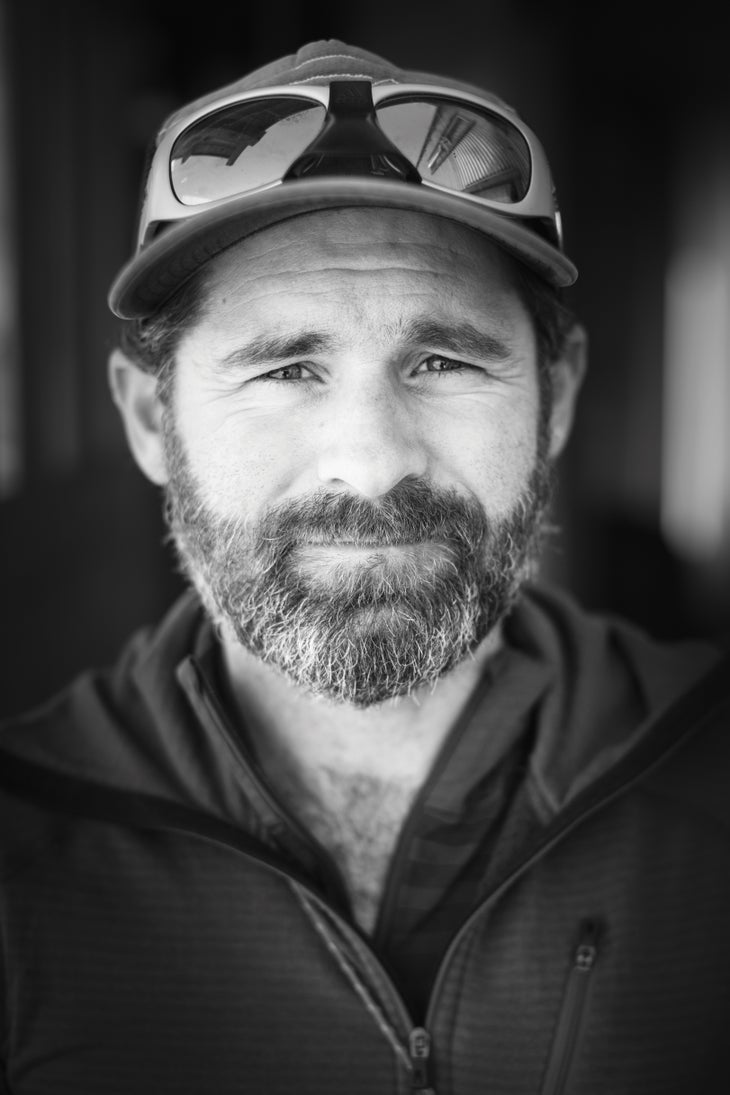 In July 2001, after five years of wall climbing together, Mikey and Blair traveled to the Ruth Gorge in Alaska, spending 12 days establishing Little Big Man (VI 5.10 A3, 4,000 feet) on the south face of Mt. Bradley. Six months later, the pair ventured to Patagonia for the first time where they established Beg, Borrow and Steal, a 1,150-foot 5.10d on the east face of Cerro Pollone.
"I've never been one to tick big-name routes so much. It's more important for me to do a first ascent than to go repeat a route," Mikey said. "I'm not always driven by the grades or out to do the hardest thing. For me, it's about finding something I get to be somewhat creative on."
"Even on those early trips, he always had his camera," Blair said. Despite Blair's insistence that they move light and fast in the alpine, Mikey brought a homemade tripod to Alaska and would stop climbing to take photos.
"I enjoy the technical aspects of it. I enjoy playing with the camera itself as a tool. I grew up reading climbing magazines: Climbing, Rock and Ice, The American Alpine Journal," Mikey said. "I found a lot of inspiration from those photos back in the day. I think now I'm able to provide that for people. They had a big impact on me, and it's nice to do that for other young climbers."
Mikey's accidents and missteps early in his career taught him prudence and safety, attributes that helped him become a guide at the Yosemite Mountaineering School at 21. For six years he guided clients in the Valley and Tuolumne, learning about route finding, moving quickly and safely on moderate terrain, and taking the Advanced Rock Guides Course with the AMGA.
Even though he guided all day, Mikey still climbed after work. In 2005, he established The Night Shift, an 800-foot 5.12+ route on Fairview Dome in Tuolumne, hand-drilling on the route at night after work. During that time, he captured the stars over Fairview, eventually selling it as his first photo to Patagonia. The seasonal, flexible schedule of being a climbing guide afforded Mikey the opportunity to climb and travel. Before van life was a thing, Mikey bought a black 2004 Mercedes Sprinter and built it out with a bed, cabinets, and a vase for flowers. He continued to travel for alpine rock but had mixed success.
In 2006, Mikey, Micah Dash, and Eric DeCaria traveled to Uli Biaho, a 20,000-foot peak in Pakistan's Trango Valley. Outside of Skardu, Mikey picked up a gastrointestinal bug. He contracted bacterial pneumonia, most likely from aspirated vomit, but he continued hiking for three and a half days to Shipton Spire basecamp, gaining elevation. After 36 hours at Shipton, Micah and Eric decided that Mikey needed to be flown out. As the helicopter came into basecamp, Mikey removed his camera and photographed a flower next to his sleeping pad.
"In my photography and in my climbing, I look at variables that need to be solved. I've never felt like an artistic person," Mikey described with his penchant modesty. "To me that's more [like] an engineer; I'm not really creating anything. It already exists. I just have to make all the variables line up the right way."
After Pakistan, he returned to Yosemite and quit his guide job to climb, amassing 30 ascents of El Capitan, including a send of the Freerider (5.12d) and single-day ascents of The West Face of Leaning Tower (5.13a A0) and the Regular Northwest Face of Half Dome (5.12).
In 2008 at the Yosemite Lodge cafeteria, Stonemaster Dean Fidelman introduced Mikey to Jane Sievert, the photo editor at Patagonia. Dean called Mikey a photographer despite Mikey's insistence, "I'm not a photographer. I just own a camera." Jane mentioned that the next Patagonia catalogue would be Yosemite themed. In his typical fashion, he fixated on work, shooting from before sunrise to after sunset. He ran around the Valley for a week, using his experience in the area and his climbing skills to create unique photos. He worked hard and sold three of the images.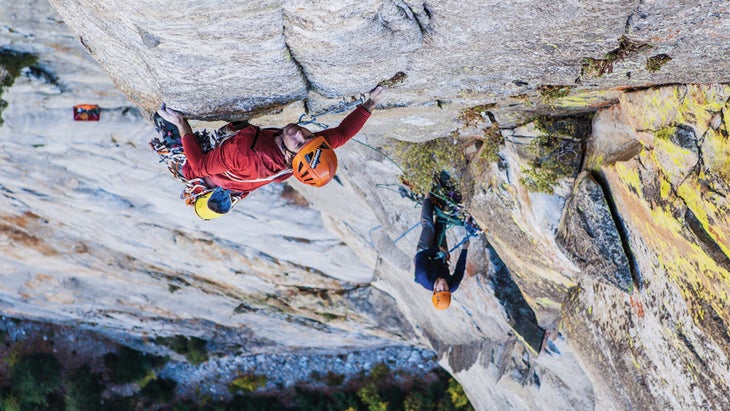 Eventually, Mikey's climbing and photography careers merged into one. He took 10 trips to Patagonia, where he established new routes on all seven of the peaks on the Fitz Roy skyline, documenting his ascents and selling the photos. He eventually became a staff photographer at Patagonia and began working with National Geographic. When the magazine put together a feature on Yosemite climbing, Mikey captured Dean Potter free soloing Heaven (5.12d) at Glacier Point. Mikey's photo made the international cover, one of the most prestigious spots for any photographer. However, the photoshoots were far from casual outings for Mikey.
"I just pulled up the end of the rope, and it was completely cut," Mikey said of a National Geographic photoshoot near the Musandam Peninsula, off the northern coast of Oman in 2014. He had climbed a small peak that jutted from the ocean. "It was rock climbing, but it might as well have been alpine climbing in a way," he says. "If you'd put a glacier around it, it would have been the exact same thing as the other bullshit I've done."
Three-quarters of the way up the peak, while leading the first ascent of a 5.10- pitch, a shoulder-length sling on his harness caught on a small dinner plate of rock and dislodged the small blade. He climbed another 40 or 50 feet, built an anchor, and then pulled up his rope, only to find it had been chopped. "It's one thing to solo when you know you're soloing. It's a little different to not actually be tied in when you're on belay," he says.
In May 2012, Mikey met with alpinists Dylan Johnson and Josh Wharton, and Wharton convinced the other two that the short approach to Greenwood-Locke (V 5.8 A2) on Mt. Temple in the Canadian Rockies would be a good objective.
"Mikey is here to shoot some 'authentic' alpine climbing for Patagonia," wrote Wharton in an article for Gripped. "The north face of Temple is probably a bit of a stretch for a photo-op, but Dylan and I are too selfish to waste good weather on an easier route better suited to posing." Despite being there in spring, the men encountered winter conditions on "the Eiger of North America." Still, Mikey managed to shoot and climb. Wharton wrote, "Lesson number 77: It's possible to actually get real-deal alpine climbing photos, but only with a photographer that is also a badass climber."
In August 2010, Mikey and Colin Haley sat in Seattle, using detailed weather forecasting to attempt a "smash and grab" style ascent in the Stikine Ice Cap region on the British Columbia–Alaska border.
"You never really set up a basecamp, and you don't go up there on a set date. You do your climb, then you come home. Trips are less than a week." said Mikey of the smash and grab style. When the weather cleared outside of Petersburg, Alaska, they booked flights for the next morning and took a helicopter to basecamp below the Devil's Thumb, a prominent peak in the region.
Over three days, the pair ticked The Diablo Traverse (5.10 A2) on the Devil's Thumb Massif, climbing over the summits of the Witches Tit, The Cat Ear and the Devil's Thumb.
"It was a cool line, a cool location," Mikey said of the traverse. "It had mostly good climbing, but there was enough shitty climbing to keep it kind of real."
In February 2016, Mikey, Josh Wharton, and Andrew Rothner made the second free ascent of the Southeast Ridge of Cerro Torre (VI 5.13b), commonly known as the Compressor Route, eschewing the old-school "by any means necessary" ethos. "As it becomes easier just to get to the top of something, you have to add more to it," Mikey said, suggesting that free climbing is the future of alpinism.
A few years ago, Mikey bought a ranch a short bike ride from Smith Rock, Oregon, a big step for the man that claims to never have a plan more than six months in advance. For a few nonconsecutive weeks a year, Mikey stays at home, working on the Spaghetti Western–style ranch and climbing locally. He converted the garage into a studio apartment where he lives, renting out the main house and a small back cabin.
"I assume I'll be climbing my whole life, but I guess even that is not a sure thing anymore," he said. Despite fleeting thoughts of retirement, Mikey recently established the hardest crack at Trout Creek, Shúshaynsh (5.13+). At Smith, he climbed a number of difficult 5.13+ sport routes. One of the few goals Mikey hasn't achieved in his climbing career is to tick 5.14, an objective that would require him to stay out of the mountains, work less, and train more. Crushing that hard seems like a stretch for Mikey, especially with the commitment required. When he does climb 5.14, he can safely quit, but that might take awhile, he said. "It seems like I'll probably climb the rest of my life."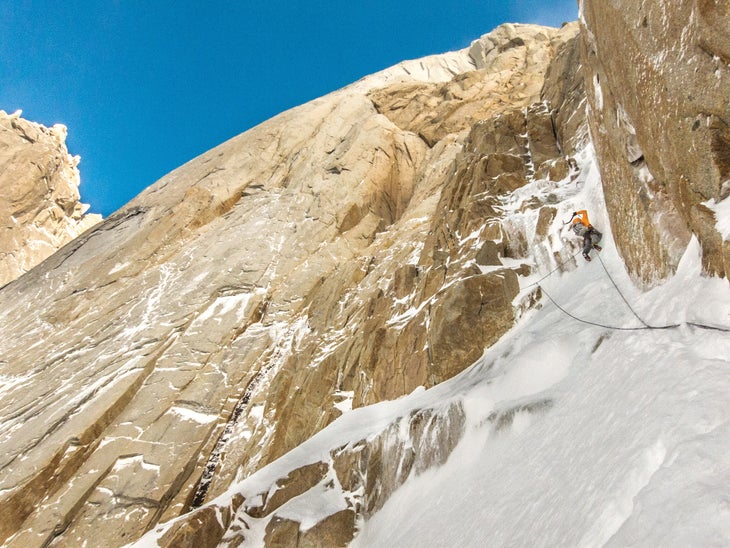 Fitz Roy Massif First Ascents
Hard Sayin' Not Knowin'
(5.10 A2, 550m), Aguja Guillaumet; with Kate Rutherford, January 2009
Jardines Japoneses
(5.10 A1 AI4 M5, 650m), Aguja Mermoz; with Colin Haley and Jens Holsten, December 2010
The Washington Route
(5.10 A1, 500m), Cerro Fitz Roy; with Kate Rutherford, February 2011
Rise of the Machines
(5.11 A2+, 900m [650m new]), Aguja Poincenot; with Jens Holsten and Joel Kauffman, December 2011
Tiempo para la Playa
(5.11- A1, 180m) Aguja Rafael Juárez; with Kate Rutherford, February 2012
Astro Choss
(5.10 A1, 500m), South Face of Aguja St. Exupery; with Kate Rutherford, January 2012
Carne y Papas
(5.12- A0, 300m), South Face of Aguja de l'S; with Josh Huckaby, January 2013