Paul Robinson's Journey to Send 1,000 8a-or-Harder Boulder Problems
Paul Robinson details his 17-year journey to send 1,000 8a-or-harder boulder problems.
---
Join Climbing
Create a personalized feed and bookmark your favorites.
Join Climbing
Create a personalized feed and bookmark your favorites.
Join for free
6,118 days. Could I have done it faster? And really, does it matter?
Our brains are wired to store the information that's important and trash what's not. It is what keeps us sane and yet allows us to recall the distant past. I can still remember my first day climbing at age ten—at a birthday party in a gym in Maple Shade, New Jersey—but I can't recall my schoolteachers' names. Climbing has always been the most important thing in my life. My brain has internalized that, and so here is the story of my quest to send 1,000 boulder problems graded V11 (8A) or harder.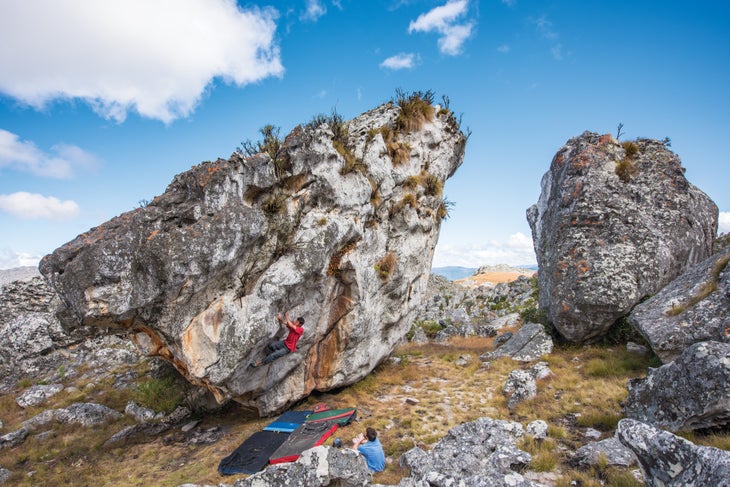 In bouldering, the eighth grade on the French scale, 8A to 8C+, denotes the most difficult problems, a level so uncompromising that usually talent alone won't get you there—you also need to train. 8A is a benchmark grade, one that few of us will ever attain. Still, this quest wasn't just about numbers; it was also about becoming the best climber I could be—and climbing as much as possible. My journey would take me all over the world, from Hueco Tanks to Fontainebleau to Rocklands. And it would encompass countless travel and bouldering partners, one ankle surgery, one knee surgery, and the loss of the person who supported my climbing the most.
The Egg: No. 1
In 2003, at fifteen, I traveled from our home in Moorestown, New Jersey, to Squamish, with my dad, Chip. He was forty-six and the VP of sales for a communications company. Chip was easygoing and likable, and had more energy than any other dad I knew. He'd play baseball with my eleven-year-old brother, Joel, after school and then take me to the climbing gym in the evening. My dad believed in my potential, pushing me to train and taking trips with me all over North America to support my climbing.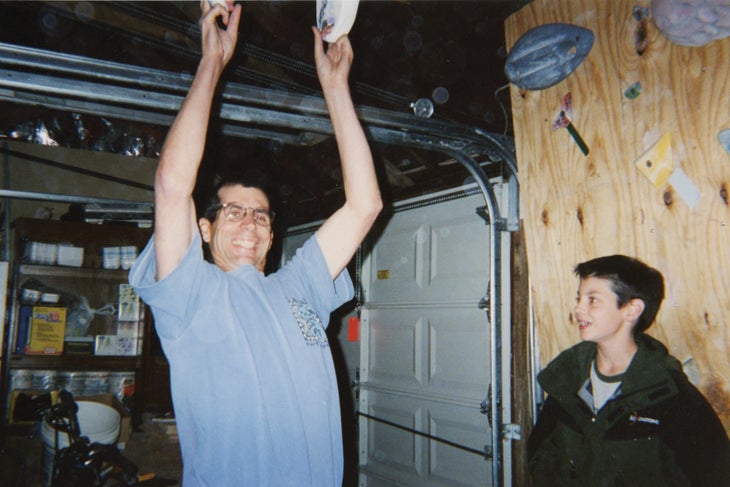 My main goal in Squamish was The Egg (V11), a short compression problem with a hard toss to the lip. In the months prior, I'd obsessively watched the film Rampage, in which Chris Sharma makes the FA. Up until this point, 7C+ (V10) was my limit. As a kid, I cared about the grade, but also about seeing progression.
That afternoon, it was quiet, humid, and gloomy in the dense forest. I brushed the holds, chalked up, and pulled on. Set the right heel, left hand sloper, pull on the heel, right hand sloper around the corner, sit on the heel … and then my heel slipped. No send. As I packed up, my dad put his arm on my shoulder and said, "Great work today, Paul. You've got this thing tomorrow." He always encouraged me, even when I failed—the important thing was that I'd tried my hardest. On every trip, he'd buy Hostess Donettes from a gas station and call them his "send doughnuts," holding off on indulging until I'd ticked my project. The next day, my heel stayed put. I stood up atop The Egg and smiled back down at my dad, who gleamed with excitement. I wondered how far I could go in climbing.
Looking up to heroes like Dave Graham, Chris Sharma, Fred Nicole, and Klem Loskot, I returned home and trained as hard as a kid in New Jersey could with no real direction. My local gym—Vertical Reality, later renamed Elite Climbing—had a small bouldering area and old, slimy holds. My routine was simple: I'd climb as much as I could and do the occasional pushups and sit-ups. Then, if I'd done all the routes, I'd try them blindfolded. Then, if I got bored of that, I'd do them footless.
Eventually, my dad and I built a garage wall. We ordered holds from Pusher and Voodoo so that I'd always have new routes. When I was at school, my dad would use his lunch break to set climbs. I knew nothing of weighted hangs, campusing, etc. We were just making it all up as we went.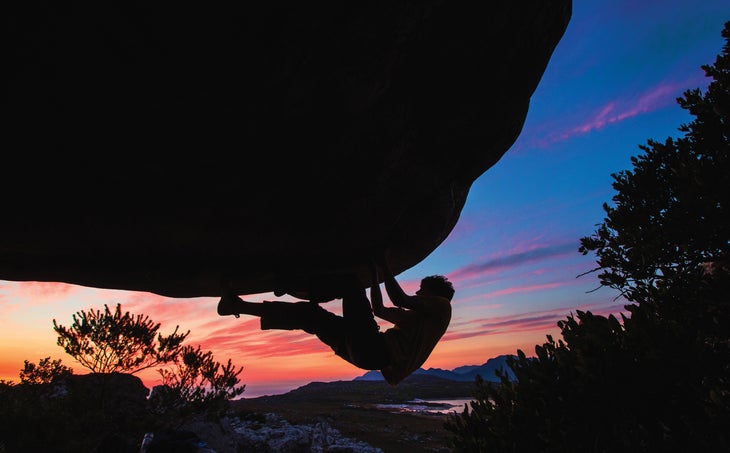 I was a skinny kid, and the only way I could improve was to hone finger strength and technique—if my feet cut, I'd fall. My process was trial-and-error: I'd watch footage of Dave Graham and mimic his technical beta, setting the same improbable movements in the garage. Dave is skinny like me, and the way he climbs—relying on reach, savage finger strength, and acrobatics—inspires me to this day.
Free Hueco
My father and my mother, Michele, always supported whatever Joel and I wanted to do. My mom worked until the day she had me, and then left her job as a research chemist for the Campbell Soup Company to become a stay-at-home mother. I loved the outdoors, and my friends and I spent many days in the stream next to my house, catching frogs, jumping over the water, making dams, and climbing through tunnels. In 1992, the year Joel was born, my father was diagnosed with non-Hodgkins lymphoma. Being so young, I had no way to understand how much darkness his diagnosis would bring.
Throughout my childhood, my father was in and out of remission, going through chemotherapy, surgeries, victories, and then setbacks. We'd watch him go from running six-minute miles to barely being able to walk around the block. When healthy, he'd go with me to the Gunks or Bishop. But when sick, it took everything he had just to drop me off at the gym.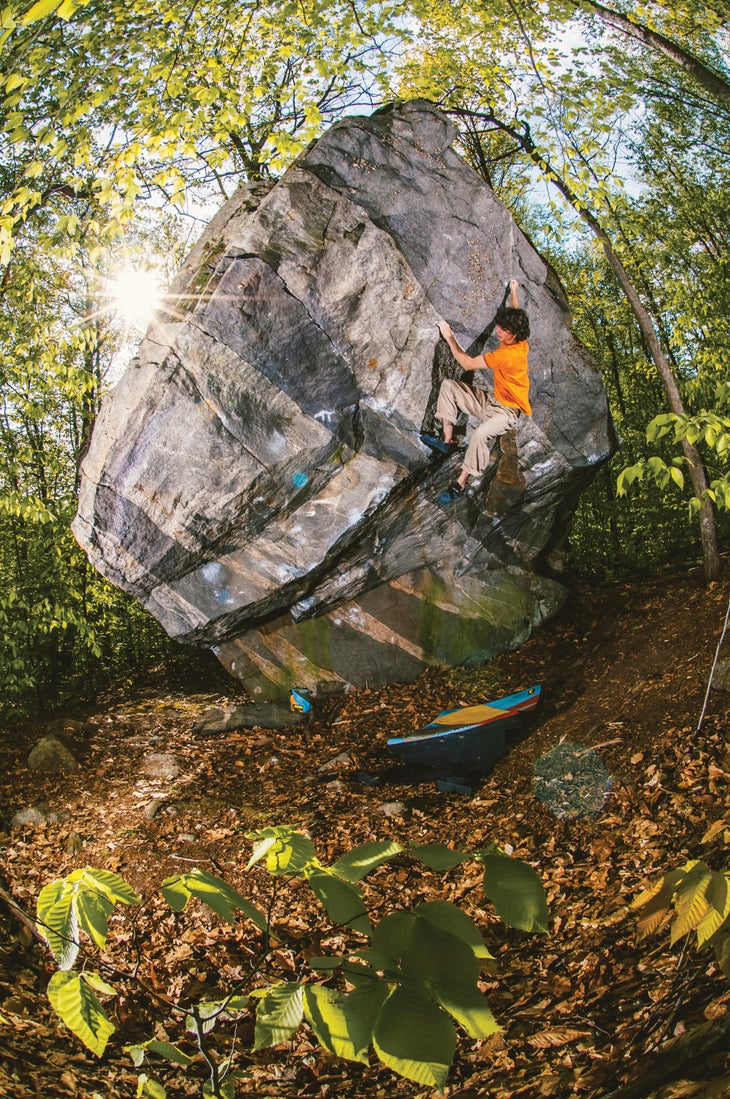 For Christmas 1999, I was given the Josh Lowell film Free Hueco, which featured Chris Sharma raging in Hueco Tanks. Watching Chris's muscular dynamism as he owned the razor crimps on Fred Nicole's V14 Slashface blew me away—I wanted to emulate it. Bouldering quickly became my passion. I loved the freedom, and how its coordinated dance required an equal blend of strength, precision, and technique. I thrived on doing the hardest moves, and on the euphoria I got from sticking sequences that only seconds earlier had seemed impossible.
Jealousy
In summer 2006, just before I started at the University of Colorado Boulder, I had my first brush with the negativity that can permeate the bouldering scene. The Boulder climbing community then was still small, yet the gossip was loud. I was an outsider coming in, and some locals questioned my ascents, though by this time I had met other dedicated young climbers like Daniel Woods and they'd witnessed each send. Moreover, I'd sent benchmarks like Bishop's The Mandala (V12; 2004).
Jealousy is a difficult thing. It transcends all age groups and is inevitable in such a small sport. Back East, everyone had been like family, and we sincerely congratulated each other on our ascents. But Colorado was different, a competitive arena where people might be nice to your face then shit-talk behind your back. I didn't cope with it well, and didn't trust anyone around me. It would take me over a decade before I realized it was all because of jealousy—that most ancient of human emotions.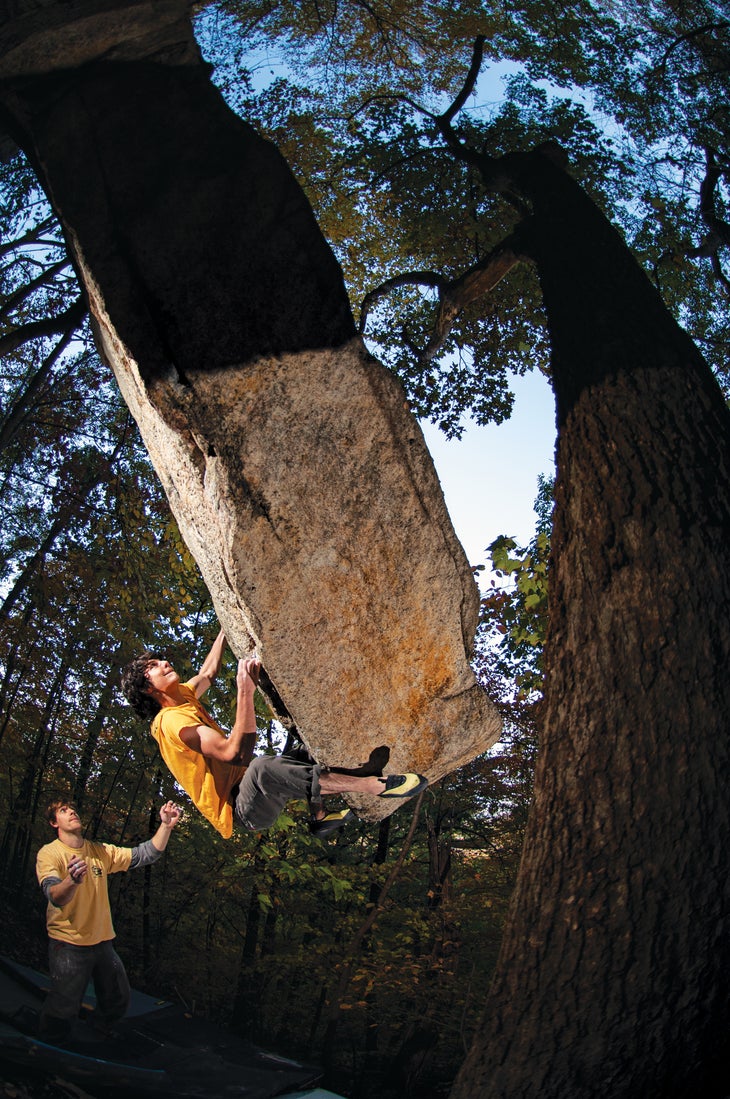 On my nineteenth birthday, my family helped me move into my dorm. As we all stood in the parking lot, my dad gave me a big hug, and I could see that under his sunglasses he was crying. He had undergone years of chemotherapy, radiation treatments, etc., and I had never seen him cry or show fear. Not once. Myself, I was so paralyzed with emotion I could barely speak. I said a quick goodbye and fled to my dorm.
It must have been tough for my father that day. He'd seen me grow from a baby into a college freshman and professional climber. Yet, in retrospect, I believe he was crying because he knew his time with us was limited. His cancer had returned, and my father would be gone within three years.
Don't Get Too Greedy: No. 163
I spent most of summer 2007 climbing in Rocky Mountain National Park (RMNP) and at Mount Evans, Colorado. My dad had planned to come out in early August before I started back up at CU Boulder. He was excited for the trip, but was in deteriorating health and unsure about making it into the alpine. He only had a few days to travel and would have no time to acclimatize.
I told my dad about a line that Daniel Woods, Jon Cardwell, and I had been trying in Upper Chaos Canyon on the famous Green 45 boulder, a house-sized chunk of gneiss with a tilted wall littered with crimps. My father wanted to see me make the first ascent, and said he'd do whatever it took to get up there. As we got out of the car at Bear Lake Parking Lot, my dad seemed fine. But when we hiked, heading from 9,000 feet toward nearly 11,000 feet, he struggled to breathe; his pace slowed and sweat dripped from his forehead. I asked if he wanted to turn around, but my dad said, "No way."
The minutes turned into hours. Above treeline at Lake Haiyaha, I helped him through the talus. What should have been an hour's hike took us more than three hours, yet not once did my father complain or stop smiling. When we reached the wall, he sat down on a slab, exhausted. He'd tried his hardest to get there; now it was my turn to do the same.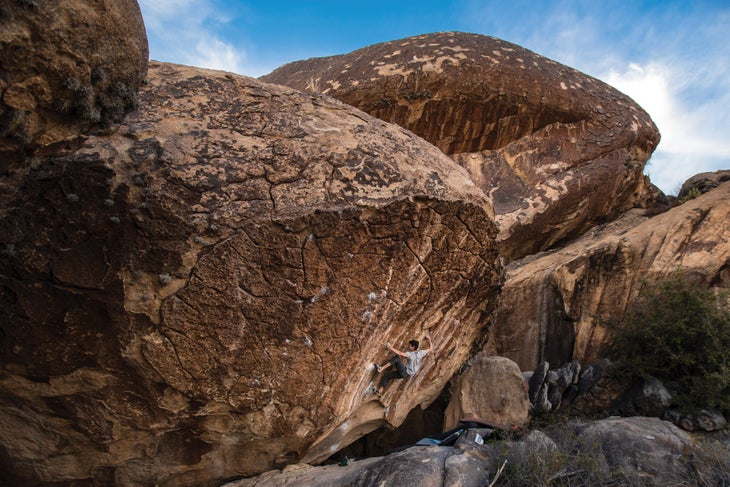 I warmed up on the moves of the project, and then redid the crux, wrestling a tiny three-finger incut crimp and a bad pinch. Rocking over a high, awkward right foot, I deadpointed to a big right-hand pinch. I'd need to climb with perfect form to latch these fussy holds. Between efforts, to calm myself, I closed my eyes and visualized the moves; I put my hands on a cold rock to dry my fingertips. After a goofy fall low down that got me laughing, I felt less locked-up with anxiety. With a smile on my face and my dad behind me, I pulled on and loaded up for the crux throw. The fine-grained gneiss yielded perfect friction as I stuck the pinch, my fingers settling onto it. As I topped out, my dad cheered.
As I got down, my dad was already enjoying his send Donette, and Daniel Woods and crew were rolling up the hill. Thrumming with excitement, my dad yelled across the talus, "Paul did it, guys!" Daniel cheered—sincerely—as he always has. Never was Daniel one to show anything but excitement for those around him, which is why he's one of my oldest climbing partners.
The name I eventually gave the line, Don't Get Too Greedy, was an inside joke: I wanted to have at least one FA on the Green 45, since Daniel had already bagged its king line, Jade (V14), that June.
Injury and Goodbyes
After my twenty-first birthday, in September 2008, I flew to Switzerland with Garrett Koeppicus and Ryan Sewell. One line I had my eyes on was The Never Ending Story, a 20-plus-move V14 at Magic Wood. On October 12, I gave the full line a try. I made it through the crux and out of the overhang onto the large, sloping rail. With just one more ~V1 move to the finish, I felt my right foot slip—and was airborne.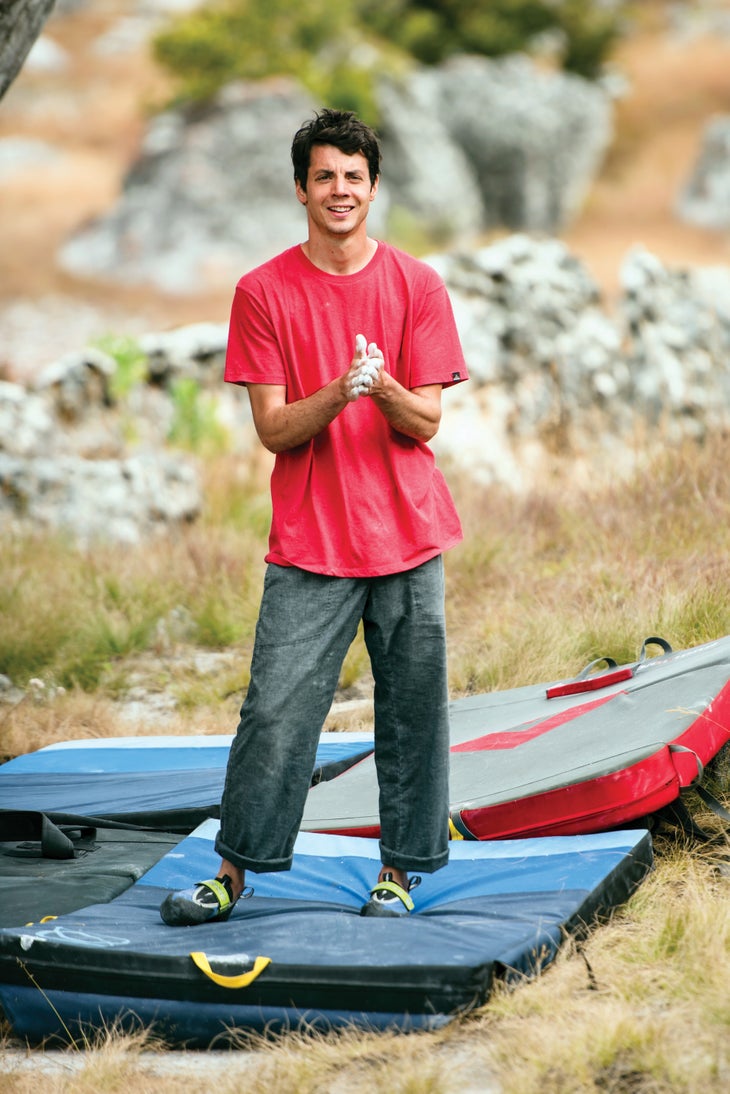 As I tried to stand, my left ankle collapsed. (As I'd learn at the hospital, I'd torn ligaments.) My friends packed up, and a German climber whose name I never got piggybacked me the quarter-mile down the mossy trail and over the bridge to the car. At the hospital, I was ushered into surgery, and within five days I arrived back in New Jersey to convalesce.
My dad was starting another round of treatment. This time, though, was different. Most days he was unable to get off the couch or even eat. Stoic to a fault, he didn't complain, so I didn't either—what I was going through was nothing in comparison. When my father felt well enough, we'd sit in the living room and chat about my adventures, him telling me how proud he was. On good days, we'd get out of the house, me gimping along on crutches, him shuffling along the sidewalk.
By June 2009, my ankle had mended and I was in Colorado prepping for the Vail World Cup. With school out, I came home to see my family. My dad had been in and out of the hospital, and was often in pain so deep he could barely speak. When I visited him in the hospital, he'd say, "I'm fine," and that I needed to focus on training, that he wanted me to compete.
His hospital was in Philadelphia, en route from our family home to the airport. On the day of my flight back to Colorado, my mom and I stopped by. We could see how my father's pain was visible in some new, all-too-tangible way. Through clenched teeth and closed eyes, he lay there, doing his best to communicate in a strained voice. I stayed with him for some time, just he and I in his hospital room. When I was about to leave, I put my hand on his shoulder. My father slowly settled his hand on mine, pressed it gently, and told me he'd love me forever.
Back in Colorado, when I phoned home between rounds at Vail, my mom said that Dad wasn't feeling well enough to speak. Unfocused, anxious, and feeling guilty for not being there, I took seventh in semi-finals—one spot out of finals. The second I finished competing, my girlfriend, Alex Kahn, handed me my phone and I called my dad. My mom picked up and, with a wavering voice, said, "Paul, come home immediately."
The next morning, as I drove us up the long rise onto Davidson Mesa, leaving Boulder Valley for the airport and cresting into the bright summer sun, my phone rang. My mom was calling. A horrible feeling rose inside me. I picked up, and she told me that my dad had just passed away. No breakup, no hardship has brought the gut punch of that moment, and the following years of my life were ones of extreme pain, filled with a sense of terrifying aloneness. I would cry; I would look at my father's contact in my cell phone and dream of calling him. It was so hard to accept that he was never coming back. He was only fifty-three.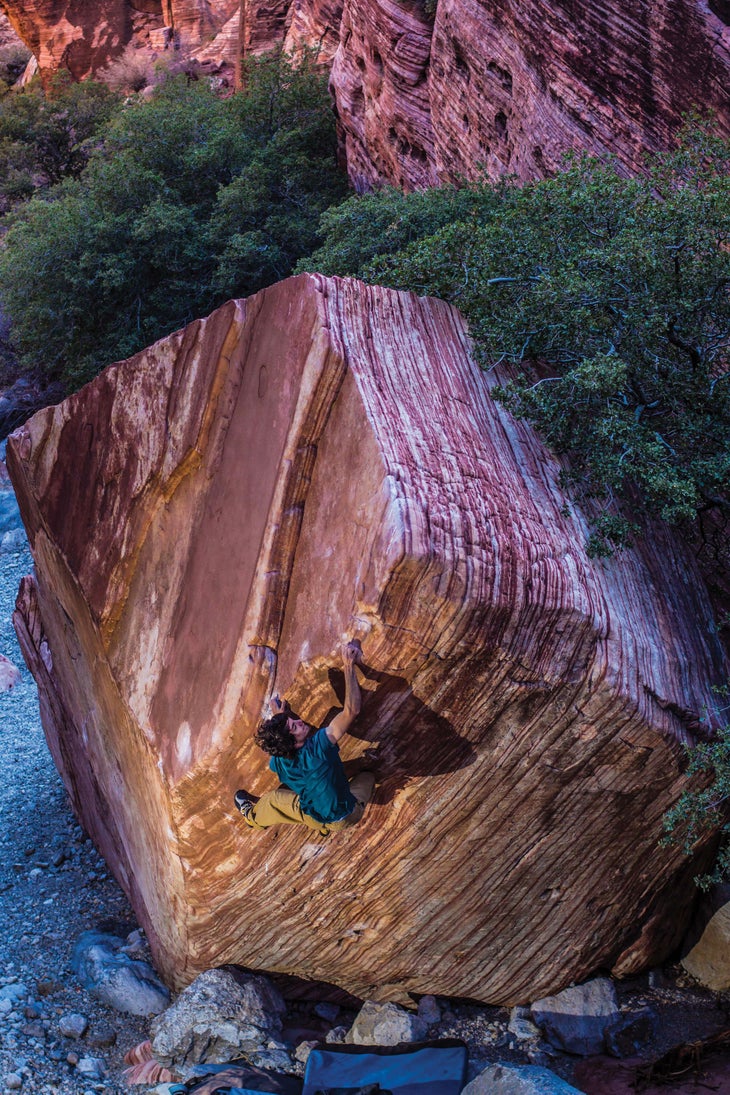 Through it all, I've kept climbing—it's what my father would have wanted. And I've taken to bringing one of his favorite T-shirts—a bleach-stained, neon-green one—as a good-luck talisman on my travels. I even wore it for the second ascent, in August 2010, of the Rocklands V15 Monkey Wedding. It was the final day of a two-month trip, and I needed a boost. In the years since, I have considered wearing the shirt again but never felt the time was right. Its powers are too special to waste on any old boulder.
Lucid Dreaming: No. 317
During spring break in 2010, I planned a trip to Bishop to try the elusive and undone sit-start to Rastaman Vibrations, a V12 established in 2002 on Grandpa Peabody by Jared Roth. In 2009, on a trip there with my dad, I'd gotten close to linking the two crux moves, a dynamic latch to a patina pinch followed by a wild jump for a four-finger incut.
That year, I was being filmed by Big Up Productions for Progression. Film crew on hand, I began trying the bloc in the evening, but soon realized that morning's cooler air and higher humidity made the glassy pinch more hangable—much like wood holds are better with sweaty tips. My friend Matty Hong was there and so was Wills Young, a Bishop local. They accompanied me each day, Matty to try the line and Wills to shoot photos.
After a week, I was nearly sticking the jump-and-swing every time. My spring break was almost over, but I decided to stay. However, the Big Up crew was out of time: "We have to get back to our wives," they said, but they'd leave a camera so I could film myself. I didn't understand: How could they just pack up and leave when I was millimeters away from sending one of the world's hardest boulders?
Ten days into my trip, I returned to my hotel room in Bishop after a rest-day drive to Las Vegas to put Alex on a flight back to Colorado for school. That night, I had a vivid dream: I was back in New Jersey climbing on my garage wall. Every hold I grabbed was a pinch like the crux hold on my project. I moved easily from one pinch to the next as my dad spectated from his chair. I rarely recall my dreams, but this one stuck with me.
The next morning, I tried contacting Wills and Matty but didn't hear back, so I drove up solo, parked on Buttermilk Road, and shuttled my pads. I warmed up on the V4 around the corner. Humidity was high and the glassy patina felt grippy. I gingerly played on the project. Soon, dark-gray clouds moved in, roiling over the Eastern Sierra—it was only a matter of time before the storm engulfed the Buttermilks. I started giving a few real efforts, each try nearly sticking the crux. I took a final rest, re-tied my shoes, chalked up, sat on the pads, and pulled on.
This time, I held the crux swing, reeling my feet back in and pasting them onto the footholds below, briefly relaxing my core with a loud exhalation. A wave of adrenaline hit—This is actually happening—but I needed to keep it together. I pulled the moderate moves over the lip and stared up at the massive headwall, alone, the ground 20 feet below. I climbed on toward the technical slab, ~V4 crux at around thirty-five feet. As droplets of rain hit my arms, I tiptoed to a scooped-out, no-hands rest.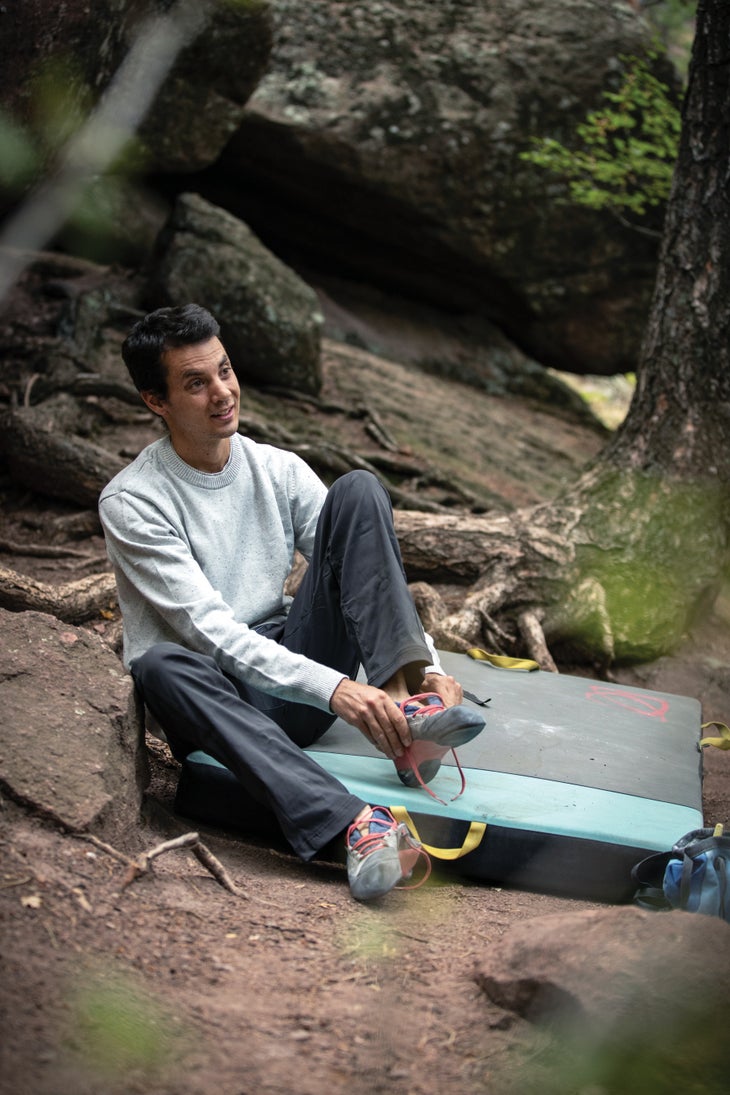 Above, a final weird highstep onto a tiny smear guarded the exit. As I surveyed this key foothold, a droplet of rain hit right above it, splashing it. I rubbed my thumb on the footer to dry it. Trusting that my shoe would bond, I pressed up on the foot. It stuck, and I scampered up the final, easier slab. Only when I was safely back on the ground, having pulled up my harness and rapped from the summit, did my success sink in. At the base, I rooted through my pack to find a smushed bag of Hostess Donettes, eating a "send doughnut" in memory of my father.
In 2010, bouldering was a different thing—it was the era before "uncut footage." Why I didn't set up the Big Up camera has a few layers to it. One, I barely knew how to use a professional DSLR. Two, the impending rain made me wary of wasting precious time. And three, I didn't care about filming it—I just wanted to climb the boulder. However, because I didn't turn a camera on—and perhaps also because I graded the problem V16, one of the first proposed in the world—rumors still swirl that I didn't climb Lucid Dreaming. I've even lost friends over this hateful gossip.
Pirate's Code: No. 915
The bitter aftertaste of Lucid Dreaming sent me on a path to find areas far from the limelight like the wilderness of the Cederberg mountains in South Africa. On my fifth trip there, in 2014, I revisited a zone I'd spent two days at in 2012—jumbles of amazing orange and tan boulders deep in the range. In 2014, I found the magnificent "Pirate Ship Project." The line is surrounded by protea and cedar trees, rising twenty feet above the dirt thirty-plus minutes from the road. Just being in that remote setting, even when I saw no progress, was otherworldly.
After figuring out a sequence in 2017, I sent the line from a high start and worked out nearly all the moves for the full line. I returned again in 2018, having prepared with a savage regimen of MoonBoarding, weighted hangs, pull-ups, and core exercises.
After a few stormy days that trapped us at our rental farmhouse, my friend Fernando Jimenez and I hiked up to the boulder—the rock was dry! As we warmed up, I marveled at the perfect friction and how loose and light my muscles felt. I asked Fernando for a spot, chalked my hands, and began climbing. Like out of a dream, I kept sticking every hold perfectly right to and through the crux, a heinous reach to a quarter-pad gaston. I moved my feet and stabbed for a slot before the crimpy V8 exit. As the power drained from my forearms, my fingers lodged in the slot.
I composed myself and topped out. As I stood on top of the boulder in shock, numb, towering over the shrubby trees, Fernando had to holler up, "You did it!" multiple times before I could even hear him. Feeling slowly returned in the form of burning fingertips and throbbing muscles. I took a seat, going inward to "talk" to my dad. As golden-hour light infused the primordial landscape, I told him how much I missed him.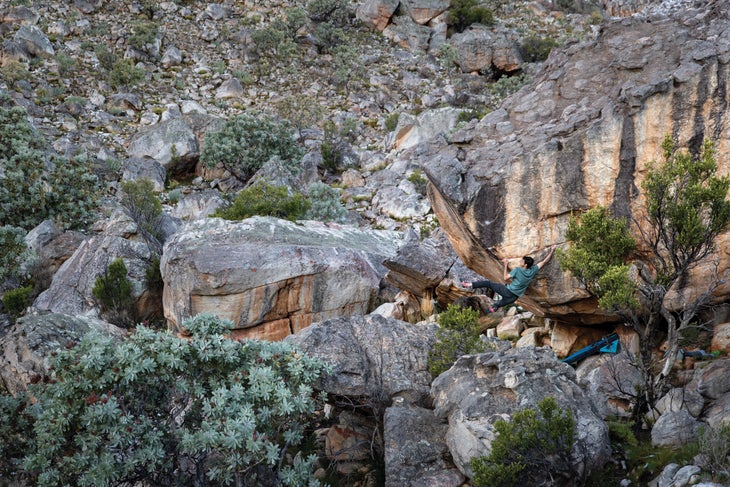 Get Laid: No. 1,000
On May 13, 2020, I topped out problem number 1,000, Get Laid (V13) at the Scoop area in Coal Creek Canyon, Colorado. With only a few climbs left, it had felt like my goal could happen any day. My girlfriend, Lizzy Ellison, and I had built a backyard wall during the beginning of COVID, which allowed us to stay strong. Eventually, as COVID restrictions lifted, we headed back up to the Scoop. The boulder has been developed extensively, with myriad V11-and-harder lines in the classic Colorado style of link-up "grid bouldering." It almost felt like an extension of our training, yet we were outside enjoying the cool spring air. I managed to send some of the hard lines relatively quickly, and started to make my way across the wall, trying to tick them all. We'd go in the mornings, when temps were cool and we had the boulder to ourselves. It was on Lizzy's birthday, after watching Alex Puccio send Get Laid, the low start to a V11 called Daiabolic, that I put my thousandth problem down.
As I topped out, I expected something different. I had thought about what it would feel like for years: Would I cry? Yell out in excitement? I imagined a great sense of accomplishment, upon completing a feat that potentially no human had ever done. But I just sat in silence as a breeze off the Continental Divide sighed through the ponderosas.
Occasionally, people ask what it felt like to send such-and-such a problem, and I usually have a flip response. But, in reality, any successes represent the crystallization of days, weeks, or even years of pain and effort—the part of the story nobody wants to hear. It takes hard work to climb hard, stay in top condition, ward off injury, and maintain psych. I think back on the 1,000 V11s and harder—most are a blur. The most vivid memories are of the time I spent with friends, family, and in particular my father, who always urged me to try my hardest.
Though I have countless fond memories of my dad, one I return to often is from an autumn weekend at the Gunks in the early 2000s. As the sun set over the conglomerate ridgeline that Saturday evening, my dad and I packed up our pads, a brisk wind seeping through our jackets. The Carriage Road was empty, and the only sound was the whispering of the dry leaves in the trees. My dad smiled at me and handed me a "send doughnut" as he started to eat one of his own. We walked down the Carriage Road, and my father took my hand.
Top 10 Hardest FAs (By Date) During the V11 Project
Lucid Dreaming (V15), Bishop, California; 3/10
Ill Trill (V14/15), Magic Wood, Switzerland; 10/10
Mirta (V14), Cape Town, South Africa; 7/11
Meadowlark Lemon (V15), Red Rock, Nevada; 1/12
The New Chapter (V15), Ozark Mountains, Arkansas; 3/13
Trieste (V14), Red Rock, Nevada; 1/14
In the Depths of Solitude (V14/15), Three Corners, South Africa; 7/14
The Dragon's Guardian (V14/15), Three Corners, South Africa; 7/16
The Pirate's Code (V15), Three Corners, South Africa; 7/18
Karoshi (V15), Hueco Tanks, Texas; 12/18
Top 10 Hardest Flashes During the V11 Project
Nagual (V13), Hueco Tanks, Texas
Teahupoo (V12), Black Mountain, California
Africa Bambaataa (V12), Elk Land, Colorado
Fire in the Mountain (V12), Rocktown, Georgia
Jack's Broken Heart (V12), Magic Wood, Switzerland
Oral Office (V12), Rocklands, South Africa
Trent's Mom (V10), Joe's Valley, Utah (first and only flash?)
Candyland (V12), RMNP, Colorado
Turbulence (V12), Leavenworth, Washington
Roobiks Cube (V12), Grampians, Australia
Paul Robinson is a professional boulderer and former USA bouldering national champion and World Cup podium finisher. Currently based in the Front Range of Colorado, he has been climbing since age ten.