Nathaniel Coleman: Rising Comp Star
Heading out the door? Read this article on the new Outside+ app available now on iOS devices for members! Download the app.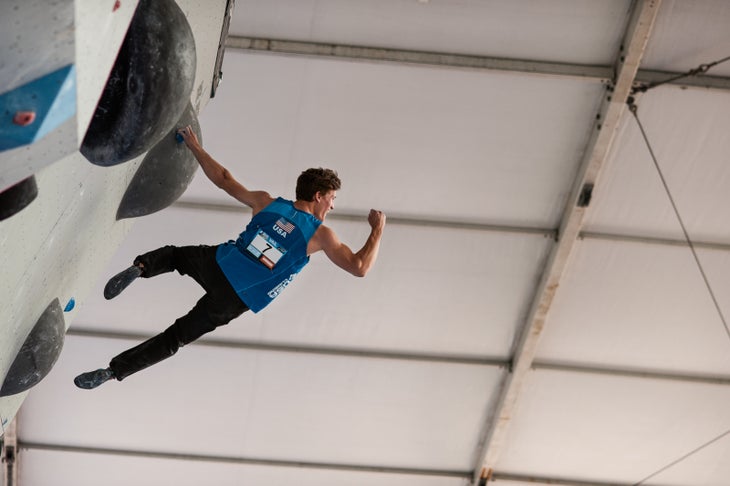 In 2012, 2014, 2015 and 2016 Nathaniel Coleman took home gold medals from the USA Climbing Youth Bouldering Nationals. 2015 saw him finish fourth overall in the IFSC Bouldering World Cup and take first at USA Climbing's 2015 Youth Sport Nationals. In 2016 he won the Bouldering Open National Championships. This past weekend, he won Open Nationals again. A decade ago, Coleman remembers walking into the Momentum Gym in Sandy, Utah at 9-years-old.
I'll never be able to climb any of those routes, he thought of the intimidating and seemingly endless 45° lead wall.
Climbing was difficult at first. Coleman didn't didn't own a pair of climbing shoes. Instead he wore street shoes. He was one of the worst climbers on the gym's team. His friends motivated him to keep trying, and eventual successes spurred him on to improve more. Over time, his strength, determination, and natural ability not only got Coleman up the routes that seemed so impossible, but also put him on the podium at local, regional, and national competitions throughout his youth competition climbing years. Momentum coach Kyle O'Meara says that working with Coleman was a unique opportunity to get inside the head of a world-class athlete. Ever humble, Coleman is quick to express his gratitude to his parents, Momentum, and his sponsors Prana, Five Ten and Petzl, saying that without their support he wouldn't have had the opportunities that he's had.
Coleman had been a full-time college student studying computer science at the University of Utah until recently. He found that balancing school and climbing wasn't easy. He's taking this semester off to re-evaluate his goals and to focus on the sport after struggling with the transition out of youth competitions. This was his first year since aging out of the category.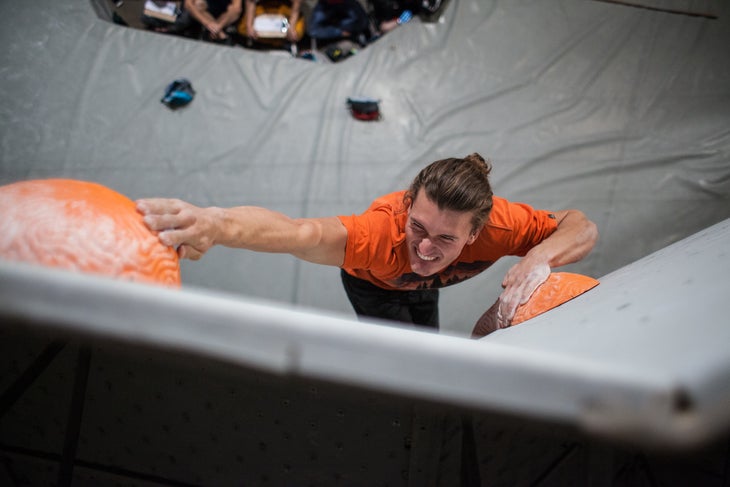 Coleman says that it was initially difficult to stay motivated to train without the Momentum team, but he still goes to the gym four days a week and tries to climb outside once a week. Coleman feels that training on his own has set him back. The "setback" may not be visible to anyone but himself: Coleman placed 2nd at the 2016 Psicobloc Masters competition above some of the biggest names in our sport, and 2nd at the inaugural International Federation of Sport Climbing World University Championships in Shanghai, China. He also won Bouldering Nationals the past two years, winning this year's comp in front of his hometown crowd in Salt Lake City.
"The local crowd was incredible; as soon as I stepped on the pad they showed their support," he said. "It was a big factor in keeping me psyched during the competition. I believe I climbed the best I have ever climbed during the USA Climbing Bouldering Open National finals this weekend."
Though he continues to place strong in competitions, Coleman tries not to think of himself as a pro climber. He wants to be a normal guy who happens to be good at climbing. "If you see me and you know who I am, approach me, say 'Hi,' it always makes my day," he says. When he has down time, Nathaniel spends time with his friends, plays on his phone, and listens to John Mayer, his all-time favorite musician. Known for his changing hairstyles, Coleman laughs when asked about his current man bun and says, "Yeah, I like my hair to look good, it's really long now, and I'll probably cut it soon."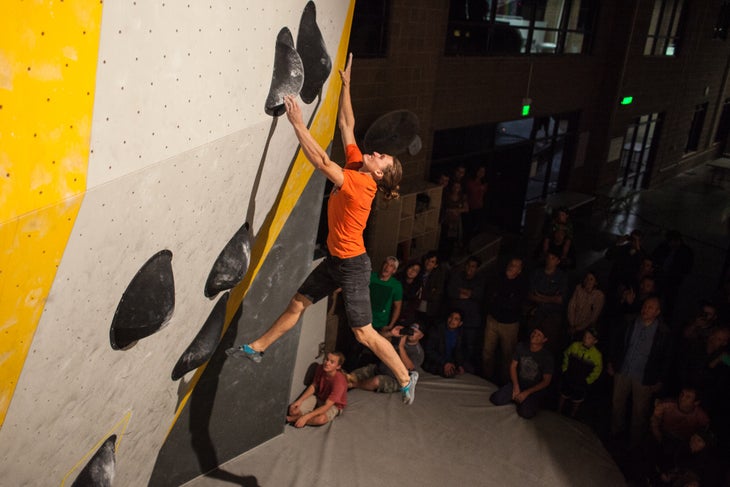 Coleman is currently working to bring his outdoor climbing up to the level of his indoor climbing. Over Christmas, a quick trip to Red Rock saw him send several V11 and V12 problems. Coleman feels that indoor climbing doesn't teach you some of the intricacies needed to climb well outside, like how to stand on bad feet and how to utilize your fingers if they aren't in a perfect line. A partial A4 pulley tear at Moe's Valley after New Years sidelined his plan, and threw him into rest and recovery mode. 
"My dad was more worried about the injury than I was," he said. "I practiced with tape and had confidence in my physical therapists. I wouldn't have been able to hit my peak performance without them."
His outdoor goals don't diminish his indoor aspirations. He plans to keep competing and hopes to reach the top of world competition climbing in the future. It's finding time to climb outside that's a challenge for Coleman. In order to make good use of his scant time, he's working through a tick list of routes and problems. A Salt Lake local, he boulders frequently in Little Cottonwood and Joe's Valley. He expresses frustration at the common misconceptions of indoor climbers. He wants people to know that while indoor and outdoor climbing are completely different activities, they share many of the the same processes, "You've got to read the route, figure out the beta, focus, and execute the movement. Gyms make opportunities available." Climbing remains the priority, but Coleman is working towards becoming a more well-rounded athlete and having fun in the process. He's currently learning to balance on a slackline, juggle, and do handstands.
Having proven himself in the competition circuit, some have looked to Coleman as an Olympic prospect. He, like much of the climbing community, isn't thrilled about the format, but says he's going to try his best to compete. As a strong athlete who excels at adapting to the new styles of movements—low percentage, weird, balancy—we are seeing in competition, combined with his knack for reading beta and attacking a problem, Coleman could have what it takes to compete for gold in the 2020 Tokyo games.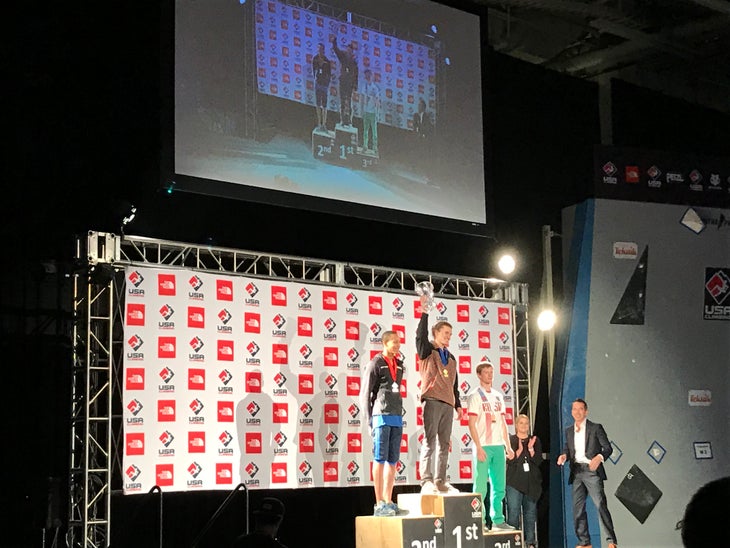 "He has the ability to turn it on and try his best, better than anyone I've ever seen," Momentum Team coach Kyle O'Meara says. "It's not only that he can perform at an outstanding level…it's his confidence and mental game that set him apart."
While Coleman isn't specifically training for the Olympics, he says it's definitely on his mind. He wasn't sure that the timing would work out for him to compete at his prime, but says, "It's a good opportunity for me. Other climbers who may be more specialized in bouldering or sport, it might be harder for them to adapt, but we should all try our best. That the sport I love—that we all love—is now an Olympic Sport, how cool is that?"