New Climbing Format Proposed for 2024 Paris Olympics Separates Speed Climbing
Heading out the door? Read this article on the new Outside+ app available now on iOS devices for members! Download the app.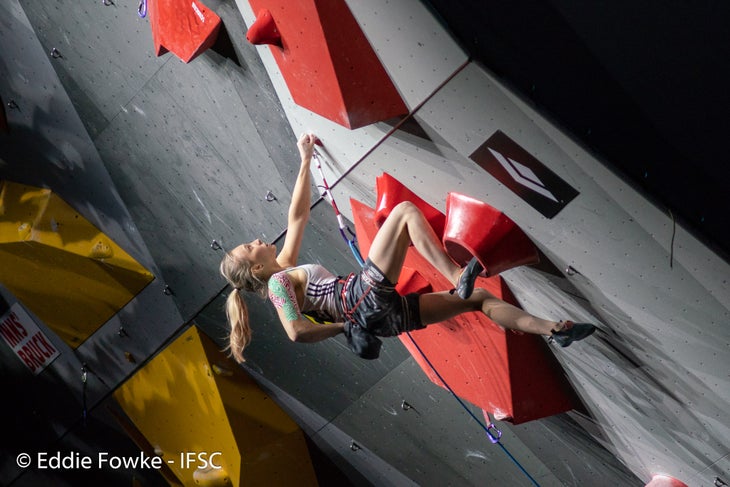 On February 21st, at a press conference held in Paris, France, the Paris Organizing Committee of Olympic and Paralympic Games confirmed a proposal to include Sport Climbing in the Paris 2024 Summer Olympics. If the proposal is approved, it will be the second consecutive Olympics in which Sport Climbing is a featured event, after the anticipated Tokyo 2020 Summer Olympics. It must go through two rounds of voting by the International Olympic Committee, once on March 26th-28th and again on June 24th, to be confirmed for the games.
The biggest change from the 2020 Tokyo Olympic format is that it separates climbing into two events: speed climbing and lead climbing/bouldering. In the upcoming 2020 Olympics, athletes must participate in all three disciplines—speed, lead, and bouldering—a combination of climbing subcategories that sparked criticism from athletes and fans. The 2020 format is a compromise. The IFSC was only granted one medal per gender, and they decided on a combined format to avoid excluding athletes in any discipline. The result is that many bouldering and lead specialists that previously ignored speed are now training the discipline, and that speed specialists are also branching out from their event. The separation of these events in the 2024 Olympics will allow athletes to focus on their preferred discipline.
The new proposal also seeks to expand the Sport Climbing event from 40 athletes in the 2020 Olympics to 72 athletes in the 2024. If approved, 16 women and 16 men will compete for 6 medals in the speed climbing event (one gold, one silver, and one bronze per gender), and 20 women and 20 men will compete for 6 medals in the lead climbing/bouldering event.
IFSC Athletes' Commission chair Sean McColl posted on Instagram: "Lots of discussion is sure to follow but I'm super happy we are still growing within the Olympic movement with more medals as well as athletes. With Speed being separated from the other two, the specialists in that discipline are sure to flourish."
https://www.instagram.com/p/BuJEUNBHeyB/
The International Federation of Sport Climbing (IFSC) president, Marco Scolaris, wrote in a statement: "It is again a great day: our climb goes on, and new challenges are taking shape beyond Tokyo. We are happy to see that Paris 2024 is supporting the new wave, which is strengthening the Olympic movement. We are grateful for the proposal's recognition of the value of Sport Climbing and the work the IFSC has done. We are proud to be a part of this process and we look forward to the next steps in the following months…The planned expansions for 2024 would create the opportunity for more sport climbing countries and athletes to express their talents on the Olympic stage."
Related: