New Directions: The Brette Harrington Profile
Breakout climber Brette Harrington gained notoriety with a 5.11 free solo in Patagonia, but this young phenom can't be pigeonholed
Heading out the door? Read this article on the new Outside+ app available now on iOS devices for members! Download the app.
For more on Brette Harrington, check out the short film "Brette" in Reel Rock 11. "Brette" follows rising talent Brette Harrington on a global journey from her hometown granite in Squamish to the big wall proving ground of Yosemite's El Capitan and onto a landmark free solo in Patagonia. Find a showing near you.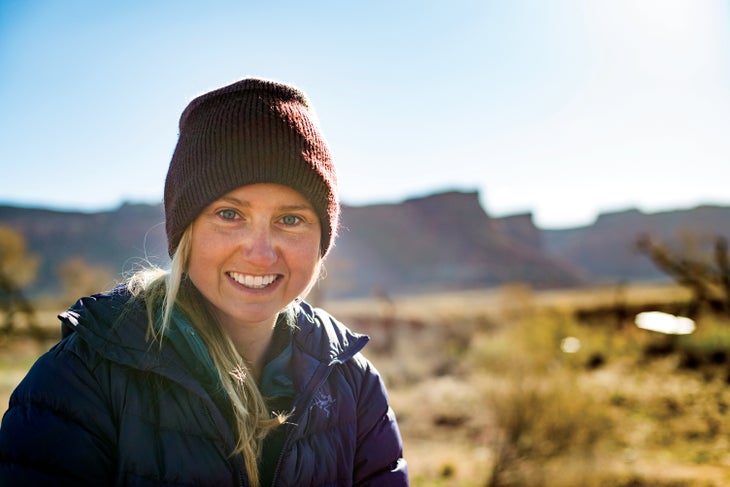 In early 2015, the image of a relatively unknown 23-year-old climber smiling and giving a thumbs-up on a snow-capped granite rib in Patagonia's Fitz Roy massif dominated many climbers' social media feeds. In three hours, Tahoe, California local Brette Harrington had made the first free solo of the 2,500-foot Chiaro di Luna (5.11a). Almost overnight she became a household name as one of the few female soloists, but there was a catch—Harrington doesn't consider herself a soloist. With a diverse resume including 5.13+ trad sends, big walls, and years of competitive skiing, this all-around mountain athlete defies all labels.
At two years old, Harrington's parents, both lifelong skiers in Lake Tahoe, strapped skis to her feet. By five she was slalom racing. Ten years later, she was still racing, having picked up the discipline, technical skills, and fundamentals of navigating in the outdoors that were necessary to succeed in her sport. Although her ski training was demanding and regimented, it also provided freedom.
"There were times when I would show up for practice late and I was sent off to find my ski team on a run far on the other side of the mountain," said Harrington. "As a young kid, this was possibly my first taste of freedom. The coaches trusted me to venture off by myself and use my knowledge of the mountain to find my way."
Hours spent during and after ski practice in the Sierra Nevada peaks near her childhood home laid a strong foundation of outdoor skill, and after 11 years of slalom racing, at 16, Harrington wanted a bigger challenge. She switched to slopestyle, a form of downhill skiing that included rails, jumps, and other terrain features. Yet another layer of mountain experience came with Harrington's move to New Hampshire to attend the Holderness School, a boarding school near the White Mountains.
"We love the outdoors here and believe that athletics are a foundation for great health, so you'll participate in three sports a year," the Holderness website reads. "We offer unique sports like rock climbing and mountain biking, as well as traditional school sports like football, lacrosse, ice hockey, and soccer. Half of our students are alpine, nordic, and freeski snow sports athletes, and many of them are ranked at the national or international level."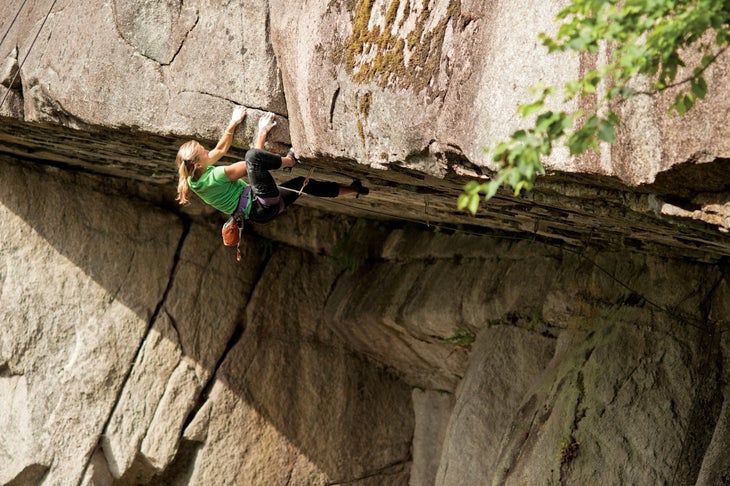 A curiosity about rock climbing caused Harrington to join the climbing club, and the proximity to Rumney, Cathedral Ledge, and White Horse Ledge provided her access to sport, trad, and multi-pitch routes.
"We didn't compete," she said of her time in the Holderness climbing club. "I didn't even know there was such a thing as a climbing competition. In this way, climbing was something very personal; we all joined the team because we found something intrinsically special about it." Throughout high school, Harrington competed in slopestyle skiing, but climbing provided a more relaxed way for her to spend time outdoors.
Inspired by the great peaks of Canada, Harrington attended the University of British Columbia in Vancouver, where she continued skiing and focused her academic studies on Spanish. Located an hour north of her university, Squamish became her new granite training ground as she learned how to climb on the Chief's technical trad lines with their signature bouldery cruxes. By age 20, Harrington had stopped skiing slopestyle after multiple injuries, including a broken neck and multiple concussions. With this newfound free time, she began exploring the backcountry by ski touring and climbing.
As a teenager cruising moderates in the Northeast, Harrington was focused more on the experience of being outside and exploring, but upon her arrival in the Northwest, she learned about the more ambitious side of climbing. She began trying routes at her physical limit, eventually redpointing the difficult stemming corner The Shadow (5.13a) and the five-pitch The Edge of Pan (5.13b) on Squamish's Pan Wall. After years of working through the grades in Squamish and back in Tahoe during visits home, projecting hard routes expanded her perspective of what climbing could be, while at the same time making her an ultra-solid traditional climber.
In the summer and fall of 2015, she brought her hard-working approach and endless psych back to California where she made a rare ascent of the iconic trad route Grand Illusion (5.13b/c), an impressive team free ascent of the Incredible Hulk's Solar Flare (V 5.12d) with boyfriend Marc-Andre Leclerc, and a near-free ascent of El Capitan's Muir Wall (VI 5.13c) with Leclerc and Alan Carne. While ambition and a deep love for the outdoors are major influences for her climbing, Harrington admitted that Leclerc has also had a major impact.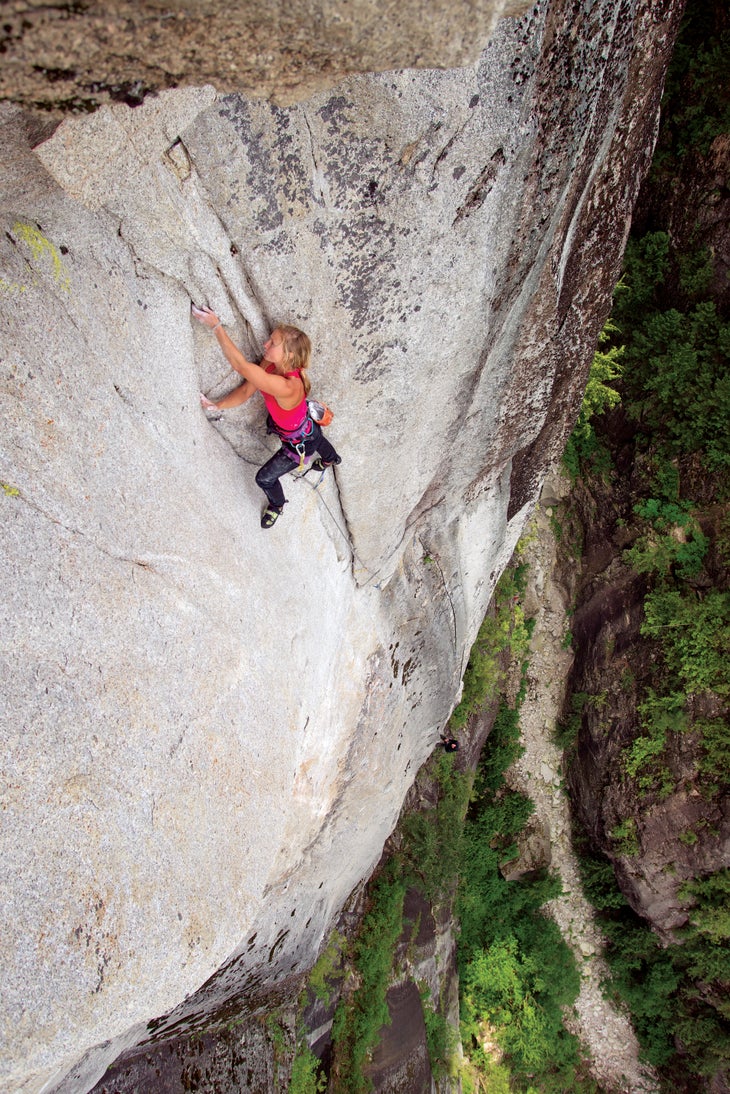 "He's opened my eyes to new styles of climbing I never thought I would be interested in," Harrington said, "specifically winter climbing." She dabbled in the alpine terrain of British Columbia, learning to move quickly and safely over moderate terrain with Leclerc, and together the pair free soloed routes like the Northeast Buttress on Mount Slesse (V 5.9). "Marc was also the person who introduced me to free soloing. He has an incredibly rational mind and is precisely aware of his physical ability, which is why he can carry on climbing what most people would consider 'risky climbs.'"
From her youth spent skiing, Harrington has always felt comfortable being alone in the mountains, and soloing has become another way for her to have a profound interaction with the elements.
"I'm generally a pretty relaxed person. I love adventure, which is where I find my energy. I spend most of my time outside; I think better [there], and I love to be alone," said Harrington. "I work best solo, which is possibly why climbing is so suited for me—even when climbing with a partner, the actual movements and decision making in the moment are individual."
Soloing also engages her mind, forcing her to rise to the challenge of staying calm and in control on the side of exposed massifs. Contrary to the "go for it" attitude of slopestyle skiing, Harrington's approach to soloing is calm and calculated. She prepares by moving over as much stone as possible in any given area and then rehearsing the route on a rope beforehand to ready her body and mind.
"Surprise is something you never want when you are free soloing," she said of her Chiaro di Luna solo, having climbed the route with Leclerc a few days prior to soloing it. "The climb was at a challenging level where I needed to hold my focus for a long time, but I knew I could do it. I wouldn't want that experience every day—it would be too much—but it's a pretty cool challenge every once in a while, to figure out where your mental level is." Harrington operates on intuition when climbing ropeless. On the morning of a planned solo, if she wakes up apprehensive, she doesn't do it. "As for the mental side, I just decide based on my mood. If I'm feeling calm and relaxed, then I go."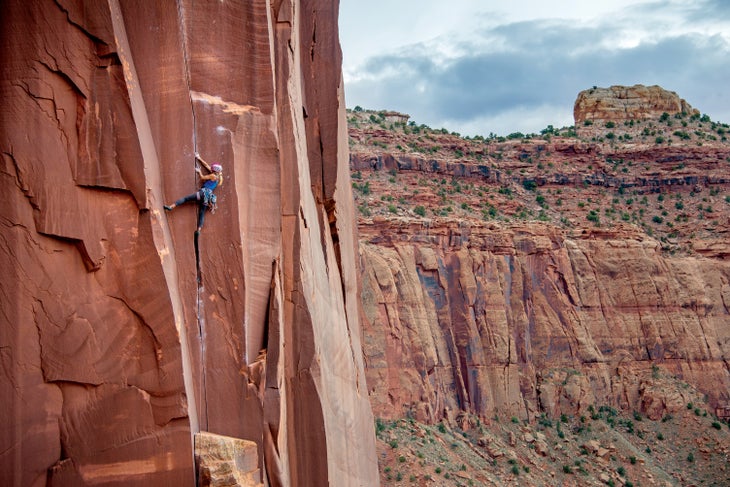 "She wants to push herself to the limit," said Bronson Hovnanian, Harrington's climbing partner and Yosemite local. In the spring of 2015, while aid climbing the Great Roof pitch on the Nose of El Capitan, Harrington popped a piece, falling upside down when her ankle caught in her aider. Hovnanian shouted up to see if she was OK. "It didn't even phase her," he said. The pair went on to summit the route 16 hours after they started, completing Harrington's second El Cap route. The year before, she had climbed Lurking Fear (VI 5.7 A2) with Leclerc.
During the 2015 season, Hovnanian and Harrington went to check out Van Belle O Drome in the Merced Canyon. At 5.13c, the bolted crack line poses a formidable challenge for even elite climbers, but Harrington eschewed the toprope and attempted to lead the route on gear, despite the fact that it was wet from an earlier storm. She didn't send, but made progress on the difficult tips line. A few months later in early 2016, Hovnanian belayed Harrington when she sent Optimator (5.13a) in Indian Creek, during a film project with Sender Films. "She has this calm determination and self-will to accomplish her goals," he said.
Despite an acute mental focus when it comes to climbing, friends describe her as being down to earth and open, providing a relaxing presence to those around her.
"Brette is one of the nicest people I've met. She is really present when she is with you," friend and partner Alix Morris said. "You know that she's really listening and engaged." Having quickly become known as one of North America's top climbers, she has a playful demeanor and infectious smile that make her popular at the cliff. She still skis, but climbing has become the driving force in her life, and her accomplishments, while increasingly highlighted in the media, are motivated by a personal desire to explore and experience new things. That curiosity will carry her to Baffin Island in summer 2016 to seek undone lines.
"My climbing is always taking me in new directions, where each turn flows into the next. I find routes with exposure most inspiring, like stand-alone lines that follow precise features," she said. "I envision my climbing continuing on this curvy path, taking me to distant mountains and new faces." 
Learn more about Brette Harrington in this year's Reel Rock Film Tour. Find a showing near you.