Imbeciles on a String
An easy day's outing turned nearly deadly when the author set aside his own experience and instead trusted an inexperienced "guide"
---
Join Climbing
Create a personalized feed and bookmark your favorites.
Join Climbing
Create a personalized feed and bookmark your favorites.
Join for free
Heading out the door? Read this article on the new Outside+ app available now on iOS devices for members! Download the app.
We were high on the mountain, it was well past midnight, and falling snow whipped past at ludicrous speed. Traversing a perilously steep, icy slope in the Andes, I realized, We're screwed. No ice axes. No crampons. Our rope team was a trio of imbeciles on a string. In the darkness and heavy fog, the slope below us fired down into oblivion.
Raised in Alabama, I had cut my teeth on the sport walls of Little River Canyon and Sand Rock, and the slopey boulders of Horse Pens 40. I was a rock climber from the age of 11, but no mountaineer.
During an internship in Colorado in 2018, however, I grew enamored with the high places of the Rockies. I spent much of the summer scrambling in the Elk Range, keen to develop my alpine skills. As soon as my internship ended that August, I booked a flight to Ecuador to attempt Chimborazo ( 20,548 feet) and Cotopaxi ( 19,347 feet). These volcanoes are the country's two tallest summits, but are gentle, sloping peaks with no steep or technical terrain.
After hiking Rucu Pichincha ( 15,413 feet) just outside the capital, Quito, I looked for another mountain to acclimatize on. I settled on Tungurahua (16,480 feet), an active volcanic summit south of Quito, in Sangay National Park. It has erupted numerous times in the last decade but is considered a mellow climb. Much of the peak's glaciation has receded in recent years, and though occasional storms can deposit blankets of snow, the peak is a simple snow climb with crampons and glacier axes, and in sections is even a hike.
I felt fairly comfortable attempting a peak like Tungurahua alone, but I hadn't brought gear. I also knew little about the route, so I figured it would be smart to find a guide.    
---
I found "Carlos" through a friend of a friend of a friend in Quito, who gave me a WhatsApp number to call. Carlos was a mountain guide, and I met him at the small guiding shop where he worked in the town of Baños, its walls bedecked with the usual climbing paraphernalia, including a signed Sharma poster. He was short and bandy-legged and carried himself with a certain pensiveness, which in hindsight I might interpret as something else. His English was poor and my Spanish worse, but we communicated well enough as we talked through the logistics of the climb.
After some haggling, I agreed to pay Carlos around $100. He said the only way he'd take me up Tungurahua for that amount was to summit during the night. We would begin climbing at 6 p.m. that very evening and reach the top just after midnight.
Had we slid five feet farther, we would probably have gone over to our deaths.
From Baños, the mountain was obscured by a miasma of clouds and fog, but judging from recent photos online, it was snowcapped. Still, Carlos assured me we would not need crampons and axes, though there were many hanging on the walls of the shop. He had been up dozens of times, he said. No need.
At dusk, we began hiking up a steamy jungle track as steep as it was narrow—like a bobsled run coated with mud. Carlos blasted Pitbull out of a BlueTooth speaker in his pack, saying the music was "good for energy." At his recommendation, I wore ankle-cut approach shoes, a down puffy, a helmet, and wool gloves. He wore much the same.
We were grossly underequipped. Above 13,000 feet, heavy snowfall and fog enveloped us, whipped about by a ferocious wind. The temperatures were subfreezing. In the murky darkness, our headlamps barely shone 20 paces ahead. My puffy was soon soaked.
As we moved up through a moraine of frozen scree and talus, we encountered a team of four Ecuadorians, all outfitted with waterproof technical jackets, ropes, ice axes, and crampons. They were behind us for a while, then an hour or so later, while Carlos and I crouched below a boulder for a respite from the wind, I realized they were gone. Carlos muttered something about them turning around due to the conditions.
"Should we go back, too?" I asked.
Carlos shrugged. "Near," he said. "Summit very near. No problem."
---
The frozen scree gave way to snow and ice slopes. The gradient was only 30 degrees, but ridiculous in approach shoes. I was taking two steps up, one slip-step back.
"Should we turn back?" I asked again 10 minutes later. "It's a bit sketchy without gear."
Carlos continued to shrug: "Close. Very close." Admittedly, my protestations were half-hearted. I trusted him, I was feeling fit, and I was keen. Eventually, however, some combination of snow, wind, darkness, and yet another question from me propelled him to dig a pair of battered crampons from his pack.
"Do you have any for yourself? ¿Hay algunos para ti?" I asked.
No, this was the only pair, Carlos said. He tossed them over, and I strapped them on—someone might as well use them. Carlos also handed me a short shaft of what appeared to be bamboo, which he'd picked up off the ground earlier, gesturing that I use it in lieu of an ice axe. For himself, he pulled out a three-foot wooden stake, the kind surveyors use.
A headlamp emerged from the darkness below, bobbing as its wearer charged up the slope. It was a fellow from the group of four. The climber—Ramon—and Carlos spoke rapidly in Spanish. The gist was that although Ramon's friends had turned back, he was game. After some deliberation, we all roped together on Ramon's cord, 30 feet apart. I was in the middle, Ramon in front, Carlos behind.
Ramon was wielding twin ice tools, wore La Sportiva ice boots with crampons, and had a thick down parka. Delivering his words in high, manic octaves, he sprinted ahead, yanking at the rope to urge us forward.
"You big, strong American, yes? We go fast, yes? Top very near!" he shouted at me.
I could do little. The cramponless Carlos behind me was moving slowly. As the terrain steepened, approaching 35 or 40 degrees, he spent 10 seconds chopping each step in the ice with his stake. In the wee hours, the fog wrapped around us like a cloak, obscuring any moon- or starlight. My headlamp barely illuminated the shadow of Ramon ahead, still  jerking on the rope.
As we traversed the high slope, the situation hit home. The slope fell away to our left to form a chute, no more than 40 or 50 degrees, but without gear we had no way to self-arrest. If we slipped here, we were going a long way.
Carlos slipped. I dove onto the ice with my wooden pole and kicked in with my crampons, barely holding us.
"¡Esto es loco, man!" I yelled down. "You don't have crampons. Neither of us has an axe. If we fall, we can't stop!" I was angry that Carlos had refused to bring proper gear, but more so that he kept going in these conditions. He was the guide. He was supposed to be calling the shots to keep us safe.
Carlos looked around, surveying the steep slope and the driving snow, thought for a moment, and finally nodded, calling up to Ramon: "¡Estamos bajando! Las condiciones son muy malas!" We were turning back.
Carlos slipped again—this time yanking me off my feet. I attempted another arrest, but my stick snapped in half.
We were off, sliding down the mountain at breakneck speed. My head smashed into a rock, knocking the headlamp off my helmet. Ramon slammed down on top of me, his crampons shredding my puffy and lacerating my arms. He was screaming, thrashing.
We all three slid, tumbled, crashed into each other like bowling pins. The fall felt like hours, but it was probably only 10 seconds. We slid over 100 feet, maybe 200 or more; in the darkness, it was impossible to tell. I dug my elbows, fingers, and the heels of my crampons into the ice—anything to slow us.
Miraculously, we decelerated and then stopped on a near-level patch of frozen scree, just before the slope below steepened dramatically, to 70 degrees, for several hundred feet. Had we slid five feet farther, we would probably have gone over to our deaths.
The wind stopped as we did. All was quiet … briefly.
"¡No se caigan! ¡No se caigan! ¡Nadie se mueva!" Ramon began shrieking: Don't fall! Don't fall! Nobody move!
He whipped out a knife and sliced the rope between us, crawling away across the slope into the darkness, muttering. I was wrapped like a trussed chicken, the rope knotted and frozen solid around my waist. My gloves were shredded and my down jacket hung in ribbons. My fingertips were completely torn away, as was a furrow of skin on my left forearm. My head throbbed, whether from the impact or the altitude I couldn't tell. Carlos and I picked steps across the slope away from the drop, and then he cut the rope away.
I was scraped and bruised, but my injuries seemed minimal. Later, I visited the hospital, where a nurse cleaned the gravel out of my arms and hands and examined the mottled blue frostbite blisters dotting my fingers. I no longer have sensation in two fingertips. I flew home a week later, without attempting Cotopaxi or Chimborazo.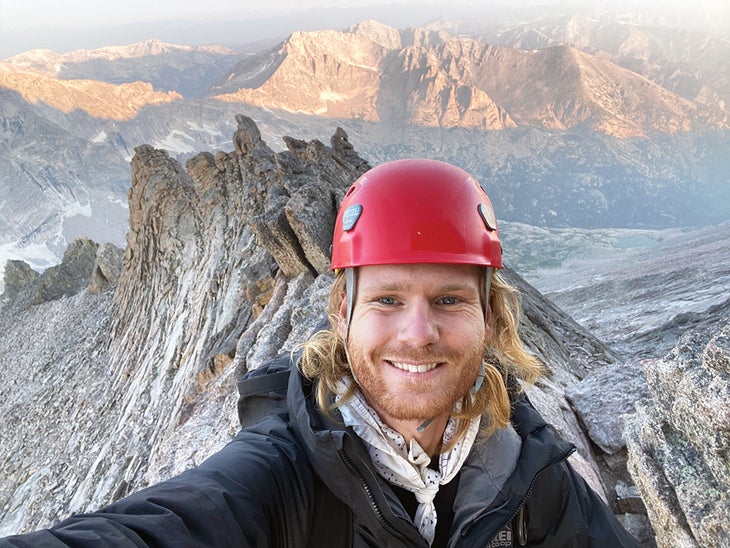 ---
Those moments of falling were the most sickening of my life. I wasn't afraid of death or injury, but was instead regretful that I was to die needlessly, from putting my life in another's hands. The takeaway wasn't to avoid guides altogether, but that personal mountaineering training is critical, whether you're guided or not.
A week before writing this piece, I finished my fifty-eighth and final Colorado Fourteener. They're all easy or moderate via their standard routes, but I did them alone and often by alternate, technical routes. I've summited easy peaks at altitude as well, such as Pico de Orizaba ( 18,491 feet) and Iztaccihuatl ( 17,160 feet) in Mexico, scrambles in the Balkans, and a few mountains in New Zealand. I hope to climb all 75 Fourteeners in the contiguous United States by the end of this year.
It's easy, especially in the era of social-media showboating, to deride these kinds of base-building experiences as dull, but I see them as critical. They're stepping stones I've set for myself, to build the skillset and confidence to need never again defer completely to another's judgment in the mountains. I want to know enough to trust my gut, and to put my foot down if a partner or guide is pushing the edge too hard.
When you're falling, no matter whom you're roped up to, you're alone.
Owen Clarke is a freelance writer and Editor at Large for Climbing who mostly lives on the road.