Out on a Ledge: Married to the Muse
Heading out the door? Read this article on the new Outside+ app available now on iOS devices for members! Download the app.
This story originally appeared in the June 2016 issue of our print edition.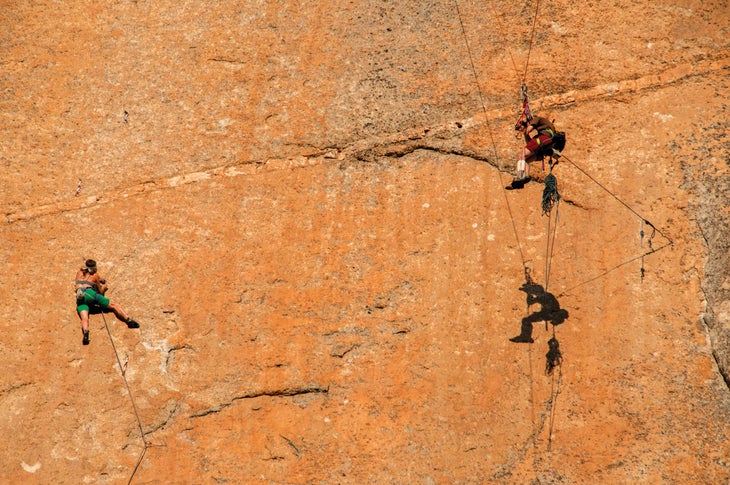 Caked in a layer of sweat and dirt with unwashed hair flying wildly around me, I was tired and irritable, but the click-click-click of Ben's camera urged me to hang on just a little bit longer. We had been camping and climbing on the Naranjo de Bulnes peak above 8,000 feet in northern Spain for the last few weeks, and at this exact second, the last thing I wanted was to have my picture taken. The day before, I had sent Murciana 78, a 1,640-foot 7c+/5.13a while battling frigid temps, screaming barfies, and relentless wind as the orbayo (a thick, wet mist) shrouded the wall. I needed a rest day; sleep and hot tea were all I could think about, but we still had work to do.
My toes were sore from four days of standing on the gotas de eau (tiny water-carved pockets), and my skin was raw from crimping the sharp rock that sliced everything it came into contact with. The plan was to climb a few steep pitches during the cool morning to wait at the belay stance below the 5.13 crux for that perfect golden light. We would be there for god knows how long. I was already stiff, my joints only getting more achy at the thought of the crux pitch above me: a right-leaning, overhanging crack that eventually ended with a series of boulder problems on gastons, sidepulls, and high-steps. When it was finally time to climb, I mechanically moved through the route and its multiple cruxes, and before I realized it, the anchor was quickly approaching. I was filled with relief and satisfaction from the patience and work that had gone into getting these shots, but any contentment was abruptly shot when my loving husband called out, "Katie, can you take on that, lower down, and do it all again?"
This was a common occurrence between Ben, the photographer, and me, the climber. Each time I told myself, "It's not about me; it's about the aesthetics of the climb." After all, creating a story to share with the public about this place and our experiences there is what has afforded us this dream lifestyle of traveling, climbing, and shooting. It's exactly what I wanted when I married a professional photographer: waking up at 4:30 a.m. to chase the light, climbing entire pitches over and over and over again, tilting my head in just the right awkward way so my face is visible. Nevermind the gobies or the rest days sacrificed to get the shot or the bright red rash from too much time in a harness.
As a youth perusing the climbing mags, I thought every photo was a documentation of the send in action, that it all happened in real time. When I started working with various pro climbing photographers, I realized that much of the time, those perfect and beautiful pictures are posed. The rope needs to be rigged for the photog, the climber needs to be in place for the good light, and the wardrobe needs to be just right. No matter if it's hot or cold or wet or the climber is exhausted—you gotta get the shot. Ben and I have tested the limits of our relationship as photographer-climber and husband-wife while bickering over the best angle, clothing color, body position, and when to say enough is enough.
Posing down shots turns me into a model of sorts, complete with self-consciousness and diva-like tendencies. I want my hair and clothes to look good, with all my sponsor logos visible, and, wait, is that pimple on my cheek obvious? Nerves and anxiety make me edgy, and like many couples' dynamics, I seek comfort and reassurance from Ben.
"I'm having a hard time getting psyched for this because I just finished work, I'm not warmed up, this route is really hard, and I don't know what to wear!" I say.
"Katie, what are you talking about right now? We agreed on this. Just wear this shirt and those pants and maybe bring that jacket. Get yourself together; this is what we're doing today," he responds calmly and assertively. For him it's a tough job to fill the role of nurturing husband, photographer, rigger, creative director, and climber. He helps keep me grounded by pointing out that not only am I a professional, but that I should also appreciate the privilege we have to be in these situations together.
"Look around at where you are right now and think about that for a minute," he told me once, a perspective that reminds me we are very fortunate to travel to these destinations and follow the lines that inspire us.
Documenting the send as it's happening provides a real rawness to the images: screaming and fighting the pump with contorted faces and focused eyes. It's a more organic process, but the ropes still need to be rigged with me wearing the right clothes, in the right light, etc. These situations do make me feel more like myself, more like a climber. But that means the high emotions of trying hard in battle mode are not limited to being just between the climber and the route. In those serendipitous but rare moments when the send and the shot come together, everything can be perfect, but coming up short on both can result in expletives and blame.
"The sound of your camera was too distracting!" I yell at Ben with anything but compassion or understanding. "Do you have to be so close?"
"Katie, it's OK. You're OK. Everything is OK," he says with the occasional (and thankfully imperceptible) eye roll.
But sometimes the photographer needs comforting too.
"I know this is our last chance to do this, but I don't want to go up there," Ben said as we eyed up the wall on the morning of the Murciana 78 shoot. "The light sucks, and we're probably wasting our time."
"It will be fine," I responded. "We will go up there, try our best, and work with what we get. You never know, it might just turn out great."
Seven years ago, I met Ben Ditto through the lens, high up on Middle Cathedral in Yosemite. He was shooting James Lucas and me on Border Country (V 5.12c) for a story that James was writing. James had known Ben for about a year and described him as a strong sport climber from Utah. As a student of soaring granite walls, that laconic description didn't impress me all that much, and I wondered what the heck a sport climber from Utah would know about climbing in Yosemite and shooting on a big wall.
Luckily for me, Ben was something of an anomaly. Climbing the route above us with a friend, he gracefully waltzed up the difficult route, taking snaps along the way. He sent each of the 12 pitches that day without falling, something that was pretty impressive, even for a granite expert, which he wasn't. His footwork was perfect, his balance elegant, and his power abundant. His speed and efficiency at belays combined with that perfect, bright white smile made me quite curious as to who this guy really was.
Over the course of the next year, I became enamored with Ben and all of his adventures. We kept in touch via social media and "discrete" internet stalking, and eventually we made a plan to do some climbing the following spring after his return from Patagonia. His imagery spoke volumes about his travels and accomplishments, but they also featured a strong sense of environmental awareness and depth. He wasn't just documenting; he was telling a story filled with beauty and emotion. He seemed like the ideal partner for me, someone to adventure and collaborate with, a relationship founded on our shared love for climbing.
My hypothesis came true, and in the following years of dating and now marriage, we've traveled to nine countries, shooting everything from V10s in Tuolumne Meadows to 5.14s in Spain to 2,200-foot routes in The Northwest Territories of Canada. Despite his constant love and support, sometimes I feel like an imposter compared to the climbing talent and skill that lies behind the camera. While I struggle away on projects, he does them faster and with better style. I'm proud of my 20-year climbing resume: freeing numerous grade V routes, defining myself as a solid 5.13 climber of all styles, and redpointing 5.14. But his tick list of freeing El Capitan, establishing new routes on the remote walls of Baffin Island, and sending 5.14 sport lines to name a few makes me question why I'm the one getting my picture taken and not him.
"I like supporting you in your goals, and I think we make a good team as storytellers" is what he would say to my insecurity. His humbleness, experience, and passion hold me at a high standard, pushing me to be the best climber I can be.
For partners who are linked through both love and climbing, a palpable tension can develop when experiencing each other's darkest emotions and brightest joys. The frustration of travel, the elation of success, the disappointment of injury, the love of nature—it has all helped Ben and I grow as individuals and as a team.
Pitching off the ninth ropelength of rattly fingers on Moonlight Buttress in Zion for the second time, I yelled over to Ben on his nearby rope, "Can I just leave the gear in and try again?"
"Katie, no. Pull the gear, rest a little, and go again," he said. "You will not be happy with yourself if you leave the pieces in; you always want to do things in the best style. Plus, the pictures won't look as good!" I sighed as I lowered back down from the anchor—he was right, of course—and cleaned the pitch along the way. The next go, I dug each ringlock harder into the sandstone, and placing my last .5, I had made it through the final crux of the pitch. Ecstatic to have sent it in good style, I subconsciously thanked my husband for once again saying what I wasn't willing to say myself.