Peaches Preaches: Being the Best at Exercise
Heading out the door? Read this article on the new Outside+ app available now on iOS devices for members! Download the app.
"You walk without a sense of purpose," a Berkeley bar manager once told James "Peaches" Lucas before firing him. A dedicated climber who spent 15 years living out of caves, tents, and then a Saturn station wagon to pursue the sport, Lucas stumbles through life but marches to the boulders, crags, and walls. Peaches Preaches is his monthly column.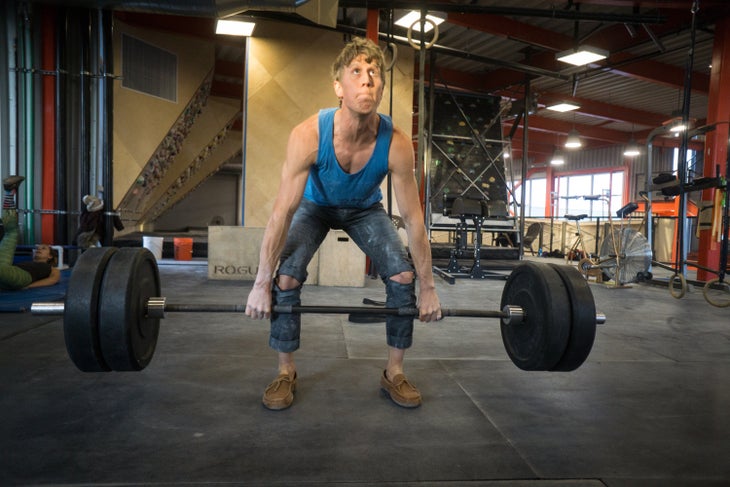 "Don't fuck this up," Nina mouthed to herself. Mantling into two large scooped holds, she stared at the finish hold of the second problem of Women's Finals at the Di'namik Comp, a long jump away. On the first problem, she'd thrown herself at the initial campus move over and over. Unable to stick the big move, she threw her hands up in frustration. As she prepared to launch for the finish on the second problem, I gulped my gin and tonic and hoped the weeks of box jumps had helped.
"Let's climb in the gym," Nina told me in November. The idea sounded horrible. Instead of spending my winter break between magazine issues bouldering in Yosemite and sport climbing in the Sierra foothills, I'd be a Plastic Prince. Since starting at Climbing magazine, my lower-case climbing had become secondary to writing for Climbing. I wanted to be outside, to remember what climbing was about. Pictures of a flooded Yosemite gave me second thoughts. The idea of having a motivated training partner sounded good too. If I wanted to improve, I needed someone to smack the cheesecake out of my hand.
"Plus," Nina said, "It'll make you stronger for climbing outside when conditions are better." Since we weren't climbing outside, we devised a rudimentary schedule. We'd climb five days a week, campusing, hangboarding, and over-training from 9-5 every day except Thursday and Sunday. Those two days we'd do meal prep. We'd buy cherry tomatoes, mixed greens, and carrots and pretend they were M&M's, ice cream, and carrot cake. I'd even enter my first climbing competition, The Di'namik Comp at The Front, to test my progress. I imagined we'd become skinny, fit machines. When spring rolled around, I'd crush my Yosemite projects. All I had to do was become the best at exercising.
I left Boulder, the fitness capital of Colorado and pointed my mini-van/home east to Salt Lake City to meet Nina. There's smog in SLC but the smug in Boulder kills my climbing psyche. Unfortunately, the pollution was just as harmful to the climbing scene. Layers of winter inversion forced the strong Utah outdoor community to hide in the gym. I had hoped that a change of scene and having a training partner would help me stay on the program. But with everyone climbing and lifting, finding space felt hard, and the climbing style foreign. We smacked our knees on the campus board. Nina shook her head at the prospect of trying new exercises. I tried to soldier on but lost steam. Our first day of training felt like it'd be our last. We begrudgingly stuck to our schedule.
The following day, we went to the gym again. This time, we adjusted our schedule, going to the gym earlier, beating the 5-7 p.m. crowds of youth teams and adults. The off hours felt more productive. We climbed on the other side of town, at The Front, which was better situated to training. After warming up and climbing, we lifted heavy things up just to put them down again. We jumped up on boxes then stepped off of them. We pretended to be gold-medal gymnasts on the rings. I was unsure if what we were doing was correct. I just knew we were doing it. I tried to take tips from other climbers there.
"BAWP!" Jwoo, a member of the elite SLC climbing group, the Shrine Crew, screamed. He latched a yellow micro hold on the Moonboard. Next to "Shrine Crew" on his beanie the letters ISYMFS (I'm guessing it means "I Stole Your Mother Fucking Salad") bounced on his dome. His muscles flexed beneath his ten-pound weight vest. Jwoo defined training. I wondered if this was what gym climbing was all about.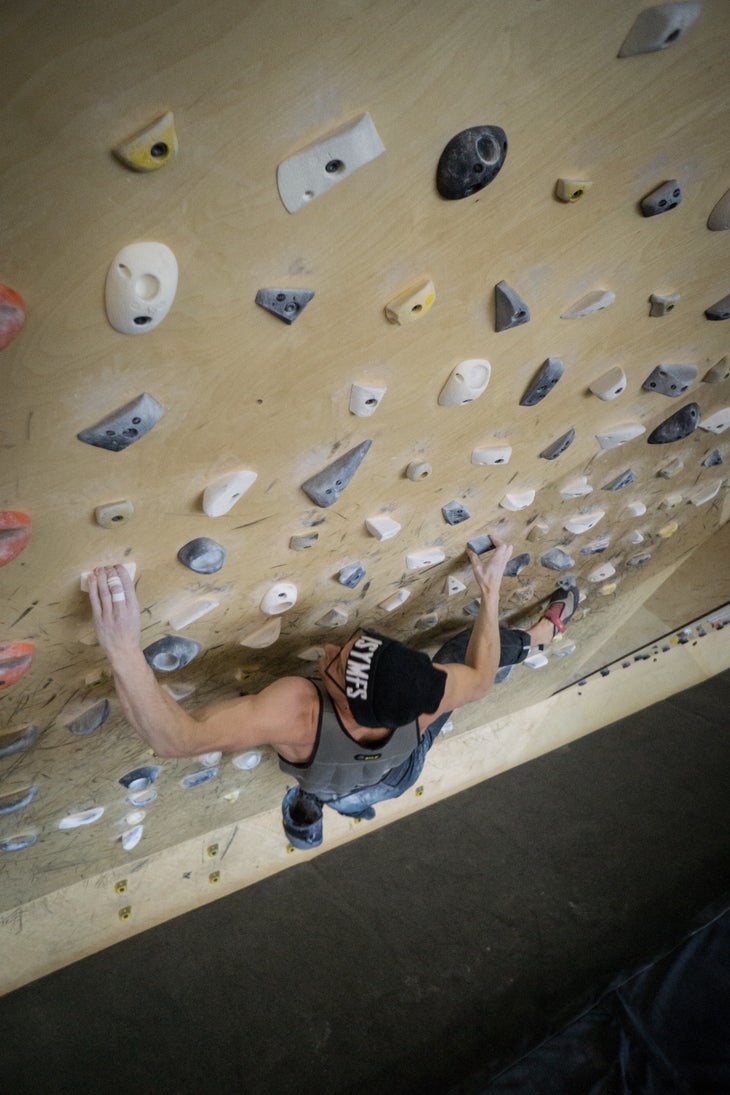 Our third day of training melted into our 17th. The routine of the gym became more familiar and enjoyable. Nina encouraged me to rest more, and climb faster and more dynamically. I encouraged Nina to stick with the program, to put the time in. We road tripped to The Front Ogden, climbing on volumes and new terrain. I couldn't tell if I was becoming better at the style of indoor climbing or actually stronger. Either way, my body felt leaner and fitter. I wrote everything down in a small training journal, comparing it to my notes from a training cycle the previous year. I'd made incremental progress but it required so much work. I wondered how many pounds of salad greens I'd need to steal to get a beanie. I felt like giving up.
"Take your time, watch other people, and make sure you have your scorecard filled, then build up from there," Nina told me as we drove to the 7:30 a.m. Di'namik comp registeration.  I hoped that I'd have a young man advantage at the comp. I had waited long enough in my climbing career to enter my first competition in the Masters division, 35+.  I was the youngest climber in the category, having just entered the age bracket a month before. I tried to think back to our training days, pretending I was jumping on boxes and trying hard on the Moonboard.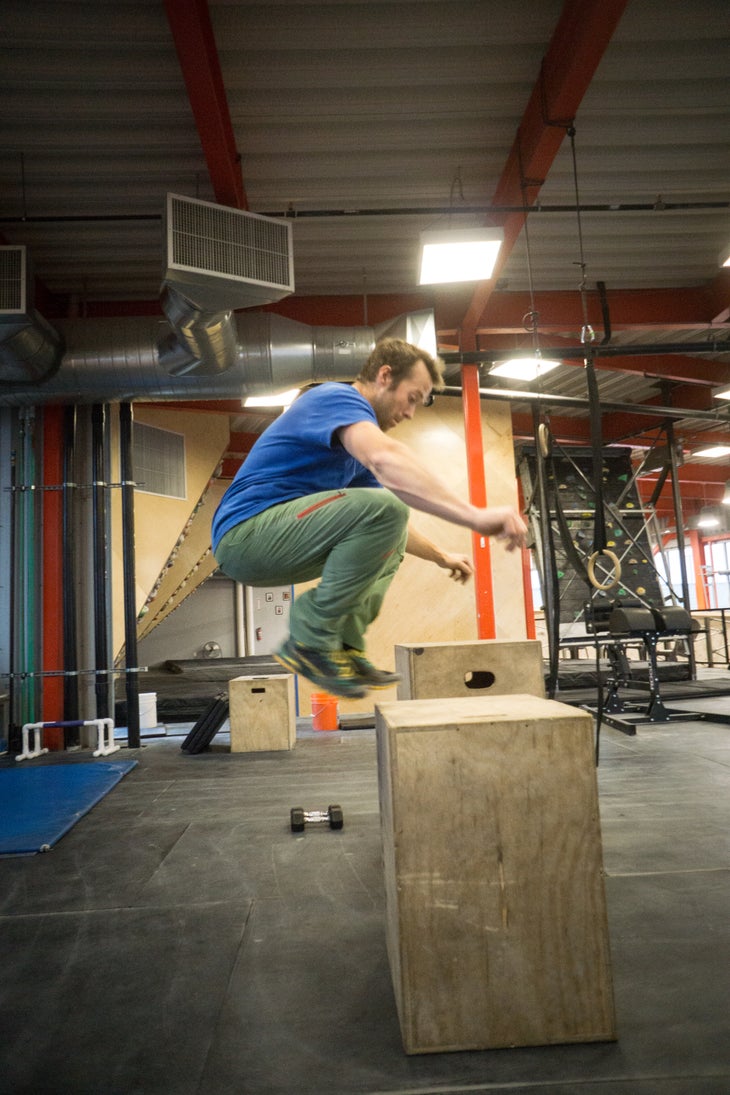 "Grab the crimp at the back of the sloper," Marcus Garcia had told me. Earlier this year, I'd met Marcus in Yosemite. We'd talked a little about routes in the Valley. I was excited to see another old man trad climber trying to climb on plastic. He shouted encouragement. I grabbed the crimp and tried to press into the black undercling out left. I wanted to be as good as Marcus. I tried harder than normal because of the competitive atmosphere. I fell, laughing. I was having fun.
Our session came to a close and the next round of competitors came in. My old Bishop friend Shadow approached me. We'd trained together on the Moonboard in the previous month.
"Let me see your scorecard," Shadow said. He wanted to scope the problems I had done so he could send them. Shadow, like myself, has been climbing for decades. He sent his first V8 a decade ago. Since 2013, he'd climbed five V9s. This year, at 45, he wanted to climb his first V10. He was climbing harder than ever. I wanted Shadow, a stronger climber than me, to push himself. I laughed, enjoying a little bit of competitiveness, and said, "No way, dude!"
Nina jumped at the hold, latched it, and swung wildly threw the air. She placed third that night at the Di'namik Finals. Of the seven men in the Masters division, I placed fourth, behind Marcus and Shadow. I felt pleased with my performance. Maybe the training had paid off, at least a little. 
After the comp, I returned to the office in Boulder. The snowy Colorado weather pushed me back into the gym. I felt refreshed after the rest week and the day of hard comp climbing. The weeks of training in Salt Lake forced me into a routine. I knew what days to deadlift, when to do one arm dead hangs, and how to train. Marcus and Shadow had inspired me. Maybe I could be a real comp climber like Nina some day. If I kept at this routine, maybe I could move from fourth to third place within a year, especially if someone in the Masters category died from old age.