Peter Mortimer, Director of "The Alpinist", On How to Make Better Climbing Films
Sender Films' Pete Mortimer shares his secrets to creating fresh, exciting climbing media.
Heading out the door? Read this article on the new Outside+ app available now on iOS devices for members! Download the app.
This article originally appeared in the September 2015 issue of our print edition. 
Fifteen years ago, Pete Mortimer was just another climber with a camera dangling a few hundred feet off the ground in Eldorado Canyon, Colorado. But seven feature-length films, a National Geographic Channel television series, and 10 REEL ROCK Film Tours later, his talent, drive, and knack for storytelling has morphed into a multi-faceted climbing film company. Mortimer, now 41, attributes his success and longevity to thinking forward and not looking back. "We don't want to make the last film again. We want to make the next film," he says. "A lot of stuff we get pitched is just like a film we've already made, but we're always looking for what's totally unexpected." In an age where every climber with a GoPro or smartphone is a potential "adventure filmmaker," Mortimer's strategy has kept his company, Sender Films, at the top of the game.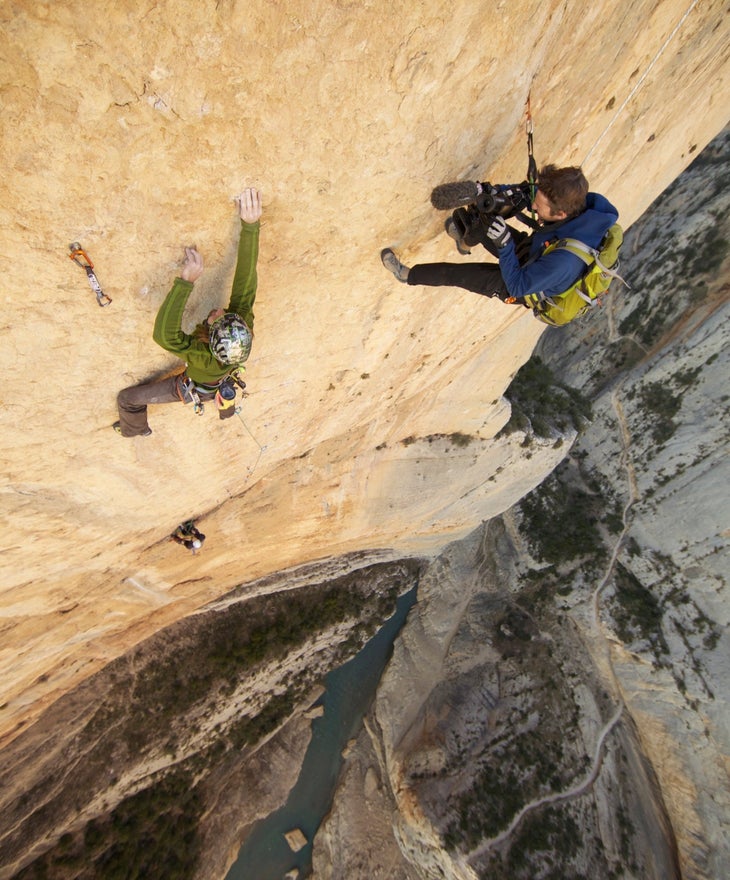 Mortimer grew up climbing in Boulder, Colorado, and eventually ended up in grad school for film in Los Angeles. After an internship at MGM Studios, he decided commercial film wasn't for him, and in 1999 Mortimer started Sender out of his shed in Boulder. When his early feature films "Scary Faces" and "Front Range Freaks" garnered praise from both climbing and film communities in Boulder and Los Angeles, he quickly saw the potential of this new media niche. Mortimer recognized that he would need to work with other established filmmakers to deliver better content to a larger audience, so he teamed up with Josh Lowell of BigUP Productions and Nick Rosen to put together a veritable supergroup. Sender Films suddenly shifted from pet project to legitimate career.
In Mortimer's mind, the idea of community is the characteristic that prompted these major partnerships and has in turn made Sender so successful. "You have to look at the bigger picture. Everyone wants to do bigger, cooler, more exciting stuff. You can't just compete with the people around you," he says. "You have to look at the big indie filmmakers or the big commercial directors and try to compete with them. And the only way any of us [in the climbing media industry] are going to do that is by standing on each other's shoulders and helping each other out." That includes marrying signature styles, like BigUP's hard-core climbing action, striking cinematography, and challenging ascents with Sender's focus on humor, personal relationships, and the mental aspects of our sport. Mortimer says that the best films are stocked with both.
After so many years of telling climbing stories—often with the same players—finding original and interesting ideas in the climbing world might seem somewhat impossible, but Mortimer is confident that they've only barely scratched the surface. "We're getting really good at finding those little story nuggets," he explains. Sometimes it's as easy as showcasing one huge personality and the person's vision, like Sharma in "King Lines," and other times it means bouncing personalities off each other, like Obe Carrion and Ashima Shiraishi in "Obe & Ashima." The latter is a storyline that's driven movies, books, and television for centuries: "Two characters that are alive and have their own objectives. They're struggling, helping each other, hurting each other," Mortimer explains. "It makes a film exciting."
While many might see Mortimer's job and position in the climbing community as living the dream, his passion for filmmaking is constantly at odds with his love of climbing. Between family time and running a business, his climbing time has been reduced to practically zero. "In the short-term, I could give up climbing for filmmaking, but not in the long-term. I like being involved in creative stuff, but climbing is just in my blood."
How to Make Better Climbing Films
1. Start Somewhere
The first film I made was "Scary Faces" about the climbing in Eldorado Canyon, and I had no idea what I was doing—but that was totally OK! It was a starting point. You need that initial project in order to make mistakes and learn and grow. I may have been a novice, but when I went to make the next film, I had experience to build on.
2. Teamwork
When I first started, it was harder to tell stories because I was working alone. Now I work with four or five people all trying to one-up each other, which ultimately makes the film better. When I share an idea, my peers think of ways to improve it. The result is greater than the sum of its parts. Teamwork makes the dream work!
3. Avoid the Soul-Suck
Filmmaking is tedious. When you're starting out, it can be soul-sucking. It helps to build a team of people that specialize in the stuff you don't like or aren't good at. I don't edit or really film anymore, and I definitely don't manage people, but I have a team to do all of that so I can do what I love: be creative!
4. Big Picture
Climbers will always love to watch climbing. But some of the best stories appeal to climbers and non-climbers alike. Alex Honnold was on "60 Minutes" because his story is bigger than climbing, and it picked up interest in the mainstream. Those are the big picture stories with broader appeal you want to find.
5. Innovate
Don't tell a story that's already out there; try to move your craft forward with everything you do. Look for new stories and new ways to tell them. When we set out to do "Valley Uprising," the vision was to put you into the history rather than just tell you what happened. The result is a unique take on an otherwise simple story.