Podium Dreams: Two-Time Bouldering World Champ Shauna Coxsey Guns for the Olympics
Heading out the door? Read this article on the new Outside+ app available now on iOS devices for members! Download the app.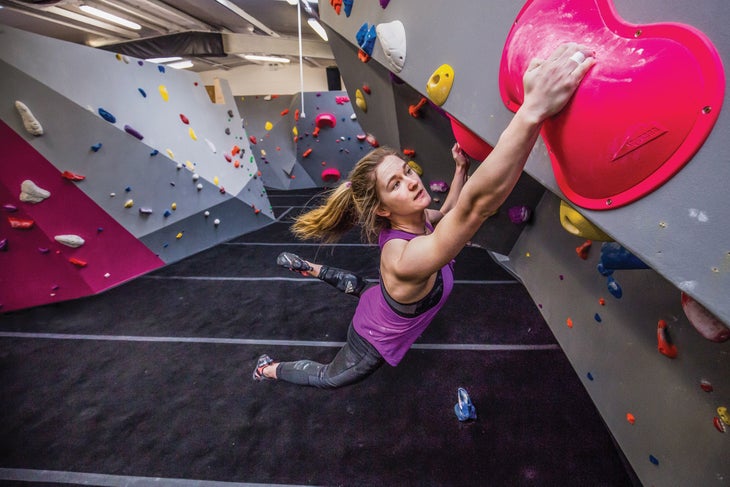 Picture a blonde-haired four-year-old sitting on her father's knee in Runcorn, a port town in northern England. On the television, the French climber Catherine Destivelle free-solos red sandstone cliffs in Mali, traversing out roofs via big, dynamic moves, then navigating upward on small crimps. Afterward, Shauna Coxsey turns to her dad and asks, "Can I try?"
Coxsey, 26, began climbing in 1997 at the Northwest Face Rock Climbing Centre in Warrington, a 20-minute drive from Runcorn, shortly after seeing Destivelle on TV. Her father pushed Coxsey to climb, and the pair climbed together every Sunday. At age 7, she won her first comp. Eight years later, she became a national champion. At 23 and 24, she won back-to-back IFSC Bouldering World Cups. At Queen Elizabeth's ninetieth birthday party, Coxsey was elected a Member of the Order of the British Empire for her climbing achievements and contributions to the British climbing community, an honor that necessitated curtsy lessons. Though she has primarily focused on indoor bouldering, she was the first British woman to climb V12, V13, and V14 outside—and the third woman ever to climb V14, via New Base Line in Magic Wood, Switzerland. Now, the full-time professional climber wants to bring home Olympic gold from Tokyo in 2020.
Coxsey, who stands 5'4" and is easily recognizable by her long blonde hair and big grin, grew up with a stay-at-home mother, Mavis; a computer-tech father, Mike; and nearly enough siblings, half-siblings, nieces, and nephews to field a soccer match. She has five half-sisters, one half-brother, and two stepsisters; Coxsey lived with a few of her sisters growing up, climbing mainly indoors until she finished high school.
Recalls Coxsey, "I'd just made the decision not to go to university. And there I was, on my sofa"—laid up with a leg she'd broken while bouldering in Magic Wood. "I figured, if left to my own devices, I'd probably end up staying sat on my sofa eating biscuits, or I'd try to train and probably injure myself." So Coxsey recruited a coach, and has since expanded her team to include her training partner of more than eight years, Leah Crane; a sports psychologist; two physiotherapists; and management, who help keep her motivated and accountable.
Given how hard Coxsey pushes herself, she's not surprisingly fallen prey to injury. In December 2017, she partially ruptured her A2 pulley tendon on her right ring finger in Fontainebleau. She then retweaked the finger last June, a reactive tendon injury this time. Coxsey started doing finger-rehab exercises immediately, then deadhanging from a Beastmaker hangboard. She started climbing shortly thereafter, though with only one hand, as detailed in a training video that went viral like much of the lively, lighthearted fare Coxsey posts on her social channels—things like "yogabatics" with Crane (jumping onto Crane's back and walking up her shoulders), doing wild tandem dynos, and popping into handstands on Crane's feet.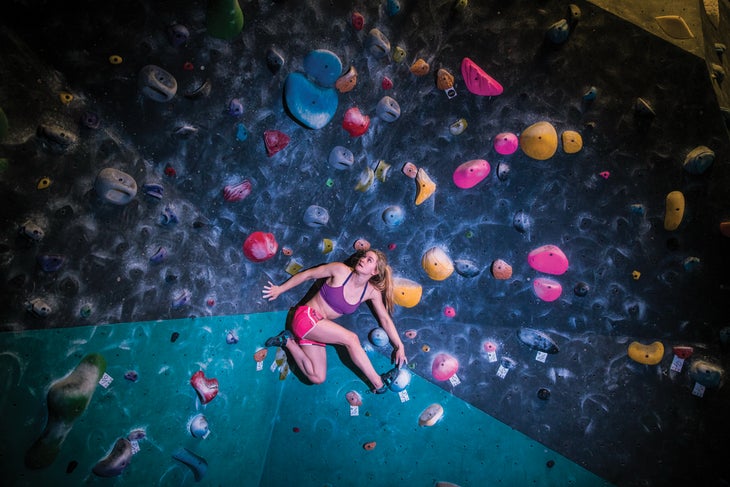 Off the rock, Coxsey loves to bake—her specialty is an apple-and-date traybake with fruit from her home garden. Coxsey also runs the Women's Climbing Symposium, an annual event that she and Stephanie Meysner, a climber at Climbing Hangar Liverpool, founded in 2011 to celebrate women's climbing. In 2018, 475 women participated, attending clinics and speaking panels held by other outstanding female climbers. Coxsey has also recently upgraded her Leighton van, which she uses for climbing and surfing trips with her boyfriend, Ned Feehally, and their border terrier, Arthur. The vehicle offers escape when it rains in the UK: "We can check where the weather is good and head off for a little adventure," she says.
At home in Sheffield, where Coxsey has lived with Feehally for the past four years, she stays fit by climbing at the gym and on his wall, a 56-degree board with "the finest wooden holds." Next to the board, Coxsey writes her training personal bests to stay motivated as an injured finger recovers. "I aim to come back from every injury stronger than before," she says. If she does, we'll likely see her on a podium in Tokyo.
Q & A
How are you training the three olympic disciplines—bouldering, lead, and speed?
I'm still rehabbing a finger, so my training is limited. I'm doing a Beastmaker session three times per week. Climbing a little too now—that's going to increase, for sure. I do specific sessions most days: either core, shoulders, or legs, etc. Then I do one or two weight sessions per week in the gym. I run three times per week; I also have dedicated stretching sessions. I'm actually looking forward to training speed. It's a new world to me.
What attracts you to bouldering?
It can be so creative. One of my favorite things is to make up problems at the gym. I rarely get bored doing this—I've done it for as long as I can remember. I like how much you can push yourself, how hard you can try. I also love the social element. I love working something difficult with people who have different strengths and weaknesses.
Tell me about training with Leah Crane.
Leah is now on my coaching team. She's one of the most supportive, passionate people I know. Working and training with her are never boring; we laugh lots, but we also know when it's time to get the work done.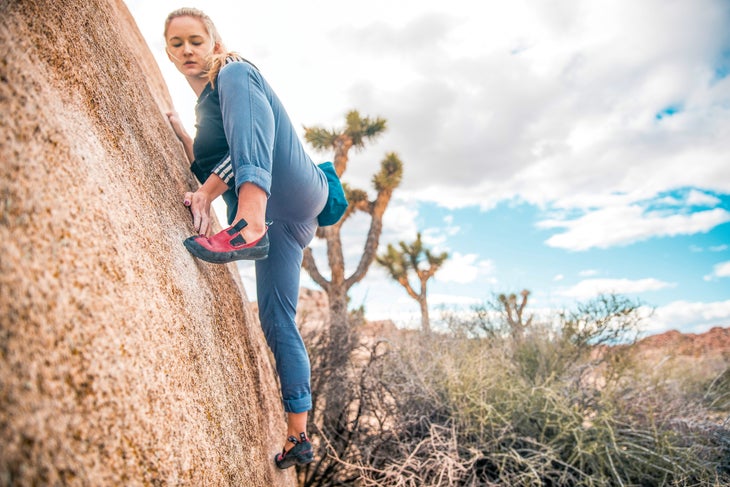 Train your brain
Shauna Coxsey's top four tips for staying stoked while training:
When you fall off, ask yourself why: Were you not trying hard enough, were your fingers too weak, did your foot pop, did you miss the hold, were you pumped? Think about the reason and not the excuse.
To improve your route-reading, make a plan of how you think you're going to climb a route, and then ask someone to videotape you. The difference between what you think you'll do versus what you actually do can be astonishing—and instructional.
Play games. Take turns adding on new moves, or make up boulders with a friend. Try eliminating holds, or certain limbs or types of holds altogether (no thumbs or no pinches, for instance).
Staying motivated is crucial. Make plans to train with other people—it's hard to let someone else down! Also, stay happy, as it's linked to higher motivation and energy levels.
Related: