This article was originally published to climbing.com in May 2008.
Many sojourn to Yosemite with starry-eyed dreams of El Capitan or Half Dome. For some, myself included, the draw is so strong we return every year. And if you've ever scrounged in the Valley dirt, you've likely met the eclectic clan of regulars who've traded normal life for the dirtbag dream the "Stone Monkeys" (aka "Rock Monkeys").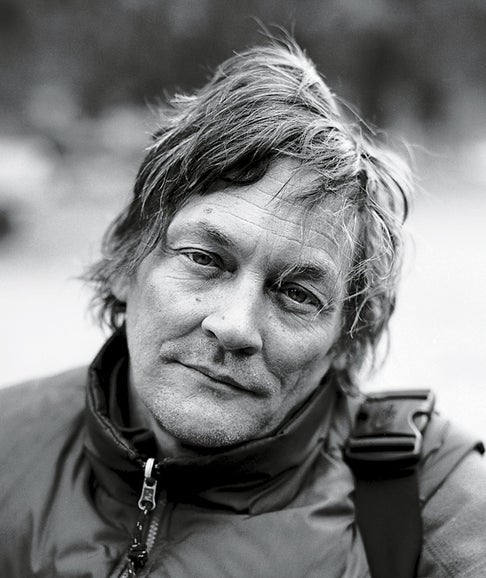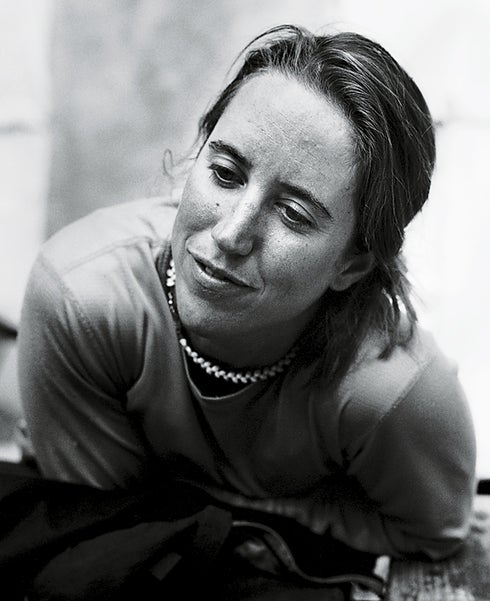 The Stone Monkeys are a slightly more inclusive, modern-day equivalent of the "Stonemasters," the amorphous band of Valley hardmen and hardwomen who pushed the limits of climbing in the 1970s and '80s. However, to be a Stone Monkey, you don't have to climb hard or be famous (though quite a few Monkeys fit this bill). In fact, it's not so much that you choose to be a Monkey as that you become one, by paying your dues.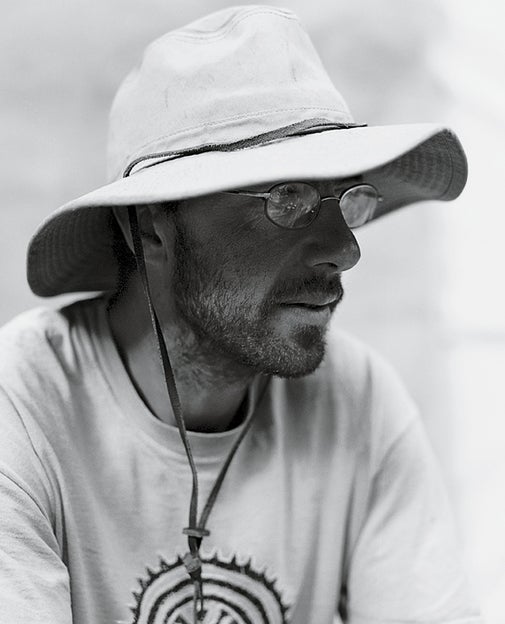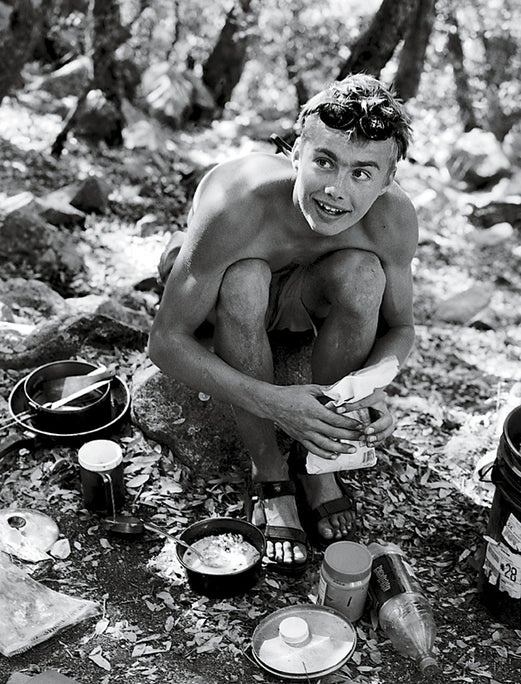 I met Dean Fidelman (aka Bullwinkle) early in my dirtbagging career. He has the rare distinction of being both a Stonemaster and a Stone Monkey, and his Stonemasters photos from the 1970s, of heavy-hitters like John Bachar, Lynn Hill, John Long, and John Yablonski, are iconic. You might also know his "Stone Nudes" project (stonenudes.com), which he compiled into calendars and books for several years. But my favorite Bullwinkle photos include his portraits and lifestyle photography. In a world gone digital, Bullwinkle sticks to his roots, shooting in black and white with a medium-format camera and sometimes a Holga. This gives continuity to his work, and the Stone Monkeys shots could easily be mistaken for his Stonemasters project.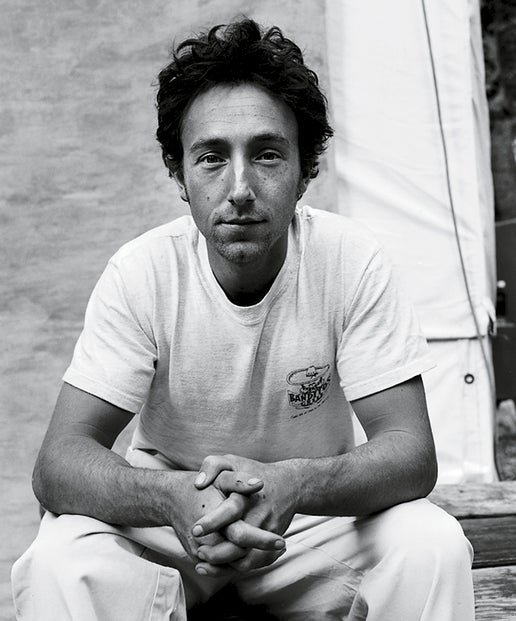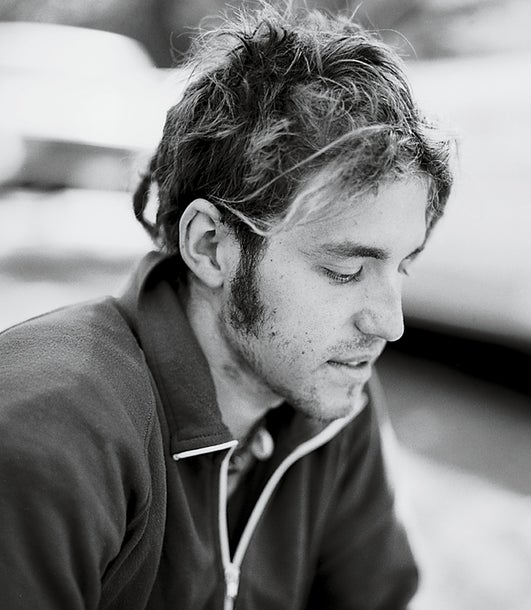 One of the problems with writing about the Monkeys is that there are too many of us—and great Bullwinkle photos—to fit here. Still, crucial Monkey characters include the ones shown here on this page: Heidi Wirtz, Leo Houlding, Nick Martino, Micah Dash, the late, great Jose Pereyra, "Chongo" Chuck, Renan Ozturk, and Timmy O'Neill, with many others not pictured. Today, the Monkeys are going strong and undoubtedly will continue to make Yosemite climbing history.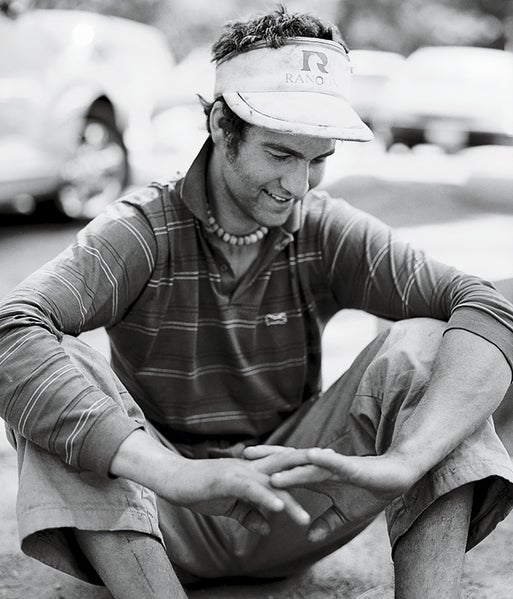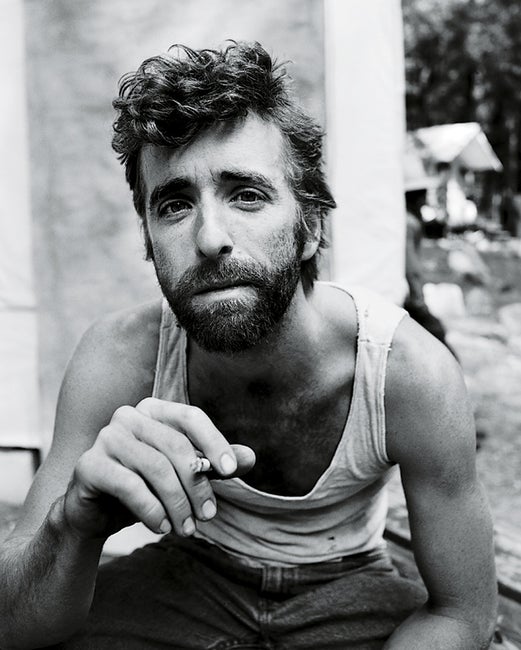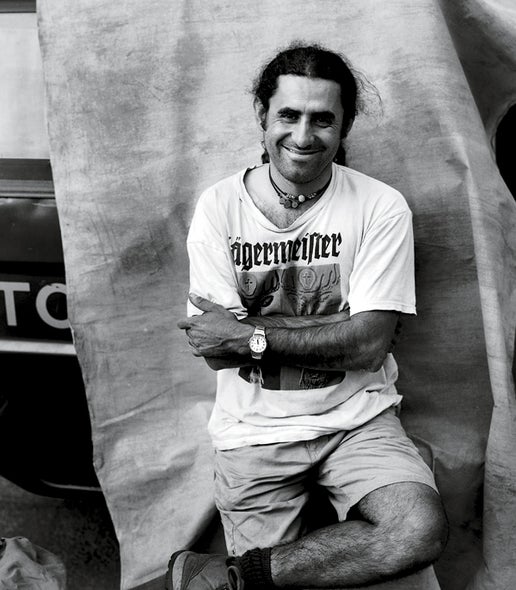 Brian "Coiler" Kay was one of the original Stone Monkeys. When I first met him, in the early 1990s, he was living in a cave behind Camp 4, putting up big-wall first ascents on Yosemite's more obscure cliffs. If you have a slanderous Valley nickname, Coiler probably gave it to you. He also popularized the Stone Monkey moniker and even gave us our call—basically, a loud Ooouugh!, like a monkey.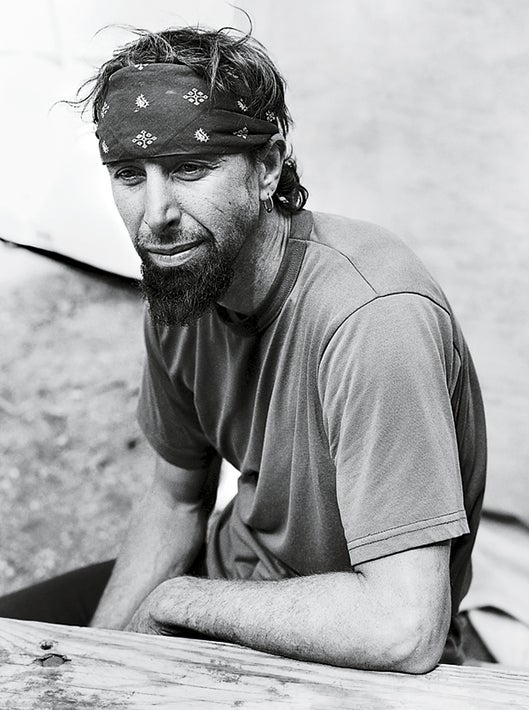 Perhaps no one has a louder Monkey call (and more Monkey spirit) than Ammon McNeely, the "El Cap Pirate." In 1997, he stumbled up to El Cap with a dream to solo it but no real clue about logistics. Below the cliff, Ammon met Chongo, who taught him to haul efficiently and loaned some crucial gear (e.g., bivy sack and a two-point hammock). Ammon went on to a hugely successful El Cap career, with the first in-a-day ascents of routes like Zenyatta Mondatta (VI 5.7 A4) and the first single-push ascent of Reticent Wall (VI 5.7 A5).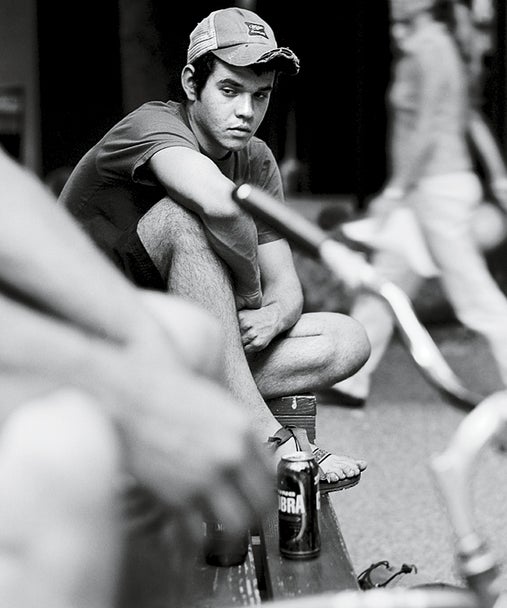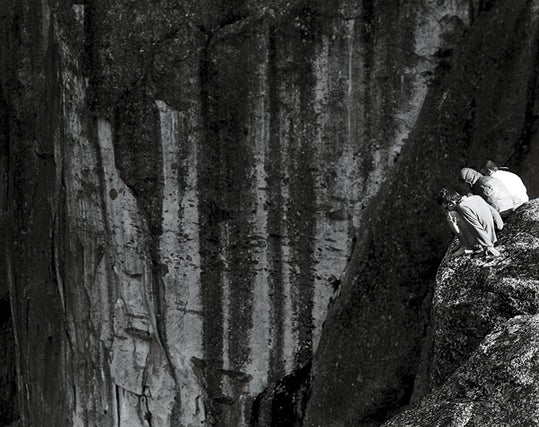 Aaron Jones arrived in 2004. More than any of the newest Monkeys, he embodies the spirit of dirtbagging, calling the Valley caves home and in the last season launching off to climb 21 walls, 15 of them on El Cap. In fact, Aaron climbed right through the summer's heat, giving everyone crap for hanging by the river and waiting for a cooling trend . . . until he suffered third-degree burns over his face on the Tempest, that is, crisper-izing these further on Half Dome and earning the nickname "Burn-Face Boy."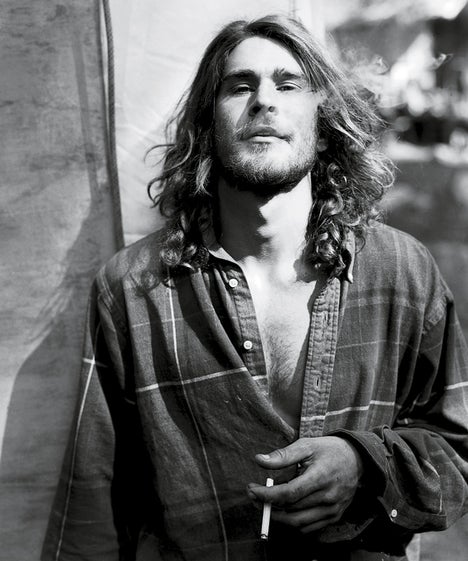 Ben Vanderklooster had a good run, from 1999 to 2005, as a Monkey before he took off sailing in the Caribbean. More than anyone, Ben had bad luck with Valley nicknames, most too politically incorrect to print. Still, he also had his share of good times, lurking about the boulders and hitting on unsuspecting females, and even managing a little stint on Yosemite Search and Rescue (YOSAR) before his "problem with authority" got him booted. (Four years in the military pushed Ben to the breaking point, and when the head of SAR asked him to pick up trash during a rescue, Ben quit.)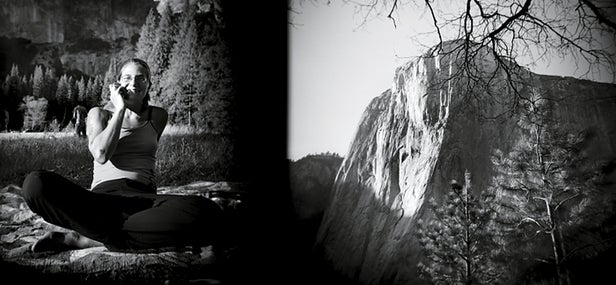 Lori Butz has been hanging tough for years. An accomplished climber, she's made her way up some slow and steady El Cap ascents. Nowadays, a lot of the biggest dirtbags, including Aaron, Ben, and Chongo, occupy her couch in the Bay Area. Lori is like a mom to the Monkeys . . . a slightly sarcastic, piss-taking mom. "You haven't climbed Freerider?" she razzed me one day in 2007. "What's your problem? This guy from Colorado just walked up and climbed it!" This ego bash lit a fire under my ass, and I freed the Freerider (VI 5.12d) two weeks later . . . and even came back to do it in a day.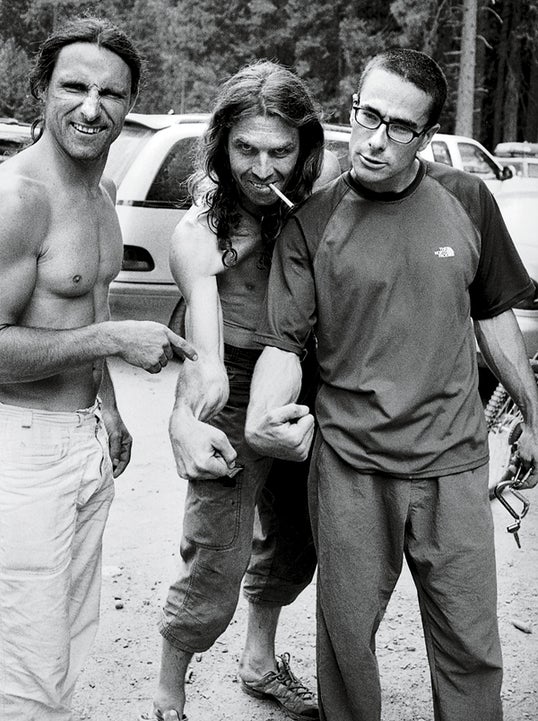 I first met Alex and Thomas Huber in the late 1990s, after both freed the Salathé Wall (VI 5.13b), further opening people's eyes to the possibilities revealed by Paul Piana and the late Todd Skinner in 1988. And in the Hubers' case, while you might not guess it, these two Bavarian Fabios are wholeheartedly Monkeys, happy to grovel in the dirt with us hoi polloi. (One night, the Hubers had everyone in camp making drunken ape calls till 3 a.m.) In this photo, I'm trying to figure out why their forearms work so much better than mine.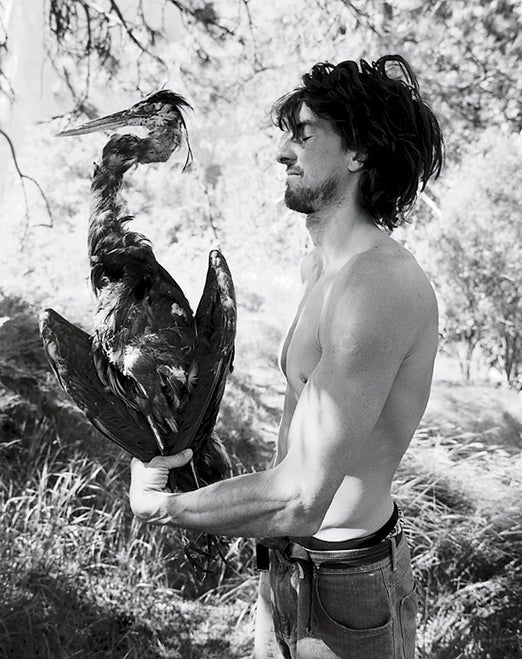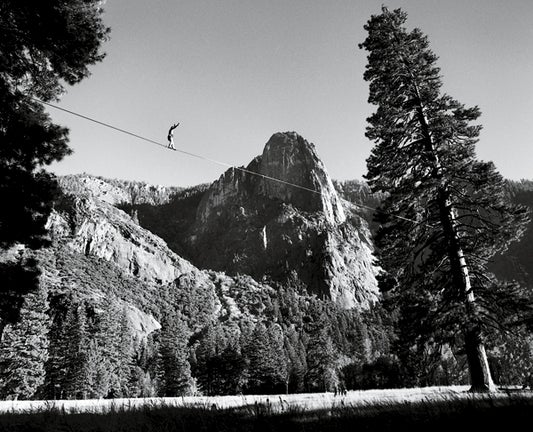 Your average Monkey has above-average slackline skills. That's because your average Monkey has mucho free time. And at some point, all that low-to-the-ground slackin' practice leads to a highline, like this one 100-plus feet off the Valley floor. Without the focal points the ground offers (and with the increased adrenaline from the exposure), it's 10 times as difficult to span the gap.
When I first met Dean Potter, in the mid-1990s, he lived in the SAR site and washed windows for money (this was before the big sponsorship deals). While it seems everyone has an opinion about Potter these days, he's one of the more generous Monkeys. Here, Potter has decided this petrified heron carcass would make a great prop for a portrait shoot.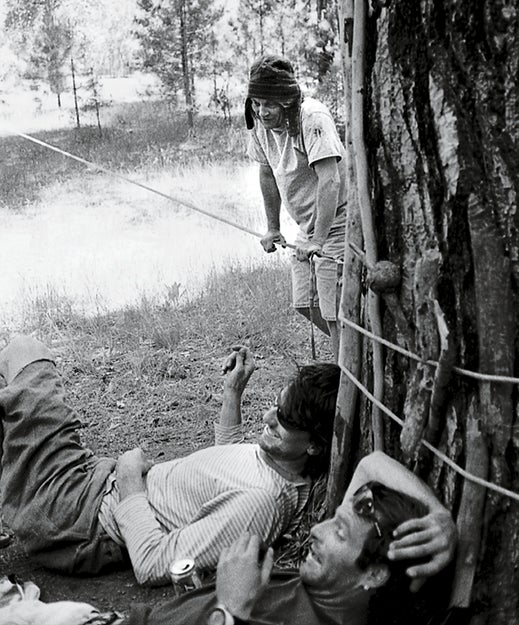 Life as a Monkey means you've opted out of the 9 to 5, and the rewards are often moments like this, chillin' in the meadow after a smoke break. Here, you see three notorious Monkeys: Chongo, Potter, and Ivo Ninov. Dean is perhaps our biggest, boldest Monkey, Chongo our most homeless and legendary big-wall quantum theorist, and then there's Ivo, who showed up in Yosemite fresh from Bulgaria in 2002. Ivo learned English from the Monkeys, and it's priceless to hear him say "bomber" and "jingus" in his Bulgaro-Californian accent.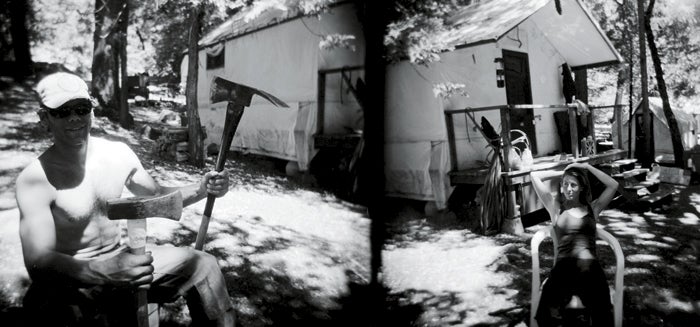 Here, you have Greg Loniewski and his old YOSAR tent cabin. Recently, the rangers turned YOSAR into a training ground for wannabe rangers (i.e., it's no longer Monkey-friendly). Still, I had a good four-year run on SAR before getting the boot for being too "countercultural." Greg, too, fell prey to the same dilemma, but not before luring several girlfriends to his Nylon mansion.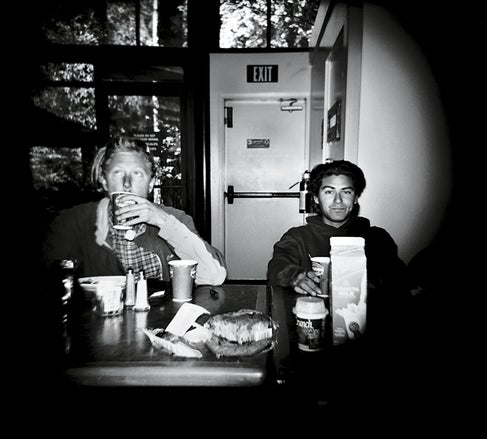 Perhaps the social epicenter for the Monkeys is the Yosemite Lodge Cafeteria, a short stumble from Camp 4. On a busy day, Monkeys infest a couple large tables. For many years, Chongo held court here, but his constant presence eventually became too high-profile, and the "Tool" ran him out. This photo shows "Hippie" Walt and Luis "Lucho" Rivera hanging. Lucho is always game for chossing up a first ascent; he learned the finer points of new route-ing from me and the legendary Rob "Platinum" Miller.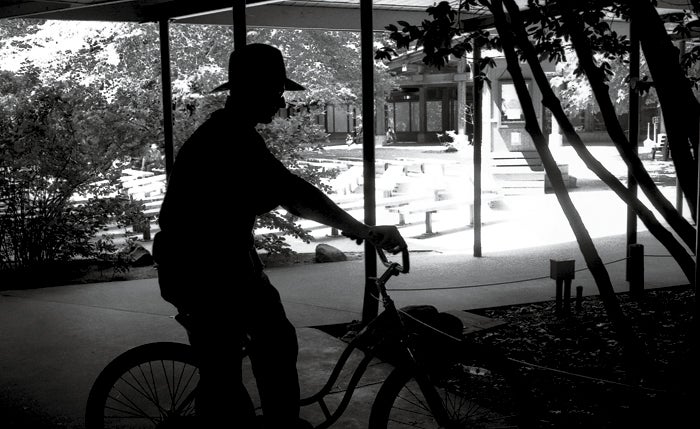 Here I am on my trusty steed, a retired Yosemite rental bike. Bullwinkle, Potter, Ammon, and I used to wage "Bike Wars," coming at each other gladiator-style (head-on) on our respective rides. Basically, if you put a foot down, you scored a point; the goal was the lowest score possible. Potter would sneak up from behind and once rammed me so hard he taco'ed my back tire. Ammon, too, had an aggressive technique where he'd put you in a headlock, and then ride you into a wall or parked car. Bike Wars came to an end when Bullwinkle tried to kick me over and I accidentally sucked his foot between the front wheel and the fork. This bent the wheel and the fork . . . and broke Bullwinkle's foot, ripping off his toenail!