A Climber We Lost: Jonas Hainz
Each January we post a farewell tribute to those members of our community lost in the year just past. Some of the people you may have heard of, some not. All are part of our community and contributed to climbing.
---
Join Climbing
Create a personalized feed and bookmark your favorites.
Join Climbing
Create a personalized feed and bookmark your favorites.
Join for free
Heading out the door? Read this article on the new Outside+ app available now on iOS devices for members! Download the app.
You can read the full tribute to Climbers We Lost in 2022 here.
Jonas Hainz, 25, October 28
Jonas Hainz was a rising star. The son of famed Tyrolean guide and alpinist Christoph Hainz, the younger Hainz entered the international spotlight in June of 2022 with his free solo of Moulin Rouge (7b/5.12b 1,300 ft), an 11-pitch route his father had opened with Oswald Celva in the Rosengarten massif 20 years prior. His June 20 ascent took the 25-year-old Haniz an hour and five minutes. 
Hainz had previously speed soloed the 4,000-foot North Face of the Ortler (12,812 ft), one of the biggest ice faces in the Eastern Alps, among other feats, but it was Moulin Rouge that cemented his name in the annals of climbing history. Sadly, Hainz died only a few months later, after a fall from the Magerstein (10,740 ft) on October 28, while attempting a solo ascent of the south ridge.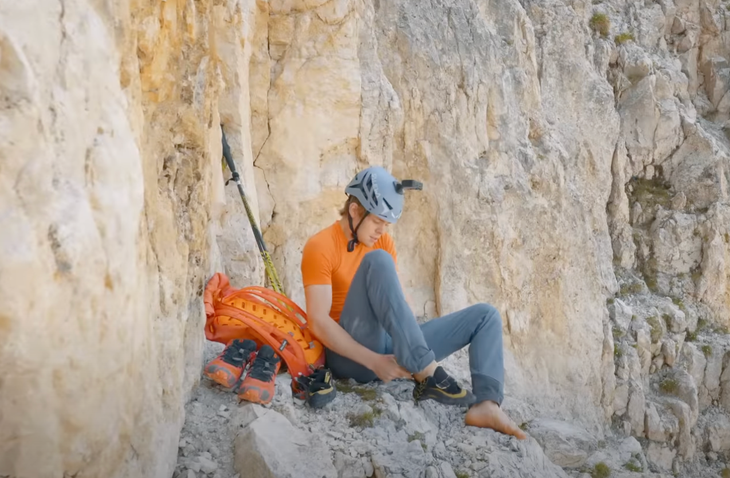 Born in the village of Innichen in South Tyrol, Hainz was on the wall from an early age. He attended school in Bruneck, where he still lived at the time of his death. When not on the wall, Hainz worked in the plastic department as a process technologist for Intercable, an automotive parts company. He was an avid technician, said his sister, Katharina, and enjoyed the complex work of repairing and enhancing the machines.
Hainz also regularly volunteered for Bruneck Mountain Rescue Service in his spare time. "I think [mountain rescue] was also an important part of his life because there he learned some nice techniques for rope handling, and he also had a lot of [friends] there," Katharina said. Sadly, it was also Bruneck Mountain Rescue who was called in to recover his body after his fatal fall.
Though little is known about his fatal accident while alone on the Magerstein on October 28, several sources reported that Hainz fell after a hold pulled loose, and he fell approximately 300 to 400 feet. Katharina said that the terrain was comfortable and familiar to Hainz, but Bruneck Mountain Rescue was called after Hainz failed to return home on the night of the 28th. The outfit found and recovered his body the following morning via helicopter, at an elevation of 7,800 feet on the ridge. 
"Sadly, we say goodbye to our mountain rescue companion and friend Jonas Hainz, who was [killed] yesterday while exercising his passion at the Magerstein," Bruneck Mountain Rescue wrote on Facebook. "Our deepest sympathy to the family. One last mountain recovery Joni, we will miss you and your happy way!"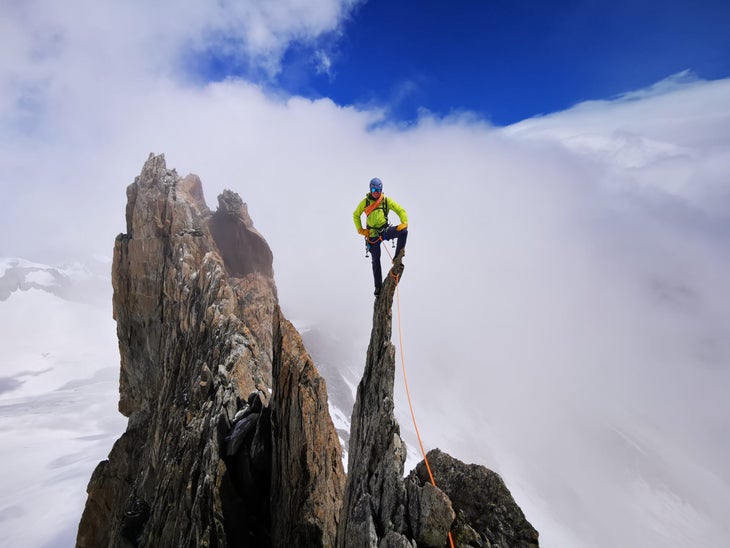 Katharina looked back fondly on growing up with her brother, who she described as nothing short of a technological whizz. "I think I am most thankful for the childhood we had together," she said. "We did nearly everything together. [Later in life], we also did some beautiful ski tours together, for example, the Ortler. 
Hainz was also an avid model airplane flier. "Some of them he made from one piece by himself, some others he bought and stacked the pieces already made together," Katharina said. "He loved doing this and then flying and being out on the field with friends that also flew."
Hainz is survived by his mother and father, sister Katharina, and girlfriend, Eva, "who was very, very important to him," said Katharina. His father, Christoph, pioneered numerous cutting-edge classics in the Dolomites, including the 23-pitch Donnafugata on the South Face of Torre Trieste (8,064 ft) with Roger Schäli in 2004. He also was a successful competitive climber for much of the 1990s.
When asked to describe her brother, Katharina said that first and foremost, "Jonas knew always what he wanted. He was always technical and exact, able to do anything. He was an honest person, a good friend, and very trustworthy. He always helped whenever someone needed him."
—Owen Clarke
You can read the full tribute to Climbers We Lost in 2022 here.