This Tom Ballard Documentary is a Flawed, But Poignant, Portrait of Loss in the Mountains
Alison Hargreaves and her son Tom Ballard were two of the finest alpinists of their eras. "The Last Mountain" skillfully exposes the void formed in their wakes, though it diminishes Ballard's climbing partner in the process.
Heading out the door? Read this article on the new Outside+ app available now on iOS devices for members! Download the app.
When British alpinist Alison Hargreaves died on K2 (8,611 meters) in 1995, her son Tom was only 6 years old. A quarter of a century later, Tom perished during an attempt on Nanga Parbat (8,126 meters), scarcely more than a hundred miles away.
It was a twisted coincidence that only the inscrutable machinations of nature could whip up. Their deaths left behind a father/husband (Jim Ballard) and a daughter/sister (Kate Ballard). The Last Mountain, a new BBC documentary from director Chris Terrill, examines the void the two climbers formed in their wake.
*
Tom Ballard was on the wall before he was even born. Hargreaves climbed the Heckmair Route on the Eiger North Face in 1988, while six months pregnant with him, and she and her son were linked by their lives just as much as their deaths. The pair formed what is likely the most well-known and accomplished mountaineering lineage in recent years.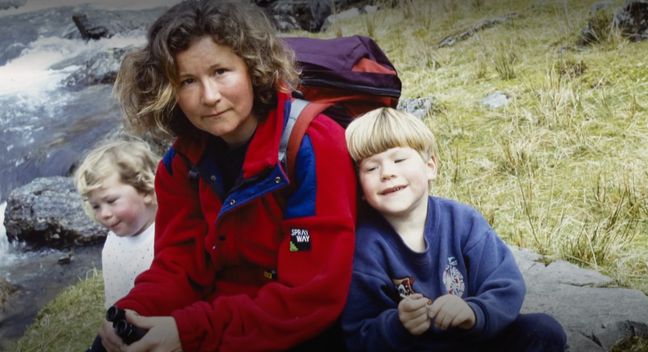 Hargreaves nearly became the first person to solo the six great North Faces of the Alps in a single season, in the summer of 1993. Her son became the first person to solo them all in winter, in the winter of 2014, a feat that catapulted him into international stardom. I use "nearly" referring to Hargreaves because what The Last Mountain, like many other media sources, gets wrong is that she didn't actually complete her goal. As Climbing's former Senior Associate Editor Michael Levy writes in his extensive profile of Ballard, "in reality [Hargreaves] came up just shy… She did not climb the Eiger North Face, but rather the Northeast Face, via the less demanding Lauper snow route."
Regardless, Hargreaves' skill was indisputable. While she's most well-known as the first woman to solo Everest unsupported and without oxygen, she also made the second ascent of a new route on Lobuche East (6,119 meters) with Mark Twight in 1986 and put up a new route on Kangtega (6,782 meters) alongside Twight, Jeff Lowe, and Tom Frost. She also notched a summit of Ama Dablam (6,812 meters) on her belt, among other ascents.
This article is free. Please support us with a membership and you'll receive Climbing in print, plus our annual special edition of Ascent and unlimited online access to thousands of ad-free stories.
Her 1995 death, alongside five other international climbers after summiting K2, ignited a media firestorm. Some outlets leveled accusations of recklessness and irresponsibility against Hargreaves for climbing 8,000ers as a mother of two young children, accusations she faced throughout her career. This is, Levy notes, "an obvious double standard, as male alpinists seldom drew such criticism."
It's in the wake of this tragedy that The Last Mountain picks up. 
*
Viewers hoping to see spectacular climbing footage will be left wanting, for the film is short on climbing, but long on reflection. It's not about Tom Ballard the climber. It's about those in his orbit. It's about his sister, his father, it's about the girlfriend that he left behind. 
"I would argue it's not a mountaineering film at all," director Chris Terrill told me over Zoom. "It's a film about family that happens to be set in the mountains." This is precisely what makes The Last Mountain so unique. 
The principal narrative follows two parallel journeys. First, the trek Tom (6) and Kate (4) made with their father to visit "Mum's last mountain," K2 after she was killed in 1995. Second, the journey Kate makes to visit Nanga Parbat Base Camp 25 years later after Tom, too, is killed.
The footage is interwoven together, with the film frequently jumping backward and forward in time. By the 20-minute mark, we've already learned that Tom died on Nanga Parbat, minutes later we're watching him and Kate play as children again.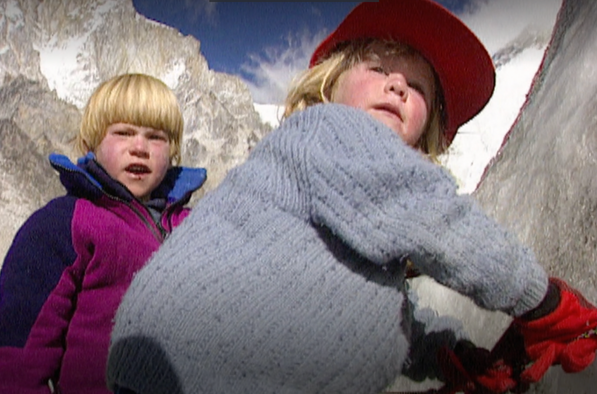 The archival footage Terril has compiled during his nearly three decades filming the Ballard family paints a distinctly intimate portrait. (He also directed the documentary Alison's Last Mountain in 1996.) But The Last Mountain was no documentary made after the fact. It's been in the works, Terrill said, for nearly the entirety of Tom's life.
 "The idea was that one day we'd make a film together called The Children of the Mountains," he said. "It was to be a celebration of Tom and Kate and their extraordinary relationship with the mountains. We always thought the end of the film would be Tom climbing K2, the mountain that claimed his mother… It didn't happen that way, because life doesn't follow a script."
Watching The Last Mountain is like stepping into the Ballard household, sitting around a couch, and slotting a home movie into an old VHS player. It's deeply personal. There is not a minute of recreated footage in the film—it's all authentic and spans more than a quarter of a century. 
We're there behind the lens as Hargreaves plays with her young children before setting out for her fateful  K2 expedition. We watch a young Tom and Kate ramble through Pakistani valleys to reach K2 shortly after their mother is killed. We see Tom training as a young teen, cutting his teeth on hard rock around Europe while his father holds the rope, bouldering and sport climbing and dry tooling. (Among other feats, Tom established the world's hardest dry-tooling route, a D15, A Line of Above the Sky in 2016.)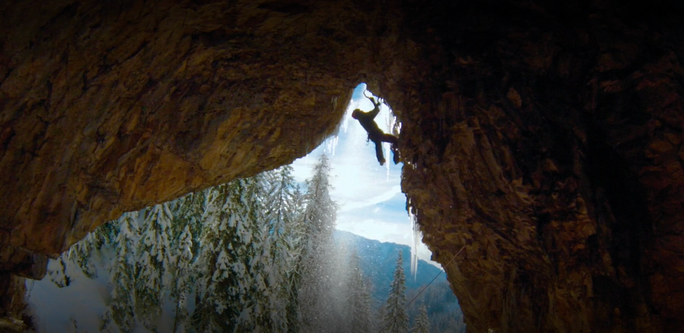 We see him as a young man, learning to cope with the spotlight after his "Six Great North Faces" project comes to fruition. We're there when he meets mountaineering icon Reinhold Messner, who praised his mother as the greatest female alpinist of all time.
We see him on Nanga Parbat in 2019, where he died alongside partner Daniele Nardi during a winter attempt on a notoriously dangerous, unclimbed line known as the Mummery Spur. 
We're also there when Jim finds out his son has died while on the phone with Kate, who is already stricken with grief. "I didn't know Tom had died," Terrill said of that moment. "It hit me hard as well. I had to decide: Do I stop filming and go hug Jim? Do I carry on and film? For me, the camera was a shield. So I hid behind it and carried on."
We're there when Kate goes to Pakistan to retrieve her brother's passport after his death and is told by the callous, cigar-puffing Italian ambassador who helped organize the rescue operation that Tom "died a cruel death."
Perhaps the most moving scene, however, is when Kate returns to Pakistan, reuniting with a local porter, Ibrahim, who carried her on his back as a child when she journeyed to K2 with her brother and father. On that note, the film is as much about Kate as it is about Tom. It's about her learning to cope with the loss of first a mother, then a brother, in the mountains.
Current and archival footage is wielded without chronology, creating a sense of intimacy and timelessness that isn't often found in similar climbing documentaries. This isn't a film that was made at one point in time, it's a tome of footage compiled over a lifetime. Watching The Last Mountain truly feels like following every step of the Hargreaves-Ballard journey in real-time, and that makes it worth a viewing.
*
Unfortunately, where the film falls short is covering Ballard's relationship with his late climbing partner, Daniele Nardi, who perished alongside him on the Spur. 
Those interviewed in the film don't merely dismiss the duo's objective as foolhardy. ("Everyone has the right to choose where they kill themselves," Messner says of the line, which his brother died descending in 1970.) To leave it at that would be fair game.
Instead, the film casts the Ballard-Nardi partnership in a negative light, with more than one individual in Ballard's camp (his sister, girlfriend, father…) alluding, and in some cases outright declaring, that a fame-hungry Nardi was using the highly-skilled Ballard as a tool to attempt a rash objective, one he could never have hoped to complete alone or with a lesser partner.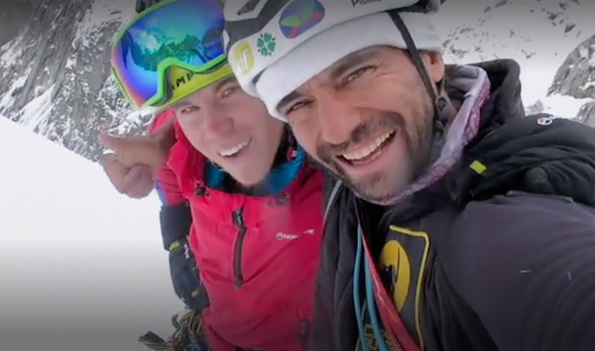 The result is that some sections of the film feel like a slam piece directed at a dead man who is unable to defend himself. This unfolds in a few different ways. For starters, The Last Mountain emphasizes —quite heavily—that Ballard was the more talented of the duo. This claim is true… in a sense. But the film fails to clarify the distinction between being a talented technical climber and an experienced high-altitude mountaineer. 
Nardi may have been a tireless self-promoter, unlike the famously modest Ballard, and he was definitely a bit of a goofball, prone to posting dramatic one-liners on his social media. ("A summit, a new route? No, my friend, it is a path to freedom." "It's not a question of climbing, it's a question of life itself." You get the idea.) 
But the Italian was no slouch. It was his fifth time on Nanga Parbat and his fourth winter attempt. The 42-year-old had summited five 8,000ers without oxygen (four if not counting the controversial middle summit of Shishapangma [8,027 meters]), and gained recognition from the Piolet d'Or committee for new routes in Italy and Pakistan, in addition to a bold new 4,000-foot route (M6/7 A3 WI5+) between ​​Bhagirathi III (6,454 meters) and IV (6,193 meters) in 2011. He was there in 2016 when Basque legend Alex Txikon made the first winter ascent of Nanga Parbat via the Kinshofer route with Simone Moro and Ali Sadpara, but Nardi turned back early. "[Nardi] was more familiar with Nanga Parbat and the Mummery Spur than any other climber in the world," Pakistani climber Karim Shah Nizari told Explorersweb. 
In contrast to Nardi's impressive resume, Ballard had never summited a mountain higher than 6,000 meters. Ironically, one of his most noted high-altitude efforts was, in fact, a bold attempt on the Northeast Face of Link Sar (7,041 meters) with Nardi in 2013.
Txikon, who led the effort to find Ballard and Nardi, appears in the film to indicate that the duo's attempt on the Mummery Spur was ill-advised, calling the line more "dangerous and risky than hard and technical." But a 2019 interview heavily contradicts this. "[Nardi] was no newbie or irresponsible," Txikon told Explorersweb. "He knew perfectly well what he was doing. I saw his higher camps: They were neat, perfectly equipped, and ready for a well-planned climb." When the interviewer mentioned that some have called the Spur "dangerous, almost suicidal," Txikon promptly countered. "I wouldn't be so sure," he said. "[Nardi] knew every inch."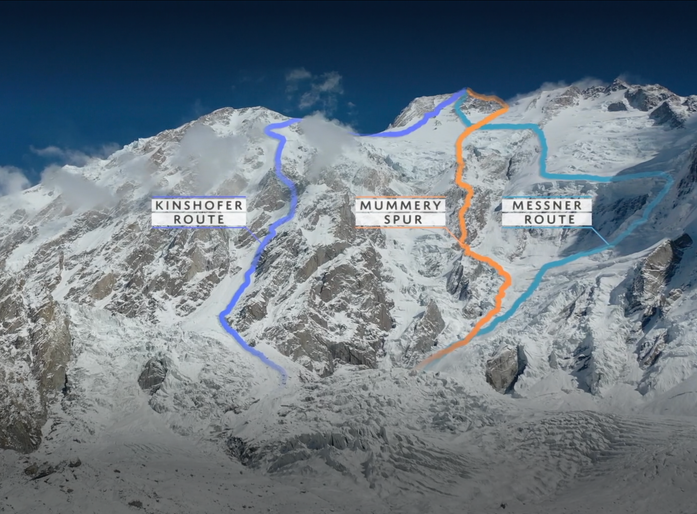 "I visited Daniele's family in Italy [after returning]," Txikon later added, "and they organized a beautiful tribute. I held his 6-month-old baby in my arms. I couldn't help asking myself whether it is sensible to go to winter Nanga Parbat with such a young baby… But what can I say, it is so sad."
Reading Txikon's words one immediately thinks of Hargreaves, denigrated for the very same reason so many years before.
The second hole in The Last Mountain is the implication that Ballard, a 29-year-old man, could've been somehow "conned" into roping up with Nardi, a supposedly vastly inferior alpinist. Any mature, competent climber can choose who they do or do not rope up with at the sport crag, on a multi-pitch, and certainly on an 8,000-meter peak nicknamed "Killer Mountain." And Ballard was more than a mature, competent climber. He was one of the world's best. That doesn't just mean being able to lead steep pitches of ice and do a ton of pullups. It means being able to take responsibility for yourself.
The Last Mountain, however, seems obsessed with the image of Ballard as a bright-eyed 6-year-old, a naïve schoolboy. "[He was] like a child, you give him a sweet, he takes it," says his girlfriend of five years, Stefania Pederiva. "Tom never judged people," she later adds. "He never said half a bad word about anybody. He couldn't see if someone was trying to manipulate him."
Ironically, the constant switching between footage of Ballard's childhood and adulthood also mimics the film's failure to accept its subject as a grown man, capable of calling his own shots and managing his own risk. 
In The Last Mountain's defense, this film is about a family coping. It's about learning to live with loss. "I wanted to explore the very nature of grief," Terrill said. Casting blame is a natural response to grief. It's understandable that Ballard's loved ones are looking for someone to be at fault, and it makes sense that this carries over into the film. On some level, this adds to the work's gritty authenticity. In his own words, the Ballards became "like family" for Terrill during his 25-plus years filming their story.
Again, watching The Last Mountain feels like viewing a Ballard family home movie, complete with asides from the family sitting there on the couch next to you. But we don't get those asides from Nardi's loved ones. We don't hear from his brother or his wife or his close friends. We don't get to see his son, only 6 months old when his father died. We aren't even explicitly told that he has a family, other than a couple of odd offhand comments. The only person there to speak for him is his biographer, Alessandra Carati.
When I raised this to Terrill during our interview, he made it clear that his intentions "weren't to cast aspersions." "We didn't want to turn it into an investigative film," he said. "Questions were being asked, so we had to go some way towards addressing them." Since no one will ever know what really happened on the Mummery Spur, Terrill said they had to make educated guesses and "allude to what might have happened."
I've watched The Last Mountain several times since I first interviewed Terrill a week before its U.S. release, and though I believe him wholeheartedly, it's hard to reconcile this statement with the finished product.
"Tom was, above all, a solo climber. That's where he excelled," his sister Kate says towards the end of The Last Mountain. "I've found myself at times thinking, 'I wish he'd have just stuck to solo climbing. If he'd been soloing, it would've been a different outcome.'" As a portrait of one family's grief, this quote adds to the raw nature of the work. As a documentary concerned with two dead climbing partners, it goes too far.
All told, The Last Mountain is just a hair's breadth from being a spectacular homage to the legendary Hargreaves-Ballard legacy. It's only a shame it feels the need to throw Tom's climbing partner under the bus to do so.
There was one moment in the film that bit sharpest of all, a brief clip of Nardi being interviewed by an Italian news station. The late alpinist is speaking about his upcoming expedition to Nanga Parbat with Tom. 
"If you don't come back, how would you like to be remembered?" the interviewer asks. 
"Wow, good question," Nardi says, pausing to think.
The film immediately cuts away. We never hear his response.
---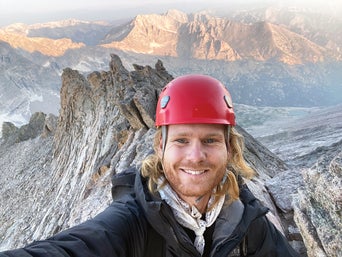 Owen Clarke is a freelance writer living on the road. In addition to spending time in the mountains, he enjoys motorcycles, heavy metal, video games, and key lime pie.