Sleepless in the Death Sport Capital of the World
The route they said, was easy, but then they said it was impossible, deadly even in these conditions. So which was it?
Heading out the door? Read this article on the new Outside+ app available now on iOS devices for members! Download the app.
October 2, around midnight. I was lying in a bunk in the Refuge du Plan de l'Aiguille a few thousand feet above Chamonix, France, trying to fall asleep. At 3 a.m. my partner, Shane Johnson, and I were going to get up and try to climb the Frendo Spur, a 4,000–foot route up the Aiguille du Midi—a big buttress of granite, snow and ice that tops out at 13,000 feet at a gondola station. It had been snowing steadily and the route had been described as dead easy or, possibly, completely out of condition.
I first heard about the Frendo from my buddy DR, who had soloed the route in 1984 and was caught in a storm under a granite spur a few hundred feet below the summit (the same place Jornet was stymied). In lieu of a rescue, DR stood all night in his crampons on a steep snow slope, freezing, before confronting the 80-degree ice crux. But lots of people get into trouble on the Frendo. They climb too slowly and get benighted, or misjudge their ability or don't bring the right gear and have to get rescued. Like Kilian Jornet, for example, the champion sky runner and holder of many speed records on technical routes, who was stopped by steep ice and loose rock in September of 2013, and had to be escorted off the Frendo by the Peloton de Gendarmerie de Haute Montagne. If you just look at the climbing, the Frendo should be a piece of cake. An hour approach from the hut to the base of the glacier, then low-fifth-class ramps and steps with a couple of short cruxes, culminating with a long, peaked snow ridge and a pitch of steep water ice right at the top. You don't even have to descend—just climb onto the viewing platform and take a gondola down. But instead of sleeping, I was thinking the thoughts we all think before a big, serious climb: What in the hell am I doing? What would I find up there? Am I strong enough, brave enough, lucky enough? Maybe this wasn't such a great idea. Clearly, the climb could eat your lunch if you underestimated it. And yet, as soon as I heard I was going on a weeklong work trip to Chamonix, the only route I really wanted to do was the Frendo.
Shane, late-20s, a shoe buyer for the Bent Gate in Golden, Colorado, was snoring fitfully in a bunk across the room. I'd met him for the first time at the airport in Geneva four days before. Rangy and fit, with a chill demeanor, he was part of the same press trip. He'd also scheduled a couple of extra days in hopes of climbing something cool and he was psyched to give the Frendo a whirl.
We spent a day trying to get information about the route from some guides we'd met. The first guide, Jean-Michel, said that the snowfall would make the route an easy romp. But a couple of hours later we asked another guide, Bastien, and he said that nobody had been on the climb for a month and the new snow would shut us down.
So we went by the Office de Haute Montagne, a clearinghouse of climbing info, and asked the guy at the desk if the Frendo was in condition. He said it depended on whether there was snow on the lower ramps, in which case the route was out of condition. (We could see from town that there was snow on the lower ramps.) But after we'd looked through the guidebooks and taken pictures of the Frendo pages and asked about the rack and the cruxes, the guy changed his mind and suggested that we could probably knock it off in an easy day and do another climb, too, like the Arete des Papillions.
All this contradiction and subterfuge was confusing to a Texas alpine climber like me. Which was it? In or out?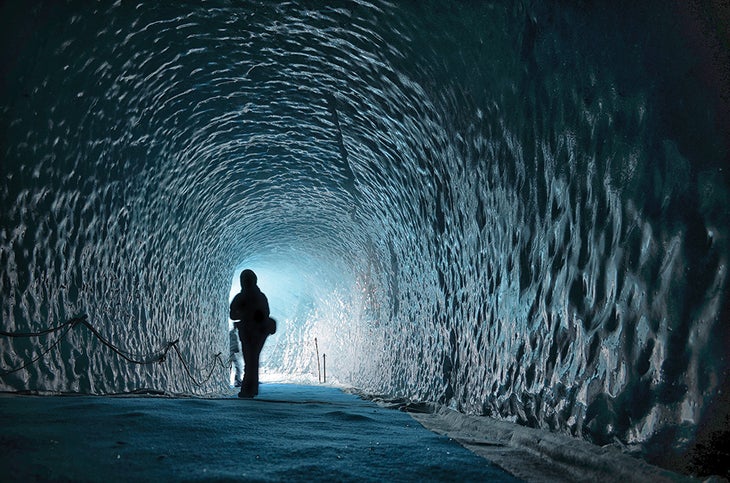 Sometime just before the alarm went off it occurred to me that this dance of indecision is what I love most about climbing. It keeps me up. It doesn't matter if it's a big alpine climb, or a wall, or a tower, or a hard redpoint, or even a highball boulder problem—it only gets interesting when there's some skin in the game.
Sleeping soundly is overrated. I was lucky to be awake, contemplating big questions and departed friends before an unforgettable day in the mountains, because the hard part of life is actually the crushing monotony. You get older and wear a groove through time with routine. People talk about everything speeding up, but that's only because our lives are boring. Time is a sequence of unremarkable nows stretching out toward a death that feels like it's closing in with the alacrity of Einstein's train in his demonstration of special relativity.
When the alarm went off, I was feeling optimistic and grateful for my doubts. It really didn't matter if the route was "in" or "out" because we were going up there, and we'd have to face whatever we found.
Finally, it was time to climb.
Jeff Jackson is editor at large for Climbing. This story first appeared in Rock and Ice No. 227. Access over 3,000 other features and stories on Rockandice.com