Teenage Partners Crush Hard Trad in Eldorado Canyon, Eye Naked Edge Speed Record
Max Manson, 19, and Tanner Bauer, 16, are a young partnership sending hard, committing trad routes in Eldorado Canyon, Colorado
Heading out the door? Read this article on the new Outside+ app available now on iOS devices for members! Download the app.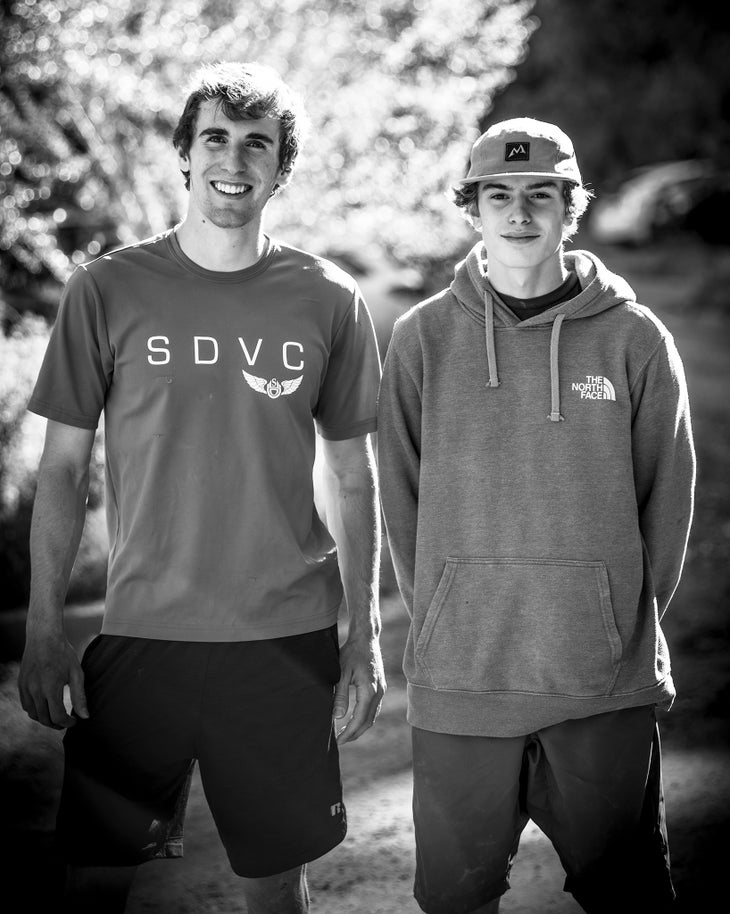 On an early weekday morning last August, my partner and I headed up to Kloof Alcove in Eldorado Canyon for a redpoint attempt of my project, Sequential (5.12a). The psyche was high. I was racking up for the redpoint when a couple of teenagers came chattering up the trail. These are all steep trad climbs, I thought to myself. What could these kids possibly be doing up here?
After a hair-raising 20-footer I hung on my piece and sussed out the beta while the younger of the two teenagers floated up Superfly (5.12d) a couple routes down without a warm up. It struck me in that moment that it was me who had no business on the steep trad lines of Kloof Alcove, not the pair of adolescent crushers.
"Those guys are Max Manson and Tanner Bauer," my partner said as we scurried back to the parking lot. "Definitely a couple of kids to keep an eye on."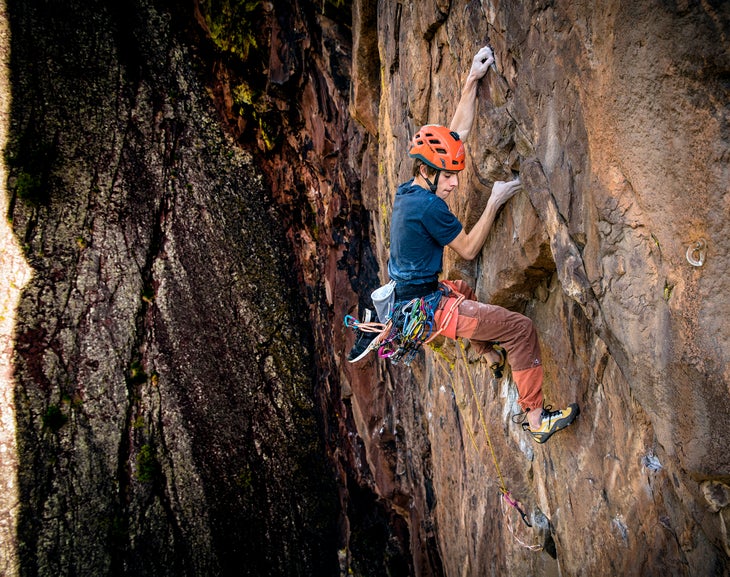 Today, Max Manson is 19 years old, and Tanner Bauer is 16. Max just completed his first year of college at Stanford University in California, where he is a pole vaulter on the track and field team. Tanner is going to be a junior in high school in the fall, just got his driver's license, and likes to skateboard after a day of hard climbing. Both boys grew up in Boulder, Colorado, and have been immersed in climbing their entire lives. Tanner's dad started bringing him to the climbing gym as an infant, and Max and his father climbed all of Colorado's 14ers by the time he was 12.
The duo met two years ago through mutual climbing partners. They knew from the outset that they had similar goals and were stoked on the same style of climbing. On one of their first outings together, Max took Tanner to his project, Desdichado (5.13+).
"It was my big project in Eldo and Tanner sent it on like his second day," Max said. "It was pretty awesome."
In today's world of climbing gyms, competitions, and youth teams, it's not unusual to find young climbers sending hard sport routes and boulder problems. What is unusual is to find young climbers sending 5.13 trad routes, especially those with R and X ratings.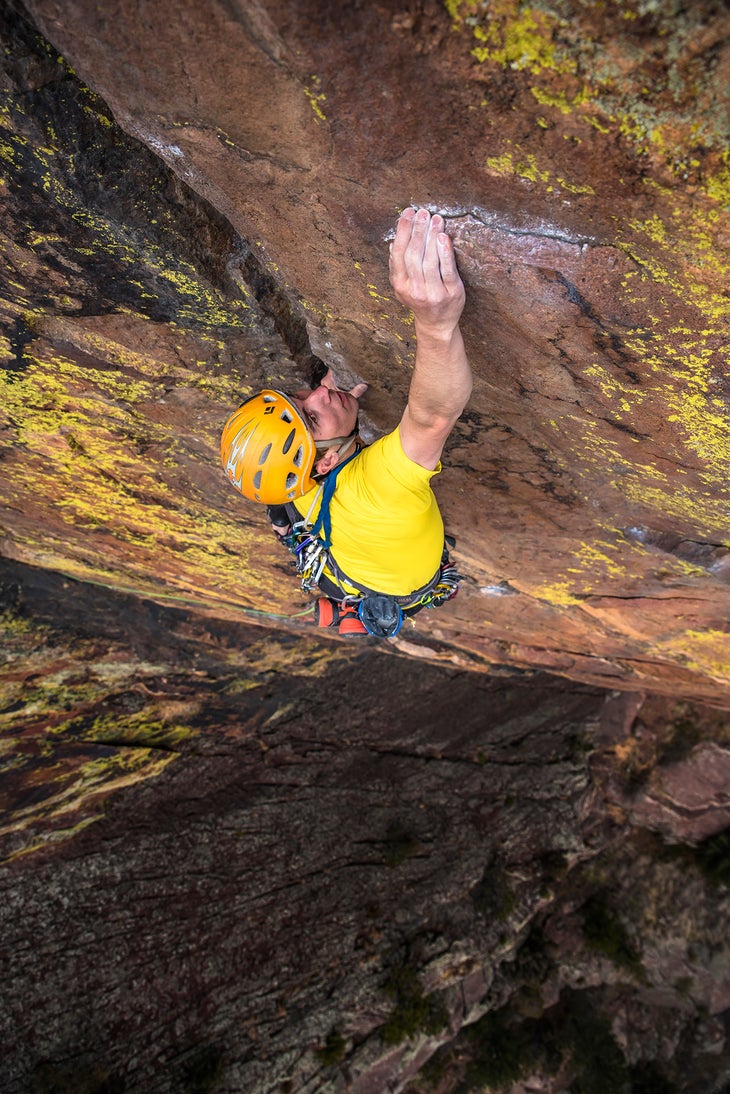 "Back when we first met we were both in high school," Max said. "There's not really that many high schoolers who are into hard trad climbing. It was really cool to find someone else who was also younger and psyched on that kind of stuff."
Finding one another and forging a partnership allowed them to flourish as individual climbers. Finally they each had a partner who also craved bigger, harder, scarier objectives, and had the ability, knowledge, and drive to get the job done.
"Initially I was just so happy to have a partner to go out and get off the ground and do trad-related rock climbs," Tanner said. "I didn't have anyone to do that with before. I have a crew of people who I roll around with, but no one who really knows how to place gear or do big adventure linkups."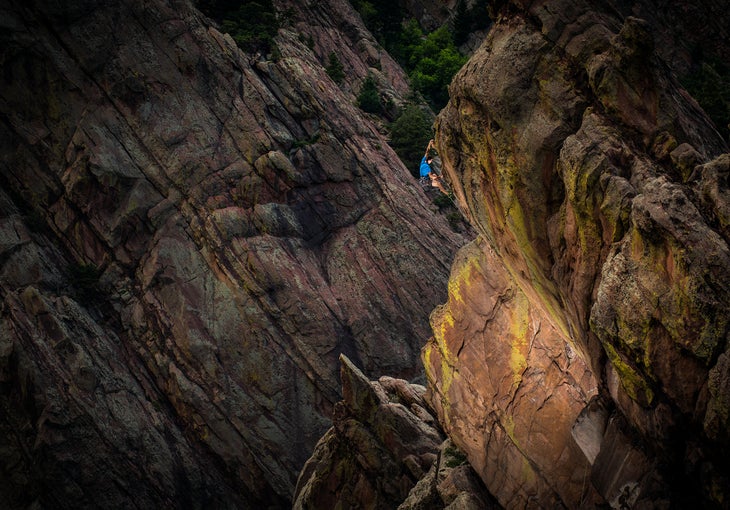 Max—who is an all-around stellar athlete, being a gymnast as a child, a pole vaulter currently, and a climber—says he has always been attracted to the more adventurous side of climbing because of all the 14ers he did as a kid, which naturally draws him to gear routes.
The style appeals to Tanner because of the challenge and the aesthetics, and he relishes going places that few people have been. "I think it's really satisfying to get in the top five ascents of a route or a problem," he said.
Because of this, the boys—especially Tanner—tend to be drawn to R and X rated routes.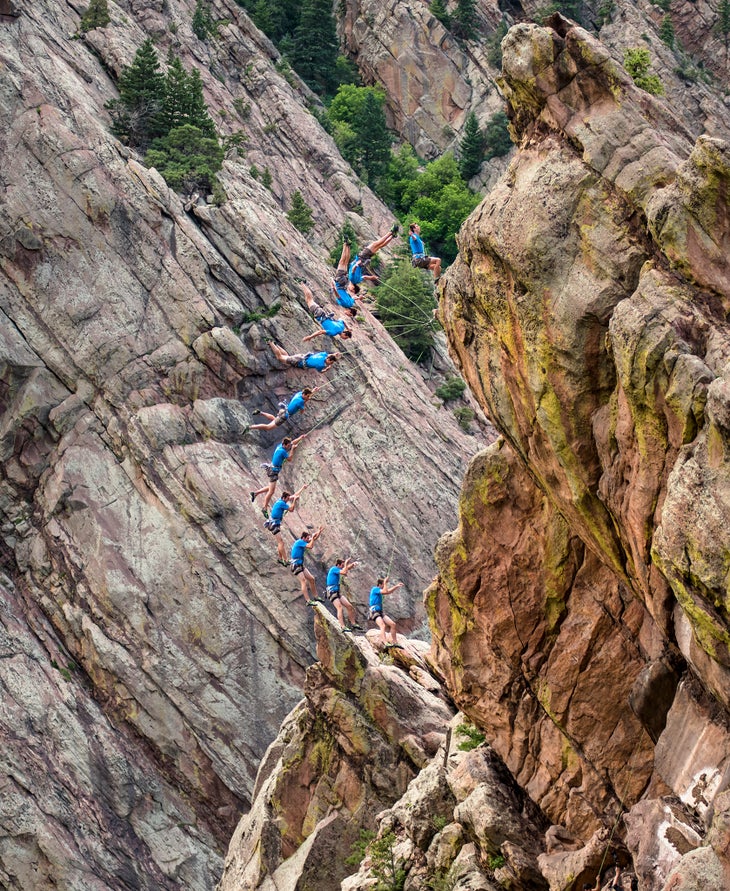 "The main reason I'm attracted to lines like that is that they are so simple and aesthetic," Tanner said. "It's not the fact that they're dangerous, it's just that those striking lines happen to be a little more dangerous. They are just so pretty and need to be rock climbed."
"For me it's a mental challenge as well as a physical challenge," Max added on. "I really like getting up there when you have to execute everything perfectly. It's that flow, almost like you're watching your body doing it. I feel it's easier to unlock that state when you're on routes like that."
Though each of their parents got them into climbing, their folks are "not stoked" about some of the routes they go after. But despite their youth, Max and Tanner are methodical, systematically breaking down climbs and only going for dangerous routes if they feel they are "100% ready."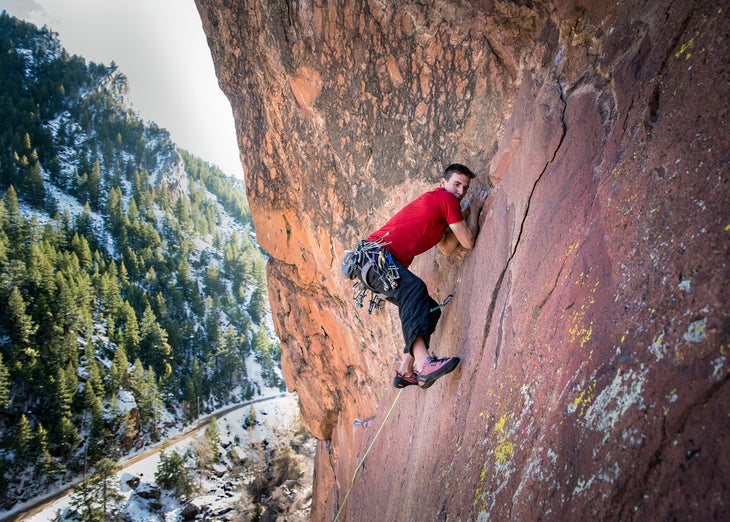 "My parents would prefer that I didn't put myself in these situations," Tanner said. "But they trust me and trust my ability and that I have it dialed enough."
Recently, Max and Tanner have been running speed laps on The Naked Edge (5.11b), the classic six-pitch Eldorado route with a speed record that's coveted among Front Range climbers. The race begins on the bridge over South Boulder Creek. From there the climbers run a short distance uphill, solo the 5.8 approach pitch, rope up to simul-climb the 460 feet of technical climbing on The Naked Edge, then sprint down the precarious fourth-class East Slabs descent, and recross the bridge. The current speed record is held by Ben Wilbur and John Ebers at 24 minutes and 14 seconds. On their most recent attempt, Max and Tanner ran a lap at 33 minutes and 25 seconds.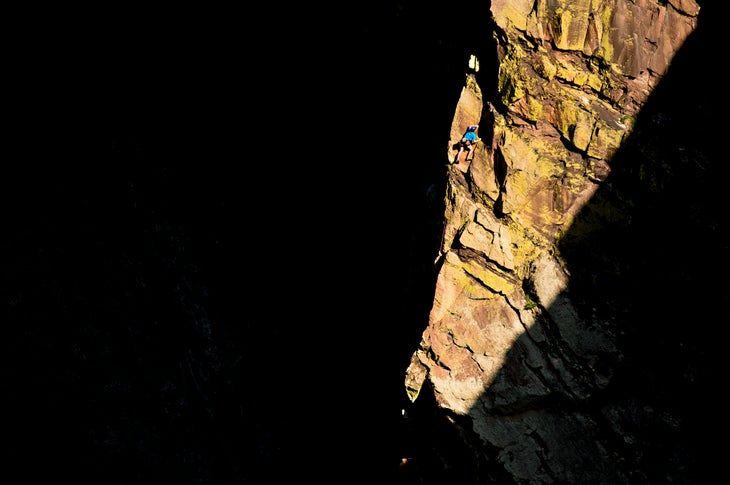 "It's been a slow progression, bringing our time down by five or ten minutes every time," Max said.
"We're figuring out the technical difficulties, trying to smooth everything out," Tanner added.
To put things into perspective, the combined ages of the current record-holders, Ben Wilbur and John Ebers, is 47. The previous record holders, Stefan Griebel and Jason Wells, had a combined age of 82. Before that, Brad Gobright and Scott Bennett had a combined age of 55.
Max and Tanner have a combined age of 35.
When asked if they have their eye on the record, Max reluctantly nodded his head, while his younger companion firmly said: "Yes."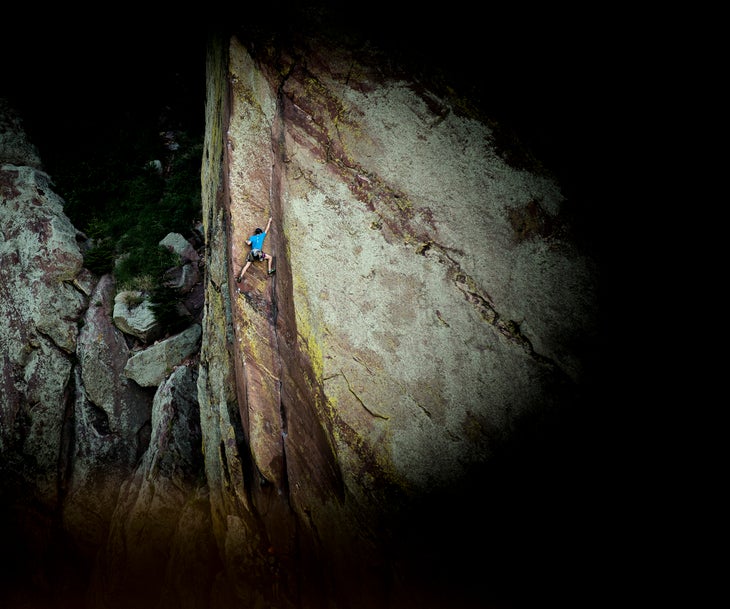 The heat of July has kept them off the sun-baked Edge, and the partnership will be temporarily split up when Max returns to Stanford in the fall, though the team has ambitions to get on it come Thanksgiving and Christmas break.
"Honestly it's kind of a bummer," Tanner said about Max leaving for college. "Because I just sit in my house thinking, I could be doing The Edge right now, or go and do Vertigo, but I don't have a partner."