Place-Making in Climbing and the Importance of Welcoming Spaces
Heading out the door? Read this article on the new Outside+ app available now on iOS devices for members! Download the app.
This article is free. Sign up with an Outside+ membership and you get unlimited access to thousands of stories and articles on climbing.com and rockandice.com, plus you'll enjoy a print subscription to Climbing and receive our annual coffee-table edition of Ascent. Outside+ members also receive a Gaia GPS Premium membership, and more. Please join the Climbing team today. 
Climbing is so much more than just the spaces where we physically climb. As conversations about identity and place-making in adventure sports gain traction, the Australia-based climber Harry Lee discusses how his relationships with himself and others have deepened through the sport.
I arrive at Barkly Gardens in Naarm/Melbourne, Australia, a little early for my meeting with Harry Lee. Lee, 28, is part of ClimbingQTs, a queer, trans, and gender-diverse space open to anyone interested in a safe and friendly atmosphere to climb; and Mat Masters Academy, a space mostly comprised of people of color from diverse social classes. I first met him at a ClimbingQTs fortnightly meetup earlier this year, where he was acting as a ClimbingQTs champion, a friendly face as new ClimbingQT members (like myself at the time) enter the gym to try their hand at the wall. Lee himself has been climbing since October 2019. As the main man behind PlayReactive, a creative studio based in Melbourne that makes art and games, a university lecturer, consultant, and MBA candidate, he's come to find that his relationships to others, and even to himself, have deepened through climbing. 
Barkly Gardens opened in 1867—making it one of the earliest gardens in the city. It sits in a leafy green oasis of bitumen paths that is considered one of the area's hidden gems. I wait for Lee by the newly renovated playground, and smile when he approaches me, saying he's better at conversation when pacing.
"I only discovered I had a body like four years ago," Lee says. "I really bought in hard to Cartesian dualism, like mind-body divide. I thought I was a brain in a meat vat, y'know, a fancy mecha suit. That's the kind of child I was."
And so we walk and talk, following a winding gravel path, pigeons and children the soundtrack to our Saturday morning. A few older kids enjoy a spiral slide, the flying fox, and the monkey bars. 
"I was a ball," Lee goes on. "Really rotund, and I couldn't do monkey bars. I'm not sure I could do monkey bars now to be honest." Lee explains that he was introduced to a more physical life by a friend several years ago in Melbourne, first trying an eclectic mix of powerlifting and water polo, then other sports, including climbing and freestyle wrestling. 
'The spaces I ended up finding myself in were not hyper masculine and heteronormative at all, but inclusive, diverse," says Lee, citing ClimbingQTs and the Mat Masters Academy. "Both ClimbingQTs and Mat Masters Academy foster a sense of belonging. We cheer each other on and celebrate all of our journeys, different as they may be. That pervasive atmosphere of support and respect and inclusion is what makes these spaces so welcoming."
Struck by the notion of these gyms as community centers, Lee feels that his time there has been crucial for the shaping of his anti-capitalist, community-centered politic. It makes complete sense to me then that he likens climbing and sport with the Situationists of 1968's Paris—an international organization of social revolutionaries made up of avant-garde artists, intellectuals, and political theorists, who renegotiated their relationship to urban architecture and planning through play. 
"Which was why I wanted to meet at a park," Lee says. "Because I grew up in Jakarta, Indonesia, for six years of my early life, and it's an urban jungle"—one without the sanctioned play spaces of Australia an ocean away. He continues: "I'm painting a pretty bleak picture of this, but I should also note this observation comes from a very particular class background. We were the upper class and we were outsiders, sitting in fancy cars with drivers looking out the window to where there would be literally one street between poverty and riches. When I think about a big, wide-open space like this, to me it is a type of golden dream of my childhood that I never had, and it represents in its own way this kind of geography, this specifically designed space for play."
Climbing + Video Games + Progression
Lee's current space for play is on the wall at climbing gyms like Urban Climb, BlocHaus. "If I'm trying to rank sports by playfulness then I feel like running is pretty low down and climbing is pretty high up," he says. "Climbing culture is playful! People are always making up new things. It's social, which I think is a huge part of play. And so the fact that we have a space for play as adults on rock walls and in climbing centers is so vital and vibrant."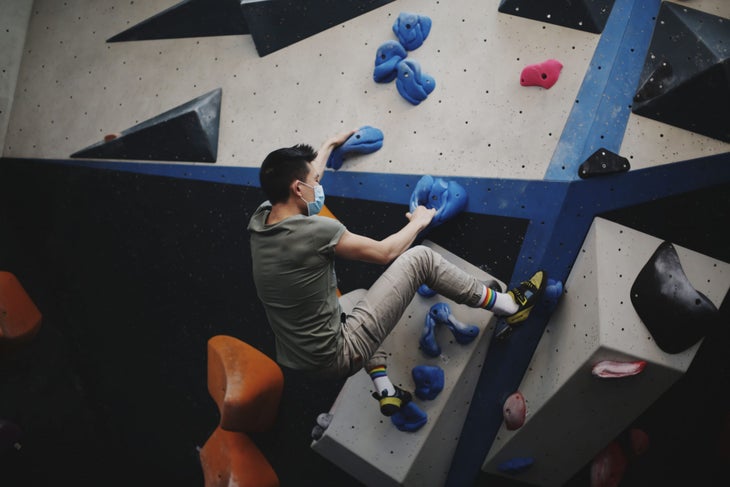 It's not just the playfulness of climbing that drew Lee to the sport. As a self-proclaimed playful designer and the creative director of PlayReactive-—a play-making collective based in Melbourne that creates bold interactive experiences, from video games to installation art—Lee feels that the dialogue between the "player" (climber) and a gym's routesetters is the perfect clashing of worlds for an antidisciplinary artist like himself.
Says Lee, "Bouldering from a design perspective is about setting interesting routes for all sorts of different people with different bodies—circling back to when I was a kid with this round ball of a body, and I couldn't do monkey bars. Climbers have different body types, different body shapes, different body abilities. Routesetters are game designers. They're thinking really carefully about what experience the player has and how the player wants to express themselves."
"Like Super Mario Maker, but on a real life scale," I offer, citing the side-scrolling video game that lets you design your own levels.
"Yeah, yeah exactly! They know and understand that you're there to enjoy the joy of movement. And then on the flip side, as the player, it definitely feels like a game right? Feels like a classic video game where you get to try this puzzle over and over again," he says. There is a similar sense of progression that one might normally find in a AAA game, Lee explains, and more so than that, similar to the indie games of recent years, climbers are exploring themselves. There is a persistent edge of discovery to the sport, and, for Lee, "the small moments of discovering that your body knew how to move a particular way by itself. That is really joyful."
"Let's head to the wall," he suggests after a few more laps around the park. We take a turn off our path to head on down to the Birrarung (Yarra River) walking trail. 
The Burnley Bouldering Wall
Located underneath the City Link / M1 Monash Freeway, and situated along the Yarra Trail bike path, is the true hidden gem of Richmond. It's the finger-burning, forearm-blasting Burnley Bouldering Wall, a public bouldering wall overseen by the Victoria Climbing Club. It's a strangely beautiful spot, the kind of urban nook I dreamed of in my childhood. The space consists of three separate bouldering walls, each set at a different incline. 
It's while standing in front of the vertical wall that Lee confesses his fear of heights: "Yep, I have acrophobia. In my first few months of climbing, any time I got to the top third of the walls at Urban Climb [a rock gym], I would freak out. Sometimes I would freeze for a solid three minutes and just breathe heavily, and sometimes cry."
I ask: What motivates a person who is afraid of heights to keep pushing themselves to continually confront that fear when they don't have to? Lee explains that it's a matter of indulging in the sensation of meeting your limits—something he feels one has to seek out consciously, and that has helped to bring his mind and body in alignment.
Says Lee, "In those moments I was finally able to understand what it's like to think with my body. Because there are times when your mind does not know what to do but your body does. That is a magical feeling."
In the past, Lee's self-extractivist approach to living wasn't sustainable. He feels this approach is symptomatic of an epidemic of colonial capitalist living, in which we are out of sync with nature, out of sync with ourselves because the systems of our society demand so much from us. As the connection between his mind and body deepens through sport, Lee now strives to respect the rhythms of his own body. 
"I wanna proclaim this idea that, for me, identity is much more about how I relate to all these different spaces, people, and communities. The me embedded in my parents, in my tradition and cultures, the me embedded in my friends. I think that I've ended up in spaces—whether it's church, Colourful Climbers, ClimbingQTs, or Mat Masters Academy—that hold space for people's love for something other than themselves. And that is a really powerful and attractive thing."
The attraction of these spaces, Lee explains, is their alternate values, ones that are not founded on exploitation and extraction, but rather on mutual giving and community.
I could talk to Lee for an age, but standing just off from the Burnley Bouldering Wall I can't help but feel like a third wheel. It's time to leave him to climb.
I ask before I make the trek back up to Barkly Gardens why Lee strove so hard for these nourishing, playful, and explorative spaces for himself. He answers: "For me, when I think about what climbing has brought to my life, that sense of reconnection to people, to self and the body, reconnection to land and spaces, like that is life-giving. That is rejuvenating, that is affirming. That reconnection is where we can derive meaning."