The Climbing Q&A: Alex Johnson
Former comp phenom Alex Johnson talks about her surprise homecoming to the Midwest, what it's like to coach youth climbers, and how these kids inspired her to embrace who she is.
Heading out the door? Read this article on the new Outside+ app available now on iOS devices for members! Download the app.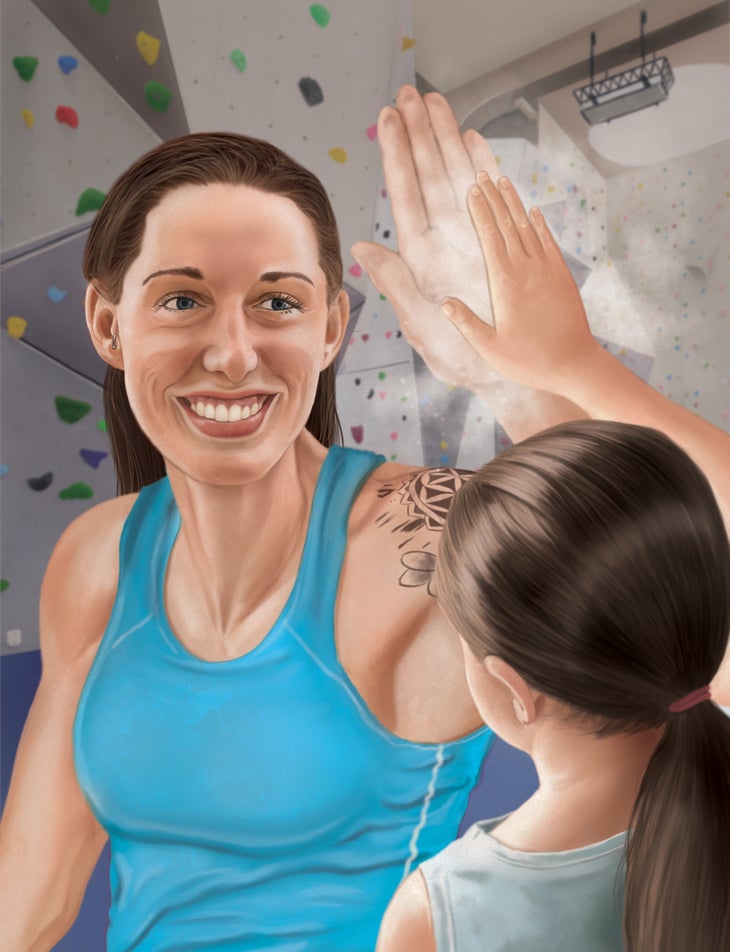 "This is what I want to do with the rest of my life," says Alex Johnson, her brow knit into its familiar furrow as she drives into downtown Hudson, Wisconsin, a town of 12,000 people just over the border from Minneapolis. The St. Croix River glints between brick buildings as her truck crawls toward her childhood home, a ranch-style house hand-built by her mom and dad, grandpa, and uncles in 1997. She is staying here temporarily while she and her girlfriend look for a house of their own, closer to the Vertical Endeavors gyms where Johnson works.
"Not in a million years did I think she would come back," Johnson's mother, Trish, a middle-school nutrition-program manager, says of Johnson's return to the Midwest after her 10 years away—first in a brief stint at Minnesota State to pole vault, then to Colorado to focus on her professional climbing career, and later to Las Vegas. Trish Johnson, an ex-alpine ski racer, has always been heavily invested in Alex's career, traveling with her to trade shows and competitions dating back to her daughter's early years on the youth circuit, when she was a dominant competitor. In early February 2018, Johnson left Las Vegas, her home for the last five years, and moved back to the Midwest after accepting a full-time head-coaching position for the youth team at Vertical Endeavors, which now has four locations throughout the Twin Cities area. Her father, Duane, has worked as a mechanical engineer for 3M for 30 years. He and Trish still live in Johnson's childhood home, tucked into the woods of Hudson. Her younger brother, Patrick, is close by in Grantsburg working as a first responder, and often makes the 1.5-hour drive down to have dinner with the family.
Johnson, now 29, grew up a competitive climber, winning her first Youth Climbing National Championship in 2002 at 12 years old, only four years after discovering the sport at a portable climbing wall at the Wisconsin State Fair. Trish spent countless hours belaying Alex in Vertical Endeavors' then-only location, as her daughter climbed back and forth from one side of the lead cave to the other. "I think I could do it five times without resting," Alex remembers. She trained with other kids and had occasional coaches, as well as a handful of important early climbing mentors: Kyle Clinkscales, Tyson Schoene, Claudiu Videlescu, and Kynan Waggoner, with Waggoner, an "amazing coach," being a huge influence on her.
A natural athlete—she would later play varsity basketball—Johnson was used to excelling, but climbing felt different. At 13, she won Adult Nationals. By 15, she had four national titles. In Johnson's final two years of high school, she shifted her focus to the pole vault, and excelled at that too. After winning the State Championship her senior year, she landed a scholarship at Minnesota State.
However, her enthusiasm for track & field quickly waned. "I missed the climbing community, the creativity of climbing, and honestly, [I missed] being the best at something," Johnson says. She started training for climbing between track practice and schoolwork. In 2008, she entered the first US-based Bouldering World Cup, in Vail, Colorado, and won. Shortly thereafter, she dropped out of Minnesota State and moved to Boulder, Colorado. In 2009, Johnson won Adult Nationals, and in 2010, she nabbed another gold in Switzerland at the Bouldering World Cup, which by the end of 2010 had her ranked fourth in the world. But that winning streak ended abruptly when she moved to Europe in summer 2011.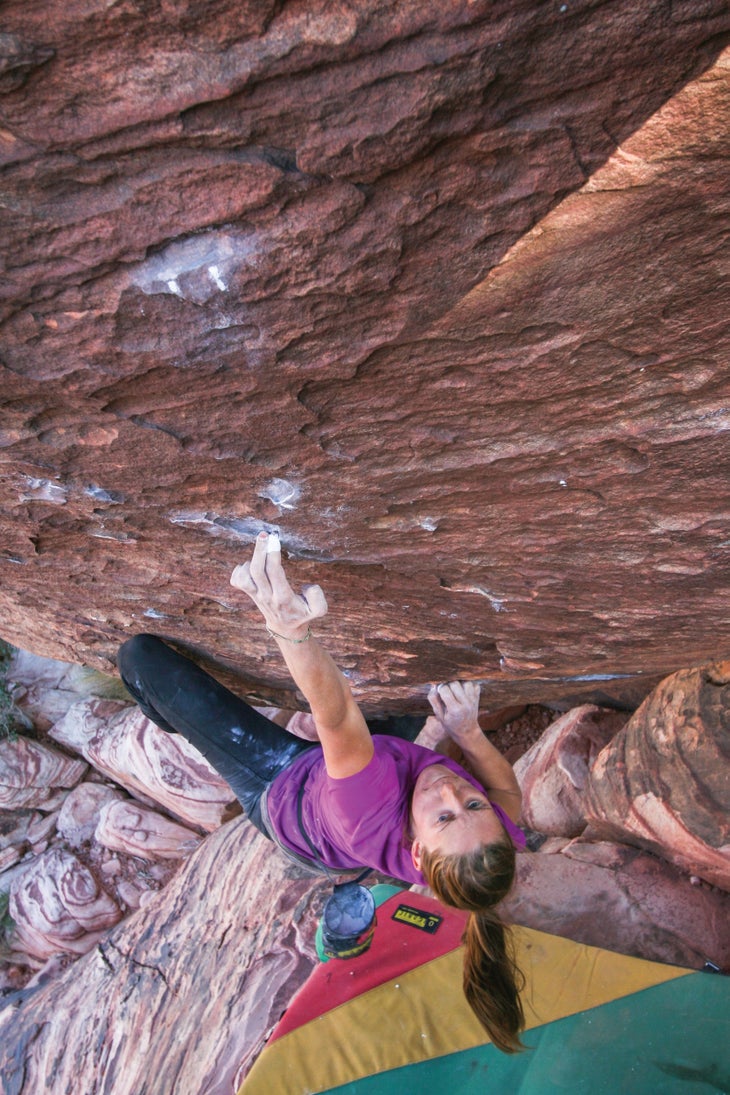 It was a big move for Johnson. A symbolic one. "I realized that I couldn't just show up [and win] anymore. Because everyone else [was just] getting stronger," Johnson said in "Unbroken: The Alex Johnson Profile," a 2014 article by Jackie Hueftle. "Training in Europe [that summer] shattered my ego," she explains. "I wasn't used to being the weakest at practice. I was out of my element, and instead of pushing through it, I let it get to my head." After a series of frustrating performances on the World Cup circuit, Johnson decided to try something different. From 2011–2013, she roamed the West in a retro-fitted 1952 Red Dale trailer, stacking up a proud résumé of first-female, first, and near-flash ascents, gaining a reputation for sketchy highballs. She sent the thuggy arête Book of Nightmares (V11) and Lethal Design (V12) in Red Rock. In Yosemite, she did Drive On (V11) second go after making quick work of Across the Tracks (V10) and Diesel Power (V10). She then tore through Bishop, flashing the R-rated Luminance (V9/10), ticking classics like The Mandala (V12) and Haroun and the Sea of Stories (V11), and making impressive ascents of hairy highballs like The Ninth (V7), Golden Showers (V10), and Mesothelioma (V7).
In February 2014, Johnson drove the 4.5 hours from her new home of Las Vegas to Bishop, with the goal of being the first woman to climb The Swarm, Matt Birch's seminal V13/14 at the Buttermilks. It would have been Johnson's hardest. "It felt like the next level for me," she says. With the support of Gnarly Nutrition, she documented her efforts in real-time, sharing send burns on social media under the hashtag #siegingtheswarm. After she stuck the crux consistently, the send seemed near. But after three months, she was still falling after the crux. Johnson's skin was in shreds, her muscles depleted, and temperatures were on the rise. She retreated to Vegas, motivated to train harder and to return the following winter.
Sometimes, though, things don't work out as planned. In January 2015, then 13-year-old crusher Ashima Shiraishi came to Bishop and made short work of The Swarm, nabbing the FFA. Less than two months later, Alex Puccio sent it. "It really tested my confidence and my ability to be a good sport. I wouldn't say losing the FFA ruined the climb for me … but it kind of ruined the climb for me," Johnson says now, with a laugh.
Johnson didn't return to The Swarm that winter, or the winter after that, or the winter after that. Instead, she shifted her focus to her career, doing things like catalog shoots in New York City and bouldering competitions in Chile with her then title sponsor, The North Face. She started teaching clinics with Professional Climbers International in 2015, and wondered if it could be a potential career move. "Teaching really allowed me to fall back in love with the sport," Johnson says.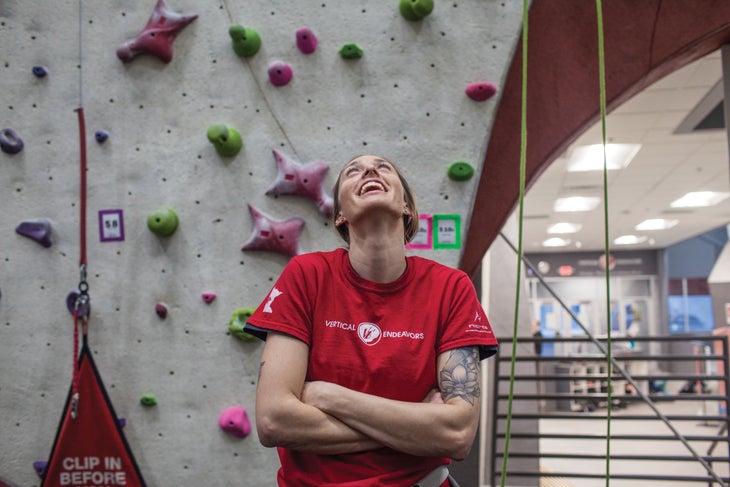 Then, early this year, Vertical Endeavors offered her a coaching job. She felt hesitant to return to her hometown, and wary of leaving her beloved Las Vegas. Her girlfriend, Bree, encouraged her to consider the opportunity. "I wouldn't be here if it weren't for Bree. I know that for a fact," Johnson says. Along with handling a career change, Johnson also came out this year. On May 7, she posted on Instagram, "I've been dating both boys and girls since I was 17. I didn't think it was cool so I never talked about it. I was wrong, it is pretty cool."
In March, Johnson and Bree moved with their teacup Chihuahua, Fritz, and miniature Aussie-poo, Kota, into a vintage duplex in Highland Park, a quiet family neighborhood in St. Paul. They have a backyard, a basement bar, and even a guest room. "Adulting," Johnson jokes. Virtually overnight, Johnson swapped the erratic, unstructured life of a pro climber for the more routine one of a full-time coach, and so far, she seems to be thriving. She's in charge of the Elite Team—16 kids ages 10 to 18 at Vertical Endeavors. Driving to all four VE gyms spread throughout the Twin Cities, she juggles 12 hours a week training the team, giving private lessons, and assisting all other team levels (Junior, Intermediate, and Advanced)—all while trying not to "get soft" herself.
"I gotta be able to practice what I preach, you know?" she says with a grin. "I think they're more likely to pay attention to me that way—show 'em I'm not washed up."
Interview
In your experience, how does training for climbing differ from other sports?
Alex Johnson: Anyone can get strong, and anyone can help you get stronger. What's unique about climbing is that it's so specific, and generally, you'll never get the same move twice anywhere. Whereas in a discipline like sprinting you get faster and hone your form—but you're doing the same thing over and over—in climbing everything is new and each move is original, so training muscle memory only gets you so far. That's why to me, movement, technique, and body awareness are invaluable skills to teach; if you're not aware and intuitive, you can only go so far.
What do you think about the Olympic format?
I don't love it—it's basically the format of all-around gymnastics or a triathlon. But as a new sport, climbing was only allotted so many medals, and this was the format that they came up with to try to best showcase our sport. It'll yield the best all-around climber, if not the specialists. In 2024, the format could be different.
How about comp formats in general? After years of competing yourself, and now seeing how the sport has evolved as a coach, what needs to change?
Fluidity and mastery of movement should be rewarded; strength shouldn't be the only component. You should be awarded for using your feet, for executing a climb well. And now with climbing in the Olympics and our attempt at gaining a more mainstream audience, climbers should be rewarded for style. Or, at least, we could try to make a really interesting new comp out of it.
Think freestyle skiing or gymnastics. There would be judges. A certain move would be worth a certain amount of points. In a perfect competition, only one climber sends the fourth problem. But as we know and have confronted, that is rarely the case, and we are always adjusting the minutiae of how comps are scored to try to better the system. But every send is different. One climber's send is totally different than the next person's, and usually one send just … moves you a little more. It's prettier. More inspiring. I think you should be awarded for climbing something well. Or at least looking good doing it.
I don't care how many pull-ups my kids can do. I want them to be able to understand climbing and how to execute sequences with mastery. To me, that's what it's all about. It's about chasing perfection. It's about trying to do a climb perfectly while expending as little energy as possible.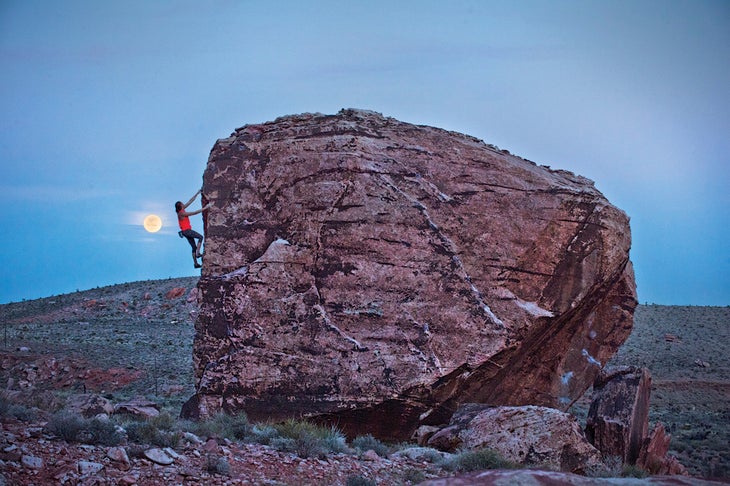 So you have a girlfriend. Why did you decide to come out? Why now?
Honestly, it was these kids I'm coaching. They're so comfortable with themselves … it's inspiring. Growing up, I didn't want to be different. And liking girls, being gay or bi or whatever, you're forced to think of yourself as different. It's scary, even now, but especially as a kid. But things have changed, and seeing how proudly unique these kids are … it just kind of clicked. How can I encourage them to be honest and be themselves if I'm not doing it myself?
To me, the gender of the person you're dating is a relevant part of who you are, but there are endless other parts. All these different things make up the whole you—there isn't one grand determining factor—and to get stuck on who someone is because of who they're dating is as narrow-minded as you can get. It's absurd to dwell on it.
If you're different, you're forced into the spotlight. And if you're not out screaming it from the rooftops, you're ashamed. There is a lot of pressure to be loud and proud. But I'm not a loud-and-proud person. I'm private, and quiet. It's hard to know where I fit in. Add on top of that being a professional athlete whose career has been public … it's a lot to take on. It's always felt like it's none of anybody's business, and I feel frustrated to have to discuss my love life in a way heteronormative people do not. But I also don't want to hide who I am anymore.
What was it like growing up knowing you didn't fit the mold?
I grew up in a small town in the Midwest where more emphasis was put on forcing kids to go to church then letting kids be themselves. I know something about closed-mindedness. My own dad supports a Vice President who believes in using electroshock therapy to "cure" homosexuality. Different was bad. I went west when I was 18; I swore to myself and anyone who asked that I would never move back.
It surprises me more than it surprises anyone else that I'm here. But I'm dating the coolest and most supportive person—who happens to be a woman—who encouraged me to accept this job because she knew I was passionate about it. I wouldn't have moved home or taken this job if it weren't for Bree. Gay, straight, bi, whatever—they're just bullshit words. I'm a human dating another awesome human, and even though she loads the toilet paper roll upside-down, she's still a damn good girlfriend.
What are your current climbing goals?
I still want to be able to climb V11 … and I'd like to be able to hop into a competition every now and then. There are a few hard climbs up in the Minnesota area I'd like to do. The Raven (V12) is one, and The Amateur (V13) is another. I'd also like to complete my mission to send 100 V10s. That was a fun goal back in Vegas. I got to, like, 76. It was a great way both to keep my fitness up and get on a bunch of new stuff. I'd love to go to South Africa—I've never been! I want to be able to maintain enough fitness to consistently be able to demonstrate what I'm trying to teach athletes on my team. I think they'll respect me more if I can demonstrate how to do a move on a route or boulder they're working on.
Any unfinished business from your pro career?
The Swarm. Man, I wish I had done that thing. Part of me is like, "I'm gonna train, get super strong, go on a two-week trip to Bishop, and maybe I'll finally do it." And part of me is like, "I don't want to see that boulder ever again."
I also just wish I had applied myself more—worked and trained harder—when I was younger. I am at the beginning of the "getting hurt" age. When I was 18 through 24, I was so strong. I could jump on things with little to no warmup and be totally fine; my body would just execute. I'm a much better climber now in terms of skill and technique, but physically I feel like I've peaked. I'm almost 30! Things are starting to get achy.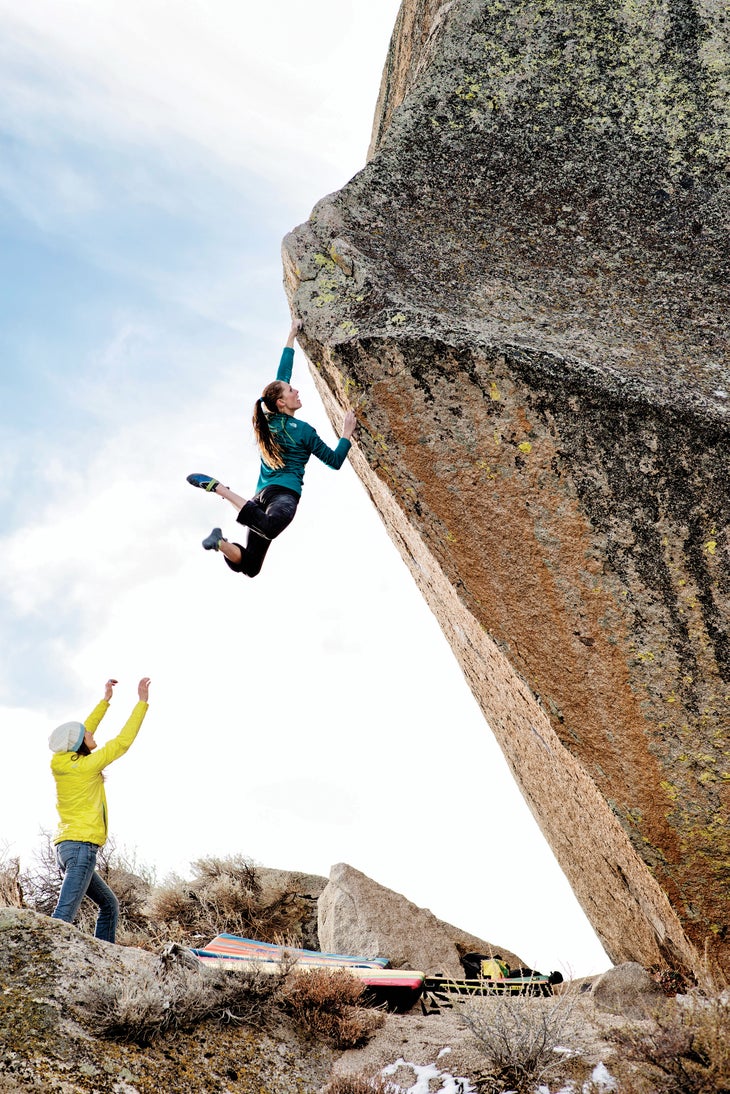 I had always heard the phrase "hard work beats talent," and I wish I had applied hard work to my talent. I wish I had worked on my weaknesses more, and my anti-styles. I wish I even knew what anti-styles were back then. I wish I had had someone to tell me what I needed to do. And that's what coaching is all about for me really: being the person I needed when I was younger.
Alex Johnson's Top 6 Tips for Body-Aware Climbing
Do: Downclimb. It's great for technique—move precisely, focus on footwork—plus muscle memory, endurance, and weight-shifting. When downclimbing, you're not going to take a hand off that's holding your weight; you're going to shift your weight off it first and then move it.
Do: Onsight. I make my kids try to onsight every new climb in the gym. If they fail, they move on. We call it "Flash or Trash." Onsighting is crucial to being a competitive climber and to learning intuitive movement.
Do: Repeat sends in the gym, both easy and difficult alike, trying different sequences and refining technique to become as efficient as possible.
Don't: Always keep your hips close to the wall. It leads to relying on muscle more than momentum. Start a move by hanging out from the wall and then pivoting on your toes and using momentum to turn your hips in. Flags and dropknees are great, too.
Don't: Heel-hook on the back of your heel. It throws off your balance. Instead, your foot should be at a 45-degree angle, with the contact point more on the outside of your heel, foot tilting out.
Don't: Climb vert or slab in downturned shoes. On this angle, only a small portion of downturned shoes lands on a hold, so you're having to edge (vs. smear) everything. Try flat-lasted instead.