The Climbing Q&A: Kyra Condie
Kyra Condie, one of America's strongest female climbers and a promising Olympic hopeful, trains on a small, greasy wall you might expect to see in a garage. This self-coached climber is making up for a lack of fancy facilities with raw strength and grit.
Heading out the door? Read this article on the new Outside+ app available now on iOS devices for members! Download the app.
In honor of Kyra Condie earning a spot on the Olympic roster, we're releasing this Summit Membership exclusive story for free to our readers.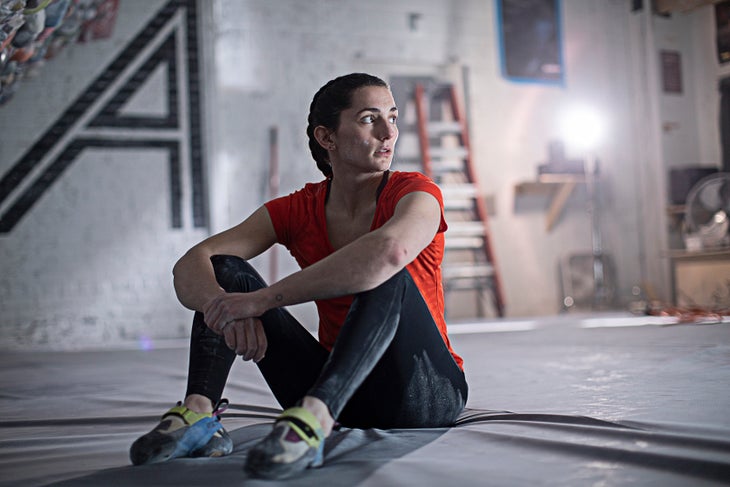 Each week for three days in a row, Kyra Condie trains at the A, a small gym within the Midwest Climbing Academy in her hometown of Minneapolis. She arrives midday—when she's mostly likely to be alone—at the hold-smothered, 45-degree spray wall, its grips worn to a punishing slickness. Condie, 23, puts on her reggaeton playlist to stay motivated. Each time she posts a photo of herself on the wall, some Instagrammer will predictably reply, "I don't think there's enough holds."
Day one: power. Condie hits the campus board—she's inching toward the elite 1-5-9 ladder. Day two, strength: one-arm hangs ("You don't need to strap on weight to make it difficult") on the Beastmaker hangboard. Day three is a "reprieve"—just bouldering on the cluttered, 20-foot-wide wall. At the end of each session, she throws in an endurance workout—50 consecutive moves. Because of the wall's angle and its smooth grips, stringing together this many moves amounts to 5.13b, says Condie. All told, she spends about 24 hours in here per week.
On one wall in the cold room (heated to barely 45 degrees in winter, chilled to 62 in summer), stenciled letters read "YOU SUCK | TRY HARDER." It's an unusual training ground for an Olympic hopeful.
After her workout, Condie heads back to her parents' house in nearby Shoreview and cooks a vegetarian meal—maybe vegan coconut curry, jambalaya with quinoa, or a stir fry. She'll spend the evening catching up with her parents and watching television. The recent University of Minnesota grad studies a bit for exams to get into veterinary school, but her real focus right now is climbing. Between the A, training camps, and comps, Condie's got her year planned out on plastic, important to staying competitive in the increasingly specialized world of indoor climbing.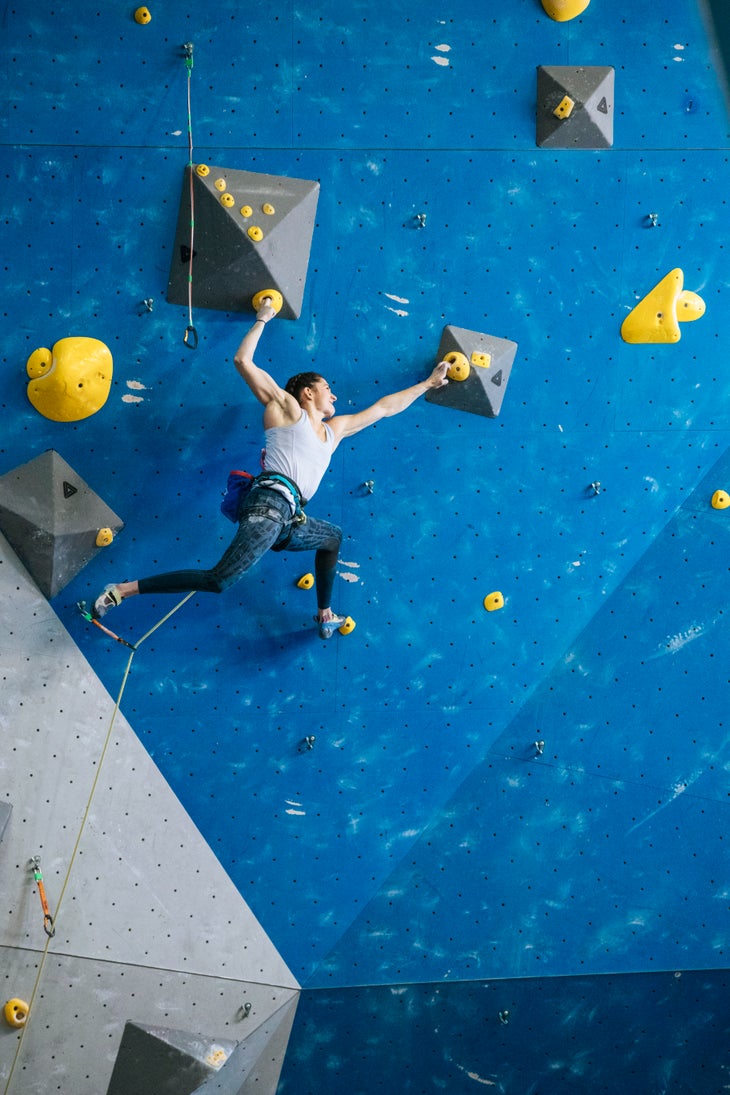 Condie started climbing at age 10, at a birthday party at the Vertical Endeavors gym in St. Paul, Minnesota, "a classic story of how people get started," she says. At the time, she also performed in musical theater, a "fun passion" (she still enjoys musicals, and songs from Rent and Wicked are on her "psych playlist"). At age 11, though, she chose to focus on climbing and started training with the Vertical Endeavors team. When she joined, the team was preparing to compete in Midwest regionals, so Condie dove in, making it to youth bouldering nationals her first year.
She connected with the comp scene right away. "Every competition, you're going to be given something different, which can be totally frustrating, but it's what keeps me coming back," she explains. "It's mostly competing against yourself … [and] if you win it's because you climbed the best, and I really like that."
Her coaches noticed. "She was so hungry for it … And so determined, you could see it on her face," says Alex Johnson, who helped coach Condie from age 11 to 12 at Vertical Endeavors. "Whenever she couldn't do something, it would bother her. That pushed her to strive for excellence—she wasn't afraid of failing; she just didn't like not being able to do something." However, around that time, Condie also began experiencing worsening back pain. She often stood with one hip jutting to alleviate it. "My mom just thought I had an attitude," she says. "I'm the person who would never tell somebody I was sick because I was embarrassed, so I didn't tell anybody about [the pain] until it started getting really bad."
Condie eventually asked a fellow climber at Vertical Endeavors, a physical therapist, to check for scoliosis. "He was like, 'Oh, you should tell your parents,'" says Condie. She soon learned her spine was curving so sharply as to require surgery—it formed an S along the thoracic vertebrae behind her ribs, snaking side-to-side instead of running vertically. And at the bends of the S, the bones curved in at a 52-degree angle—severe idiopathic (meaning "no known cause") scoliosis.
Condie and her family interviewed surgeons. The first proposed fusing 12 of her vertebrae followed by a nine-month recovery—a blow to her climbing career. On top of that, the nurse practitioner who evaluated her was dismissive of her sport. "They told me that climbing didn't really matter, and that one day I'd have a family and that's what I would care about," says Condie. Then, another doctor told her she'd only need 10 vertebrae fused followed by a four-month recovery. He asked for a photo of her standing atop the podium. The choice was clear.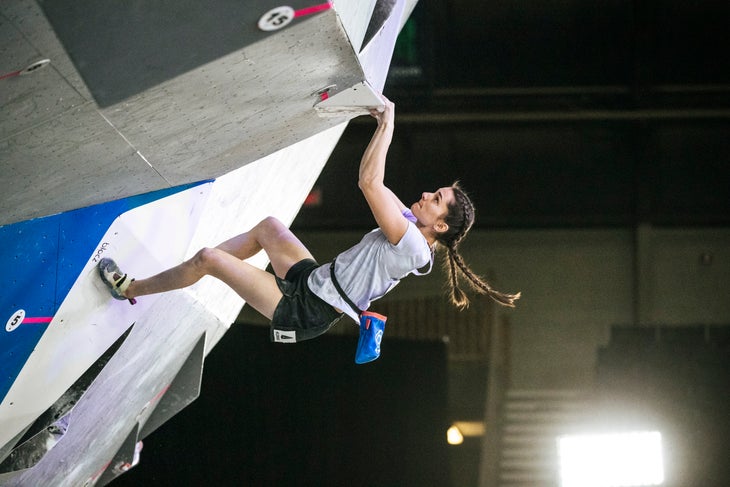 Condie delayed surgery to compete at bouldering nationals in 2010. At the time of her operation, the angle of her spine had increased to about 74 degrees, causing significant pain; instead of growing taller during her adolescent growth spurt, her spine was bending—she would probably be two inches taller today if not for scoliosis. At age 13, she went in for the surgery, in which doctors essentially broke the 10 bones, pulled out the disks between, and placed two rods along her spine to allow the vertebrae to fuse. Her physical activity was restricted to walking for four months, after which she immediately resumed training.
Before her operation, Condie hadn't been sure she wanted to devote weeknights and weekends to training, missing out on spending time with her peers at school. But afterward, as she worked to regain fitness, Condie found herself driven to become an elite competitor. "[That was] when the self-motivation kicked in," says Condie, "because I wanted to get back to where I was, and I didn't want to let [surgery] get in the way."
In 2011, Condie was competing again. In 2012, she won youth bouldering nationals in Colorado Springs, snapping a photo for her surgeon. She won the next two years in bouldering, and she's also won youth sport nationals twice. Condie continued on to ranking well in adult competitions. In 2017, she won the Psicobloc Masters, the annual deep-water-solo competition in Utah, after a hectic quarter-finals match against Alex Puccio. The two grabbed the top of the 55-foot wall in synchrony in their first face-off, necessitating a second run. In the finals round, she raced Michaela Kiersch, taking the win with a lightning-fast 44-second lap.
Last year, she hit the Bouldering World Cup circuit, traveling to China, Japan, Germany, and Colorado, competing in five events (three more World Cups than she'd ever done in a year). She made finals in Tai'an, China, and Vail, Colorado, placing sixth and fifth, respectively, and finished thirteenth overall for the year. Making those two finals was, for Condie, demonstrative of her years of hard work and steady progression. "I started off in the middle of the pack," says Condie, who's been competing in Vail every year since 2013. "I kept not making semi-finals, like one spot out, one spot out, one spot out."
Her years of solo sessions had paid off, as had her belief in the power of giving 100 percent. One of the most frequent questions her social-media followers ask is how to move past a performance plateau. Her answer is simple: "The biggest thing that people don't realize is that you need to try things that are too hard and give maximal effort." Chatting with friends, staring at your phone, and occasionally giving a half-hearted attempt at a route below your limit isn't getting you anywhere, she explains, which is perhaps why Condie mostly trains alone.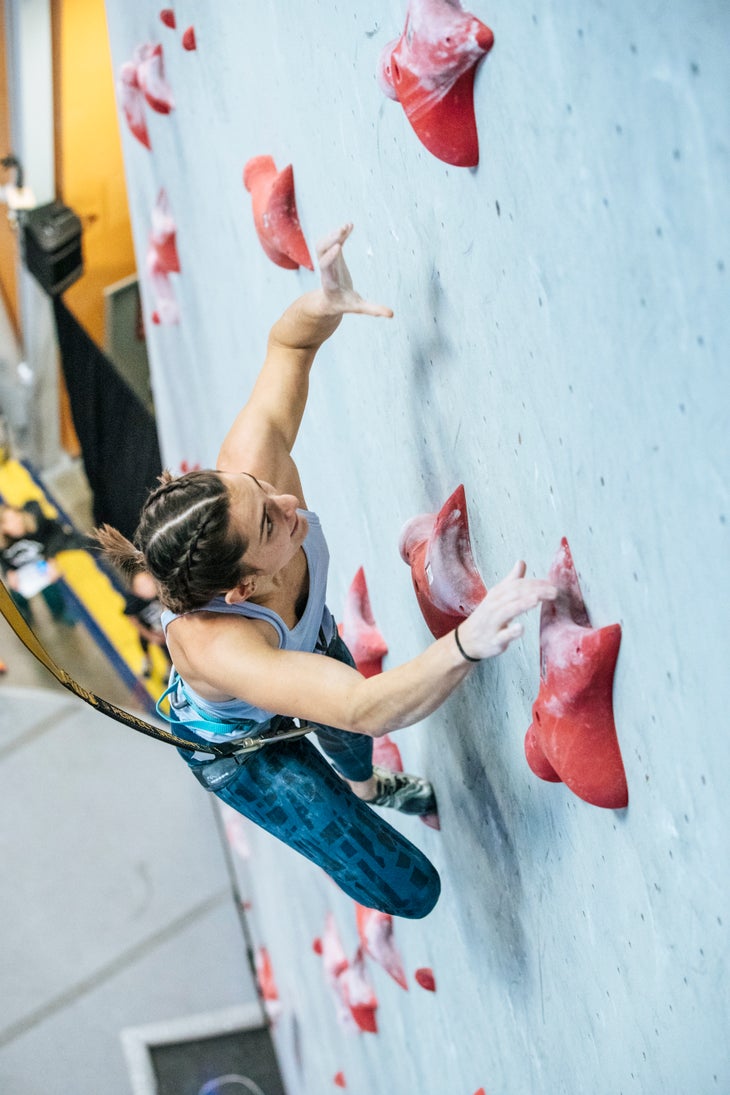 On the wall, the 5'4" climber moves quickly with her hips square to the surface, her long hair—usually in two Dutch braids—whipping about. She doesn't hesitate, throwing herself at the holds and sometimes flouting the intended sequence, muscling through what might have been a more technical section—a style one commentator once described as "reckless abandon." On rock, this technique has suited her well, and she's climbed V12, including Lethal Design in Red Rock, Nevada, and Black Shadow in Rocklands, South Africa. She hasn't spent much time outside on sport routes, but has flashed 5.13b—High Road to China at Willow River State Park, MN. Condie's style is influenced, in part, by climbing mostly on the spray wall, but also by not being able to twist much due to her fused spine—even reaching across her body to grab a seatbelt is difficult. And comp-style climbs can be tough without a bendy back. Condie describes a "fad" move now that requires pressing up into an overhead volume, to stay under the hold. "I can't really arch my back … So I'm hoping that fad finishes soon," she says.
But awkward comp moves haven't stopped her. She won the National Cup Series bouldering comp in November 2018, held in Houston, and won again at the same event in December in Fort Collins, Colorado. And she's been crushing in combined—the Olympic format of speed, lead, and bouldering. In November 2018, she placed first in Combined at the IFSC Pan American Championship in Ecuador. In January, she won the USA Climbing Combined Invitational competition, landing a spot on Team USA to climb in the 2019 World Cup events. At that event, she ran up the speed wall in 9.27 seconds (her personal record is 8.94 seconds).
Since she finished her degree in animal science at the University of Minnesota last year, Condie's been climbing full-time. Her parents, Cathy and Tom, both electrical engineers, are "climbing superfans," says Condie, adding that they've watched all her World Cup competitions online and attend in-person when possible—they flew out to Moscow in April to watch her climb at the World Cup. (Her parents even started climbing after Condie took to the sport.)
In the run-up to the Olympics, Condie has been traveling to training camps. In March, she spent a week at Stone Summit in Atlanta to focus on slabs and coordination moves. "Especially because I've been self-coached since I was 15, getting the opportunity to work with other coaches is huge," says Condie. The camps are key for training slab and speed, and practicing dynamic, comp-style sends—not really possible at the A. Condie will need to maximize her training in these genres to achieve her big 2019 goal: competing in the 2020 Tokyo Olympics.
She's already well on her way, having secured a spot on the USA Climbing Team. Her first Olympics opportunity will be at the IFSC Combined World Championships August 11 to 21 in Hachioji, Japan. But her performance along the way matters: The overall top female and male athlete in World Cup events in 2019 will each secure a spot to represent their country; other athletes ranked in the top 20 get a shot at the Olympic Qualifying Event to be held late November in Toulouse, France. The last few spots will be filled at IFSC events in the first half of 2020. To that end, Condie is training fiercely. "At least with how the female setting is going, I find it useful to be as strong as possible—you can apply that to the weird competition moves," she says. In other words, if you can overpower any sequence, you can tame the weirdness out of it.
"Kyra's physically probably the strongest female climber right now—just like raw power, finger strength, pull strength, campus strength," says Johnson. "She still has that 'I can do anything' attitude."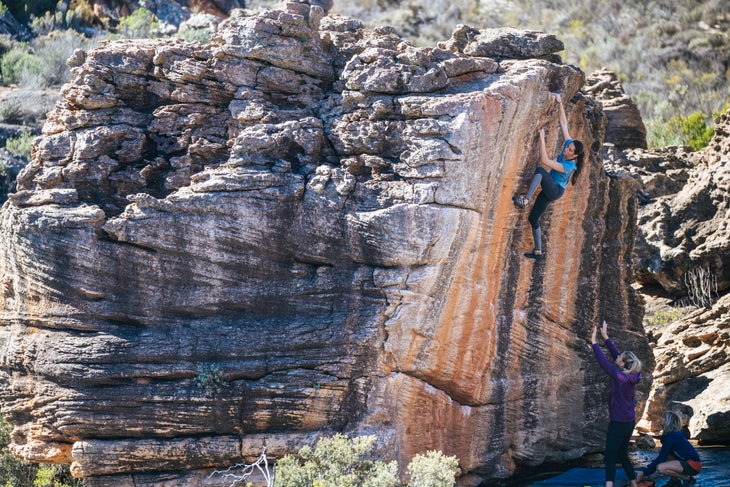 Interview
When did you realize you wanted to pursue the sport professionally?
Kyra Condie: That was a slow process. I never thought that being a pro climber would work, that I'd be able to support myself and not live off my parents. So I went to college—I still plan on getting a veterinary degree. I love competing. I have sponsors who treat me really well and [whom] I'm really happy with.
How did you keep training and climbing while in school?
You have to make sacrifices, so I climbed and did school and had to sacrifice my social life. I would go to class, and then instead of going to a study group or something I would go to the gym, and then I'd do homework alone at the coffee shop. The biggest thing is that I don't have a bunch of friends from college, but I'm happy with what I did—getting it done and climbing while I was doing it. I felt the strongest that I had up until that point because I had so much free time with how classes were set up.
Have you always wanted to be a veterinarian?
Since I was in second grade—I've always had a strong attachment to dogs and cats, and all those companion animals. [My family] had a cat and two dogs most of my life, but now we only have my 18-year-old Jack Russell terrier. She's blind and deaf. She's started waking us up in the middle of the night—she's like a baby again.
I had wanted to be a doctor at one point, but I think I'd enjoy being a veterinarian more. Partially because I love animals, but also because you get to do everything, which is really appealing. While being a doctor, you have to specialize—you have to be a heart surgeon or a family practitioner. As a vet, you get to be the dentist, the surgeon, the general practitioner. I also like science; I'm pretty science-minded.
How do you manage your scoliosis now?
[My back] gets achy. It's like it always needs to crack down low. There's a bunch of built-up pressure because all of my bending happens in that one spot right under my fusion. I bring a heating pad everywhere; it's my essential item. At night, I lie on it. There's not really any [physical therapy] I can do. It's basically like a healed broken bone.
I'm not allowed to do contact sports, downhill skiing, or ride a motorcycle. The possibility of me breaking my back is higher. Normally, your spine compresses [during an impact] and that's how it doesn't break. In mine, the entire middle section can't compress. I've never had issues with it indoor climbing, but outside—with bad landings, not the best pads, maybe not the best spotting occasionally—I get more tentative. I find it hard to give 100 percent. I really want to, because that's my personality, so having that get in the way is frustrating.
What do you think about the 2020 Olympic format?
I would prefer it to have single disciplines, just because I like bouldering the best, but this format will be cool. It's better than just getting one single discipline—that would have been a lot
more disappointing.
With no speed wall in Minnesota, how do you train speed?
I grew up doing speed climbing, and I've always liked it. Speed was bigger in youth climbing in the US than it was in adult climbing, so luckily I have a better base than a lot of people just by having done it over the years [prior to and at events]. I've always only ever trained it for these two-week periods when I was in another state. But I find that bouldering power correlates well with getting faster. Every time I've gone back to the speed wall feeling stronger in bouldering, I've gotten faster times. I improved by almost two seconds just by being more powerful.
Do you have any pre-competition rituals?
I try to eat enough. I always bring snacks for isolation. Otherwise, I try not to get into any sort of ritual, because then as soon as you can't do the ritual, you freak out.
How do you deal with pressure during competitions?
Condie: I used to listen to loud music [while in isolation], but I don't anymore because I figured out that almost all the top competitors pay attention to what's happening and use that to help them—I don't try to block it out anymore.
What are the biggest lessons-learned in your career?
Failure is part of the process. People who can't deal with failure don't end up making it in climbing. If you're able to take the failure and apply it to yourself, that's how you get better. Instead of, "Oh my god, I just put all this work in and I failed," it's like, "OK, I need to put more work in."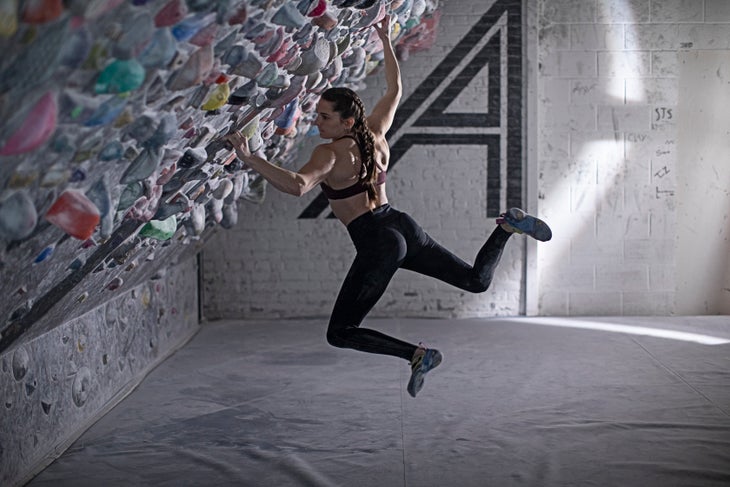 Vegetarian Cooking With Kyra
As an animal lover and veterinarian-to-be, Condie, not surprisingly, is a vegetarian. She also credits cutting out meat at age eight to her older brother, Xander: "My cool older brother became a vegetarian, and I wanted to be like him," she says.
Condie's a prolific cook, and her go-to dinners include veggie-packed curries, jambalaya, and stir fries. Here's one of her favorite recipes.
Vegan Coconut Milk Curry
1 small yellow onion, diced
1 clove garlic, diced
1 head cauliflower, chopped
1 head broccoli, chopped
1 sweet potato, chopped
Curry powder (1–3 tbsp)
Salt and pepper to taste
Cayenne pepper (optional)
1 can coconut milk
1 bag spinach, shredded
Slivered/sliced almonds
Sauté onion, garlic, and cauliflower in a saucepan. Add broccoli and sweet potato, then curry powder and other spices. Once browned, add coconut milk (use water or vegetable broth to thin, if needed) and simmer for 10–15 minutes or until sweet potato is cooked through. Add spinach at the end and cook until wilted. Serve over rice, with almonds for texture.
Read more Climbing Q&As: