The Climbing Q&A:  Pro Photogapher Savannah Cummins
With big-mountain trips to Alaska, India, and Antarctica, Savannah Cummins is fast becoming known for her alpine and rock-climbing photography.
Heading out the door? Read this article on the new Outside+ app available now on iOS devices for members! Download the app.
Imagine five of the world's best alpinists—the Team North Face climbers Conrad Anker, Jimmy Chin, Cedar Wright, Alex Honnold, and Anna Pfaff—running up stark granite ridges and walls in Antarctica, battling glacial approaches, bitter temps, and loose rock under a never-setting sun. Now imagine a 20-something, blonde, 5'3" photographer from Cincinnati—Savannah Cummins—dropped into the mix, climbing and shooting on the 1,476-foot Skywalk on the north buttress of Holtanna (8,694 feet) on their expedition there in December 2017. As incongruous as it may seem, in the past four years, Cummins, 25, has broken barriers and used climbing and photography to make her a valuable asset on expeditions, standing out as a young woman in an industry traditionally dominated by men.
In June 2017, Cummins went on her first expedition, documenting her friend Katie Bono's record speed ascent of Denali—21 hours, 6 minutes round-trip—mainly with images of life at basecamp (snacks, stretches, injuries, etc.). Two months later, Cummins headed to India's Raru Mountains with Pfaff and Lindsay Fixmer, establishing The Gem, a 400-meter 5.10 on Peak 5,400. Then came Antarctica, where Cummins summited such climbs as the "Penguin" a 300-foot first ascent, while photographing The North Face's 2018 clothing line and the 16 ascents made during the 20-day expedition.
From shooting engagement photos on the Tetons' Grand Traverse, to Mary Harlan sending Zion National Park's Sheer Lunacy (V 5.12), to Jen Olson climbing But My Daddy's a Psycho (IV WI5) in the Canadian Rockies, Cummins utilizes bright colors and generous natural light to highlight her subjects amidst wild environments. With her warm, supportive presence, Cummins has a knack for capturing the emotions and vulnerability of her subjects: the love between a couple, the exhaustion of big-wall climbing, the cold of ice climbing.
Cummins grew up in Cincinnati with her parents, Bruce and Chris, and brother, Tommy, three years her junior. (Bruce works as an electrician, while Chris is a flight attendant.) Though Cincinnati is only two hours from the Red River Gorge, Cummins was not initially a climber—and in fact had little outdoor experience. In high school, she played soccer and participated in gymnastics, but mostly she focused on having fun—and getting into a little trouble. "I would sneak out of the house, go drinking, smoke weed, hook up with boys," says Cummins. "Your typical teenager stuff." Concerned, her parents sent her to an Outward Bound program for at-risk teens in Boundary Waters, Minnesota, when she was 16. The course changed her life, grounding her in a calmer, simpler way of being that was rooted in the outdoors.
After high school, she searched for a calling, working for the Montana Conservation Corps and then getting her EMT license from the University of Montana. In 2012, she moved to Jackson Hole, Wyoming, and began working with City Kids Wilderness Project, a program for at-risk youth. Here, while mentoring the program's teenagers, Cummins began climbing on the City Kids rock wall. On her off days, she frequented nearby Hoback Shield, a slabby limestone sport crag. As she lived the life of a vagabond climber, bouncing between Jackson Hole and Lander, working as a lift operator and at the Enclosure Climbing Center—and sneaking in a trip to Nepal in 2013 during which she took "tourist photos" to record her travels—Cummins became more and more immersed in climbing and photography.
In 2014, after owning a rope for a year, Cummins headed to the Red River Gorge and climbed for a week straight, with no rest days, then headed home to Cincinnati. Here, with her father, she attended a CrossFit workout—her first ever. While doing weighted pullups, she tore the labrum in her left shoulder. The injury afforded Cummins an opportunity to further her photography, taking pictures of her friends out climbing as she recovered. For help honing her craft, Cummins reached out to her friend David Bowers, a Jackson ski patroller and photographer. That June, he took her to a local rodeo to photograph bull riding—a crash course in in-the-moment problem-solving. ("That's where he taught me how to shoot manual," recalls Cummins. "He taught me what ISO was and aperture and shutter speed—all that stuff.") Later, her then boyfriend, the climbing photographer Drew Smith, taught her how to use Lightroom, the ins and outs of her camera, and how to find photogenic moments while climbing—things like rigging a rope to shoot from above and the rule of thirds.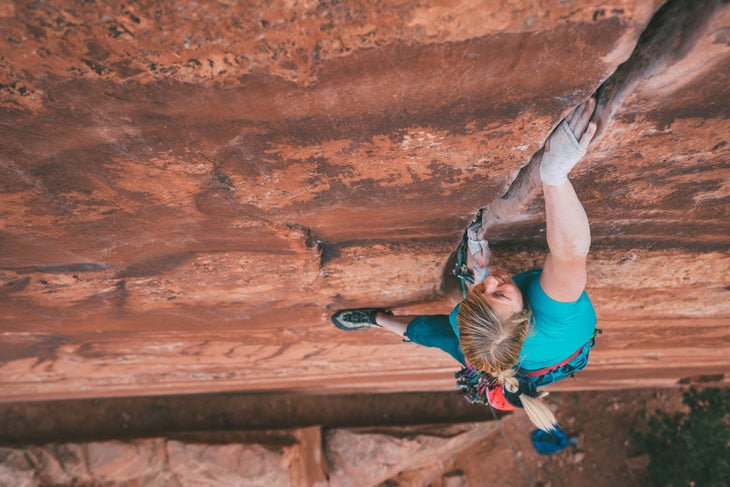 "Then I went to YouTube university," Cummins says of becoming an auto-didact. "There was no tuition!"
Post-surgery, Cummins spent a summer in a sling working at Enclosure and interning at Jackson Hole Mountain Guides. As winter approached, the gym closed, so Cummins moved to the warmer climes of Saint George, Utah, where she based out of her Subaru, bouncing back and forth to Ouray to ice climb. As the savings from her seasonal work dissipated, she needed a profession that would allow her to keep up the same lifestyle. "Just be a photographer," Smith suggested.
In 2015, Cummins committed, building out a ProMaster cargo van with her father and then driving to Utah, Yosemite, and back to the Red River Gorge to photograph climbing. "She has always been so good at putting herself out there," says Smith. "She's always so confident in her work and what she's doing." Using a Sony Alpha 7R II for most shoots and a Sony DSC-RX100 for fast-and-light trips, Cummins began submitting to big outdoor companies. With photos of Kyle O'Meara bouldering in Washington for Patagonia, Nathaniel Coleman on an approach in Little Cottonwood Canyon, Utah, for Five Ten, and Pamela Shanti Pack racking up outside Moab, Utah, for La Sportiva, she established her bona fides. Simultaneously, Cummins found sponsorship with The North Face, and expeditions took up most of her 2017.
When she returned from Antarctica last December, Cummins faced a new injury—another torn labrum, this time in her right hip. With a potential year's recovery time, Cummins settled in to a condo in Salt Lake City. As she rebounds, Cummins has her eye on improving as a climber: "This year and moving forward, I want to become a consistent 5.13 sport climber, 5.12 trad climber, and lead WI5," she says. As of the time of this writing, Cummins has almost fully healed and is back to smaller climbing trips in the States, scheming up new adventures for the remainder of 2018.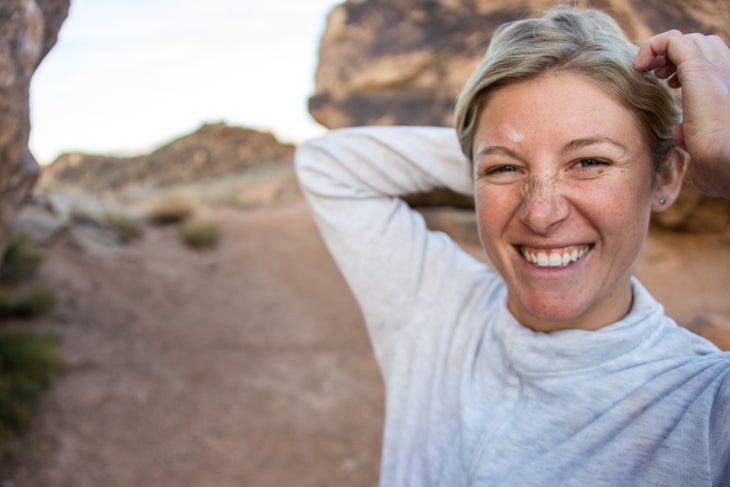 In Antarctica, you summited a half dozen formations amidst bad rock and freezing temperatures. What was a favorite moment?
Savannah Cummins: Maybe not my favorite, but the most memorable was climbing with Alex Honnold on Holtanna—I was basically running up this 5.10 because Alex climbs so fast. I've never had to run on a rock climb. It also went into the shade and was so cold; I was wearing all my layers and shaking the whole time. I don't think I said more than five words the whole climb because I was so cold. (At night, I would sleep with my laptop and camera batteries in my sleeping bag to keep them from dying.) Most of the climbs weren't rated, and we didn't bother rating them. We also didn't know a lot of the names, so the few that we did name are [probably] not the correct names—I just want to make that clear out of respect for the Norwegians who have spent time there.
What challenges have you faced being a young, self-taught female in a male-dominated industry?
I feel like I'm not necessarily taken seriously a lot of the time, which I think mostly has to do with being newer and not knowing a lot of things about the business and photography. Also, the business side of things was challenging early on—learning how much to license an image for, what does non-exclusive vs. exclusive mean, etc. I didn't really have one mentor who taught me everything. I was learning from a lot of different people and the Internet. I would use YouTube every now and then, but I never took a course.
My biggest hurdle has been self-doubt—I didn't go to school for this, I didn't know what I was doing. I even applied at Dixie State University in St. George for photography and was accepted. I met up with a friend from Jackson, Andy Bardon, and told him I was thinking about going to school. Andy said not to; he said that I wasn't going to learn from the people teaching in the university. I just needed to go out and learn on my own.
I have had advantages being a woman, though. Women climbers want to work with other women, so that's helped a lot. Female athletes will reach out and say, "Hey, let's go shoot!" I honestly prefer it because women are nicer to photograph; they look way better. Plus, working with a badass female is inspiring—you can better relate to someone of your own kind. I try to show strong women as much as I can.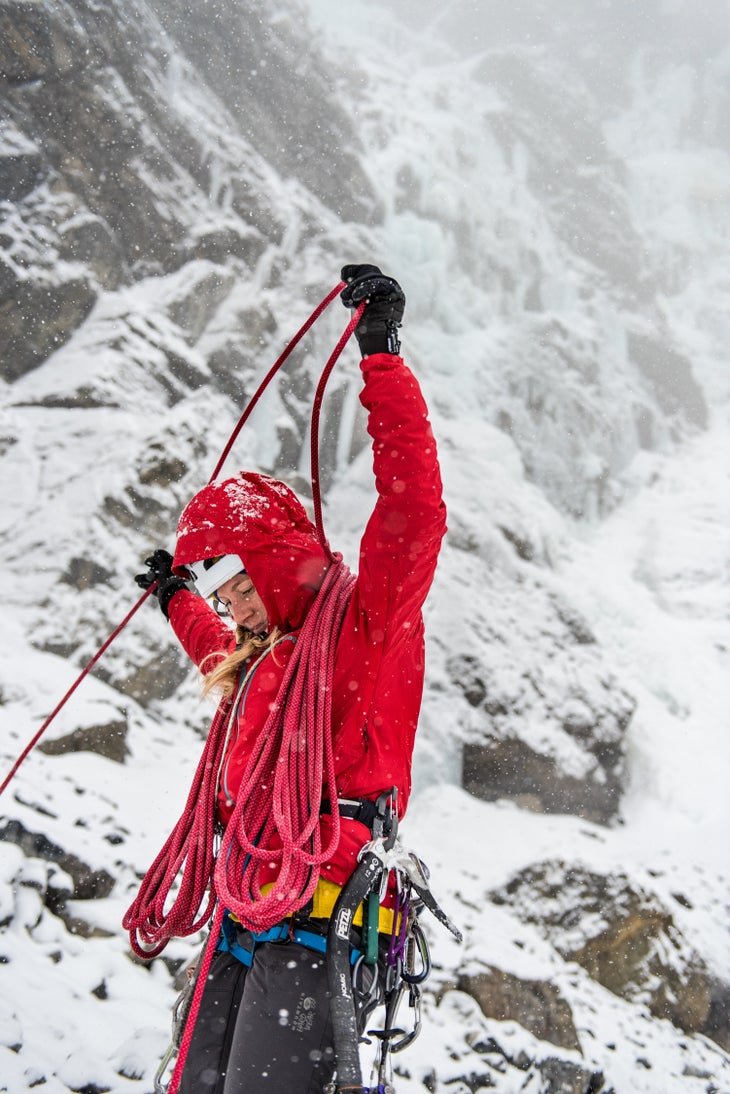 How does your style differ from other photographers?
I don't like to set up shots; I try to capture raw moments. I'm not the photographer who says, "Can you do that 10 more times so I can get the shot?" If an athlete is trying hard, it's my job to capture that moment as the fly on the wall. If I don't get the shot, I don't get the shot, and that's OK. I don't know if that's how other photographers do it, but that's my style. I just try to capture those real moments—moments as simple as Katie Bono scarfing down food after her speed ascent of Denali. I also like shooting more climbing lifestyle instead of just climbing, because climbing is hard to make look good at this point—it's all been done already.
What is a favorite image you've created, in a tense real-world moment?
Just a couple weeks ago, I was shooting my friend Angela VanWiemeersch at the Maverick Buttress outside Moab. I hung my line on the same anchors of the route she was trying—the crux is at the chains. [See photo on facing page.] Kind of poor planning, but I hadn't been planning to shoot the route; we both decided to go for it at the last minute. As Angela worked her way toward the top, I got more and more worried that I should have rapped down to get out of her way, but it was too late. I held onto a nothing hold with one hand and smeared with one foot to keep away from the climb in hopes of not messing up her send—but also to try to get the shot. I was basically holding my breath till she clipped the chains. Angela sent!
Since Antarctica, you've been in the spotlight. What do you want to use your voice for now that you're an influence?
There are so many things in this world that need attention. Climate change, overpopulation, our environment, animal rights, women's rights, equality, our water, homeless people, sick people, underprivileged children .… I'm genuinely interested in all of these issues and even more. I'm starting to do more research to figure out where, how, and when I can best use my skills toward a cause. I want to be as educated as possible before starting down this path—right now this is my next big "project."
Savannah's Top Tips for Expedition Photography
Know your gear and have a backup camera. Weather and harsh conditions can cause malfunctions, and you want to be able to handle small problems in the field and have a secondary option.
Lighter is better! Too much weight can slow you and your team down, so ditch the extra weight or train harder.
In cold weather, sleep with your gear to keep batteries fresher and electronics from freezing at night.
Good solar panels can help recharge your kit. I use the Voltaic Arc 20 Watt Solar Kit.
Research the area you're heading to, looking at as many photos and videos as you can. This will give you a sense of what to shoot once there.
Have your subjects wear bright colors that work with the terrain—you want them to stand out from the scenery.