Rob Robinson: The Father of Chattanooga Trad Climbing
Thirty-plus years ago, driven first ascensionist Rob Robinson discovered the Tennessee Wall. In his career, he's authored hundreds of new routes and dramatically expanded Chattanooga climbing.
Heading out the door? Read this article on the new Outside+ app available now on iOS devices for members! Download the app.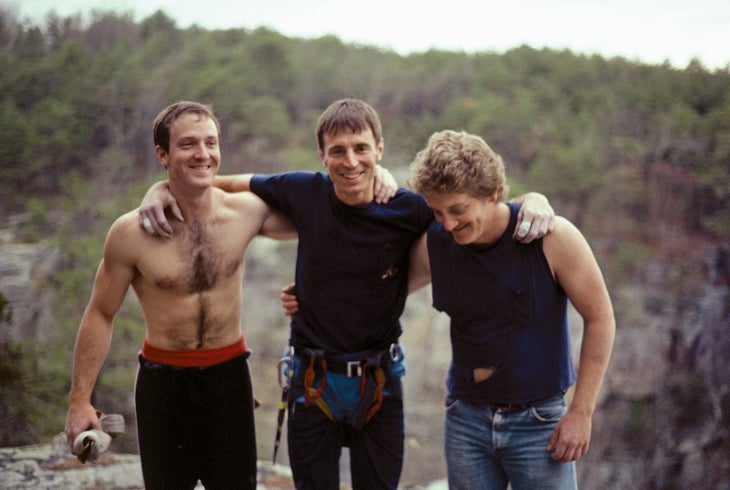 "I had a tremendous appetite for being right on the line where everything was at stake," says Rob Robinson. In July of 1985, on a humid 105° day, Robinson jammed out a 35-foot roof, one of the largest at Chattanooga's Tennessee Wall. He hung once on the "one in a million" crack. That night, Robinson slept in the same dirty clothes to preserve the bond he felt for his new project. He returned the next day, partially inverting his body to move through a blank crux section, and fought through a shallow slot to the finish.
"My energy and the climb's seemed to fuse," Robinson wrote in his ChatTrad guidebook. "I felt like I had merged with the Center of the Sandstone Universe in a spectacular and incomprehensible way." Robinson dubbed the route Celestial Mechanics (5.12), a term he'd learned while studying astrophysics at the University of Tennessee. Celestial mechanics is the calculated movement of astronomical objects in space, and the name reflected his years of orbit around the development of Southern sandstone.
In 1975, when he was 15, Robinson got his start on rock during a month-long summer course in Wyoming's Tetons and Montana's Beartooth Mountains. Earlier that year, disinterested with private-school life, he had left Chattanooga's prestigious Baylor School. A relative of the family, who was a former NOLS instructor, suggested that Robinson might benefit from time in the mountains. At first, the perpetually frozen fingers and rigors of mountaineering did not appeal to Robinson. But on a sunny day toward the end of his sojourn, he climbed the 400-foot Baxter's Pinnacle, a 5.9 in the Tetons.
"That climb cemented my love for climbing," says Robinson. "So when I got back to Chattanooga, I looked at all the cliffs around here and started exploring."
Robinson continued his education at Red Bank High School and tried to tap into the nearly nonexistent local climbing community. He was one of only a half-dozen climbers in town. For his senior year of high school, he moved to Madison, North Carolina, to meet more climbers and climb at the juggy quartzite of Moore's Wall, where he established first free ascents like Wild Kingdom (5.11+), the most difficult multi-pitch free climb in the Southeast at the time, and Quaker State (5.11-), with Tim McMillan, one of Robinson's early mentors. Modern climbers still regard both routes as testpieces.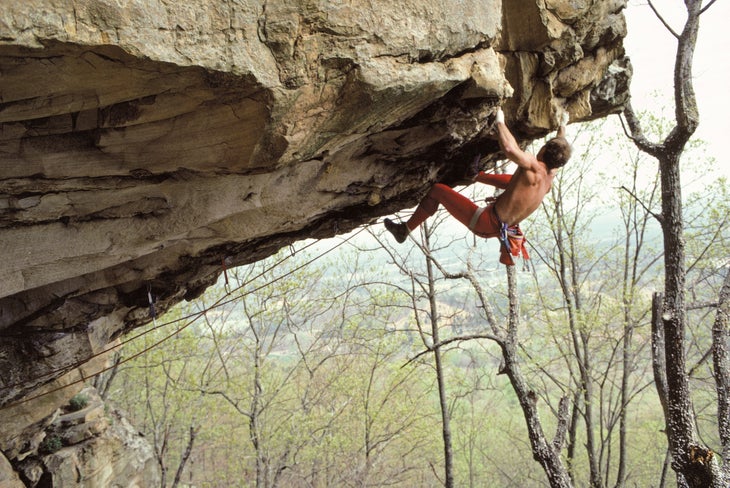 Upon returning to Tennessee, Robinson attended the University of Tennessee at Chattanooga. "I arranged my schedule so I could climb five days a week," explains Robinson. "I got my bachelor in communications, but really I was pursuing my PhD in sandstone." This was evident on the business cards he handed out as an inside joke between him and his friends. Under his name, it read "Rock Scholars School of Climbing."
After school, Robinson often climbed at Sunset Rock, just minutes from campus, where between 1978 and 1985 he would establish more than 100 first and first free ascents, including Jennifer's World (5.12-), The Prow (5.11+), and Raiders Of the Lost Arch (5.12-). Robinson's muscled 5'11" frame and growing tolerance for risk helped him push the difficulty and danger of trad climbing around Chattanooga.
These walls "gave us purpose, an escape, and a sanctuary," from the daily grind of school and work, according to one of Robinson's college partners, Peter Henley. "From the '80s on, I witnessed some beautiful climbing. It's gymnastic climbing, and [Robinson] was really good at it. Plus, he'd always do [routes] clean from the ground up." The focus on first ascents and a traditional style remained with Robinson throughout his climbing career.
In 1980, Robinson, Henley, and Forrest Gardner discovered the potential in Suck Creek Canyon, just downhill from Robinson's house on Signal Mountain. Robinson spent time developing the Roadside Wall, with routes like The Rose (5.10-), Special Olympics (5.11), and Milky Way (5.12+). The discovery of this trad and aid climbing crag with several multi-pitch routes, overhangs, dihedrals, and thin cracks prodded Robinson to keep looking for more rock near Chattanooga.
Robinson studied old topographic maps in search of concealed crags in Tennessee and Alabama, and then went out and scoured the hills. "[Robinson] could go down the crag and see lines better than anybody," says Adam Ehrlich, a close partner from Washington, D.C. "That was his gift. And Rob was always looking for the next line, like some suffering artist." At each newly discovered cliff, Robinson would leave survey tape or cairns at the base to mark "stellar" routes so he could find them on future visits. He was infatuated with virgin cliffs, but he still yearned for a crag with a larger concentration. Then came his biggest find.
On a crisp morning in December 1984, Rob Robinson and his friends drove over Elder Mountain, just west of Chattanooga. As they reached the mountaintop near an area called Pan Gap, a swath of sandstone came into view across the valley. "There was an almost hallucinogenic quality to the sky, and it looked like the wall was on fire," says Robinson. This two-mile-long, 100-foot-high unbroken cliff face, which had been basking in the Southern sun for more than 300 million years, rendered the climbers speechless. Without a word, Robinson and his friends leapt out of the car.
"We all knew instantly that we were looking at a world-class cliff, more incredible than anything we'd seen in the South," recalls Robinson. "It was almost incomprehensible, and nobody had a clue it existed. It was an extraordinary moment in the history of Southern climbing."
At age 24, Robinson had discovered Tennessee Wall, one of the densest concentrations of high-quality sandstone in the United States. Despite its proximity to town, lush Appalachian foliage obscured the wall, making it virtually invisible from the bottom of the valley. With inspiring views of the Tennessee River below and splotches of distinct orange rock amid the gray and cream sandstone canvas, T-Wall was just as diverse and enticing aesthetically as it was in terms of style. With this massive discovery, Chattanooga was on the verge of becoming the next great climbing town.
Robinson recruited partners, and soon word spread. Locals, day-trippers from Atlanta, and other climbers from across the country arrived at this new Southeast mecca. Often, 50 to 75 cars lined the canyon road. Climbers hiked up an old logging trail for a quarter-mile before bushwhacking to the cliffs. In a little over a year, there were 130 routes at the T-Wall, with 90 percent of them completed by Robinson.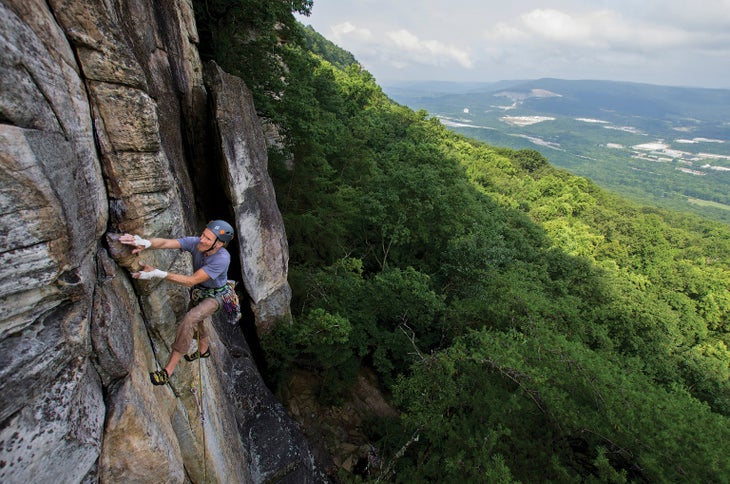 "I'm a new-rock fanatic," says Robinson. "For whatever reason, I've always had this desire to do new routes." His routes became notable for being aesthetically pleasing and mentally committing.
In 1980, spurred on by the 1977 book Climb!, which detailed the Colorado free-climbing scene, and having realized that this Southern sandstone was almost certainly on par, Robinson published his first guide, a then-comprehensive list of Chattanooga climbing. In 2015, he published his fifth guide, ChatTrad, a continued lineage from that first guidebook. "Rob was a writer, and I knew he was taking notes on all his climbs. But I had no idea he would turn them into guidebooks," says Henley. To Robinson, guidebooks were necessary and important to show and share with others "all this incredible climbing I love." Robinson's anecdotes, advice, and entertaining voice make his guidebooks a must-read for anyone climbing in the South.
In the winter of 1985, John Harlin III traveled from Colorado to capture the explosion of T-Wall and photograph Robinson on Super Nova (5.13), a menacing two-tiered roof next to Celestial Mechanics. As loose rock fell from the ceiling, Harlin was convinced that Robinson would die on the route. "I put in a fixed pin so he wouldn't be so freaked out," chuckles Robinson. "Looking at [Super Nova] from the ground, it looks like something bad could happen, but for me I wasn't concerned. It seemed like just another route." It took Robinson three days to send, as he executed a series of reachy moves and a heel hook at the lip of the cave. The photo landed on the cover of the June 1986 issue of Climbing.
Since his sends of both Celestial Mechanics and Super Nova, the South's first 5.13, these roof lines have only seen a few repeats. Robinson never liked to linger on his projects, preferring to let someone else finish a route if it didn't go down quickly. In keeping with his bold, low-impact style, Robinson rarely drilled bolted anchors, instead preferring to rap off trees after topping out each new route.
"I can't envision anyone ever repeating it," says Robinson of his boldest line, the 100-foot Vector Analysis (5.12+ X) on the now-closed private land of Bee Rocks on Lookout Mountain. With no fixed pro, this line follows a severely overhanging wall to a blank face; the lack of gear at the upper crux would guarantee death if a climber fell from here. (Vector Analysis was retro-bolted 10 years later without Robinson's permission, an action he called out as "short-sighted, selfish, and a pox on the history of our sport" in ChatTrad.) Although opposed to retro-bolting, Robinson never had a problem with bolts being installed on new routes, and he has established many classic sport lines in the area as well.
In 1998, at 38 years old, Robinson completed his "last great sandstone super desperate," as he fondly puts it, when he onsighted the first ascent of Tennessee Wall's most dangerous trad line. Breaking the Waves (5.12- X) is a near-gearless excursion up a sea of white sandstone. On the first 50 feet, Robinson used only a skyhook taped to a flake and a delicate No. 3 stopper placed sideways. It was the last extreme trad line of his career: Robinson knew that if he continued at such an intense pace in this bold arena, death was likely inevitable.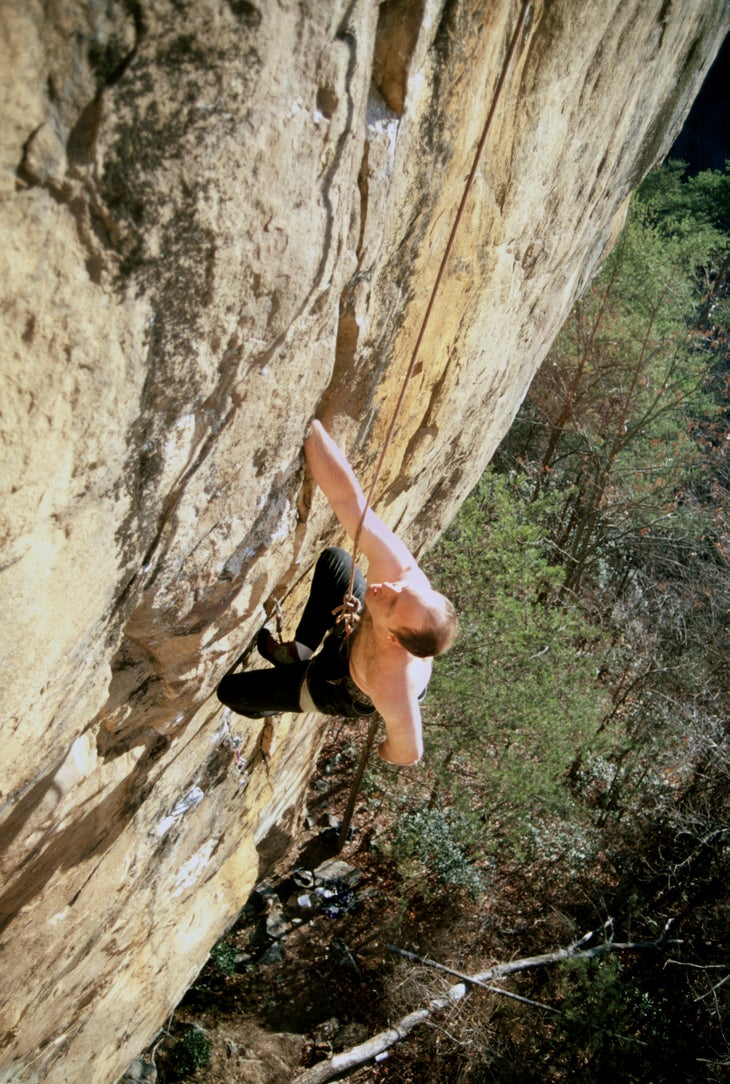 "I've made a career out of risking my life. You have to be in a habitual environment and recognize where you're at … and I'm not in that bubble anymore. I played hard and I paid the price for it," explains Robinson. Although he remained nearly injury free during his career, the ache of aging joints is something Robinson can't ignore. He still returns to the Tennessee Wall every winter as an off-the-couch 5.10 climber.
Since Robinson's highpoint of climbing, he's remained busy with several pursuits. He splits his time between managing his own real estate company and spending time with his wife, Susan, and their two cats and dog. Robinson's agency often caters to climbers, and as of last summer, his goal is to have his company give allocated funds to the Southeastern Climber's Coalition (SCC) and newly established Denny Cove crag. (Robinson helped found the Tennessee Climbers Association, which eventually turned into the SCC.) "Helping people get out to these crags means a lot to me, because climbing can too often be very self-indulgent," says Robinson. He occasionally climbs with his clients at local hotspots, and happily shares his knowledge of the cliffs with others.
As an expert in Chattanooga real estate, Robinson can say with certainty that more climbers are moving to his city, and he likes to watch the younger generation test their limits on the routes he established years ago. "I like seeing climbers bringing their game," says Robinson. Even decades after sending a route, Robinson can still provide encyclopedic beta while he belays from his Eno hammock and blasts EDM music from his iPhone.
"I'm supposed to be 55 and smoking cigars, but I'm still 25 at heart," says Robinson. In the almost four decades since his touchstone discovery for Chattanooga, Robinson remains one of the most influential legends in Southeast climbing. "It's been a great life, and of course I still love climbing," he says. "I hope that the passion I've had for the sport and our region's incredible climbing will serve and inspire future generations."