The History of Hard Sport Climbing in Boulder's Flatirons: Personal Essay—Paul Glover
Heading out the door? Read this article on the new Outside+ app available now on iOS devices for members! Download the app.
This story is a supplement to the feature Frozen in Time: A look at the new-school sport climbs of the Flatirons, Colorado on newsstands now in the July 2018 issue of Climbing Magazine. Subscribe here: print, digital.
Paul Glover is one of the strongest human beings in Boulder, with a clean-shaven head and biceps the size of most people's quads. He grew up as a punk-rock kid in Boulder, where he began climbing, and was in on some of the early Dinosaur Mountain sport routes while still a high schooler. Glover has also been a driving force behind Flatirons bouldering, helping open the long slot traverses of the Ghetto, the Compound, the Yarbles, and the Gutter. He often hikes and climbs barefoot, and will not consider a route to have a proper ascent until he's done it shoeless. A case in point is his futuristic 2008 FA The Inside Passage (5.13a R), in a massive, gloomy keyhole slot high on the Flying Flatiron. As Glover wrote on the Mountain Project, "Route was led in July of 2008 as a head-point, but that didn't count because I wore shoes. I finally got it right in 2010"—when he hiked in to the line barefoot, 1.5 hours uphill, then led the 80-foot roof crack clean, placing every piece, still unshod, chalking his feet as we went, while we belayed him.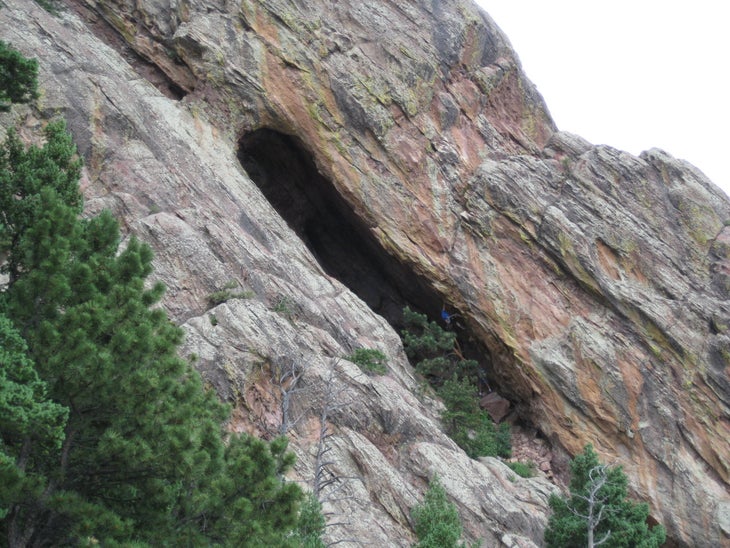 Here, in an essay written in 2010, Glover talks about his long love affair with the Flatirons.
Paul Glover on His Love Affair With the Flatirons
My father has pictures of me scrambling in the Flatirons back in 1972 when I was five. The Flats are where I did my first hikes and climbs, saw my first bear, and sat on my first cactus. My first roped climb was the slabward side of the Third when I was 13 with the CMC [Colorado Mountain Club]. In junior high, I sometimes soloed the Third before school. In high school, I met a couple of friends who were just getting into climbing, and we went up to Overhang Rock. I did my first lead, Junior Achievement, a steep 5.7 layback, without placing a single piece of gear, and my friends mistook an idiot for a hero.
The first rap-bolted route in the Flats was Dale Goddard's crimpathlon Cornucopia in 1986. I existed on the outskirts of the "climbing scene" and was not even aware the route had gone in until a year later. I have no recollection of how or when I came into possession of a bolt kit, but I went up by myself one day in '86 and did my own puny rap-bolt session on the back of the Hand. A few days later, I went back with my friend Max, who was in no way a climber and possessed only a rudimentary understanding of belaying. We were both fresh out of dropping out of high school.
Father on Fire is an uninspired little 5.10+ that starts in a sloping gully with the climber traversing out over open air on the first moves. Going for the top, I pumped and peeled. Max, sitting on a ledge anchored to absolutely nothing, was violently plucked off his perch, clutching the cord in terror, arresting my fall a meter above his head. In tears, spinning in space, he blubbed that he thought we were both going to die. Max had just saved my life but I had to fight back laughter before talking him through lowering himself and then me into the gully. He reluctantly belayed me again—still not anchored at the belay—for the first ascent.
I met Hank Caylor in a bouldering area near Austin, Texas, in '87. He moved up to Colorado for the summer to do new routes, but our time was mostly spent atrophying in a stuffy basement. We wasted away in our crypt listening to King Crimson and Black Flag, venturing out only rarely to rap-bolt 20-foot sand piles. The first real climb to go up was Discipline [a 5.12b on the Box on Dinosaur Mountain]. That was all Hank. I thought it was pretty, sure, but a hideous slab climb nonetheless made even worse by the fact it was adorned with those hopelessly impractical and nearly-impossible-to-clip ring bolts. Hank loves slabs. It's a kind of mental illness. I feel for him.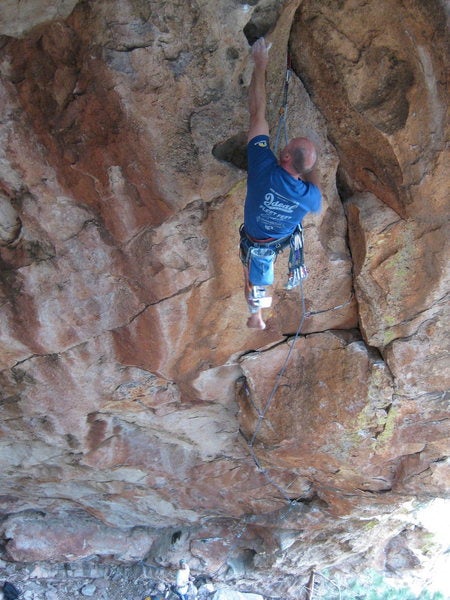 Eric Johnson joined us on our new-routing episodes. Both those guys could climb circles around me. The day we did Touch Monkey, Eric said he had come up with a great route name the night before while lying in bed. I assume while touching his monkey. Those guys were super-psyched and ready to work. I was often angry and depressed and could barely muster the energy to continue breathing let alone crag. I didn't want to go the day Hank put up Drugs [a 5.11b on Der Freischutz on Dinosaur Mountain]; I just wasn't in the mood to move that much for some tiny slab, and Eric wasn't around so Hank soloed it for the first ascent—we had toproped it the day before, but this was still proud.
Looking back, it seems like we did as many of the crappy wee climbs as we could while walking right past all the real stuff. I remember looking at the north side of Dino Rock, but blind as I was to what real climbing is I couldn't quite grasp what the routes would be like and instead persisted in putting up worthless embarrassments like Knot Carrot, Nude Figures in a Hollow Fruit, and Gash Burn. The best route to go up that summer was Power Bulge. This 30-foot one-star Grade VII starts with a saddeningly brief section of slightly steep jugs, goes to vertical for a single long reach, and I think the less said about the rapidly eroding slabby crimp finish the better. Yes, that was the best one. [Ed note: Power Bulge remains a classic, much-sought-after 5.12+ to this day.]
The first time I remember being aware that we were doing something others might not approve of was when Hank posted Discipline in the route book at The Boulder Mountaineer and got a negative response from someone who said they 'didn't understand the route' along with other unintelligible drivel. Hank got defensive about the whole thing, but no one chopped it and people like the route still, so there it is. Boulder was jam-packed with old-school hardmen back then who believed deeply in the whole ground-up, no foreknowledge, leave it for the next generation, high adventure, date with danger, stick your neck way out thing. Most of what we bolted in the Flats were little more than highball boulder problems, but such was our lack of vision. I heard recently that someone referred to New Saigon and Drugs as 'classics' and almost peed myself laughing.
It was probably the backwoods nature of these routes that allowed us to get away with so much. That would have never happened in Eldo, and since the local hardcore trad-bastards looked down their noses on the Flats they mostly stayed away. There was never a negative encounter with other climbers up there and not a ranger in sight. The routes were cruiser moderates that went up quickly, and visiting climbers, after hiking everything, always gave positive feedback.
There have been some excellent routes put up in the Flats recently, and now that we have a system in place that allows us to bolt again, if only to the most limited degree. There is still a lot of potential for super-quality sport routes, and having hiked all over the place up there I know of many plums waiting to be picked. I'm not really one to play by the rules, but if we want there to be any kind of future in the Flatirons for new sport routes we will have to watch our every step.
Footnote: The Inside Passage
In 2006 I put up what may be the biggest overhang in Boulder, a 23-meter roof spliced by a crack-flake system that exits through the opening at the top of Devil's Arch, a unique cave formation on the south side of the Flying Flatiron. I spent a number of freezing days in February aiding the line with Christian Huber to work out the gear placements and brush away pigeon droppings. This place is the pigeon Hilton. A large feature at two-thirds distance is even named Pigeon Prow, aka the Poop Deck. I headpointed the route in July 2008 at 5.12d lugging what felt like a wall-rack since an annoying slab, the floor of the cave not seven meters below, parallels the 45-degree ceiling during the entire pitch, making it imperative that one never gets too runout. I named the route The Inside Passage in honor of another Flatirons choss-fest the Northwest Passage. Do I recommend this route? Absolutely not. It is buried in pigeon poo, sports some really bad stone, and the approach feels like hiking into the Diamond from the Pearl Street Mall. Is it one of the coolest things I've ever done? Definitely. 
Read more about the History of of Hard Sport Climbing in Boulder's Flatirons: