The Light Documentary Raises an Important Conversation About Eating Disorders in Climbing
The climbing community has an eating-disorder problem—but will there ever be a solution?
Heading out the door? Read this article on the new Outside+ app available now on iOS devices for members! Download the app.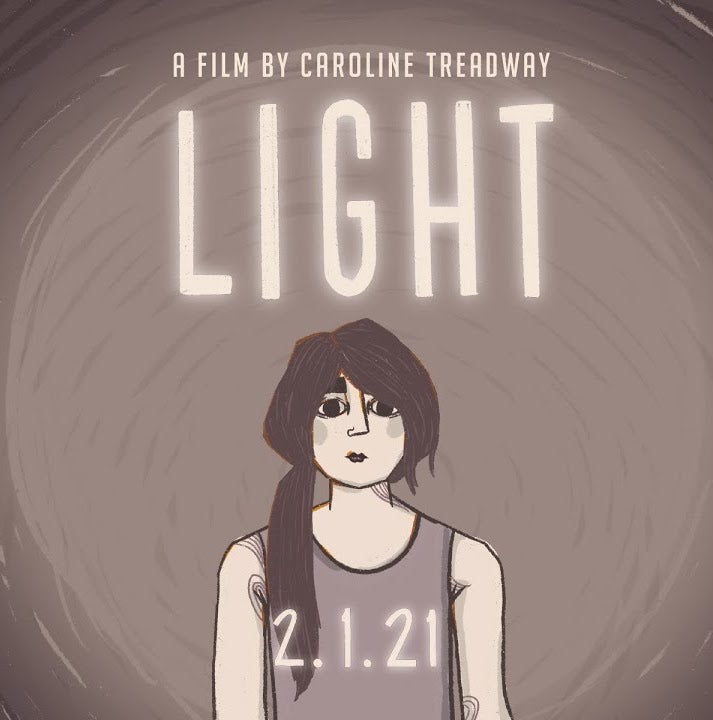 I was nineteen when I moved to Boulder, Colorado, from New Mexico in autumn 1991 to attend college. Back then, Boulder was already an epicenter of the American—or at least Southwestern—climbing scene, which is precisely why I'd come here. There were lots of climbers and lots of rock. I was also three years deep in an eating disorder, bulimarexia, in which I'd starve myself as long as possible to cut weight for climbing, then, with my body in caloric rebellion, pig out on junk food. The day after a binge, filled with self-loathing and regret, I'd exercise compulsively and begin starving myself again as "punishment" for my transgression. The behavior was cyclical, obsessive, and dangerous—at age twenty-one I began to have panic attacks, and in an ultimately futile quest to "cure" my anxiety ended up on psychiatric medications that, a good fifteen years after I stopped them, still echo in the form of chronic neurological impairment.
I'm healthy enough today and am grateful to be able to still climb, albeit with limitations, but I realize that the poor choices I made as a young climber will likely be with me for life. In the 1980s and 1990s, eating disorders were almost the default way to improve—we didn't really have rock gyms (there was only a handful in the United States); hangboards were brand new, with limited training protocols; and there were no MoonBoards, no Instagram, no YouTube, no Mountain Project, no Rock Climber's Training Manual. You got better by copying the behavior of those immediately around you, and in Boulder, everyone who was into climbing hard was rail thin—and you never saw them eating. Instead of getting stronger, we all focused on getting lighter. At any cost. The starvation vibe was in the air.
Though I was in good climbing shape when I moved here, at the start of freshman year, I remained convinced I was "fat." By the time I went home to New Mexico the next summer, I'd lost 20 pounds, and it still didn't feel like enough. I'd look down at my pencil legs and see ugly, useless muscle, or stare at myself shirtless in the mirror trying to will more ribs to surface through my papery skin. I would also stay out climbing or hiking all day, then purposefully get back to the dorms after mealtime had ended so I wouldn't have to eat dinner, instead surviving on sit-ups, pushups, and fat-free Saltines with mustard washed down with diet hot chocolate, tricking my belly into feeling sated for a few hours before another sleepless night filled with lancing hunger pains. This didn't feel sustainable, but then again I was seeing the results I wanted at the cliffs. My friends had even taken to calling me "Auschwitz Boy," a moniker I was proud of—it showed, in some twisted way, how my self-inflicted suffering was paying off.
I write all this not because I think my experience was special but because, well, it wasn't—these behaviors remain all too commonplace, especially among young climbers looking for performance gains or who move to climbing centers like Boulder and suddenly feel pressure to perform. Starving yourself for climbing—reducing that second number in the strength-to-weight ratio—is seductive. It's easier than training, you see results quickly, and you often receive the accolades of your peers: "You're looking so thin lately!" "Dude, you're so ripped—no wonder you're sending everything." And the classic climber-to-climber query: "Did you lose some weight?" But eating disorders also ruin and can end lives. You can actually be too thin, so underweight and malnourished that you develop a dangerous heart arrhythmia or your organs start shutting down, among myriad other complications.
So how do we break the cycle? Even with increasing awareness around eating disorders in sport and all the training tools today that let us focus more on getting strong versus just getting light, food limiting and eating disorders are still happening. So how do we stop young climbers—like the teenage me—from falling into this trap?
The filmmaker, climber, and journalist Caroline Treadway asks this important question in her excellent new documentary Light, a 46-minute film available for free on YouTube. Raw, honest, and personal, the film details Treadway's own battles with body image and disordered eating, beginning as a child and extending through her life as a climber. It also interweaves the stories of Angie Payne, Kai Lightner, Emily Harrington, and Andrea Szekely, all of whom emerged from the competition world to become top professional climbers, and all of whom used disordered eating to stay, well, light early in their careers.
As Payne so eloquently puts it, in a voiceover, "I still remember a moment when I was climbing when I was really light. I just remember feeling like water over the rock. Just flowing over the rock so smoothly and so slight. There's not another feeling like that."
Seductive, right? And Payne, during that period, became the first woman in the world to climb V13, ticking the Automator in Rocky Mountain National Park in summer 2010. However, Payne adds, because her life was so unyieldingly structured around climbing, dieting, and food limitation, she was also unhappy: "That was such a bad place. I was so miserable. You couldn't pay me to go back to that." (As the eating-disorder specialist Dr. Jennifer Gaudiani says in an interview, "A mammal who is malnourished isn't going to be playful. They're not going to be creative. And they're not going to be adventurous. They're going to get really rigid, rule-bound, and serious. That's what happens to a lot of people when they've cut too much energy intake.")
The other climbers detail similar struggles, with Harrington talking about how depressed she was and how little energy she had when she was starving herself, and Lightner laying bare the difficulties he faced with body image as a taller climber in a world of short, petite athletes, and how he was a "fraction away from liver failure" by the time he began to correct his disordered eating.
The undercurrent throughout is this idea of the elephant in the room—that our community is in denial about the prevalence and impact of eating disorders. And that we turn a blind eye to them because, given the pressure we all feel to cheerlead for our peers when they're sending, it would be almost sacrilege to call someone out or even mention the possibility that they're engaging in unhealthy behaviors lest we come off as jealous or judgmental or unsupportive.
Treadway, as a photojournalist documenting these athletes at competitions and at the rocks, was well aware of what they were going through. She'd lived it herself, but—like any of us, really—she didn't know what to say or do to help them. In fact, at one event, Treadway deliberately doesn't take a single picture of a too-thin Szekely because she feels so triggered. And Payne and Harrington, who are best friends and were roommates for a time, drift apart even as they live together, each locked in her own hermetic world of climbing, training, and self-deprivation. Nobody really knows what to tell anybody else: As Treadway says, of climbing with and documenting Payne during her bouldering tear in RMNP, "By asking if she was OK, I was becoming an enemy, a hater…"
The situation is complicated, but it's far from hopeless. As the climbers profiled have matured into icons of the sport, they—and many others—have been open about their struggles, on Instagram, in films like Light, and in personal essays for outdoor publications. Just last year, Climbing ran a story, "Weighing In: Does Climbing Need an Eating-Disorder Intervention," by the climber and journalist Caroline Wickes that tackled these very issues. We are there for each other more than ever, and by continuing to bring eating disorders and body-image issues to light, we are creating more opportunities for honest dialogue. As Lightner puts it, "Be there, be an open ear, be an open hand."
But, to put a point on it, none of this fixes basic physics and the fact that the stronger you are relative to your weight, the harder you can climb. As I've learned through my own climbing, and as the climbers in Light have come to realize too, you can still climb well at a healthy weight by focusing on good nutrition that fuels—and doesn't punish—your body coupled with systematic training. But walking the knife edge between healthy and strong and obsessive eating/overtraining is not easy, and I'm not sure it ever will be, especially for those of us who've recovered from eating disorders and realize how easy it is to lapse into old habits. The process takes vigilance, constructive feedback from our friends, loved ones, and climbing partners, and above all raw, naked honesty with ourselves.
This spring and summer I have a handful of routes I want to redpoint, climbs at my physical limit. I've spent the last 10 weeks in a training cycle, with two more weeks to go, then I'll taper off and start trying project number one, a route I've done all but a single move on. My goal has been to get my fingers strong enough to hold the tiny crimps on this and the other lines, as well as to ramp up my resistance so I can link multiple cruxes. As I've been training, and the deeper I get into the cycle, the more tired, heavy (likely from putting on muscle), and beat-down I've felt. But I also know it's temporary, having been through the same preparations the past two winters and seen how rapidly the strength gains accrued once I stopped training. So I'm not worried about it, and I'm not starving myself like I did in the old days—I can't; it's too unhealthy. I've found that simple things like cutting or scaling back sugar coupled with long days at the cliff usually get me feeling fitter anyway as the season wears on. And because I don't have a scale and no longer weigh myself, I leave it at that—just a feeling. Which in the end, is why we climb, right? For the feels…
As Payne puts it, after her personal redemption late in the film—climbing a very difficult boulder problem without deliberately cutting weight to do so—"Feeling really strong feels even better than feeling really light."
Preach.
Eating-Disorder Resources: 
• Nutrition for Climbers
• Anorexia Nervosa and Related Eating Disorders, Inc.
• A Chance to Heal Foundation
• McCallum Place