The NGO Bringing Rock Climbing to Peru
Heading out the door? Read this article on the new Outside+ app available now on iOS devices for members! Download the app.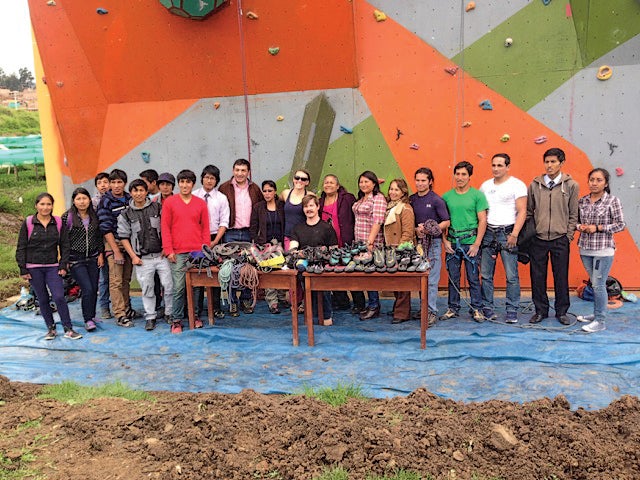 In the Ancash region of Peru, the town of Huaraz sits above 10,000 feet. Though the region is home to the highest tropical mountain range in the world, there are few local climbers. The high cost and limited availability of gear make the sport inaccessible, and guiding has largely been the pursuit of American and European companies. Nikki McGee, founder of Elevated Mountain Guides, wants to change that. McGee is bringing knowledge and donated gear to the Instituto Superior Tecnologico Eleazar Guzmán Barrón, a technical school in Huaraz that offers an affordable guiding and tourism program to locals. We spoke with McGee about the program.
What was the inspiration for the first trip?
There was a donations bin at Momentum Indoor Climbing in Salt Lake City, where I am a coach, for an under-funded guiding and tourism program in Peru. Most of the people in Peru can't afford to climb safely or tackle any big projects, because access to quality gear is both physically and monetarily out of reach. I had just returned from the country and didn't mind having an excuse to return, so I offered to deliver the gear in person.
Helping these people is really close to my heart because I wasn't well-off growing up. Climbing, and the outdoors in general, really helped me find a better path in life. I found that I needed to be outside. It's my everything to be doing this. I was really lucky to come out to Utah and be a part of the outdoor community, so it's such a privilege to be a part of making this happen.
Why did you start your NGO, Elevated Mountain Guides?
On the first trip, we thought dropping the gear off would be no big deal, but the locals were so grateful. They made a big production of the hand-over with a ceremony. It drove home how significant it was to them. One of the instructors, Gilf Laurent, asked if I'd like to teach since they'd recently started allowing women into the program, and had yet to employ a female instructor.
What is the goal of Elevated Mountain Guides?
One of our priorities is to foster environmental stewardship in the local population through adventure and eco-tourism. This connection is distinct from the one provided by extractive industries that hurt the landscape and health of the local population. It was surprising to us how overrun the high-end guiding industry is with expats from more developed countries. This isn't necessarily bad, but when there are few economic ladders available to the local people to escape poverty, it's an issue.
What is the school in Huaraz like?
It's like a community college or tech school in the U.S., but a four-year program. They offer nine degrees; one is in guiding and tourism. It's a new campus, funded by the government. The buildings are good quality and attractive, but being new with a limited budget, there are parts that are underutilized and lacking needed facilities and equipment.
What climbing facilities do they have on site?
The students built an outdoor climbing wall last year as a senior project. Prior to our first donation, they only had one rope and no harnesses. They're so passionate and resourceful, doing anything they can to develop the program. One of the students taught himself how to make climbing holds for the wall, and is working to turn it into a full-blown venture. He's now selling his holds to the main climbing gym in Lima.
What was the most surprising part of your trip?
What it meant to them. Getting to give a pair of climbing shoes to a college student that he'll get to use every day … it was amazing. The little things we take for granted make a huge impact. Even our old gear can find a long lifetime in new hands, and it gives the students something that they may not be able to afford and will need for their future careers.
What makes the school in Huaraz unique?
The people really set it apart. The students and staff are incredible. We've had the privilege to work closely with head instructor Gilf Laurent and have seen his passion and dedication to the environment, and the education and advancement of his students. They are a public school with low tuition, making their programs available to a broad swath of the population, including women. Enrollment in their guiding program costs $30 a year, whereas the nearest guiding school costs $5,000 a year and doesn't allow women.
What's next?
Over the next two years, we'll travel to Huaraz several times to deliver donated gear and teach. Some of these projects are designed to provide new revenue streams that can then be folded back into the school's program. Ultimately, the plan is to expand beyond Peru once we can establish this as a working model.
To learn more or donate, visit Elevated Mountain Guides.