An Excerpt From The Impossible Climb: Alex Honnold Free Soloing in Morocco
Heading out the door? Read this article on the new Outside+ app available now on iOS devices for members! Download the app.
From The Impossible Climb: Alex Honnold, El Capitan, and the Climbing Life by Mark Synnott, published by Dutton, an imprint of Penguin Publishing Group, a division of Penguin Random House, LLC. Copyright (c) 2019 by Mark Synnott.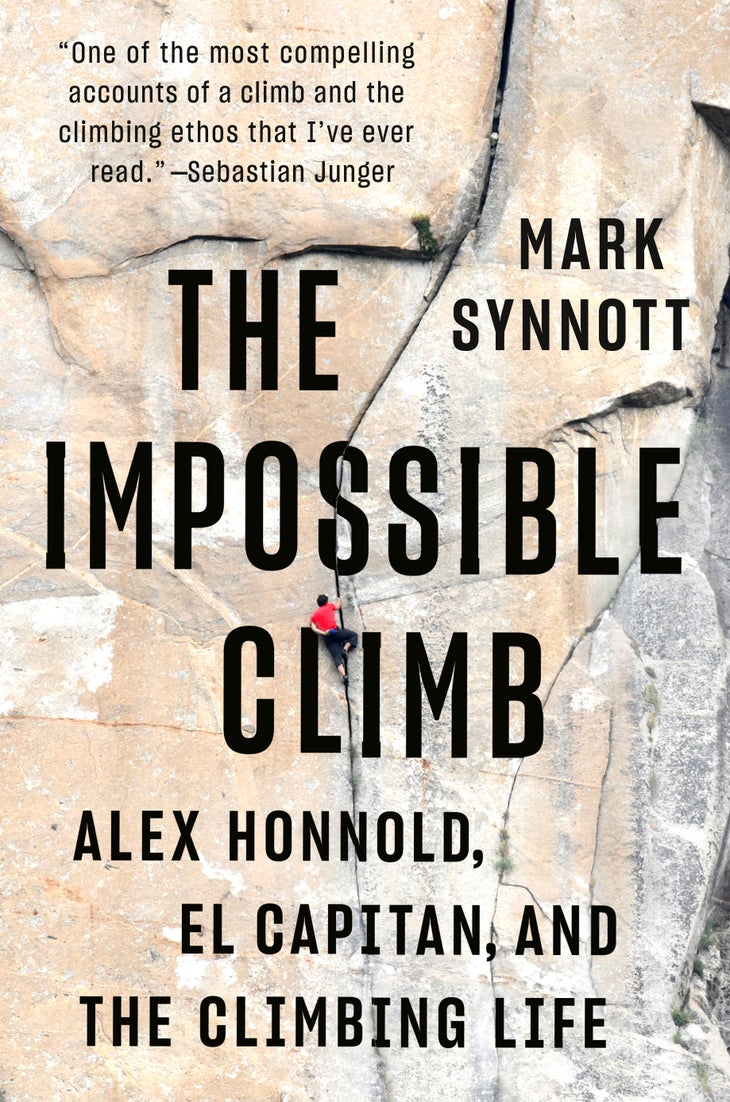 Mikey settled his feet against a reddish streak in the limestone, rotated his torso to the left, and stared down the wall through the camera's viewfinder. Alex seemed to be moving smoothly now. His foot is barely on the pedal. He's giving what? Like, 50 percent, maybe 60? Mikey knew the climbing wasn't as easy as Alex made it look because he had done the route himself when he first got to Taghia. He had struggled on one of the moves Alex was about to pull—1,200 feet up an overhanging wall.
Afterward, when I talked with Mikey about the experience of filming Alex free soloing, he described some of the thoughts running through his mind. "He's running at low rpms, barely revving his engine, but still, I feel like I'm watching someone on top of a building who's about to jump. And it's sucking the energy right out of me. This must be like war photography. The chance of someone dying—it's not a point-​­zero-​­zero sort of thing; it's a percentage point, like multiple points. It could happen. I wouldn't want to do this job every single day for a year. Oh man, that would be really bad odds."
Mikey had been trying not to dwell on the fact that shortly before leaving for Morocco, the climbing tribe had sustained another loss. Kyle Dempster, thirty-three, and Scott Adamson, thirty-​­four, two of America's best alpinists, had disappeared in late August while attempting the unclimbed north face of the Ogre, a 23,000-​­foot mountain in the Karakoram. A storm blew in on the second day of what was supposed to be a five-​­day mission. The pair was last seen by their cook halfway up the face. Most of the crew knew them personally.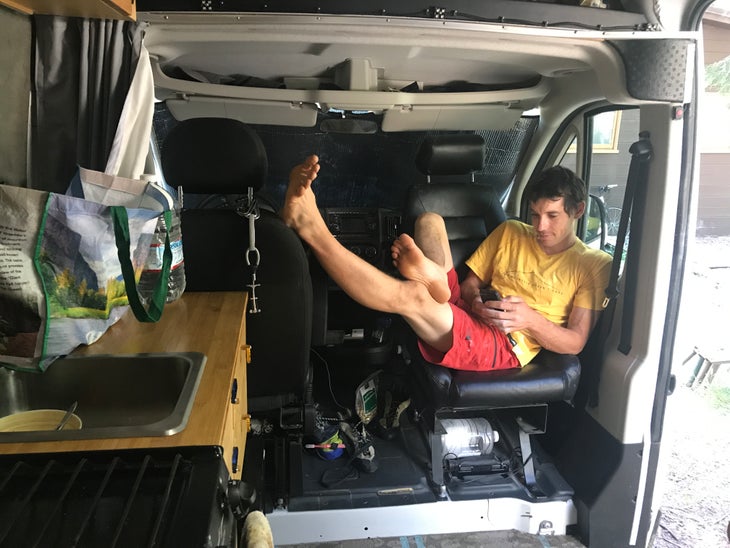 Alex pulled himself onto the route's only decent ledge 1,400 feet above the ground, as Mikey continued filming.
"Hey, how did you get up here?" said Mikey. "Where's your rope?"
Alex laughed. Jimmy was nearby on a separate rope a bit above Mikey, jugging up to get in position to film the next pitch, which was by far the most dramatic on the entire route—gently overhanging, smooth gray rock with streaks of orange and red. Big moves between positive holds. The rating: 5.12c. Alex slipped off the heels of his shoes and shuffled a few feet across the ledge. He turned his back to Mikey, who was still rolling, and let out a sigh. A stream of urine arced through the air.
The jangle of clinking carabiners drew my attention to a notch between two fins of scaly gray limestone one hundred feet below. Jimmy, panting and dripping with sweat, was hustling to top out before Alex, so he and Clair could shoot Alex summiting from two different angles. He pulled the huge black camera case from around his neck and threw it down in the rocks by his feet.
"Did you hear what happened?" he asked me as sweat dripped off the tip of his nose. "I almost killed Dave and Jim."     
A few minutes later, we heard whistling. Alex, wearing a bright red shirt, black pants, and a yellow chalk bag, scrambled up onto the summit, all nonchalant, as if he were strolling down the sidewalk to get a pack of gum from the corner shop. Jimmy and Clair had their cameras trained on him, while Alex stood there, staring at his forearms.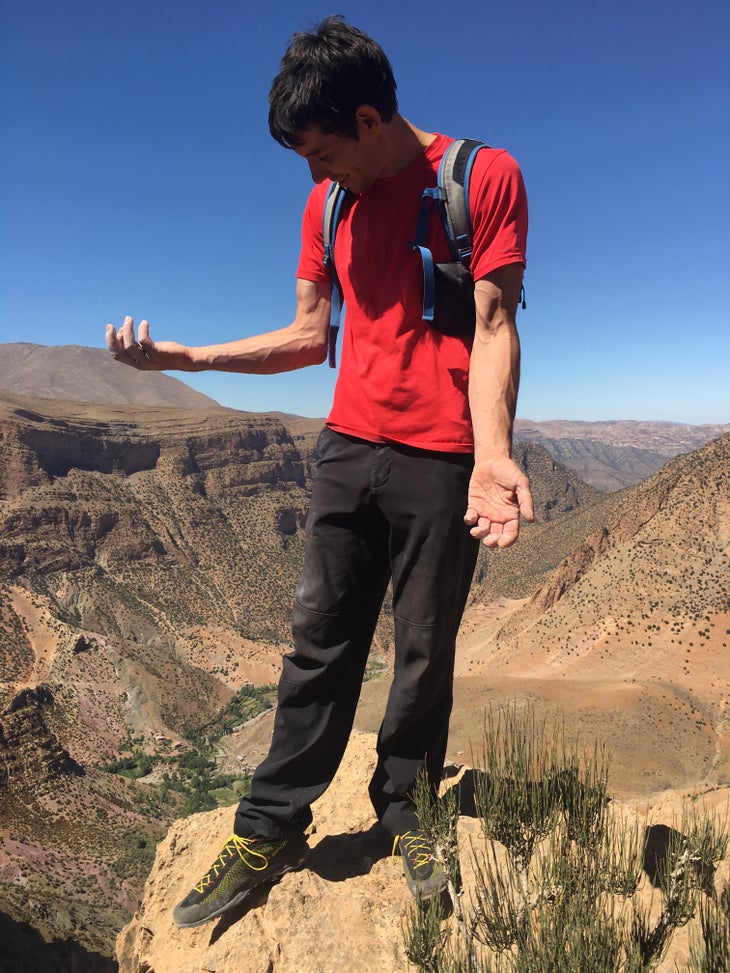 "That felt like work," he said, to no one in particular.
"How did it go?" I asked him.
"I was overgripping and a little tight on the whole bottom part. I didn't really loosen up until I got to the crux. That actually felt pretty good—smooth, easy. I don't think I've actually ever soloed anything like that before. It was wild. Overall, I would give myself a B‑minus. But I've had solos where I was more on edge, like Romantic Warrior." He then reminded us of the story that had become legend among those of us who follow his exploits. "I was so gripped on that one I took a dump on pitch 3."
With that he grabbed the pack we had brought up for him with his shoes and a water bottle, threw it onto his back, and walked off.
Hassan had been sitting a few feet away, absorbing everything. He's twenty-​­five years old, six feet tall, and movie-​­star handsome. The entire time I had been in Taghia, Hassan had been wearing a tight, light blue cotton V‑neck sweater with no shirt underneath. He lives in Aguddim, speaks fluent English, and works as a translator and guide. He's also a budding climber, a member of the first generation of Moroccans to venture up these cliffs with ropes and quickdraws. Hassan had told me earlier that all the Moroccan climbers know about Alex and Tommy. They had watched the coverage of Tommy's Dawn Wall ascent on CNN. "Everybody wants to meet them," said Hassan. Alex and Tommy are famous in Morocco, even among non-​­climbers. Which explained the Moroccan woman who saw us walking back from the cliff and called out, "Alex, I want to marry you."
"He [Alex] is an inspiration for young people here. It's making me motivated to get more into climbing," says Hassan. "But it worries me, because it's dangerous."
When Alex left, I turned to Hassan. "What do you think?"
Hassan looked me in the eyes and shook his head. "He's crazy."
Mikey showed up a few minutes later and plopped down on the summit next to Jimmy. They both looked dog tired, as anyone would after a long, sweaty day humping heavy loads through the mountains. But more than just physically exhausted, they appeared mentally frazzled, shell-​­shocked almost. Jimmy stared across the canyon with an expression that looked pained and aggrieved. I had been through a lot of emotional, pressure-​­packed moments with Jimmy over the years, but I had never seen him like this before. No one spoke for a while.
Then Jimmy said, "Today was awful for me. . . . The thing is, I was hyperfocused. I knew the most dangerous thing that could happen would be to kick off a rock. It was all I was thinking about. The place I put my foot, fifteen people had already gone over that ground. It kind of made me lose my stomach. I was like, 'Fuck this shit.' I told Mikey, 'The last thing I want to do right now is shoot somebody soloing.'"
"And I had to be like, 'Hey, he will be up here in thirty minutes. You got a job to do. Put it in your pocket and think about it later,'" said Mikey.
"This shit is fucking gnarly," said Jimmy. "And I knew it would be like this, I mean, I knew it would be dangerous like everything else we do. But with this shit—with this many cameramen—the chances of hurting someone else . . ." His voice trailed off, and he looked down at the ground, which was covered in loose rocks.
Any climber who ventures out of the gym or beyond manicured sport-​­climbing crags has had close encounters with rockfall. It's part of the game and a risk you learn to mitigate rather than eliminate. When I'd heard Jimmy say that he'd knocked off a rock above Jim and Dave, I wasn't surprised. It is a common occurrence. I've had my bell rung at least a dozen times by golf ball–size rocks that have taken chunks out of various helmets I've owned over the years. But I've always been roped in when this has happened.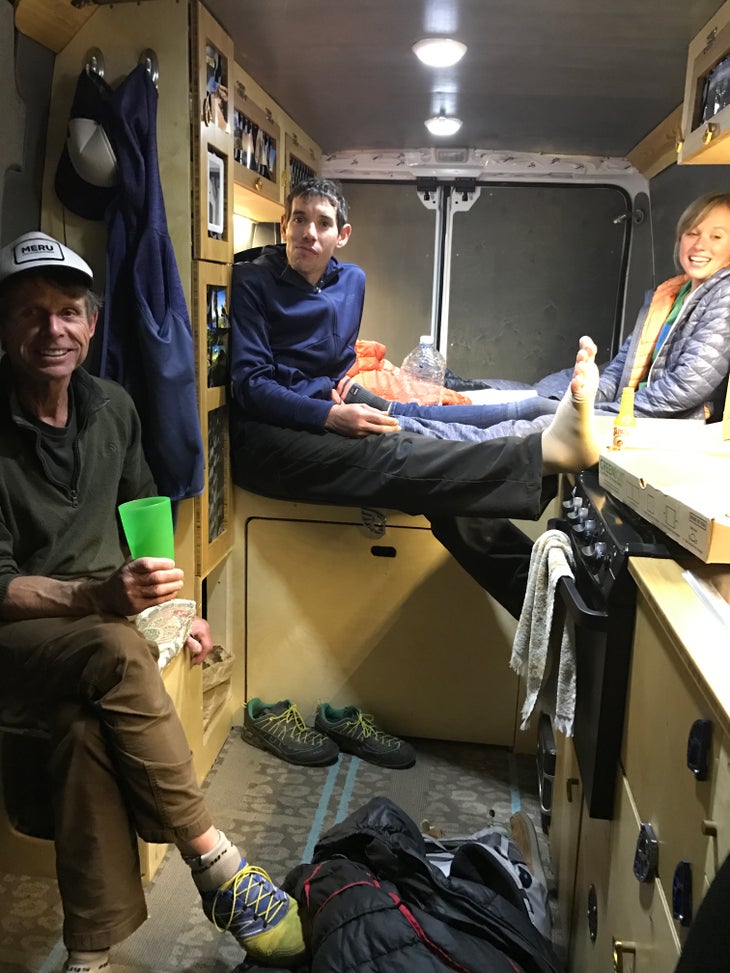 The real reason this incident was so chilling was because we all knew that it could have happened when Alex was on the wall. Without the security of a rope, he can't squeeze in tight, dive for cover, or shield his head with his arms. And he doesn't wear a helmet since it would be useless if he fell from any appreciable height—not to mention it's just not his style. My stomach churned as I imagined a shower of rock shrapnel peppering him amid a hard sequence. I know what it feels like to get whapped with a small piece of stone. Even a peanut-​­size rock hitting Alex in the head might cause him to falter if it happened at the wrong moment.
Dave said afterward that he could feel the rush of wind on his ears as watermelon-​­size chunks of rock shrieked within inches of his skull. Yes, he was wearing a helmet, but it wasn't going to offer much in the way of protection against rocks that big, which would have ripped his head off his body. Jimmy was now bearing the full weight of his decision to take this job on. Jon Krakauer's perfectly rational advice that someone would film Alex, and that Jimmy should be "the guy" because he was the most qualified to do it, seemed utterly worthless in this moment, like, "Somebody's going to ski off the summit of K2, so it might as well be you."
In Jimmy's film Meru, he has a line about how the best alpinists are the ones with the worst memories. Only those who can selectively forget the misery and near misses are willing to return again and again to attempt big, dangerous climbs. While this project didn't involve the physical discomfort of a Himalayan expedition like Meru, it certainly offered its own set of horrors.
We all just sat there, listening to the wind whistle through the notches in the rock, staring off at the parched hills surrounding the tiny oasis of Taghia. "I don't want to do this job for the rest of my life," said Mikey. "All the stress is just going to ruin me. I've seen other shooters that work in the mountains, and they've seen it go bad, and now they're paranoid, because they hit their threshold. We could be doing car commercials or shooting models in Mexico." Mikey paused and appeared to be deep in thought, like he was imagining those bikini-​­clad models on the beach. I looked at Jimmy, and he was finally smiling. He does photo shoots with supermodels on occasion. "But none of that work is really meaningful," Mikey added. "You're just selling shit. Here we're actually trying to show somebody special."
The Impossible Climb: Alex Honnold, El Capitan, and the Climbing Life is available now.