The Wright Stuff: An Ode to the Dark Horse
Heading out the door? Read this article on the new Outside+ app available now on iOS devices for members! Download the app.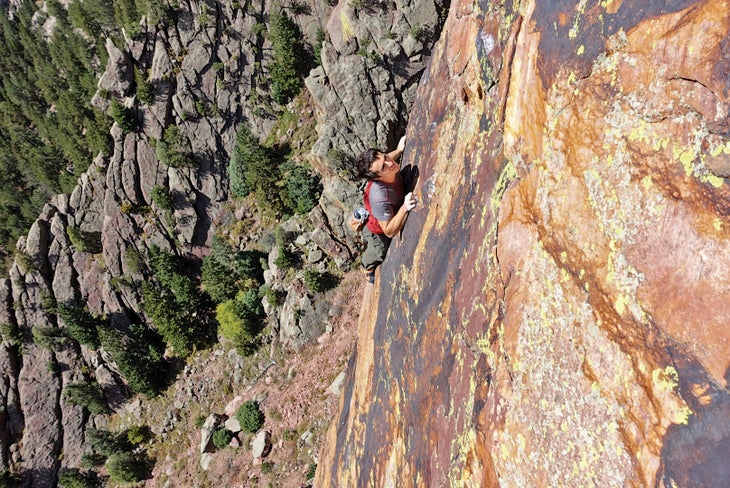 I recently documented two of the most impressive free solos of my filmmaking career—and neither were Mr. Free Solo himself, Alex Honnold!
In fact, I guarantee you've never heard of the guy who put it all on the line during the historic ropeless ascents of Doub-Griffith, a sustained, insecure 5.11+ multi-pitch face route, and Hairstyles and Attitudes, a powerful and insecure 5.12c at the top of the 400- foot-tall Bastille in Colorado's Eldorado Canyon.
Honnold's response to the news was, "Yikes!"
This mystery man, who I've jokingly referred to as the "second best soloist in the United States," is Brad Gobright. I know, right? Who the hell is Brad Gobright?
Fact: It's not just those appearing in the latest REEL ROCK tour segment or in magazines like this one who are the greatest athletes in our sport. Brad is one of the hundreds, if not thousands, of climbers actively climbing at a seriously badass level, while flying totally under the radar. In this way, Brad is a quintessential "dark horse"…which I've single-handedly ruined with this opening paragraph. Oops!
I can't help myself. I've always had a special place in my heart for the Dark Horse. The guy or gal who is every bit as rad, if not radder, than the famous sponsored climbers we idolize. They pop up at your local crag, push the limits of human potential, and leave us wondering, "Who the hell was that?" I bet we all know at least one!
My love for the Dark Horse comes from a couple places. For one thing, I'm anything but a Dark Horse. I've had more than my fair share of climbing glory and media attention. And while I wouldn't change a thing, I do envy and admire the purity of pushing your limits with no need to tag your sponsors or promote yourself and your climbs—no Tweets, Grams, or Facebook status updates. There's an undeniable purity in sending and going on your way.
But quietly crushing the gnar is not going to get you sponsored, and I think that is one type of Dark Horse, the unknown badass who aspires to break into professional climbing but hasn't. As someone in the unique position to shine some light on the Dark Horses I find inspiring (and who could use some gear and/or financial support from sponsors for their efforts!), I refer you to the picture above of Brad. Brad likes long solos (sometimes on the beach), big walls, crimpers, and cutting-edge trad climbs, and he's looking for an eligible and sexy sponsor to sweep him off his dirtbag feet.
But the most archetypal of Dark Horse seems to want to stay that way. These souls are the most legendary and compelling of Dark Horses, the climber who not only doesn't care about the attention, but actually hates it, and considers people like me sell-out pieces of crap who are ruining the sport. They despise advertising. Many don't have a Facebook account (gasp!). Some don't even have a smartphone (double gasp!!).
If you spray about their climbing, they will break your legs. That type of Dark Horse hates Cedar Wright. But I kind of love that type the most. Those counter-culture anti-heroes who give middle fingers to the mainstream are what makes our sport unique and special.
Really though, a Dark Horse is not black and white in definition, and if you look closely there's a lot of gray. For instance, my good friend Hayden Kennedy walks the line between legend and Dark Horse. He's a 5.14 trad climber with the hardest routes in Indian Creek and limit-pushing alpine routes on 7,000-meter peaks, to name a couple of his endlessly rad accomplishments. In my opinion, he's the best all-around climber in the United States today. Yeah, even better than that Tommy Climbswell guy.
He's also a hilarious, kind, down-to-earth soul-brother who is one of my absolute heroes in the climbing world. Some of you may have heard of him, but he's not what I'd call a household name, and this is largely by his own design. He's not on Facebook, and he once told me that Instagram would be the "downfall of civilization." He's had the biggest sponsors in the industry courting him, but he just isn't that stoked on "promoting himself" or "posing down" for photos and video. He happily takes swag, as long as his sponsors are cool with his no-poser-bullshit clause. When Honnold and I did our Sufferfest 2 mission last year in the desert Southwest, Hayden was our rigger and couldn't have been happier to be out of the limelight. At the end of the day I like the limelight more than Hayden, but I share Hayden's passion and dedication to climbing. What I find personally inspiring isn't the media splash that a climber makes; it's their creativity, hard work, and love for the sport.
This love for those who love the game was passed down to me and embodied by my climbing guru and mentor Sean "Stanley" Leary, who was one of the great Dark Horses of all time. He managed to set a speed record on the Nose, free El Cap in a day, and put up cutting-edge alpine big wall ascents—without getting famous! Actually, that's an amazing effort itself. And often, I felt a little guilty for gaining notoriety while Stanley did not, but the truth is, he never quite had the extroverted personality needed to make it as a professional climber.
As you can tell, the Dark Horse comes in different flavors, which makes it a relative term. A lot of Dark Horses are probably local legends in their climbing community, but that notoriety doesn't expand beyond the crag they frequent. So I reached out on Facebook to ask people all over America who are the Dark Horses of climbing in their area, their local heroes. People mentioned some folks I knew about, like Dan McDevitt who has been putting up proud free climbs in Yosemite for the last 20 years; Todd Gordon who has more than 2,000 first ascents in Joshua Tree; Mike Pennings, one of the great alpine rock climbers of all time, who gave me a motto for life when he replied to a question about why he brought 10 pounds of coffee to Patagonia: "You can't put a price on morale"; and Jimmy Hayden who has the hardest free climb on Mt. Watkins in Yosemite.
But when I read further, I found hundreds of names I'd never heard of and realized immediately that I had struck on something climbers feel strongly about, that a lot of the people in the climbing world who deserve recognition don't get it. The comments piled up, and as I scanned them, one thing that stood out to me was that what people found most inspiring were the climbers who had dedicated their lives to developing climbing for others or who were known for being a positive role model or mentor in the community.
You see, there is more to being badass than just pulling really hard or being bold. In fact, if the responses I got on my Facebook account were a litmus test, what people find more inspiring than any of that is selflessness.
Dark Horses remind us there is a lot more to being a realized person than climbing 5.14. Some famous climbers have strong fingers, but weak handshakes. In my opinion the true measure of a climber should be how they treat the people around them, not how hard they pull on slopers.
My Australian friend Simon Mentz told me, "After you finish your Dark Horse article, I reckon you should write a second one on well-known climbers who really don't cut the mustard."
"Ha, I wouldn't want to out myself!" I joked.
In life, not every heroic person becomes a known hero, and paradoxically these are the most heroic characters of all. They pursue greatness for its own reward, not for followers or product endorsements. They might be sitting next to you at the crag right now. So keep your eye out for them, tell them they are making me look bad—and to keep it up!
Readers Respond: Ultimate Dark Horse Nominations
"Julie Brugger. Cerro Torre, North Face of the Matterhorn, Croz Spur on the Grandes Jorasses, Cassin on Denali, plus many first ascents in the Pacific Northwest. Summit registers all signed as her partner plus 'friend.'"
"Malcolm Matheson is an Australian climber responsible for the development of many of the Grampians' thuggier crags and routes, including the world-class Taipan Wall. Not to mention he still crushes to this day."
"Tom Smartt! This guy crushes in Idaho, has developed routes up to 13d/14a, and looks forward to the potato harvest more than the send!"
"The most inspiring legend I've met is my professor at Prescott College, David Lovejoy. Anyone else who has gone through the adventure education program would agree with me."
"The legend around here in Canmore is Greg Tos and his wife Irene. Dude puts up insanely good routes, climbs like a total badass, owns a successful trade business, and his wife doesn't even train and sends 5.13+. He helps retrofit old-school classics constantly, making sure they are safe for the hordes of summer visitors, and in his spare time he teaches the younger generation, like me, how to bolt, how to climb, and how to be a generally good person."
"Rich Romano! He developed the remote (by Gunks standards) Millbrook Cliff almost single-handedly, putting up numerous 5.11 and 5.12 R/X trad routes in the process, without placing a single bolt."
"I think Morgan McNeill has to be a candidate. He has climbed all over the world, is exceptionally strong and technical, developed new areas, and found new gems in established areas. But that's not why I think he needs to be nominated. What makes him special is that he is probably as passionate about getting new climbers to fall in love with climbing as he is about his own climbing goals. Discovering climbing changed my life, and that never would have happened without him. He lives and guides at Arkansas' Horseshoe Canyon Ranch Climbing now, and I'm sure he has had that same impact on countless visitors to the ranch."