A Young Rock Climber Takes Her Life. She Left Behind a Mystery
Last summer, Tiffany Thiele, a young rock climber from Reno, Nevada, took her life after posting a Facebook message saying a ski patroller had raped her. She left behind an unsolvable mystery about what really happened, along with urgent questions about whether more could have been done to heal her feelings of pain and distrust.
Heading out the door? Read this article on the new Outside+ app available now on iOS devices for members! Download the app.
If you or someone you know is having thoughts of suicide or self-harm, call the National Suicide Prevention Lifeline toll-free from anywhere in the United States at 1-800-273-8255, or text HOME to the Crisis Text Line at 741741.
If you or someone you know has been sexually assaulted, call the National Sexual Assault Hotline at 1-800-656-4673, or visit rainn.org for a live chat.
---
Tiffany Thiele was planning to climb the East Buttress of Yosemite's El Capitan, a stout 5.10b route with nine pitches that rise 1,500 feet above the Valley floor, the longest multi-pitch line she'd ever attempted. An elementary school teacher with sun-drenched blond hair, blue eyes, a silver-studded nose piercing, and a strong, vivacious personality, Thiele told friends how excited she was about the challenge.
She intended to attempt the route with a climber from Portland, Oregon, named Chris Alexander. The two met last summer, through a Facebook group. They had climbed together once during that time, in the mountains on the California side of Lake Tahoe, ending the 12-hour day with beers on the tailgate. The new plan was for Alexander to fly to Reno, Nevada, where Thiele lived, during the first week of October. From there, they'd drive to Yosemite together.
On Saturday, September 18, Thiele celebrated her 38th birthday by climbing and going out to dinner. That day, she texted a friend about planning a climbing trip to Red Rock, outside Las Vegas. Thiele had just bought a guidebook, and the two swapped ideas about which routes they wanted to try.
According to Thiele's close acquaintances, she seemed happy and optimistic at the time. She talked about big hopes for the future: she dreamed of snowboarding in Japan someday; she'd found plane tickets to Greece for $300; and she was itching to go to Moab, the climbing and mountain-biking hub in Utah.
On Monday night, September 20, she and Alexander texted back and forth about Yosemite, working on logistics. He says he didn't notice anything wrong. Her responses were a little slow, but otherwise everything seemed normal. "Can't wait," she wrote. "I led some 11s in the gym a couple of days ago."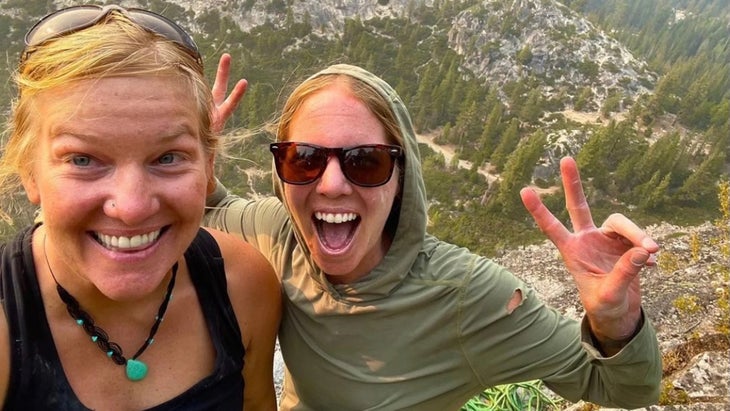 The next day, Tuesday, September 21, at 12:42 P.M., Thiele went on Facebook, where her account name was Tiff Ster, and posted a long message. On the local Climb Truckee-Tahoe group page, as well as other community pages, she made a shocking accusation that, up until this moment, she had not aired publicly or shared with the police.
In the post, Thiele said she was raped in the summer of 2018 by a ski patroller from Alpine Meadows (now Palisades Tahoe). "He put something in my drink, concealed a recording device from me and placed a cell phone under a pillow," she said. "I remember feeling very dizzy after 1 drink. My memory is fragmented from that point. I found the cell phone placed face down under a pillow … I was scared and alone. I screamed. He turned me on my back and pit [sic] the phone in my hand as he got on top of me and raped me."
Thiele said she had filed a report with the Placer County Sheriff's Office a month after the alleged incident. Her case was forwarded to the district attorney's office, she said, but the D.A. decided against filing charges, citing insufficient evidence.
Though it's not conveyed in her Facebook post, Thiele's initial accusation against the patroller was that he had used a recording device while they had sex, without asking her permission. The sheriff's report from 2018 does not mention rape, and it does not include an allegation that Thiele was drugged. But something—it's unclear what—happened that compelled Thiele to frame the event differently years later.
"I have tried so hard to forgive myself. I have tried so hard to find meaning again," she wrote on Facebook. "Next week I had plans to climb El Capitan. I thought that this would be my big comeback. A way to put the past behind and show that I am still strong. I'm strong, but I'm not that strong. We all have our limits. Life has been such a beautiful journey, and I am so sorry to those that I have left behind."
Thiele said things hadn't been the same for her since the incident, and that she was suffering from post-traumatic stress disorder. "I can no longer trust in a relationship," she went on. "I see a world filled with injustice in which police blame women. Police harassed women and they treat them differently then [sic] men. Men blame women. Women blame women. Women blame themselves. I don't want to be strong anymore. I'm tired of battling and being blamed. I just want to go somewhere that I can find peace again."
Immediately after the post went up, concerned friends started reaching out. A climbing buddy named Trevor Vichas, a student from South Lake Tahoe, was sitting in class when he saw the message, about 20 minutes after it appeared. He texted Thiele immediately: "Hey. Call me. If you need a friend, I'm here. Reach out." She didn't respond. He called and left a voice mail, saying, "Call me back." No word.
Alexander saw the post at 1:45 and also texted. "Hey hey hey," he wrote. "You HAVE plans to go to Yosemite in two weeks. We're both looking forward to it and we're going to have a great time. I just read your post. I'm going to call in a little while. You're OK."
When she didn't respond, Alexander texted again, at 2:08, saying he was going to request assistance. "Please let me know you're OK," he wrote. "I'm going to call for a welfare check if I don't hear anything from you really soon," he wrote.
Thiele responded at 2:20. ​"Do not call the police," she texted. "I don't want them to [put] a legal hold on me. I've made my decision. You don't understand what I've been through. I'm so sorry that I can't climb with you. I just can't do this anymore. He was never held accountable. I'm just so angry that he was never held accountable."
Less than a minute later, she repeated: "I'm so sorry."
Kimberlie Flowers, a marriage and family therapist from Truckee who first met Thiele in 2014 through a cycling club, was coming in from paddleboarding when friends started calling her to ask if she'd seen the post. Flowers had not. She hadn't been to Thiele's apartment before, so she began calling anyone she thought might be able to help locate her.
Another friend and climbing partner named Haley, who asked that her last name not be used, also called Thiele repeatedly. It was around 2:30 by then, almost two hours after the post. "I had this bad gut feeling," recalls Haley, who lives about two hours away from Reno but met Thiele to climb regularly. "This was not like Tiff."
Thiele's phone was still receiving calls, but she didn't pick up. Then, after one of several unanswered attempts by Haley, Thiele texted her at 2:48. "I want you to have my [climbing] rack, my bikes, my paddle board, and any other gear you want. I'm so sorry," Thiele wrote.
Haley got the text, then tried calling again, but Thiele's phone was turned off and the call went to voice mail.
Hours of agony followed. Someone called the police department in Reno and requested a wellness check. Thiele's mother, Nancy, obtained keys and went into her daughter's apartment in Reno, but she wasn't there.
Haley and Flowers were in contact with Nancy as well as Thiele's stepdad, Dave Fish, trying to piece things together. What places meant the most to Thiele? Where might she go? One location stood out: Donner Summit.
"That was a place where her soul felt inspired and happy and a place where maybe she thought she could find peace," Haley says.
At 4:12, a call came in to 911 dispatch in Truckee: someone driving near Donner Summit had seen a car parked at a freeway exit. Soon after, the Truckee fire department found a woman hanging 50 feet above the road beneath the Interstate 80 overpass, just north of Donner Lake. Nearby, inside a Subaru with an orange mountain bike on its rack, responders found a camp chair, a bike helmet, a laptop, and an iPhone, turned off. Thiele's driver's license was in a purse in the car.
She had climbed onto the steel and concrete bridge, scooted toward the center, and used carabiners to securely attach one end of her green nylon climbing rope to the structure. Then she said goodbye.
____________________
Reno is a small, gritty city at the base of towering, snowcapped peaks. Thiele had bounced around, but Reno was always home. She graduated from the University of Nevada, Reno (UNR) in December 2008, then received a master's degree in education from Sierra Nevada University, on Lake Tahoe's north shore, where she was enrolled from 2009 until 2014. She had long wanted to be a teacher, though she'd had plenty of other jobs, some of them basically a means to spend time outdoors.
When Thiele was younger, she was hired as a seasonal employee for California State Parks, staffing the visitor center and campground at both D.L. Bliss and Sugar Pine Point State Parks, on Tahoe's west shore. One year she sold tickets at the Northstar Ski Resort, outside Truckee, scoring a free season pass as a perk.
But working with children was her true calling. She taught at a public elementary school in Reno for years, and prior to her death she was teaching second and third grade for a free online school that's part of Reno's Washoe County School District. She was also in the process of opening a new youth program, to be called Crux Adventures and Fitness, which would offer outdoor camps and scholarships.
Thiele was happiest outside—running, snowboarding, biking, paddleboarding. She once snowshoed to an area called Chickadee Ridge on Mount Rose, the peak that hovers over Reno, where she fed chirping birds by hand. During the summer, she frequented the public docks that extend into Donner Lake, the stunning body of water at the base of Donner Pass. Thiele liked to buy sandwiches from a market down the road, then launch her paddleboard.
"She loved being out there," says Flavia Sordelet, a longtime friend who worked with Thiele at the state parks. "She loved being in nature."
At some point, Thiele got deeply into fitness and began participating in triathlons and distance races. She climbed at an indoor gym in Reno, and she became so enthusiastic about yoga and aerial silks—a form of acrobatics in which you hang from a ceiling or fixed object using fabrics—that she began teaching those disciplines at local studios. On Instagram, her profile photo showed her dangling upside down in a forest, held aloft by a long strand of purple cloth.
Thiele also started getting into backcountry snowboarding and earned her avalanche-safety certification. "The first time Mount Rose ski area opened up the Chutes, she was new to the steeps," says Michelle Oddo, who met Thiele while in college at UNR. "I was like, 'Follow me.' She was nervous. She said, 'Where are you taking me?' But she followed, even though she was scared. She was smiling ear to ear. A lot of people would be uncomfortable. But Tiffany, she had this wonderful smile, and her laugh was full of energy."
Around 2014, Thiele became excited about rock climbing. She started climbing at Donner Summit and at an area called Lover's Leap, south of Lake Tahoe. Two years later, she met Trevor Vichas, who was working at the Strawberry Station General Store, a market and climbing shop across the street from Lover's Leap.
"She always came in to say hello when she climbed at the Leap, and we ended up climbing together a bunch of times," Vichas says. "She was always stoked to go climbing. She was a very energetic person who seemed so full of life. She loved trad climbing, and she always wanted to push her limits and advance her skills."
A route at Lover's Leap called the Line—a 5.9 with three trad pitches—became one of Thiele's main goals. "She struggled through the second pitch, but she was super determined," Vichas remembers. "She was like, 'I'm going to hang here. I'm going to do this. I'm going to figure it out.'"
Sordelet lost touch with Thiele a few years back. She can't pinpoint the reason, but Thiele slowly faded out of her life. "She used to come by after snowboarding and have a visit. She always did that," Sordelet says. "Then something happened. Things changed. I don't know why she stopped connecting with me."
Looking back, she realized this change began sometime in 2018.
"I'm strong but I'm not that strong," Thiele wrote in her final message on Facebook. "We all have our limits. Life has been such a beautiful journey, and I am so sorry to those that I have left behind."
Eventually, many of Thiele's closest friends were people she met through rock climbing. She connected with Haley in the fall of 2020 on the Climb Truckee-Tahoe Facebook page. The two had mutual friends and had met in passing at the base of climbs before. Thiele was coming back to the sport after breaking her ankle in two spots in a mountain-bike accident; Haley was battling a chronic health issue.
"She said she wasn't climbing at her strongest, but she was looking for people who wanted to build a partnership together," Haley says. "That's exactly what I was looking for, too."
They climbed at Donner Summit regularly, sending Black Wall, an east-facing monolith and the largest rock formation in the area, and working the cracks on a vertical hunk of roadside granite known as Snowshed Wall.
"She had a passion for placing gear and finding her own way up the rock," Haley says. "We were both focused on finding routes that were challenging to ourselves but also methodical. We were climbing things that were hard, at our limits, but trying to find fun in the sport rather than just being really scared."
Thiele's main project there was a 5.9+ crack climb called Nova Express, on Snowshed Wall's east face. Last summer, she tackled the route six or seven times, according to Haley, but she was never able to climb it cleanly, which means without falling or resting on a piece of gear.
Thiele was very outgoing, and she never seemed worried about what others thought of her. One day after climbing at Snowshed Wall, she and Haley were packing up when Thiele asked, "Can you climb again tomorrow?"
"I can't. I have to work," Haley said.
Thiele stood, with chalk on her cheek and her helmet askew, and walked over to a nearby group of climbers—total strangers who she'd been watching all day. "Hi, I'm Tiff," she said. "What are you all doing tomorrow?" She ended up swapping numbers with three or four of them.
Thiele was also known for not taking any lip from men. Once, she was top-roping a sustained 5.10b route on Donner Summit called Farewell to Arms, which offers few rests or easy sections. Near the top, she was having trouble completing a move. A guy climbing Little Feat, a route to her right, noticed she was floundering and offered advice. "You need to commit to putting your foot in the crack and layback it," he shouted. Thiele shrugged him off. As she struggled, he hollered a few more pointers. Thiele finally snapped.
"You can shut the hell up!" she yelled, dangling in midair. "Just because I'm not doing it like you, I've got it. You can stop mansplaining your opinions."
Her friends below started laughing: this was classic Tiff. "She definitely didn't like people—and mostly by that I mean men—telling her what to do," Haley says. "I think that stemmed from what she had experienced with men in her past."
Thiele was a feminist. She loved the empowering tone of Ani DiFranco's music, and she was big on making sure women were granted equal rights. At the time of her death, she hadn't been in a serious relationship for several years, but she was dabbling with online dating again.
"I knew she had a lot of paranoia around dating," Haley says. "I felt this sense of consistent paranoia with the subject of law enforcement, too, whether that was police or park rangers."
Thiele told friends that she had been abused by men in her past. Haley didn't press for details. "She never said the words 'I was raped,' but looking back, I realize she told me in other ways," Haley says. "You could see it when she talked about romantic relationships. There was built-up trauma there."
On June 27, while camping in California's Mammoth Lakes area, on the eastern side of the Sierra Nevada, Thiele was changing clothes inside her car when she noticed that a man, camped nearby, was taking photos of her from inside his vehicle. She called Haley and sounded scared.
"I told her, 'Maybe you should report it to the police,'" Haley recalls. "She was like, 'They're not going to do anything. They won't believe me.'" Yet Thiele eventually made the call. According to the Mammoth police department, officers made contact with her, but no police report was filed. As Haley remembers it, Thiele said they just scoffed and did nothing further.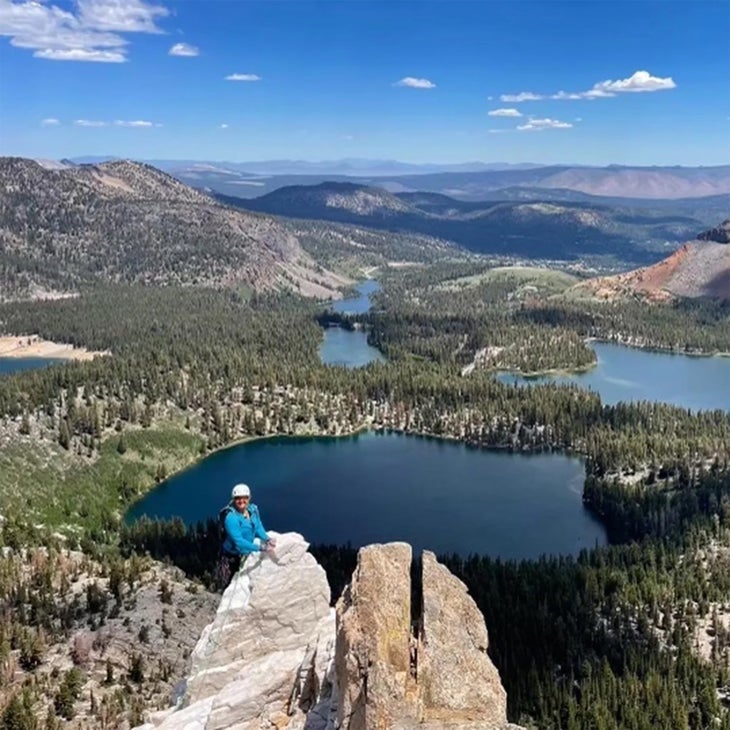 In 2018, Thiele, then 34, began dating a guy she had met through mutual friends and reconnected with on Bumble. He was a couple of years older than her and worked as a ski patroller during the wintertime. They started seeing each other casually that summer.
On June 9, 2018, the two of them were at his house in Tahoe City, California. According to a Placer County sheriff's report filed about this incident—which involved interviews with both subjects—Thiele said they were having sex when she noticed a phone on the bed facing in her direction. She tapped the screen and saw a video recording of them.
"What the fuck is this?" Thiele reportedly yelled.
The ski patroller, according to the report, said he thought she would be OK with the recording and that he never meant to be secretive about it. He told detectives he recalled them looking at the videos together afterward on the couch and talking about them, and he was surprised when detectives called him in. According to the patroller, they spent another night together at her place, after the incident, and everything seemed fine between them.
Thiele went to Europe for three weeks soon after this and, according to the report, she and the patroller were in text contact. When she came home in early July, the report says, the two got together again and then exchanged a string of text messages about their relationship that left Thiele feeling upset. The patroller later told police that he thought the video recording didn't become an issue until after Thiele raised the idea of getting more serious—and he said he wanted to think about it.
On July 9, 2018, she reported the incident to the sheriff's department. During her interview, she never described what happened as a rape. The crime she formally accused the patroller of was "recording someone during sexual intercourse without their consent." According to the report, she told investigators that she decided to come forward because she was afraid the patroller might be taping other women and she worried that he could have shown the video of her to other people. She said she felt helpless, adding that the incident had taken away her sense of privacy and trust.
The patroller, whose name Outside has decided not to publish because he was never arrested or charged, came in willingly and let detectives look through his phone. In his interview with the sheriff's department, he said that he'd deleted the videos shortly after the night in question, because he "had no reason to keep them." He told detectives he was "embarrassed," "devastated," and "a mess," since he had thought Thiele had no problem with the recordings. He said he hadn't shown the videos to anyone.
"There was no evidence that he had done anything like broadcast the recordings," recalls Lieutenant Nelson Resendes, a public-information officer with the Placer County Sheriff's Office. "His side of the story was that it was consensual, and not done secretly, and he was willing to cooperate in any investigation."
Resendes said the department put a case together and sent it to the Placer County District Attorney's office. It's the D.A.'s job to weigh the viability of a criminal case, and it's part of their code of ethics to only file charges when a case seems 100 percent sound. "On examining the facts, they decided it did not meet the threshold and a case was not pursued," Resendes says. "I feel our detectives did their due diligence."
David Tellman, chief assistant district attorney for Placer County, says that if Thiele had reported the case as a rape, the D.A.'s process would have been handled differently. There would have been more supervisory oversight, with a team of prosecutors reviewing the facts, and Thiele immediately would have been assigned a victim's advocate. "All forceable sex crimes are reviewed on a regular basis in a collaborative meeting, because of the serious nature of those allegations," Tellman says. "In this case, there were no allegations of any forceable sexual crime. This was a report of unauthorized videotaping."
Tellman says that a victim's advocate did contact Thiele several times via phone and mail, but she didn't respond. The matter was eventually dropped, and the patroller was never charged with anything. He still works for the same tight-knit ski patrol at Palisades Tahoe. (Outside reached out to him several times for this story, but he did not respond. His ski-patrol colleagues decided as a group not to speak to the media about him or this situation.)
It's unclear what exactly happened between Thiele and this man on a summer night in June 2018. She would later identify it as a rape, but she never reported it as one. Why? Was she too afraid to report rape initially? Did clear memories of what happened only come to her much later? Did her impression of the incident change in her mind as time went on? Did she imagine something that didn't occur? We'll never know. What we do know is that whatever happened that night had a lasting impact on Thiele. Ultimately, she would develop a deep sense of fear and distrust, a feeling that she was not safe and that nobody believed her.
"She definitely didn't like people—and mostly by that I mean men—telling her what to do," says Thiele's friend Haley. "I think that stemmed from what she had experienced with men in her past."
California law defines rape as the use of force, threats, or fraud to have nonconsensual sexual intercourse with another person, or as sex with a person who was unable to give legal consent. Rape can be a felony charge and is generally punishable by three to eight years in prison when the victim is an adult.
Some rape victims don't recognize what happened to them as rape until well after the fact. A 2007 survey of college students funded by the U.S. Department of Justice identified the most common reason undergrads don't report a sexual assault: confusion about the law and the assault itself. In the survey, for example, 67 percent of people who were assaulted while incapacitated didn't think the incident was serious enough to warrant reporting, and 36 percent said it was unclear to them whether a crime had been committed or that harm was intended.
The effects of such incidents, whether they're reported or kept private, are often devastating. According to a study by the National Violence Against Women Prevention Research Center, rape victims are 4.1 times more likely than noncrime victims to contemplate suicide and 13 times more likely to attempt suicide.
In Thiele's case, she did not tell many friends that she believed she'd been raped. But she did confide this belief to Kimberlie Flowers and at least one other friend. Thiele texted Flowers in April 2021, asking for a therapist referral, and that's when she said that she'd been raped a few years earlier.
"I had one drink at his house and I remember everything clearly up to that one drink," Thiele wrote in the text. "He hid a camera from me at his house. And then I found the phone with my video on it. When I found the phone, I was naked, alone, and scared. He was behind me and he took the phone that I found from me and said, here you hold it. And then he raped me."
Thiele told Flowers that she was ready to start working on her anxiety, her post-traumatic stress, and her coping mechanisms. She said she still had triggers: for instance, anytime she saw a gray Toyota truck, which is what she said the ski patroller drove, she would panic. She said she'd seen him twice while skiing, and that this was hugely upsetting. Thiele bought a stun gun, a home-security system, and an Apple Watch so she would always have a way to call for help.
According to Flowers, Thiele said she was scared to tell the police she'd been raped. Thiele told Flowers that she wished there was better training for professionals who speak to victims of sexual assault and other traumas. She added that she wished someone had said these words to her: "I believe you. It's not your fault. You did nothing wrong. You are safe."
Flowers, a therapist with experience in treating patients with trauma, said she thought Thiele was intending to get the assistance she needed. "She said she was ready to get some help," Flowers says. "She kept saying, 'I'm doing a lot better. I'm just starting the healing process.'"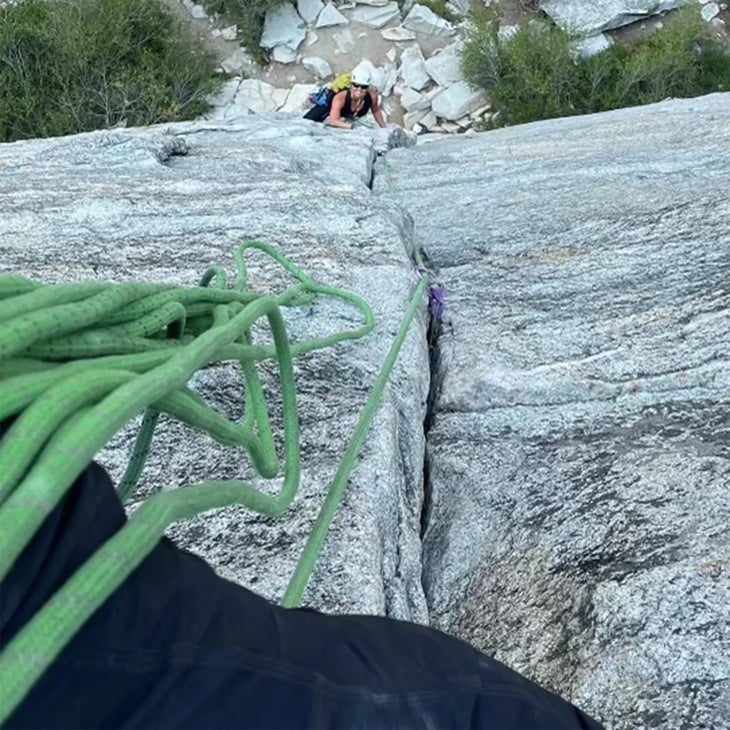 Nearly one in five women is raped or experiences an attempted rape in her lifetime. But it's estimated that just 5 to 20 percent of sexual assaults are reported to law enforcement. People don't report because of shame, or doubt, or a fear that they won't be believed or that they'll face retaliation.
Seemingly idyllic mountain towns like Tahoe City or Truckee are no exceptions to these hard statistics, and communities surrounding outdoor sports like skiing and rock climbing are certainly not exempt from sexual-assault cases. "The reality is, it happens here at the same level it does in any community," says Kristy Oriol, development director at Sierra Community House, a resource center in the north Tahoe–Truckee area for sexual-assault survivors and others who need human-services help. "We aim to create that safe space and to say, 'Yes, this does happen here, and you are able to seek support.' Talking about it and shedding light on this can make people feel less isolated."
Some 80 percent of rapes are committed by someone the victim knows, and Oriol says that in a small community, the perpetrator could be well-known and have useful local connections. "Some survivors might see that person everywhere they go, especially in a small town," she says. That, as well as the local vibe of everyone knowing everyone, can act as a barrier to someone coming forward and reporting an assault.
Four cases of rape were reported to the Placer County Sheriff's Tahoe Station between September 2020 and September 2021. During that same time, 49 cases, spanning the range of sexual assaults, came to the attention of Sierra Community House.
A few weeks before Thiele died, she asked her mother, Nancy, if she knew that rape victims had to pay for their own medical exam after being assaulted. Nancy didn't know that, and Thiele wasn't wrong: analyzing data from 2013, the American Journal of Public Health found that rape victims of sexual assault paid, on average, $948, or 14 percent, of the cost of such medical services, and 88 percent incurred charges the day they visited a hospital, with 27 percent paying out of pocket for more than a quarter of those charges.
In Tahoe and elsewhere, if a sexual-assault survivor calls a 24-hour crisis help line or walks through the door of a safe house or a resource center, priority one is meeting their immediate safety concerns and asking basic questions. Do they need medical attention? Do they need emergency housing?
But the most important aspect of what they do is believing the survivors. "We say over and over again: 'I believe you,'" Oriol says. "That's something that people don't hear. That's the most critical service we provide right away."
The criminal justice system, Oriol says, is not always set up to support and believe and listen. "Some survivors do find healing and justice when pursuing the person who harmed them in court, and we celebrate this," she says. "But for many victims, the often long and arduous journey of a sexual-assault crime can be re-traumatizing."
As Oriol points out, memories of what happened during an attack can be foggy or entirely obsolete. "For a lot of survivors, there's a fight-or-flight response, but there's the freeze response, too, which is common during a sexual assault," she says. "Quite literally, the person cannot move. That's a symptom of your brain experiencing full trauma. You're in a complete crisis."
In other words, when your brain is processing trauma, you're not always capable of holding onto peripheral details, thinking critically, or recognizing the chronology of events. "You can't notice the color of the wallpaper or what the person is wearing, and that's completely explained by what trauma does to our brain," Oriol says. "Then a survivor is asked to tell the story of what happened to them, but the chronology gets shifted. That puts pressure on someone to tell their story in a factual way when they're not engaging the part of their brain that enables them to do so."
Rape cases can be particularly difficult to prosecute, often due to a lack of physical evidence. Statistics on sexual-assault cases reported to the police in the U.S. show that the vast majority don't lead to prosecution or convictions. Sierra Community House, and other resource centers like it, work with victims to shepherd their cases through the court system, if the survivor chooses to go that route. They also work with local law enforcement and the courts to train staff on how to speak to survivors.
"We provide education on trauma-informed interviewing, and that's certainly a piece of it: Are these systems designed to understand what sexual-assault survivors are going through?" says Oriol. "It's disheartening when we see these cases go nowhere or not be prosecuted. That's devastating. We sit with these survivors and validate their feelings. We say, 'I'm so sorry the system failed you.'"
Whatever happened to Thiele that night had a lasting impact. Ultimately, she would develop a deep sense of fear and distrust, a feeling that she was not safe and that nobody believed her.
The Sunday before Thiele took her life, something triggered her. Nobody knows exactly what it was. According to one friend, she was pulled over by the police for a traffic incident that day, and the interaction with law enforcement shook her up. That friend reached out to Thiele's mother, Nancy, and told her Thiele wasn't doing well, that she was in a manic state. Nancy contacted her daughter to see if she was OK. Thiele responded to the effect of, I'm fine. Don't worry.
(Nancy declined multiple interview requests for this story, saying, "I have always felt Tiffany's story was hers to tell, and she is not here to tell it.")
On Monday, Thiele requested a leave of absence from work. On Tuesday, she posted her final Facebook message. Hours later, she was dead. A note found in her apartment gave detailed instructions about what she wanted done with her bank accounts, gear, and school supplies. A vigil was held for her the following Sunday at a beach on the north shore of Lake Tahoe. Friends played music, posted bulletin-board notes to share their thoughts, and tossed yellow and pink flowers into the water.
After Thiele's death, supporters created a Facebook group called Justice for Tiff Thiele (TiffSter), which initially was a rallying cry for bringing a case against the patroller. Members shared contact info for the Placer County District Attorney's office, urging people to reach out and demand action. A petition circulated, signed by 393 people, calling for elected officials to implement new laws to better protect victims of sexual assault and more thoroughly investigate perpetrators.
Three days after Thiele's death, her stepfather wrote this on the group page: "We wish to express to everyone that sexual assault steals a great many things from its victims, and that survivors of sexual assault should always be encouraged to share their truth in an effort to find healing as well as justice."
The case against the patroller was never reopened, and the Facebook group, which now has more than 2,400 members, evolved into a more general online support group for assault survivors. People from all over the country have talked about their own sexual assault stories there. Many said they had never shared what happened to them, but because of Thiele, they were coming forward. One woman, who said she'd been battered and psychologically abused, wrote, "Thank you for sharing your story, Tiff. I am so sorry for what you went through."
Thiele's friends and family are still trying to understand what happened and what more they could have done to help. Research shows that the availability of mental health treatment can make a difference to those who have suicidal thoughts. A study published in 2021 found that people who received treatment because they lived closer to mental health providers were 17.7 percentage points less likely to attempt suicide than those who did not have care close by.
But nobody knew Thiele needed help until it was too late, until her final message was seared onto their screens. "I see a world filled with injustice," she wrote in her last post. "I'm tired of battling and being blamed."